Creamy 3 ingredient chocolate truffles are made healthier with a secret ingredient – avocado! You can't taste it, but will reap all the health benefits.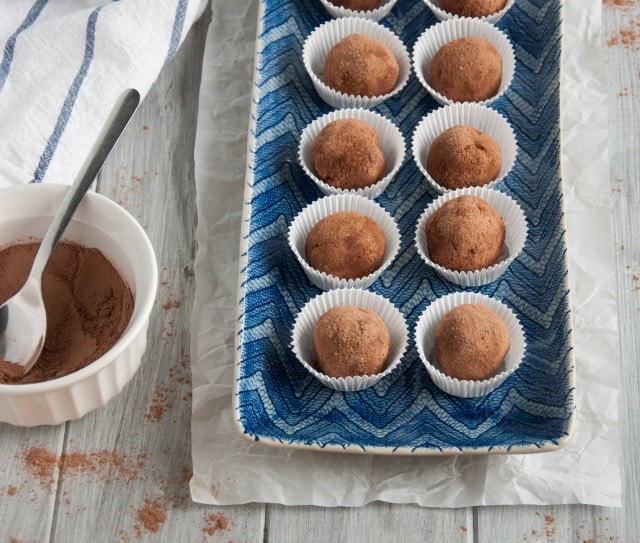 Chocolate truffles, as if that ain't enough… these are healthy chocolate truffles! Well, healthier at least.
There's more than meets the eye with these creamy chocolates though. First of all, its St. Paddy's day and these little guys aren't green. Second of all, they look and taste like rich, decadent truffles, which they totally are, so where does healthiness come into play? Well, both questions can be summed up with one word – Avocado!
Avocado and chocolate go together seamlessly in a weirdly unexpected way. Basically, chocolate wins the battle and you can't even taste the avocado. Behind the scenes though, that avocado is slipping you a healthy dose of monounsaturated fats.
In addition to his, the hidden avocado plays double duty by lowering the overall cholesterol of these chocolate truffles by reducing the amount of chocolate you use. And if that's not enough, at 90 calories each, you can justify having two. Or three. Now that's my kinda truffle.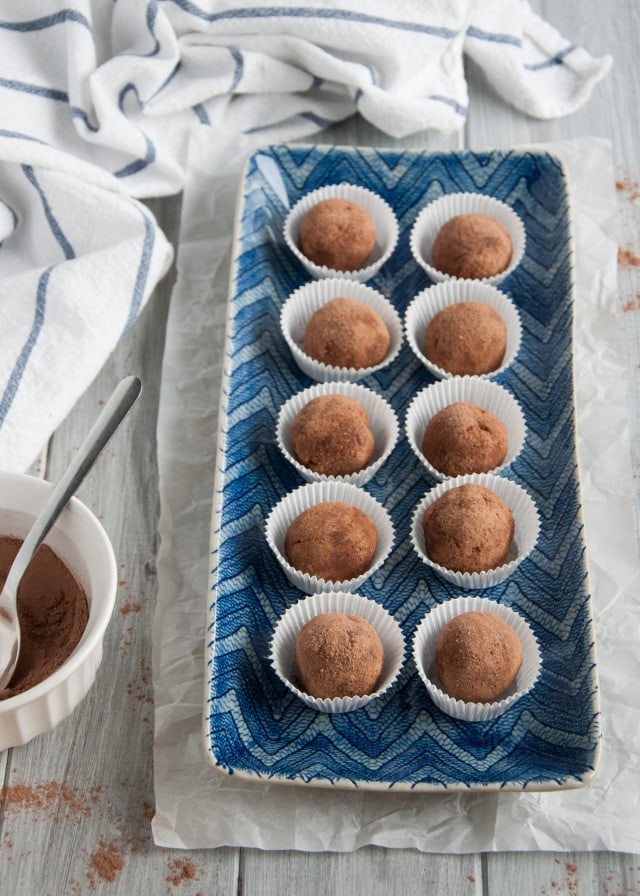 The only tricky part to this is heating the chocolate up slowly using a double boiler. If you don't have one, just improvise! I use a pyrex bowl over a pot that it fits inside without the bottom of the bowl touching the water. It works great and is one less thing I have to fit in my already packed cupboards.
The recipe is so simple that you could even make it with kiddos as a special treat. There still is quite a bit of chocolate in it, but the avocado lightens it up so it feels less indulgent.
I made the mistake of making this batch of chocolate truffles before leaving town for a work trip. So, that meant that these poor little fellas were left home alone with the husband for a few nights. Needless to say, they were demolished in record time along with a text message or two about how good they are. Thanks for rubbing it in yo.
These chocolates last for about 2 – 3 days in the fridge so they're great to make before a party or another event where you know they'll be devoured by the end of the night. You might want to stash a couple in the back of the fridge for yourself though before leaving them to the masses. Just sayin, they go quick, and a girl's gotta get her chocolate.
Aside from chocolate truffles, an overall health kick has taken over our house. My last few weeks have been packed with green smoothies, juices, salads, and shopping carts that look like a full on veggie garden. This over the top health kick is in prep for Barbados though so I can't complain! In three and a half weeks we'll be sitting on a beach, pina colada in hand, soaking up some Caribbean rays. If that isn't motivation to down a few juices, I don't know what is.
So, for the near future, I've got some light and delicious goodies heading your way. I figured chocolate truffles would make a good segway into the more green focused recipes you'll be seeing over the next few weeks.
I've got an awesome salad and a few curries that I can't wait to share with you. Until then, enjoy a chocolate… or two.
Creamy chocolate truffles are made healthier with a secret ingredient - avocado! You can't taste it at all, but will reap all the health benefits.
Instructions
Heat chocolate chips in a double boiler* on medium-low heat until melted (about 10 minutes), while stirring with a rubber spatula. Once heated, add to food processor with avocado and pulse until smooth.

Chill for 2 - 3 hours in the refrigerator. Remove from refrigerator and use a spoon to scoop out and roll into balls (approximately 2 Tbsp. each).

Add cocoa powder to a small bowl. Roll each truffle in coco powder to coat and store truffles in the fridge for up to 3 days. Remove from fridge about half hour before serving.
Notes
*If you don't have a double boiler, place a rimmed bowl into a saucepan that has an inch or two of water in it so that the bottom of the bowl is a few inches above the water. Heat chocolate in the bowl.
Nutrition
Serving: 1g | Calories: 89kcal | Carbohydrates: 8g | Protein: 1g | Fat: 6g | Saturated Fat: 3g | Sodium: 2mg | Potassium: 128mg | Fiber: 2g | Sugar: 5g | Vitamin A: 10IU | Vitamin C: 0.4mg | Calcium: 11mg | Iron: 1.2mg