Let the crock-pot do the work with this exotic spice filled chicken Indian curry and come home to a delicious dinner simmering and ready to eat. Yum!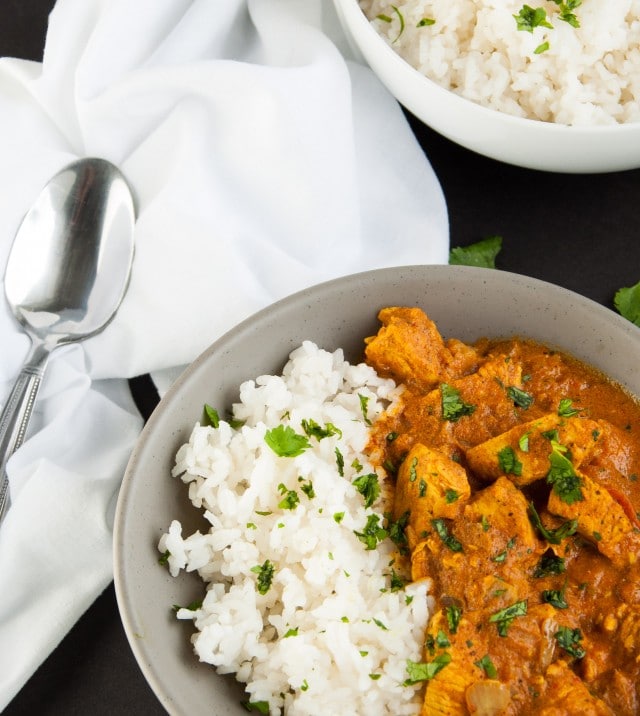 There are few foods that I love more than curry. I mean, I could probably count them on one hand. There is something about theflavor explosion from mixing a bazillion different spices together that makes your mouth do the happiest of happy dances. It could be Indian curry, Thai curry, Japanese curry – I frankly don't care. As long as its spicy and full of flavor, I'm into it.
I've been on a bit of a curry kick for the past few weeks and keep waiting to get sick of it but it just doesn't happen. Its like my hands have a mind of their own when I'm cooking. They reach for the curry powder and curry paste and before I know it, we're eating curry again for dinner. Resisting is futile. Curry wins every time.
Curry, 10. Christy, 0.
Touché curry, well played.
(In all fairness, I don't put up much resistance)
If you're an Indian curry lover, I apologize for the nondescript title. This curry doesn't have a particular name… because I made it up. It all started with chicken tikka masala and then deviated from there.
We have been going to the same Indian food cart downtown for years now. Not to age myself, but when I say years, I mean yeeeeaars. It has been over a decade since we first tried this cart and I'm pretty sure its one of the oldest ones in town.
The frequency of our visits used to be downright stalkerish, but these days, we probably pop in to this or their sister cart for takeout about once a month. Its true what they say about absence making the heart grow fonder because each visit leaves me ravenous for more saucy, curry goodness. Before I even realize what's happening, I'm on a full blown curry rampage and dousing anything and everything in the kitchen with curry powder in an effort to recreate some of those epic flavors.
My most recent episode all started innocently enough by trying to replicate their chicken tikka masala in a crock pot. Then, things got a little bit carried away and before I could stop myself, half the seasonings in the cupboard were already in the pot. A few hours later, a spice filled aroma snuck up the stairs and lured me back down to the curry concoction for an obligatory taste-test.
I knew after the first bit that I would have to share this one with you all and got the camera ready. Just to be sure, I took about 10 more taste tests. I did it for you, I swear…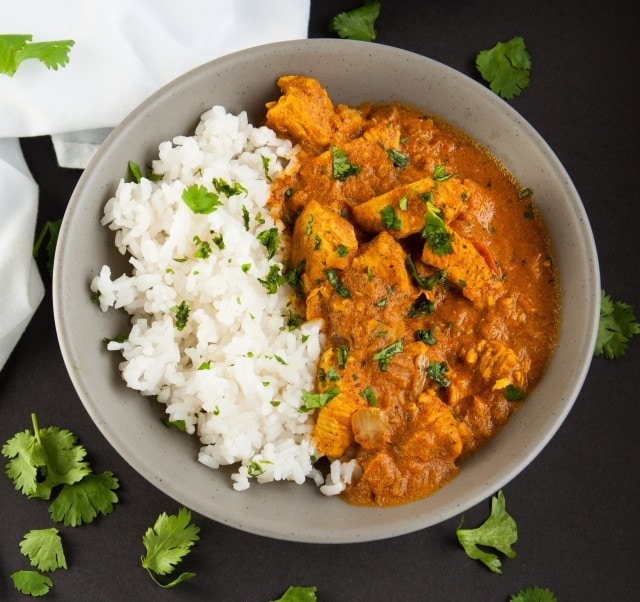 From this dish on, the '2015 Indian curry epidemic' swept over our household, covering everything in its path. Nothing was safe. Salad dressings, lentils, potatoes, and pretty much anything else I could find – all currified. Don't worry if you're not a curry fan, I'll try to trickle the recipes in slowly to not overwhelm you. Also note that I said 'try.'
While this dish ended up tasting nothing like tikka masala, it was a wonderful surprise nonetheless. If you're looking for a set it and forget it simple crockpot meal, give this one a try. Just a quick warning – once you get hooked on curry there's no going back!
Let the crock-pot do the work with this exotic spice filled chicken Indian curry and come home to a delicious dinner simmering and ready to eat. Yum!
Ingredients
2 lbs. chicken breast (cut into 1" pieces)
1 medium onion (finely minced)
2 Tbsp. butter (or coconut oil for dairy free)
1 Tbsp. minced garlic
1 Tbsp. peeled and grated ginger
2 cups fresh roma tomatoes (diced)
1 Tbsp. curry powder
2 Tbsp. garam masala
2 tsp. dried turmeric
1 tsp. Thai red curry paste
2 tsp. paprika
1 Tbsp. cumin
2 tsp. sugar
1 tsp. salt
4 Tbsp. tomato paste
13.5 oz. canned coconut milk (I used lite)
1/2 tsp. cayenne pepper (or to taste)
1/2 cup roughly chopped cilantro
Instructions
Add all ingredients to a crock pot, except for cayenne pepper. Cook on low for 4-6 hours until chicken is cooked, stirring occasionally throughout this time.

Taste and adjust spice level if needed by adding ground cayenne pepper. Adjust other spices (salt, paprika, etc.) if needed. Simmer an additional 20 - 30 minutes after adding spices.

Serve with rice and garnish each dish with fresh cilantro.
Nutrition
Calories: 433kcal | Carbohydrates: 17g | Protein: 36g | Fat: 25g | Saturated Fat: 17g | Cholesterol: 107mg | Sodium: 627mg | Potassium: 1099mg | Fiber: 7g | Sugar: 7g | Vitamin A: 1745IU | Vitamin C: 12.3mg | Calcium: 74mg | Iron: 5.5mg