Quick and easy avocado stuffed jalapenos are made light and tasty by mixing yogurt and chicken sausage in the stuffing for a unique and satisfying appetizer.
Do you ever have those nights where you feel like eating appetizers for dinner? You know, the kind of food I'm talking about too, right? The grease dripping goodies you get at dive bars with unrivaled levels of unhealthiness. The kind that is inexplicably satisfying yet so food-coma inducing that you have a hard time peeling yourself off the barstool after consuming your weight in deep fried, carb-loaded heart attack stoppers?
No? Okay, then maybe its just me.
Either way, one of those nights struck for me a few weeks ago and I went into full on "must have jalapeno popper mode." That was quickly replaced by "must have bacon wrapped jalapeno mode." As I hungrily drove home from work, my thoughts turned from grease soaked peppers to a more sensible way to satisfy the craving. Instead of heading out to the neighborhood watering hole, I decided to take make my own bar food wonders and do "dive bar at home night." Needless to say, the hubby didn't take much convincing and immediately embraced the concept.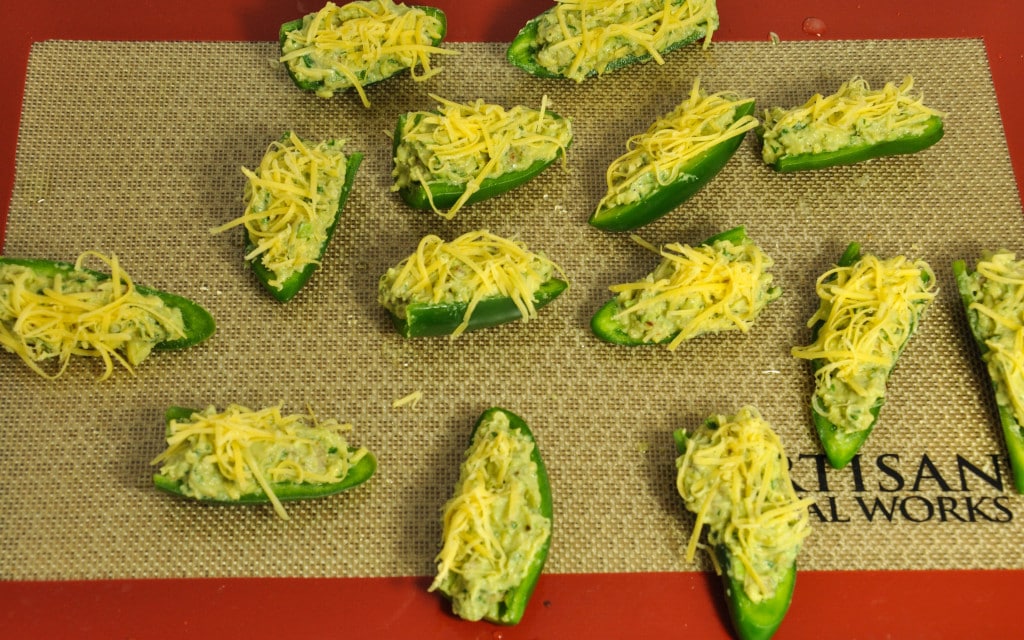 I made my usual baked sweet potato fries (recipe to come soon), a dip, and then just had to find a way to get stuffed jalapenos on the menu. For the life of me, I couldn't find any inspiration for a healthy way to do stuffed jalapenos and for once the inter-web wasn't helping. Every Google search I did taunted me with the greasy, bacony, junk food vessels of molten cheese I was trying to escape from.
Just as I was on the brink of caving into the enticing lure of bacon it hit me – guacamole and jalapenos are pretty much made to go together. So, why not create a more savory, somewhat meaty guac, lighten it up a bit with some yogurt, and stuff it into some spicy little peppers. Eureka! This was the winning combo.
With only 121 calories for 4 stuffed jalapenos, this recipe has a quarter of the calories you would find in more traditional versions. Plus, its packed with healthy fats that do your body good. Squirting with lime makes them kind of fun and interactive too. What's not to love?
We happened to love it so much that I have made it twice since then and just had to share the recipe. For the vegetarians out there, this one is just as good without the chicken sausage. I've made it like this once and just upped the Worcestershire and other seasonings a bit to make up for the flavor the sausage added and gobbled them up just as quickly as the ones with chicken in them. Its a pretty safe bet meat or no meat. Just make sure not to up the yogurt too much or they get kind of watery.
A word of caution though – make sure to use plastic or rubber gloves when handling jalapenos and wash your hands with dish soap right afterwards. Once those spicy oils get on your hands, and you end up rubbing your eyes or touching your face its all over. If you haven't already learned this lesson the hard way, take my word for it and throw on some gloves… otherwise, a bottle of eye drops and a boatload of tears later you'll be wishing you had listened and just worn the dang gloves. Just a word from the wise since I seem to have learned that lesson half a dozen times now. I guess I'm either a masochist or a really slow learner. Still trying to figure out which affliction causes these repeated ding bat moments.
While we're on the subject of spiciness, make sure to cook them until they're nice and toasty… or be prepared to handle the heat! Baking for a full 20 minutes normally takes most of the kick out of them leaving a tolerable level of heat, but if you really aren't a spice lover, you can blanch the jalapenos in hot water for 20-30 seconds before stuffing. So, I guess what I'm trying to say in a long, drawn out way is, basically, regardless of your preferences, you have options on this one. Feel free to go crazy with mini-modifications and as long as you follow the general gist of the recipe, you'll love em' as much as we did.
Quick and easy avocado stuffed jalapenos are made light and tasty by mixing yogurt and chicken sausage in the stuffing for a unique and satisfying appetizer.
Ingredients
12 jalapeños (de-seeded and halved)
1 chicken sausage (casing removed)
1/4 cup nonfat Greek yogurt
1 large avocado (mashed)
1/4 tsp. garlic powder
1/4 tsp. onion powder
1/4 tsp. Worcestershire
1 Tbsp. chopped cilantro
Salt and pepper to taste
1/4 cup shredded cheddar cheese
1 lime (cut into wedges)
Instructions
Preheat oven to 375°F (190°C).

Fry chicken sausage in a small pan over medium-high heat, breaking up into small crumbles while the sausage cooks. Once finished, set aside.

Mix yogurt, avocado, garlic powder, onion, powder, Worcestershire, cilantro, and chicken sausage together. Add salt and pepper to taste. Stuff jalapenos halves with avocado yogurt mixture and sprinkle a small amount of cheese on top of each one.

Bake for approximately 20 minutes until cheese is melted and starting to brown and jalapenos are soft and roasted. Cooking longer makes the jalapenos less spicy.

Serve with lime wedges which should be squeezed over the peppers before eating.
Nutrition
Serving: 4g | Calories: 120kcal | Carbohydrates: 7g | Protein: 5g | Fat: 9g | Saturated Fat: 2g | Cholesterol: 15mg | Sodium: 185mg | Potassium: 270mg | Fiber: 3g | Sugar: 2g | Vitamin A: 615IU | Vitamin C: 40.7mg | Calcium: 56mg | Iron: 0.5mg