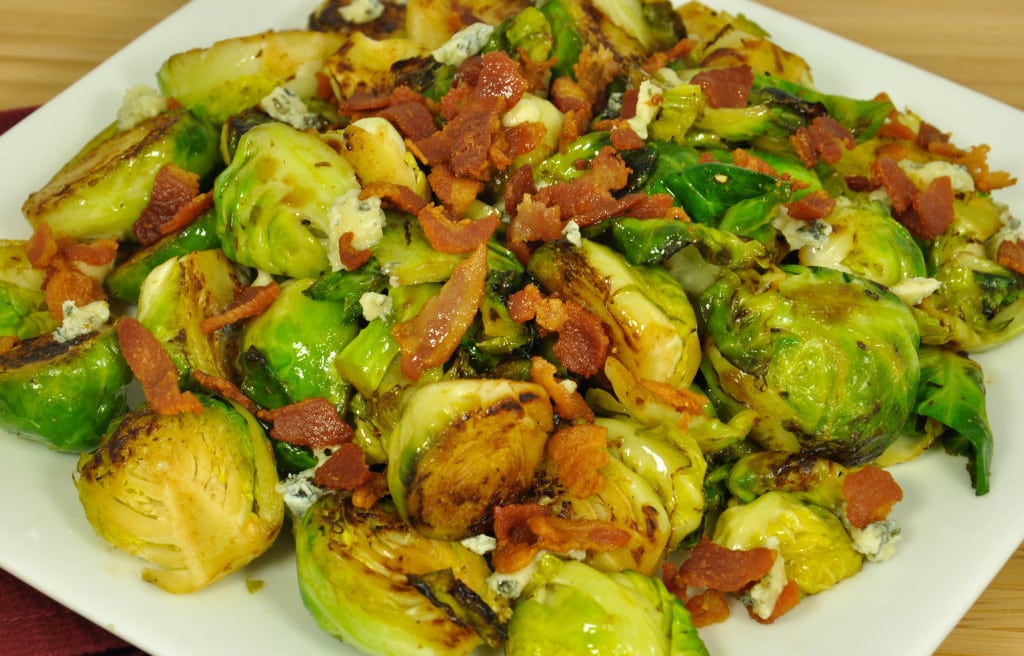 If you're looking for a tasty, rich side dish that is simple yet jam-packed with flavor, look no further. These bacon blue cheese Brussels sprouts are a welcome accompaniment to any main course. With a whopping 240% of your recommended daily vitamin C intake per serving, they're an immune system booster too!
With springtime right around the corner, fresh summer veggies are starting to pop up in grocery stores and farmers markets all around town. But for those of us squash and cabbage lovin' folks that aren't quite ready to let go of our hearty winter vegetables, this one's for you.
I'm normally not a huge blue cheese fan, but I could not stop eating this one (called Rouge Valley Creamery Caveman Blue) while cooking these bacon blue cheese Brussels sprouts . I normally do that with Parmesan, cheddar, and pretty much any type of cheese, but blue cheese? Gross, I think not. I know this is an Oregon made cheese so it might not be available everywhere, but any smooth, not so pungent blue cheese should work.
I modeled these bacon blue cheese Brussels sprouts after a similar dish we had as an appetizer at the Skyline after coming back from an event at Mt. Hood Ski Bowl a couple weekends ago. These alone more than made up for the overall dismal weather and lack of snow. This lighter version relies on high heat stove-top cooking to get that caramelized outer layer of flavor without adding too much fat.
In other news, I tried running again on Sunday and that whole eight and a half minute mile thing must have been a fluke because this time around I had to stop multiple times and ended up averaging just under a ten minute mile. After a day of rest, I'm trying again today after work and instead of focusing on time, my goal is to just keep running the entire time and worry about time later down the road (no pun intended).
One of the main reasons I started this blog was to keep myself on track with eating more vegetables and wholesome, natural foods. I've pretty much taken a winter hiatus from all forms of exercise and have been trying to get back into my routine this past month, which has been a lot harder than I expected. I'm considering starting another page to track my fitness progress and help keep myself motivated and on track.
I made a goal for morning workouts, but that whole 'spring forward' time change thing really threw a wrench in those plans. I think over a week later I'm finally getting used to it, but it had me totally off my game at first. With 'fall back' you gain an hour of sleep, which I can totally work with, but gaining that hour at night instead makes it way too easy to just stay up later and then be even more tired the next day.
I know I'm a total whiner and should be happy with the extra hour of daylight and all these fresh springtime vegetables, but I just can't manage to channel those thoughts and muster up positivity with my alarm blaring in my ear at ungodly hours. Okay, I'm off my soap box, whining over. I promise my next post will showcase fresh produce and a renewed enthusiasm for spring so stay tuned... 🙂
Bacon Blue Cheese Brussels Sprouts
Bacon blue cheese Brussels sprouts are caramelized over high heat for maximum flavor making a perfect appetizer or side dish.
Ingredients
4

strips bacon

2

Tbsp.

butter

1.5

lbs.

Brussels sprouts

(washed with outer leaves removed and cut in half)

1

Tbsp.

soy sauce

Salt and pepper

2

Tbsp.

blue cheese crumbles
Instructions
Wash brussels sprouts and remove outer leaves. Cut the stem off of each sprout and cut in half.

Cook bacon over medium heat in a large high rimmed skillet. Remove from skillet and set aside.

Deglaze pan with soy sauce and add butter. Once butter is melted, add brussels sprouts and cook over medium-high heat until sprouts are browned and caramelized on all sides (approximately 15 minutes). To ensure all sides are browned, it works well to lay sprouts flat side down for first 5 minutes of cooking.

Remove sprouts from pan and place in serving dish. Sprinkle with bacon and blue cheese and serve.
Nutrition
Calories:
246
kcal
|
Carbohydrates:
16
g
|
Protein:
11
g
|
Fat:
17
g
|
Saturated Fat:
8
g
|
Cholesterol:
36
mg
|
Sodium:
550
mg
|
Potassium:
724
mg
|
Fiber:
6
g
|
Sugar:
4
g
|
Vitamin A:
1525
IU
|
Vitamin C:
144.6
mg
|
Calcium:
110
mg
|
Iron:
2.6
mg
Did you make the recipe? I love seeing your creations!
To be featured tag @FeastingNotFasting on Instagram and use the hashtag #FeastingNotFasting - please leave a star rating below too! ★★★★★