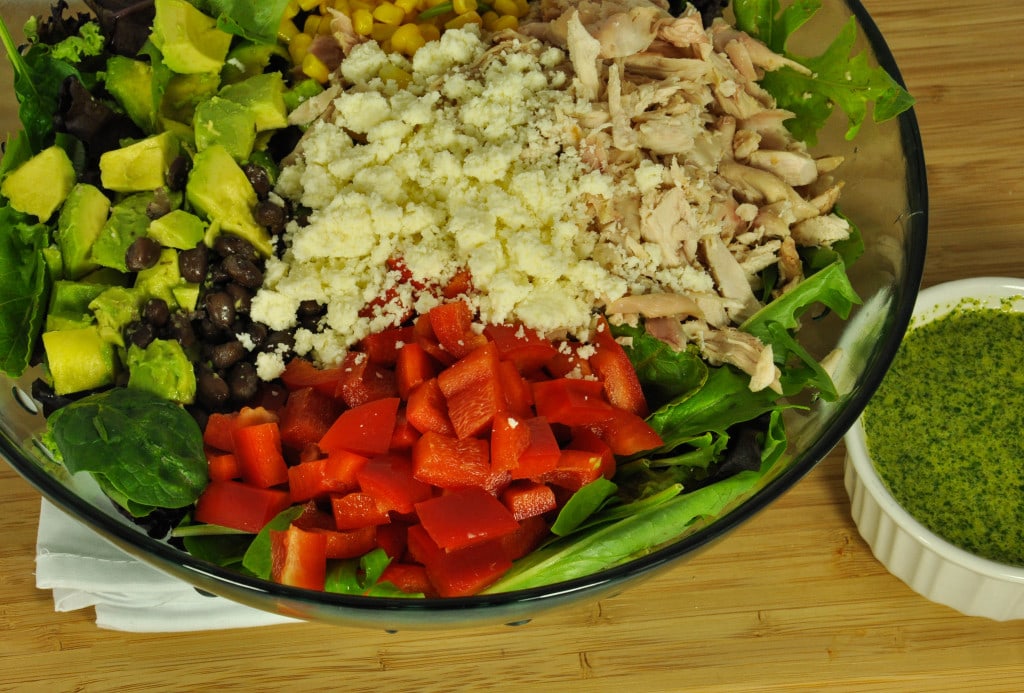 Yesterday it was 65 and sunny in Portland – a rare feat for mid-March and the perfect kind of day for a salad with jalapeño lime dressing. So of course, the entire city busted out their short shorts for the opportunity to get some color on their pasty white legs. Everywhere I went there was a sea of pale skin protruding from barely there garments. It was blinding.
So, since I have no dignity, I joined the ranks and threw on my running gear for the first time since October, knowing I would probably fail miserably and end up walking most of the way. I did have to stop and walk twice, but I surprised myself by averaging almost eight and a half minutes for the time that I was running. Granted I was avoiding hills at all costs, but overall not bad for basically not doing cardio for four months!
And I had forgotten all about the running endorphins! I was on an energetic high the rest of the day, smiling at strangers and making friends at the grocery store. The poor people I encountered were probably thinking, "dear god, make this woman stop chatting," but luckily they didn't show it on their faces. So, I continued my happy little errand running trip and came home with ingredients for the perfect salad.
In pulling this salad together, I had fresh, quick ,and easy on the brain. I used one of those pre-cooked rotisserie chickens you get at the grocery store, but you could easily make your own shredded chicken without too much hassle and I included instructions for this in the notes for this recipe. I wanted a touch of sweetness to complement the tartness of the lime so I planned to use honey. This plan was ditched though when I realized that I had gotten so overwhelmed by sunshine that I forgot to grab some at the store. Luckily agave syrup worked splendidly. Leaving out the chicken and cheese makes it a vegan recipe too.
This salad with jalapeño lime dressing is light and refreshing with a tasty balance of sweet and tangy and a tiny hint of spice. You may have noticed by now that this seems to be my favorite combo and I incorporate Mexican/ Latin seasonings into pretty much everything. I had to have a serious intervention with myself the other day when I was tempted to add jalapeño, cumin, and lime to a desert recipe and realized I had clearly crossed a line. Seriously, I need help.
The dressing is made in the blender which means you don't even have to worry about emulsifying the oil and lime juice with vigorous whisking, which I normally despise doing because I feel like it always just separates anyways while I'm pulling together the rest of the salad.
I'm completely in love with the color of the dressing. Its such a striking vibrant green, perfect for spring. Perfect for St. Patty's day too (if you're into the whole ditching traditions kind of thing).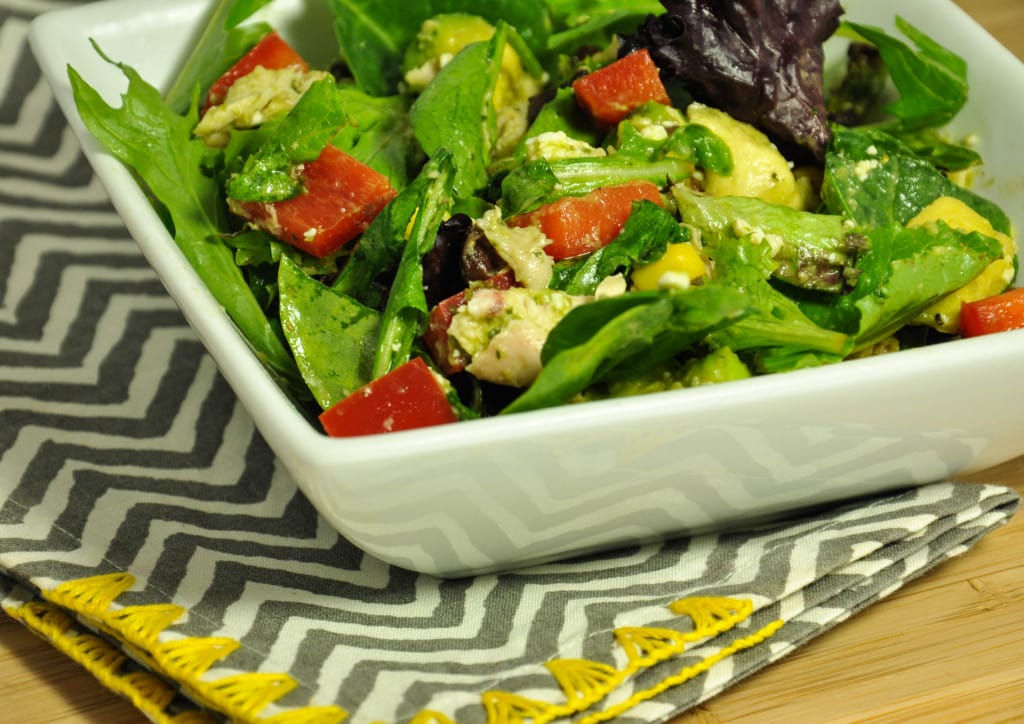 The portion sizes are pretty large if you make the recipe as written. Each serving contains 139% of your recommended daily amount of vitamin C, 67% of Vitamin A, and 24 % of your daily Iron needs.
It is definitely a salad I will make again and again. Next time I may add in some cooked quinoa or roasted sweet potatoes for a little variety since I know I will be making this often and might want to switch it up a bit. This salad with jalapeño lime dressing recipe is plenty filling as is though, so extra starches certainly aren't needed.
Refreshing salad with jalapeño lime dressing is made with chicken, avocado, and cotija cheese and a tangy vinaigrette that will leave you wanting more.
Ingredients
Salad
10 cups mixed greens (loosely packed)
15 oz. black beans (drained and rinsed)
1/2 cup frozen corn (defrosted)
1 avocado (diced)
1 red pepper (chopped)
1/2 cup cotija cheese (crumbled)
2 cups cooked chicken (shredded or diced*)

Dressing
1/3 cup lime juice (juice from 2-3 limes)
1/3 cup olive oil
1/4 tsp. cumin
1/4 tsp. salt
1/4 tsp. fresh ground black pepper
1 tsp. minced garlic
3 Tbsp. agave syrup
1/4 cup packed cilantro (if already chopped, only use 3 Tbsp.)
1 jalapeño with seeds removed and roughly chopped**
Instructions
Add all salad ingredients to a large bowl and set aside. Add dressing ingredients to a blender and pulse for about a minute until oil is fully emulsified and cilantro and jalapeño are pulverized and mixed in.

Toss salad with dressing.
Notes
*If you do not have pre-cooked chicken on hand, rub two chicken breasts with oil, salt, and pepper, and bake at 400 degrees F for 20 minutes or until juices run clear. **Heat level of jalapeños can vary and if you are worried about the dressing being too spicy, add one half of the jalapeño and blend and taste before adding the other half.
Nutrition
Serving: 408g | Calories: 423kcal | Carbohydrates: 34g | Protein: 22g | Fat: 23g | Saturated Fat: 5g | Cholesterol: 46mg | Sodium: 277mg | Potassium: 741mg | Fiber: 9g | Sugar: 7g | Vitamin A: 1500IU | Vitamin C: 49.4mg | Calcium: 103mg | Iron: 3.1mg