These baked black bean taquitos are vegetarian, packed with veggies, and way lighter than the store bought kind without sacrificing any flavor.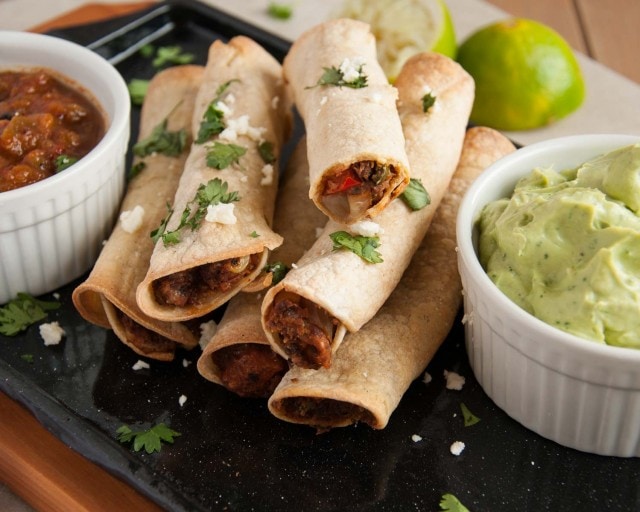 Calling all 90's kids for a trip back in time!
What were your fav after school snacks? The cheese and crackers with the little red scoop? Bagel bites? How about dem taquitos tho? Yup, taquitos were a staple of my childhood existence and, if you are from the same era, probably yours too.
So why not pretend we're still 12, buuuut unlike our less health conscious past selves, make lightened up bean taquitos. Add a cool avocado dipping sauce and you'll put your youth snack game to shame.
The choice of playing New Kids on the Block or NSYNC while making these is entirely up to you. In other important news – did you know that NKOTB is still performing? Ha! I accidentally saw a clip on TV last night where they were onstage at Madison Square Garden. I can report that Joey Mcintyre is alive and well. Who knew?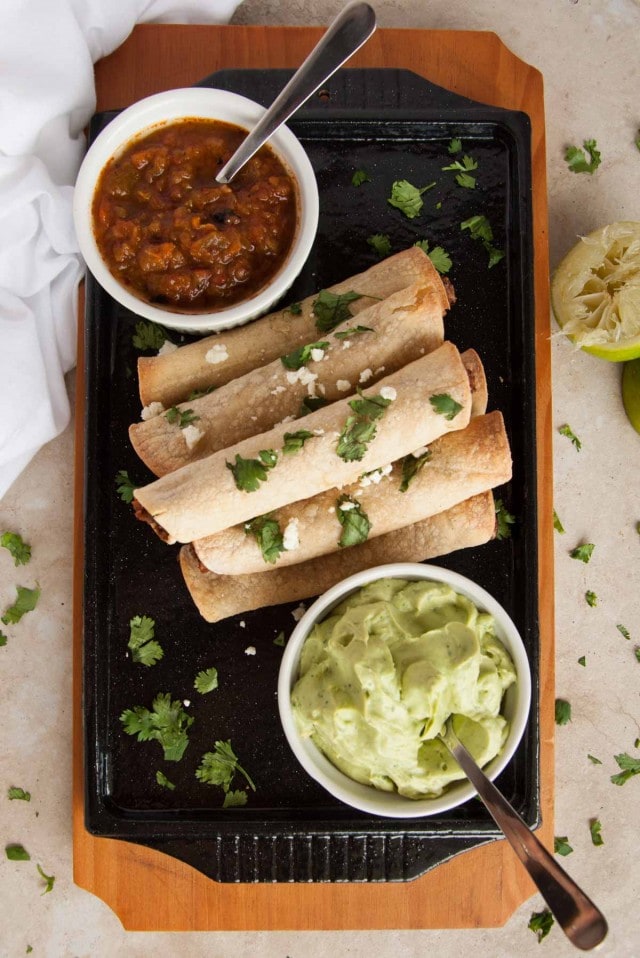 90's memories aside, taquitos are also alive and well and can be found in Mexican restaurants and the freezer aisle at your local grocery store. Whether they're authentically Mexican or not is debatable. There is no debate on their deliciousness, however.
My issue with obtaining taquitos through these channels is that at a restaurant, they're fried and greasy. When getting the freezer kind, they're loaded with preservatives and there is rarely a veggie in sight.
So, what's a taquito craving señorita to do? Make 'em myself I guess.
As you can see in the picture below, these baked black bean taquitos are loaded with vegetables. Poblano peppers add the kick and flavor punch needed for black beans to sub in for the more traditional meatier taquito fillings. The corn gives a bit more texture, which pairs well with the creaminess of the beans.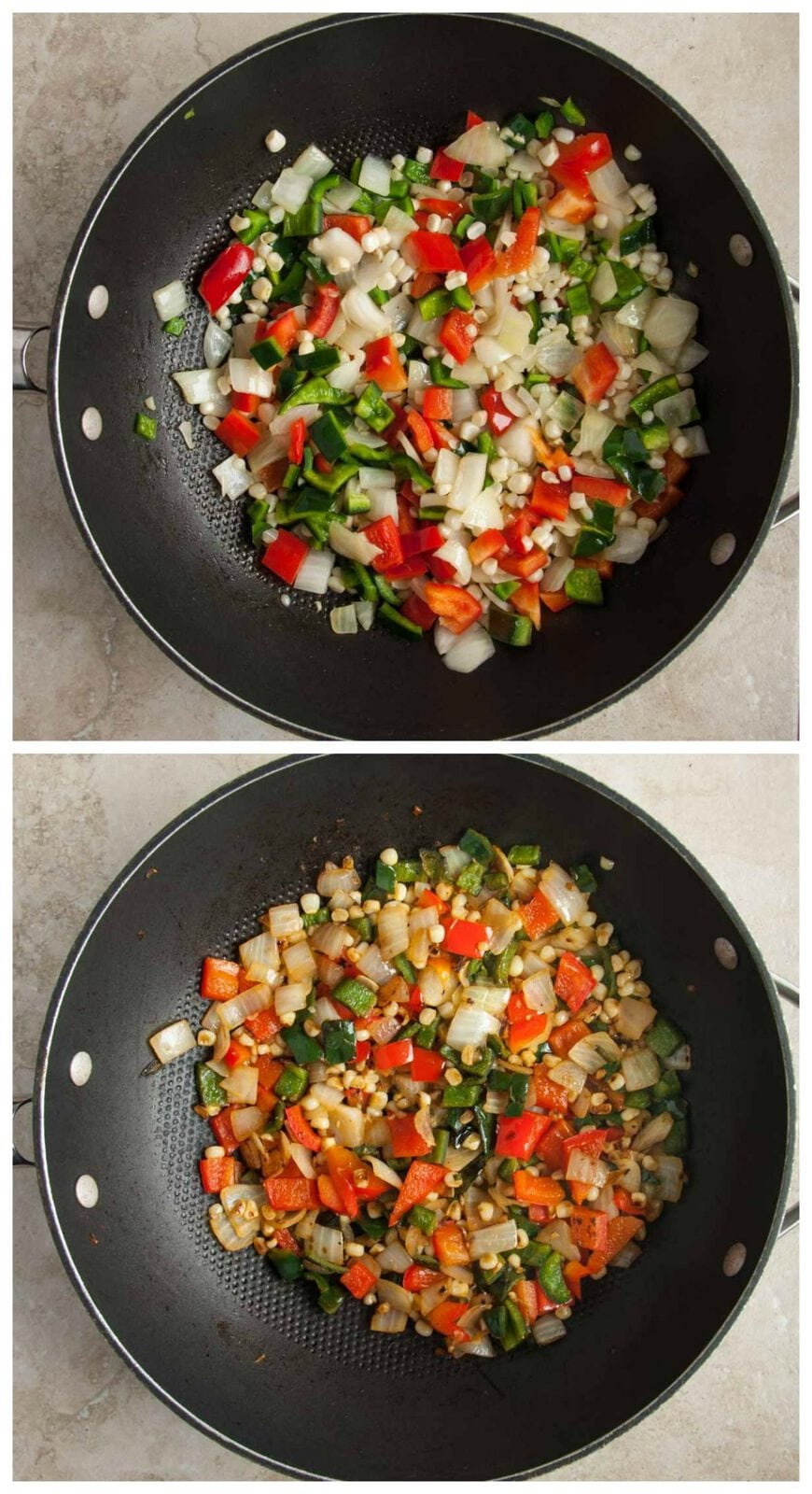 Black beans are high in protein, with each taquito packing a whopping 6.5 grams of protein and about 20 grams of protein per serving. This makes these bean taquitos not only delicious, but filling and healthy too.
We try to eat meatless a few times a week. By we, I mean I of course and my poor husband is forced into it by default.
Although full on vegetarianism doesn't appeal to me, it can be fun to play with plant based foods to see how much flavor you can add just by punching up the spices and adding zesty other flavors. Plus, veggies are lower in calories so you can eat more of them. Double score.
You'd be surprised how many times my husband has gotten through a whole meal without even missing the meat. I know I've talked about my sneakiness before in adding veggies to bread and yogurt in pancakes, but when it comes to the savory side of things, I tend to get even sneakier.
When its rolled up in a tortilla, you can't even tell whats inside. See how sneaky that is?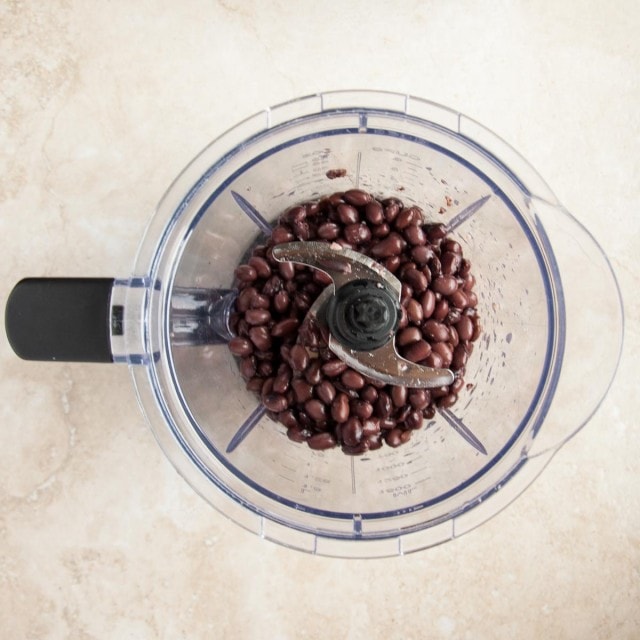 The assembly does take a bit of work. Its the fun kind though. Something about wrapping up individual foods like this can be a bit therapeutic and if you like cooking, you can relax and enjoy the process.
As long as you don't choose to make these on a day when you're in a huge rush, putting these bean taquitos together can be a fun activity. If you've got little chefs, this is a recipe they can probably get down with too.
One important note – if your tortillas aren't extremely fresh, they might break as you're rolling them up. To deal with this, just brush the entire tortilla with oil before adding the filling, not just the seal portion of the tortilla. This will make it more flexible when you roll it up.
Also, make sure to microwave the tortillas before rolling! It's a critical step to keeping them from breaking.
What are bean taquitos without a stellar dipping sauce? Since these will be piping hot coming out of the oven, I wanted to create a dipping sauce that will both cool them down and add a second punch of flavor without overwhelming the flavor of the taquitos themselves.
The dipping sauce pairs well with bean taquitos, but doesn't have a strong enough flavor to stand as a dip on its own without the seasoning in the taquitos to add further depth of flavor. If you want to use the sauce as an overall dip for other things, feel free to add a bit of cumin, garlic, and the likes to take the flavor up a notch.
Now, in case you aren't convinced to make these. Here are a few photos to help you make up your mind…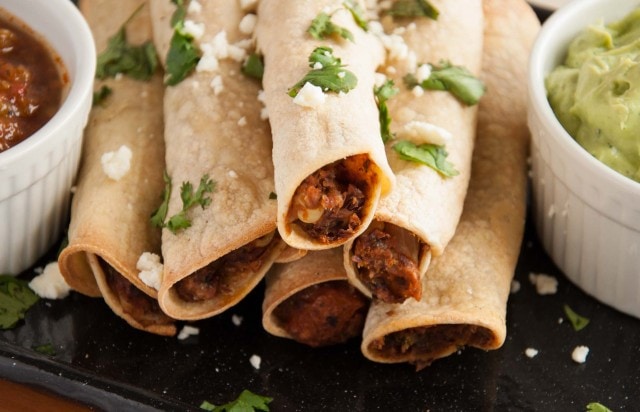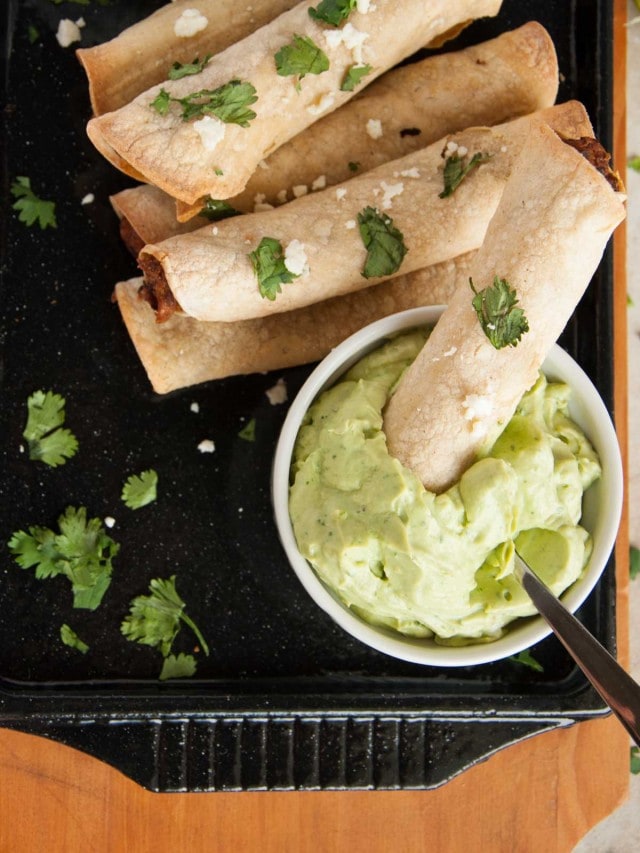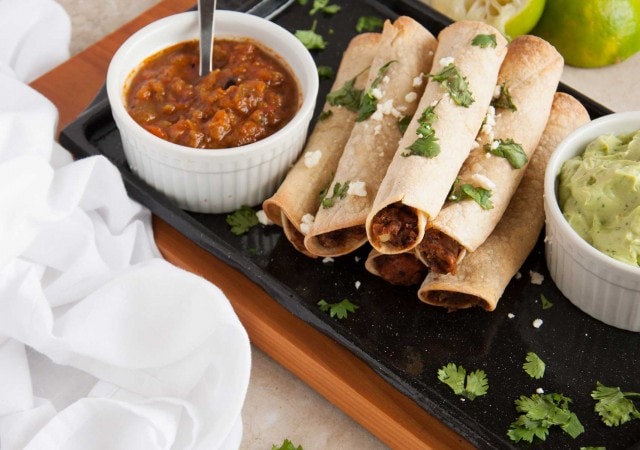 These baked black bean taquitos are both vegetarian, packed with veggies, and way lighter than the store bought kind without sacrificing any flavor.
Ingredients
Dipping Sauce
1 large avocado
1/3 cup plain yogurt
1 Tbsp. lime juice
Handful about 1/3 cup cilantro leaves
Instructions
Preheat oven to 425° F.

Heat coconut oil over medium-high heat. Add onion and poblano pepper and sauté for 6-8 minutes until they start to brown.

Add garlic and corn and cook 2 minutes longer.

Add beans, cumin, chili powder, paprika and salt to food processor and pulse until about 2/3 of the beans are pureed. Add bean mixture to cooked vegetables, along with the cheese, lime juice, and cilantro and mix together.

Heat tortillas in microwave covered by a damp paper towel, 5 at a time. Microwave 15 - 30 seconds until warm.

Remove tortillas from microwave and assemble each taquito by adding about 2 Tbsp. of filling onto the right side of a tortilla and rolling (process shown in blog post). Brush the seam with olive oil to seal. Brush outside of rolled toquito in oil. Assemble flat side down in baking dish.*

Bake for 18 - 20 minutes until outside is crispy and starting to brown.

While taquitos are baking, add all dipping sauce ingredients to food processor and blend until smooth and creamy. Serve taquitos with dipping sauce.

Serving size is three taquitos and the recipe makes about 18 total.
Notes
*Prepared taquitos can be frozen for later use. After assembling, put taquitos into a zip lock bag and lay flat in the freezer until frozen.
Nutrition
Calories: 431kcal | Carbohydrates: 48g | Protein: 20g | Fat: 19g | Saturated Fat: 7g | Cholesterol: 18mg | Sodium: 450mg | Potassium: 919mg | Fiber: 16g | Sugar: 2g | Vitamin A: 1280IU | Vitamin C: 25.7mg | Calcium: 221mg | Iron: 4.5mg
Please note that these nutrition facts are for 3 taquitos per serving.