This naturally vegan buffalo dip uses garbanzo beans instead of chicken and has all the same great flavor and protein but is sooo much healthier!
My love of hummus is pretty apparent and I find myself craving buffalo sauce regularly. The big surprise is how outstandingly delicious it is. It even makes celery taste good, which is a stretch as far as I'm concerned!
I've had a long standing love of all things buffalo flavored. Bring on the Frank's hot sauce! Seriously, I could eat this stuff straight out of the bottle… and have done so.
For those of you that are equally in love with hot wing sauce, but want a healthier way to get your fix, this recipe is for you. For the rest of you without tastebuds, this recipe is not for you.
Now that we've cleared that up, let's get into what makes this hummus so damn awesome (aside from the obvious addition of Frank's). To get that smooth creamy restaurant style hummus using canned garbanzo beans, you have to remove the skins.
You know those weird casings that slip off when you pinch a chickpea in your fingers? Yup, those are what I'm talking about. They've gotta go. Trust me, you won't miss 'em. If you have a Vitamix or other high powered blender, you can skip this step. If you're slumming it with a crappy old blender though, removing the skins is the key to creamy hummus.
To further emphasis what I'm talking about, I took a quick photo for you. The pile on the left here shows the beans with the skins on, the middle shows those in transition, and the pile on the right are the skinless, smooth chickpeas, ready to be blended into buffalo dip.
I normally do this in a colander and place each one directly from the sink to the blender after removing the skin. If I am in a hurry, I might just try to remove most of the skins, shooting for about 80% which is usually good enough.
This might seem like a pain, but it really just takes 5 minutes or so to go through one can of beans. The creaminess this extra step creates is worth 5 minutes of your life. Trust me on this one.
Then, go ahead and dump the rest of the ingredients into the blender. If you're worried that it might be too spicy, just use 2 Tbsp. of buffalo sauce to start out with. The beauty of making hummus in a blender is the ability to add ingredients to taste. It's pretty much fail proof.
Not salty enough for you? Add a pinch more and pulse. See, it's really easy. Way easier than making hot wings and waaaay healthier too.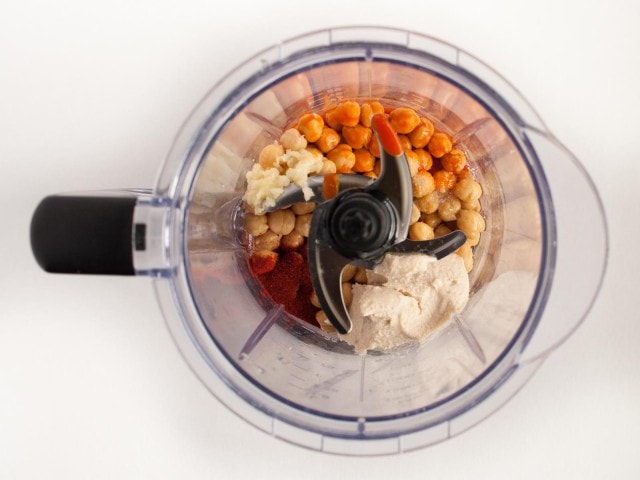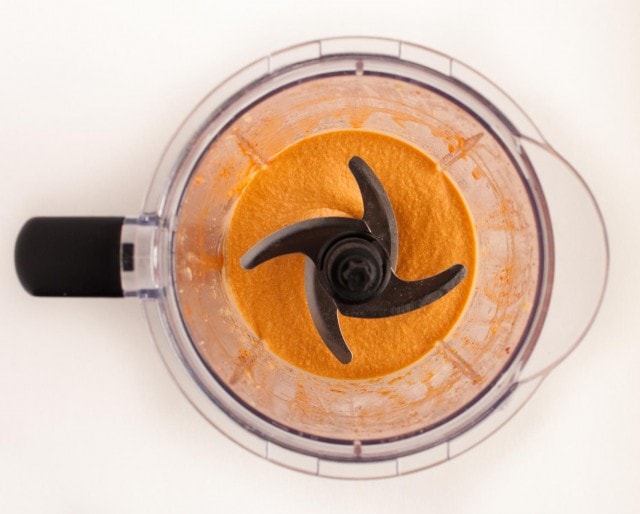 To make this buffalo dip a surefire winner for health-concious folks, serve with celery sticks and/or other veggies. Although I pay pretty much no attention to football whatsoever, I know a lot of you are big time fans.
For those of you who don't want to cripple your calorie bank on game day, keep this recipe in your back pocket. Waking up with a food coma is no fun, and while sometimes the snacks are worth it, its also nice to roll out of bed feeling great the next day.
Our house because a semi no-drink zone for the month of November with my husband choosing not to drink this month. This has gotten me thinking about my own booze and food choices and I'm sure noticing a difference on the days I go to bed without having had a drink or two (or three or four).
He also decided not to shave his facial hair for the month of November and is out $250 if he does. Its sparse so it isn't *too* terribly noticeable… until you get close up and see it in all its fuzzy glory. Sorry honey, but you certainly aren't winning any mustache competitions anytime soon.
These boys and their bets I tell ya. At any given time they have at least 2-3 bets going with each other. Some are long-term (one goes to 2020!), others short-term, but the sheer quantity and creativity of them really has me somewhat impressed. In thinking this over, I'm rather thankful that the nearest casino is over an hour away. Gotta count your blessings where you can, ya know.
On that note, let's get back to all things buffalo dip. You may notice that I gave the dip a swirl more hot sauce and a sprinkle of chives, which is entirely optional.
If you want to replicate this look, just dip a knife in hot sauce and swirl it through, just barely dipping the tip into the hummus. This is entirely optional and you can't really taste the chives in the dip. Parsley would have the same effect, but again, neither are really necessary and its just for looks.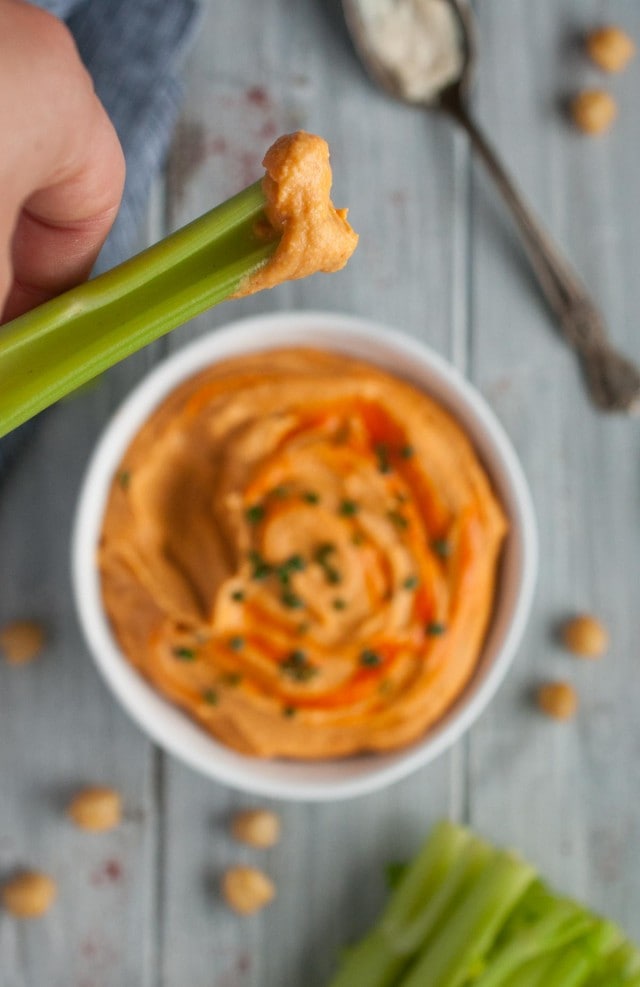 This buffalo dip is naturally vegetarian, vegan, and gluten free (depending on the bean brand you use) so this is a safe bet to make for any occasion and any guest.
Tahini is a staple in my fridge, but for those of you that don't have any on hand, Amazon has loads of tahini options. I normally get mine from the local grocery store but seeing the prices on Amazon, this may have to change. Just a tip for those of you in need of tahini.
For those of you that don't know what tahini is, think peanut butter but with sesame seeds. It has the same consistency, but doesn't have any sweetness. Tahini is a base ingredient in hummus and various other Middle Eastern recipes.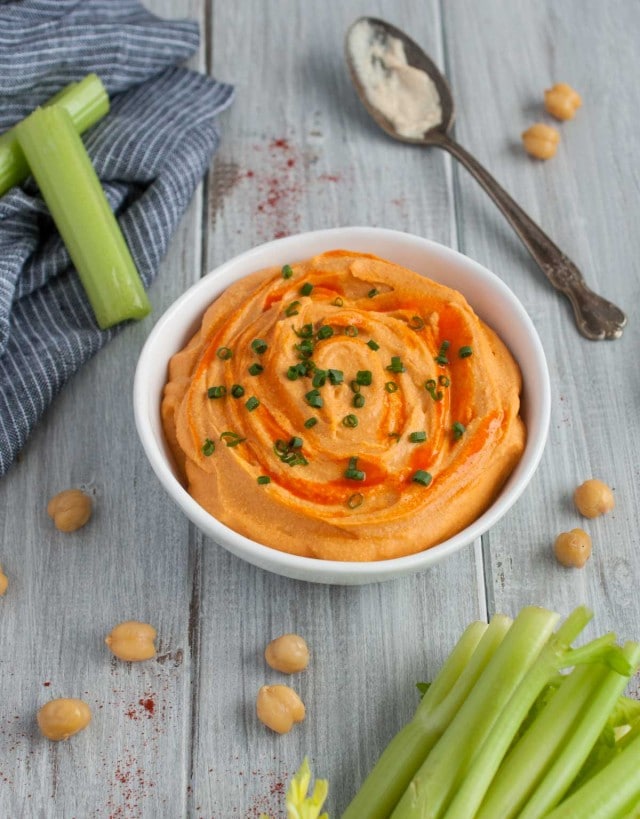 So there you have it. A healthy alternative to chicken buffalo dip and/or straight up chicken wings. You truly can satisfy your buffalo craving without making any sacrifices.
This naturally vegan buffalo dip uses garbanzo beans instead of chicken and has all the same great flavor and protein but is sooo much healthier!
Instructions
Rinse chickpeas in a colander. Remove skins on beans by lightly pinching each one before placing it into blender or food processor.

Add remaining ingredients to food processor with only two tablespoons of buffalo sauce and one tablespoon of water. Process in food processor for 2-3 minutes until smooth and creamy.

Remove the lid and scrape the sides of with a rubber spatula. Taste and add additional buffalo sauce if needed and additional water to make the consistency smoother (I usually end up doing 2 1/2 Tbsp. buffalo sauce total and 2 Tbsp. of water).

Run food processor for another minute before removing hummus and placing in serving dish. Serve with celery, other vegetables, and/or pita bread.
Nutrition
Calories: 116kcal | Carbohydrates: 11g | Protein: 4g | Fat: 7g | Saturated Fat: 1g | Sodium: 430mg | Potassium: 134mg | Fiber: 3g | Sugar: 1g | Vitamin A: 215IU | Vitamin C: 1.2mg | Calcium: 32mg | Iron: 1.2mg