This quick and easy tomato avocado cucumber salad is packed with fresh flavor, tossed in a tangy lemon dressing and is a great side dish or light lunch!
After 44 hours in transit, we're officially home from Africa! We got back late Saturday night and a day and a half later, I'm starting to get back into the swing of things. I had hoped to share this recipe with you while I was gone, but I was distracted by elephants, rhinos, and the likes.
You know how it goes.
Ahh! I can't wait to tell you all about Africa! It might take me a few weeks since sitting here now I can't even find the right words to describe that trip. Amazing, incredible, jaw-droppingly beautiful, stunning. None of those words do that continent justice.
For now, I'll refrain from divulging too much and get back to the topic at hand. I know the title is a bit of a mouthful. tomato avocado cucumber salad doesn't necessarily roll off the tip of the tongue, but I'm sure I'll be forgiven when your tastebuds get a load of this.
Why make this cucumber tomato salad instead of another one?
My laaaands – where to start. I probably made some variation of this salad every week this summer. It's my go-to when I'm hungry and the garden is overflowing with tomatoes. With this warm October and tomatoes still on the vine, my kitchen hasn't seen the last of this flavor combo and yours should start pumping it out whether you've got garden or store bought veggies!
This cucumber tomato salad is simple to make and absolutely loaded with fresh herbs which are powerful antioxidants. Unlike leafy green salads, this one is actually fulfilling and doesn't feel like you're eating rabbit food.
And the lemon dressing is to die for! It's so zippy and adds that perfect balance of acidity to complement the saltiness of the feta and juicy freshness of the vegetables. Plus it pairs well with just about everything.
How can I modify the recipe?
You can easily make this vegan by leaving out the feta. You've got free rein to play with the rest of the ingredients too based on whatever you've got in the fridge. I've replaced the herbs with basil, rosemary, green onion, dill, and pretty much everything in between at one time or another. Bell pepper makes a great addition. You can even sub raw zucchini for the cucumber which is pretty tasty.
As for the dressing, if you don't have a lemon on hand, try using vinegar. Balsamic is particularly tasty, but apple cider vinegar works well too. Or go for some combo of the two.
If you don't feel like chopping red onion, just add some onion powder to the dressing instead. As with most salad recipes, the possibility for substitutions is truly endless. Get creative yo.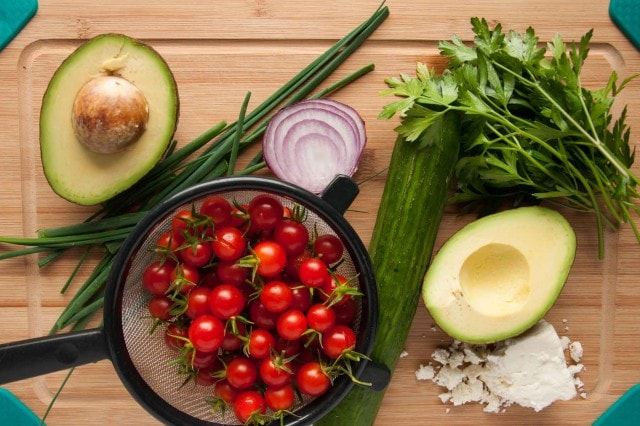 How do I make the dressing?
I normally shake the lemon dressing up in a mason jar since it's quick and easy and emulsifies it perfectly. I've even just drizzled and sprinkled the dressing ingredients right into the salad, forgoing the jar altogether. This works fine as long as you stir well and make sure the mustard is mixed in well. No one needs surprise clumps of mustard. Eww.
How do I make it look this pretty?
In the picture here, I have everything in the bowl together, simply because its pretty and I wanted to show all the ingredients. I normally hold the avocado and feta though and toss the rest of the ingredients in dressing before folding those in.
Just tossing it all together is certainly fine, the avocado and feta just won't hold up as well and kind of meld into the dressing. Either way, it tastes the same, so the decision is yours to make. It's hard to screw a tomato cucumber salad up so don't sweat it.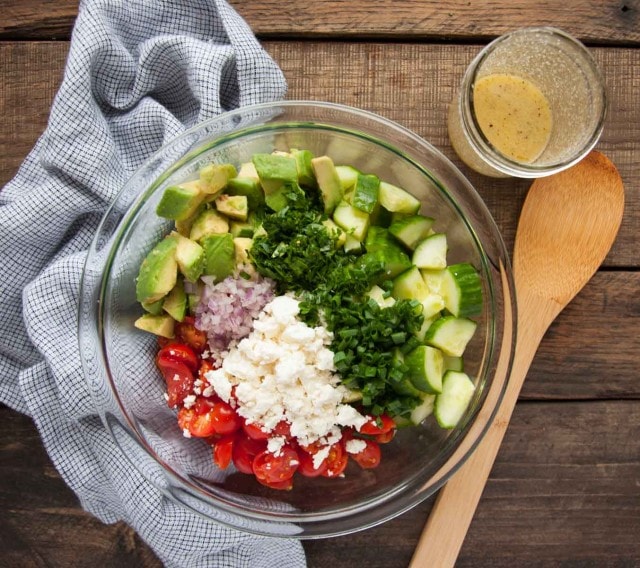 What should I pair this tomato cucumber salad with?
Although I've made this salad to accompany an assortment of different entrees, it goes particularly well with fish. I've paired variations of this salad with both salmon and halibut and it almost stole the show each time. If you're using dill and lemon on the fish, just add a touch of dill to the salad for a seamless complimentary side dish.
I love doubling this and bringing it to BBQ's or other get togethers. When doing this, I just bring the avocado and feta separately and add it to the salad right before tossing and serving.
Or if you're looking to make this a whole meal, you can add in some diced chicken or chickpeas like this similar cucumber chickpea salad (that's also super delicious!).
This sounds terrible – what else can I make?
Our tastebuds are all different so I get it! If this doesn't sound like your jam, check out this berry summer salad recipe or this curry salad or just visit this salad page and skim to find one that suite you.
This quick and easy tomato avocado cucumber salad is packed with fresh flavor and is a great side dish to any entree or perfectly delicious on its own.
Ingredients
2 cups cherry tomatoes, halved
1 large avocado, diced
1 cucumber, cut into quarters lengthwise and sliced into 1/2" pieces
1 Tbsp. minced red onion
1/4 cup crumbled feta*
1 Tbsp. chopped fresh parsley (or basil, dill, or cilantro)
2 Tbsp. chives, chopped
1 1/2 Tbsp. olive oil
1 Tbsp. lemon juice
1/2 tsp. dijon mustard
1/4 tsp. garlic powder (or 1/2 tsp. fresh minced garlic)
1/4 tsp. salt
1/8 tsp. fresh cracked pepper
Instructions
Add oil, lemon juice, dijon, garlic powder, salt and pepper to a small jar or container with a sealable lid. Shake to mix well.

Toss tomatoes, cucumber, onion, and herbs together in a bowl with dressing. Gently stir in avocado and feta.
Notes
* You can toss the tomato, cucumber, and herbs in dressing up to an hour before serving. Just stir in the avocado and feta right before serving. Leave out the feta to make this recipe vegan.
Nutrition
Calories: 184kcal | Carbohydrates: 10g | Protein: 3g | Fat: 15g | Saturated Fat: 3g | Cholesterol: 8mg | Sodium: 247mg | Potassium: 550mg | Fiber: 4g | Sugar: 4g | Vitamin A: 1165IU | Vitamin C: 35.3mg | Calcium: 83mg | Iron: 1.4mg