Baked citrus chicken and vegetables is a comforting, delicious, unique one dish meal that is impressive enough to serve to guests without being too fussy.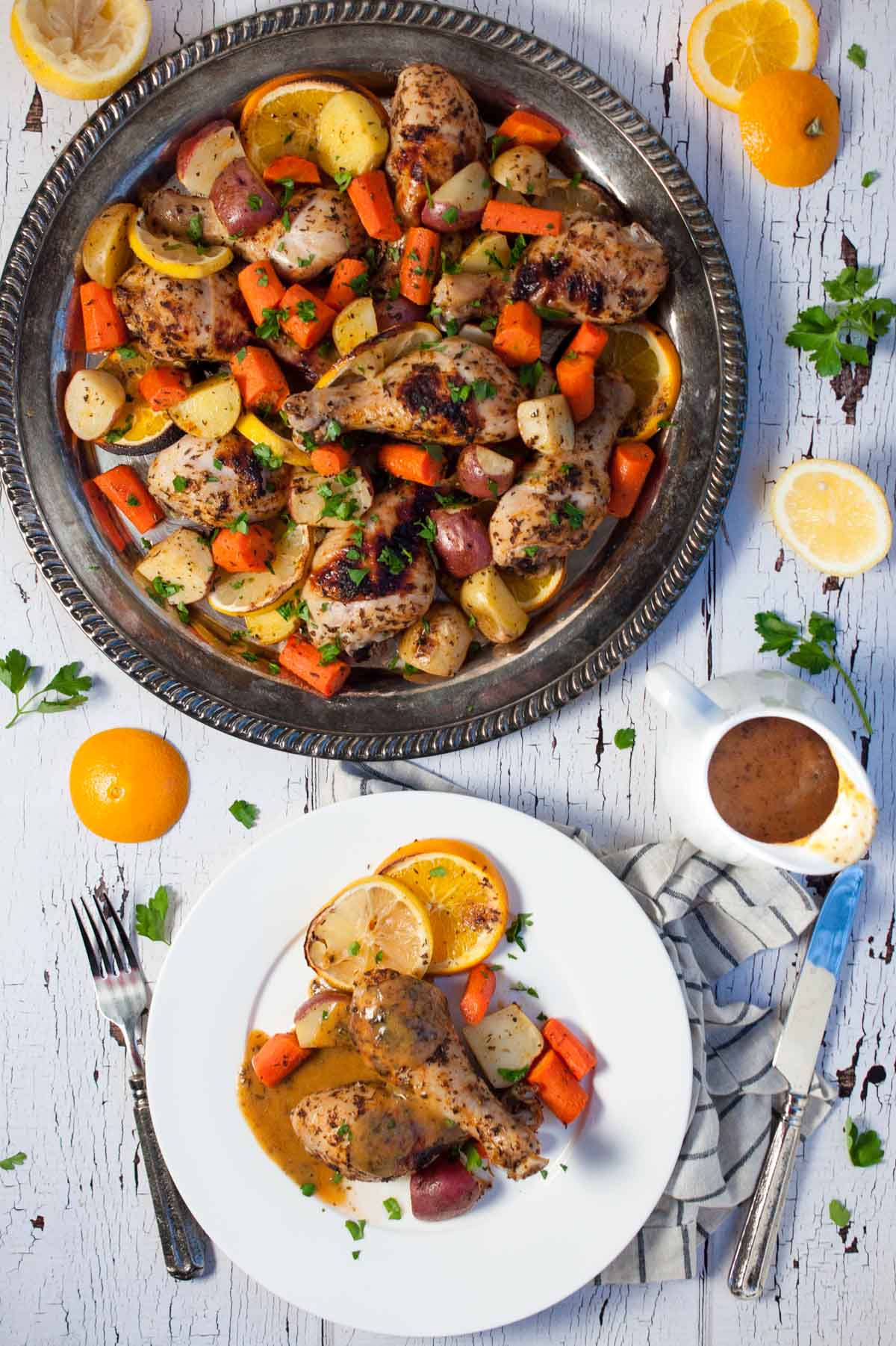 I first made this tasty citrus chicken about a year ago. I can't even remember at this point what inspired this recipe, but I do know that it has taken considerable effort to get this one right. All those attempts were well worth it though! This one dish citrus chicken is pretty darn fantastic at this point if I do say so myself.
Marinading makes the chicken plump, juicy and full of flavor. The carrots and potatoes are perfectly soft without being overcooked. The highlight though? Clearly the sauce. Gaaahhhh!! That sauce! If you're thinking of skipping it then don't even bother making this altogether. The sauce is what pulls it all together people! Think of it as a zesty gravy with a strong citrusy spin to it. Sheer divinity I tell you.
As with most other recipes I post this time of year, this is a good one for cozy dinner nights in. Its one of those wintery comforting recipes that hits the spot on a cold day. Anything with gravy screams comfort food to me though really. This one just has an unexpected tang to it from the lemons and oranges.
And can we take a minute to talk about the crispy chicken skin? Mmm… gravy and chicken skin isn't exactly an image of heath food, but you've gotta live a little from time to time. This recipe is completely made from scratch and is full of other wholesome ingredients so it fits my idea of healthy well enough. Not diet food, but not processed junk either. Ya feel me?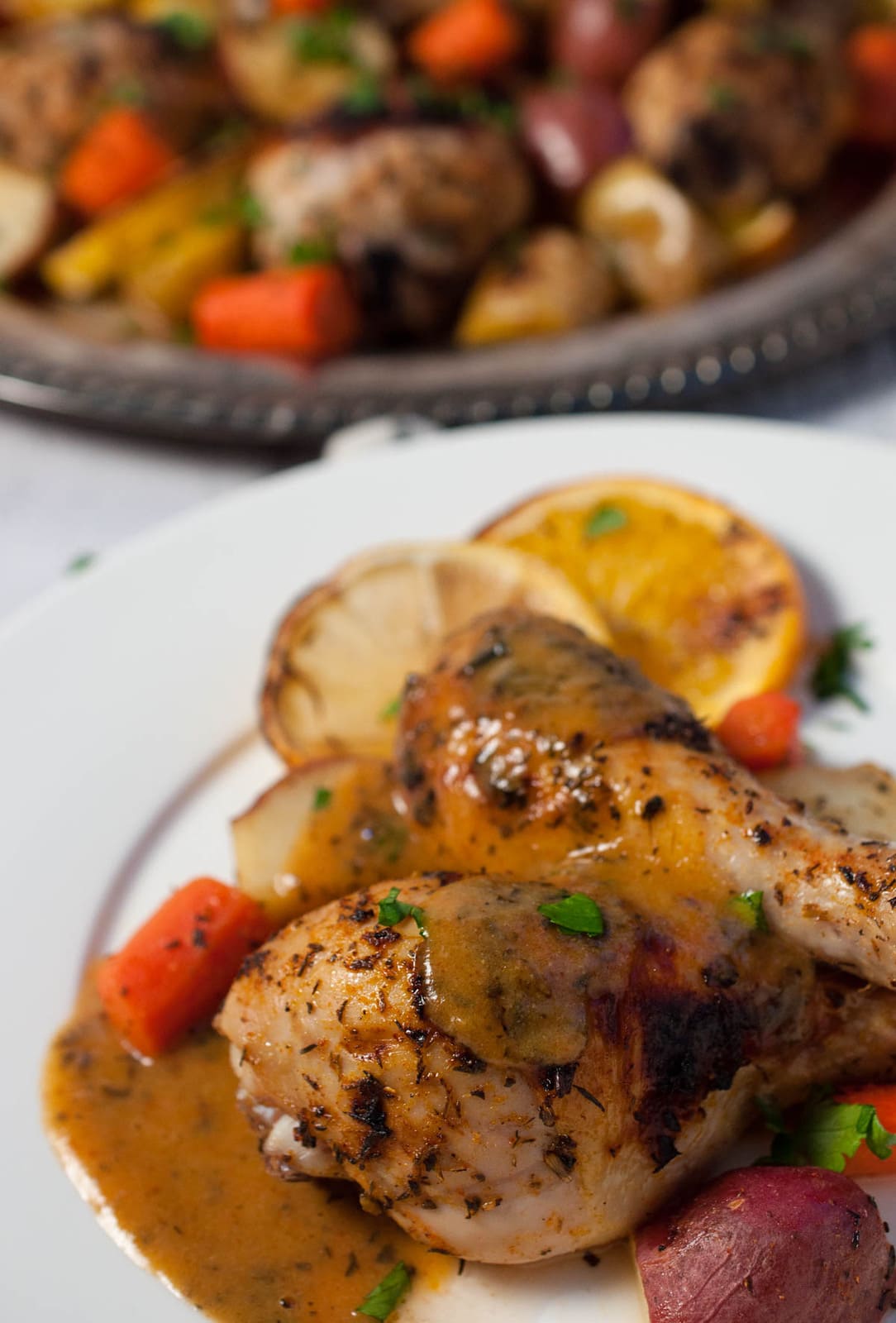 This recipe minimizes the oil, butter, and flour so those are really just minor supporting ingredients here. If you're a long time reader of Feasting Not Fasting, you probably know that I am NOT a fan of absolutes. Other than overly processed foods, pretty much anything is fair game. Its a played out phrase, but truly anything in moderation and there's a time and place for everything.
I replace regular flour with something more nutritious whenever I can, but some recipes call for the real deal. This citrus chicken uses white whole wheat flour – I'm pretty much utterly obsessed with that stuff! It can be subbed in for regular flour with little effect on the final flavor or texture. For a roux, you really need a wheat flour so its the perfect use for a sub like this.
This recipe isn't technically a one pot meal due to the sauce pan. Its damn close enough though so roll with me on that one people. I was able to fit the whole recipe on a half bakers sheet pan pretty perfectly.
Citrus chicken isn't one of those standard simple weeknight meals. There are a few steps involved. It is, however, waaaay easier than it looks. You have to think ahead to marinade the chicken for an hour or two. A touch of time does wonders without much extra effort needed. Trick of the trade ma friends, trick of the trade.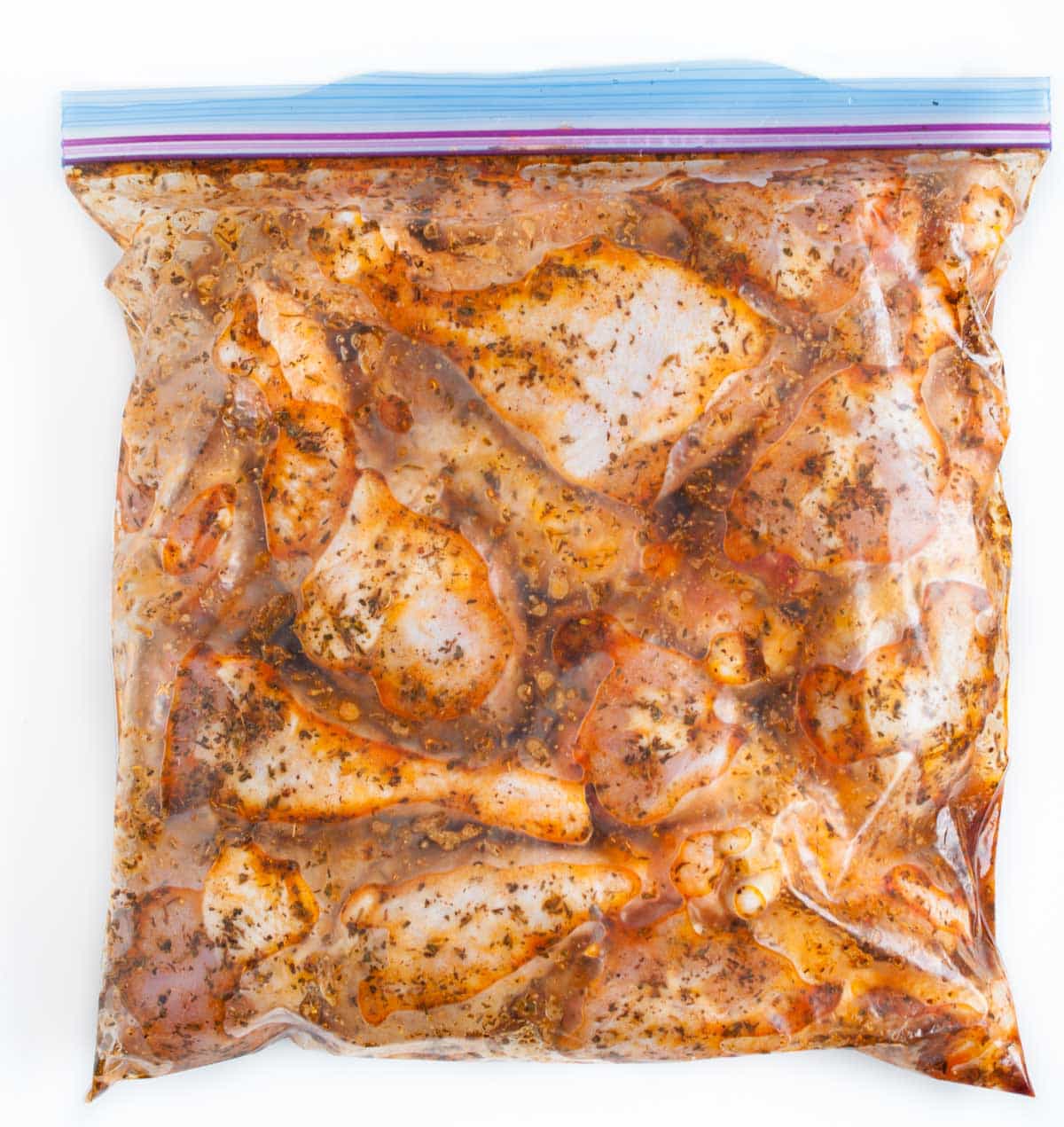 After marinading, you just plop the citrus chicken and veggies onto a pan and roast away. During that time, you can relax and leave the kitchen until the last 10 minute of cooking time. That's sauce prepping time… and you already know how I feel about that sauce…
Once those chicken legs are nice and toasty and the veggies are cooked through, you will probably need to broil to get that crispiness you want to see. Being cooked in sauce just creates too much moisture for anything to get crisp.
One other important thing to note – the carrots should be cut much smaller than the potatoes. This picture is a bad example of that because they really should be about half that size. Carrots just take way longer to cook than potatoes do. In other recipes, having a crunch to your carrot is a good thing. In this recipe, soft is where its at.
For those of you not familiar with making a roux, don't be scared! I know, I know. We went over this in my chicken stroganoff post, last week. I mean it when I say it though – this is not hard stuff! Once you learn this, a world of sauces will be open to you.
The trick is have everything ready. The butter/ flour mix will burn if you start it too far in advance. Then just whisk the liquid in a little at a time. Also, it helps if the liquid (in this case citrus pan drippings) is warm. Whisk away.
See, its totally worth it. Everything is better with sauce. Everything.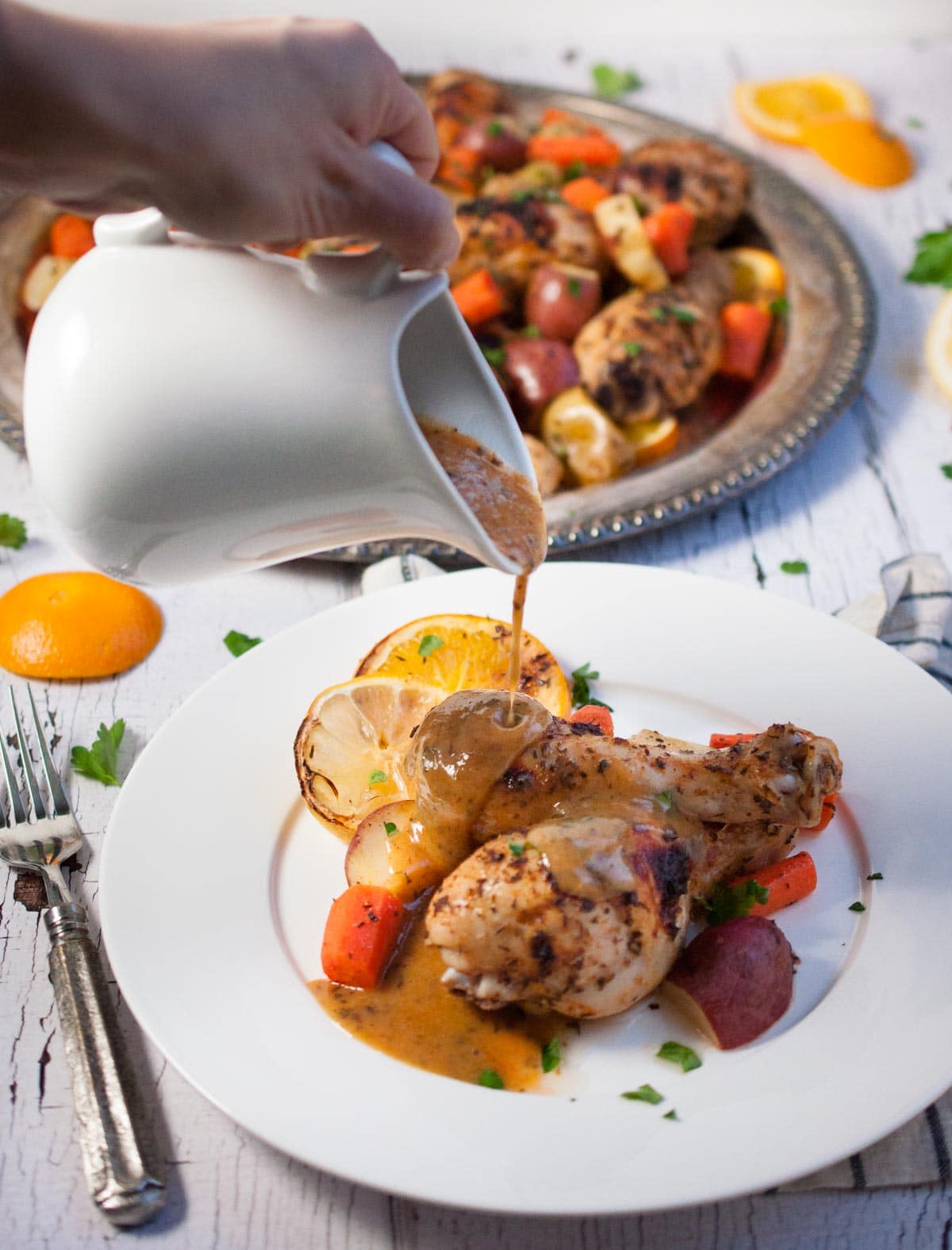 Enjoy this one!
Baked citrus chicken and vegetables is a comforting, delicious, unique one dish meal that is impressive enough to serve to guests without being too fussy.
Ingredients
12 chicken drumsticks rinsed and patted dry with paper towels
1 lb. baby potatoes halved or quartered into 1" pieces
6 carrots peeled and cut into 1/2" pieces
1 medium onion cut into 8 wedges
One orange thinly sliced
One lemon thinly sliced
1 Tbsp. butter
1 Tbsp. white whole wheat flour
Marinade
2 Tbsp. olive oil
1 Tbsp. honey
2 tsp. dijon
Juice from one lemon 2 Tbsp.
Juice from 1 orange 1/4 cup
1 ½ Tbsp. herbs de provence
1 ½ tsp. garlic powder
1 tsp. onion powder
1 tsp. paprika
1 tsp. dried thyme
1 Tbsp. minced fresh sage or 1 tsp. dried rubbed sage
2 tsp. salt
½ tsp. black pepper
Instructions
Make marinade by combining all ingredients and whisking with a wire whisk to thoroughly mix. Place chicken in a large ziplock or Tupperware container and evenly coat with marinade. Let marinade for at least one hour.

When you're ready to bake the chicken, preheat the oven to 400° F.

After marinating, remove chicken from bag and place on a rimmed baking pan. Place potatoes, carrots, and onion into marinade bag/ container and toss to coat.

Pour veggies and remaining marinade into pan and spread out evenly. Add citrus slices throughout the pan, but make sure not to place any on top of chicken or the skin won't get crispy.

Bake uncovered for 40 minutes or until the internal temperature of the thickest part of the chicken reads 165° F and carrots and potatoes are tender.

During the last 2-3 minutes of cooking time, heat butter in a small saucepan over medium-low heat. Add flour and whisk to create a roux. Remove chicken and vegetables from pan and place on a serving plate. Pour juices from the pan into saucepan and whisk to blend in. Bring to a low simmer and then turn off heat.

If chicken skin is not browned, turn broiler on and place back on baking sheet. Broil for 1-2 minutes watching carefully because it will brown quickly.

Serve chicken and vegetables immediately with pan dripping sauce.
Nutrition
Calories: 440kcal | Carbohydrates: 31g | Protein: 30g | Fat: 22g | Saturated Fat: 6g | Cholesterol: 144mg | Sodium: 882mg | Potassium: 982mg | Fiber: 7g | Sugar: 6g | Vitamin A: 11045IU | Vitamin C: 25mg | Calcium: 181mg | Iron: 8.4mg