Tasty arugula sweet potato salad with zesty yet creamy tahini dressing, crunchy roasted chickpeas, and a pop of tartness from juicy pomegranate arils.
I've got a salad for you today my friends that you are probably going to love. I say probably because some people aren't tahini dressing fans and I hate to leap into assuming that you are.
If you aren't, check out this beet fig salad or this detox salad round up. But, more importantly, if you are a fan read on and I'll give you a combo to tantalize your tastebuds.
This tasty arugula sweet potato salad is a great wintery main dish or side salad option. If you're anything like my husband, you might balk at having a salad as a main dish, but this one has some serious substance to it. The sweet potato makes it filling while the crispy chickpeas give it texture, crunch, and protein.
The poms dress it up a bit and add a touch of tartness. If that still isn't enough for you, add feta or chicken if you want more sustenance. As is though, this arugula sweet potato salad is naturally vegan and plenty filling.
That smooth, creamy tahini dressing hits the same satisfying notes that ranch and other cream-style dressings do. It coats the salad with a nice, wholesome sauciness. Again, many people aren't big fans of tahini dressing so don't feel obligation to like this stuff. Give it a try though. You'll probably find that its tastier than you think.
So what is tahini? Think texture of peanut butter but with ground sesame seeds. Its savory not sweet though and has a totally different flavor profile. Most grocery stores in my area (Pacific NW, USA) sell it in the international section. If you're having trouble finding it, Amazon has some good tahini options. I normally get mine at Trader Joe's.
Tahini is a staple in Middle Eastern cuisine, much like peanut butter is for US folks. It has made its way into the health food world since it mimics creamy dairy sauces in dressings like this. Plus, its made from seeds so there's protein and nutrition. Vegans love this ish.
Dressing aside, let's get down to the other ingredients. My favorite part of this arugula sweet potato salad? The CRUNCHY CHICKPEAS!!! These things are sooo good! I'm still baffled that I didn't figure this out earlier since they seem to be all over the interwebs. I actually tried making them before but they didn't crunch up like these ones did.
Then I stumbled upon some pointers over on The Kitchn and a light bulb went off. I had one of those palm to forehead moments. User error for sure. Ever since, crispy chickpeas have been free flowing in this kitchen.
Forgive the terrible photo below. I took these pics at night with a light. I'm still learning to use this thing (obviously), so bear with me through this god awful, limited winter light. I wanted to include this picture despite how terrible it is, mainly to show the stark difference between the sweet potato and the chickpeas. Notice that they're totally… naked… oh my!
That's the trick people! Naked, semi-dried out chickpeas, roasted without any oil or seasonings. You toss all that good stuff on after. This is what makes them actually crispy. They're so versatile too. You can make sweet chickpeas, you can make savory chickpeas – options are truly limitless. As long as the've got a crunch to them, they'll be delicious.
Texture is critical in a good salad and this delivers without needing croutons, nuts, or anything else. Although I love both croutons and nuts, having another option is always nice.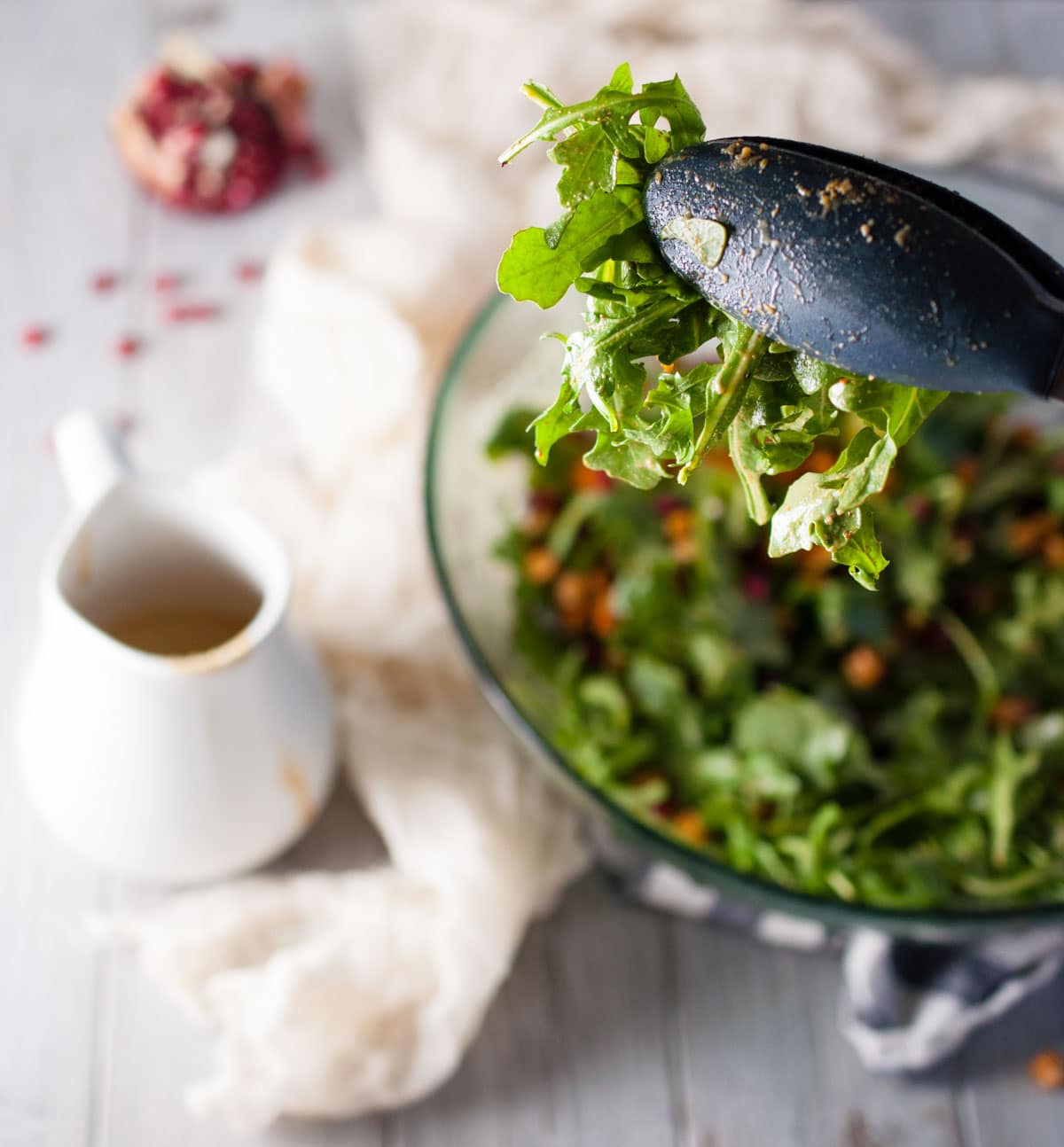 Tasty arugula sweet potato salad with zesty yet creamy tahini dressing, crunchy roasted chickpeas, and a pop of tartness from juicy pomegranate arils.
Instructions
Preheat oven to 400° F.

Toss salt, pepper, paprika, cumin, and onion powder together in a small bowl and set aside.

Rinse chickpeas and let drain in a strainer. For crispier chickpeas, remove the outer skin from each chickpea and discard.

Place the chickpeas between two kitchen towels and rub lightly to dry. If you have the time, place the chickpeas onto a new towel and let them sit to air dry for half hour. The drier the crispier!

Spread out in a single layer on a baking sheet. Place pan in oven while preparing sweet potato since chickpeas will need to roast longer. Mix salt, pepper, paprika, cumin, and onion powder in a small dish. Toss sweet potato chunks in 1 Tbsp. olive oil. and about half of the spice mixture. Spread out on baking sheet and place in the oven with the chickpeas

Roast for 30 - 40 minutes, until chickpeas are crispy and sweet potato chunks are cooked through and starting to brown. Pull the pans out half way through baking to flip sweet potato pieces and shake chickpeas around to make sure they roast evenly.

While sweet potato and chickpeas are roasting, prepare dressing by combining all dressing ingredients in a small food processor or blender and pulsing until smooth and creamy (1 – 2 minutes).* Set aside.

After removing from oven, let chickpeas and sweet potato sit on the pan to cool for 5-8 minutes. Toss chickpeas with olive oil and then remaining spices.

Toss arugula with dressing. Add sweet potato, and pomegranate arils and toss to mix in. Top each serving with chickpeas and serve immediately.
Notes
*Make sure to use some of the the thick peanut butter like tahini, not the liquid portion on the upper part of the jar!
Nutrition
Calories: 310kcal | Carbohydrates: 29g | Protein: 8g | Fat: 19g | Saturated Fat: 2g | Sodium: 944mg | Potassium: 484mg | Fiber: 7g | Sugar: 4g | Vitamin A: 5770IU | Vitamin C: 10.6mg | Calcium: 123mg | Iron: 3mg