Creamy chicken stroganoff is comfort food that is easy enough for a weeknight dinner. This version is lightened up with mushrooms and brown rice noodles.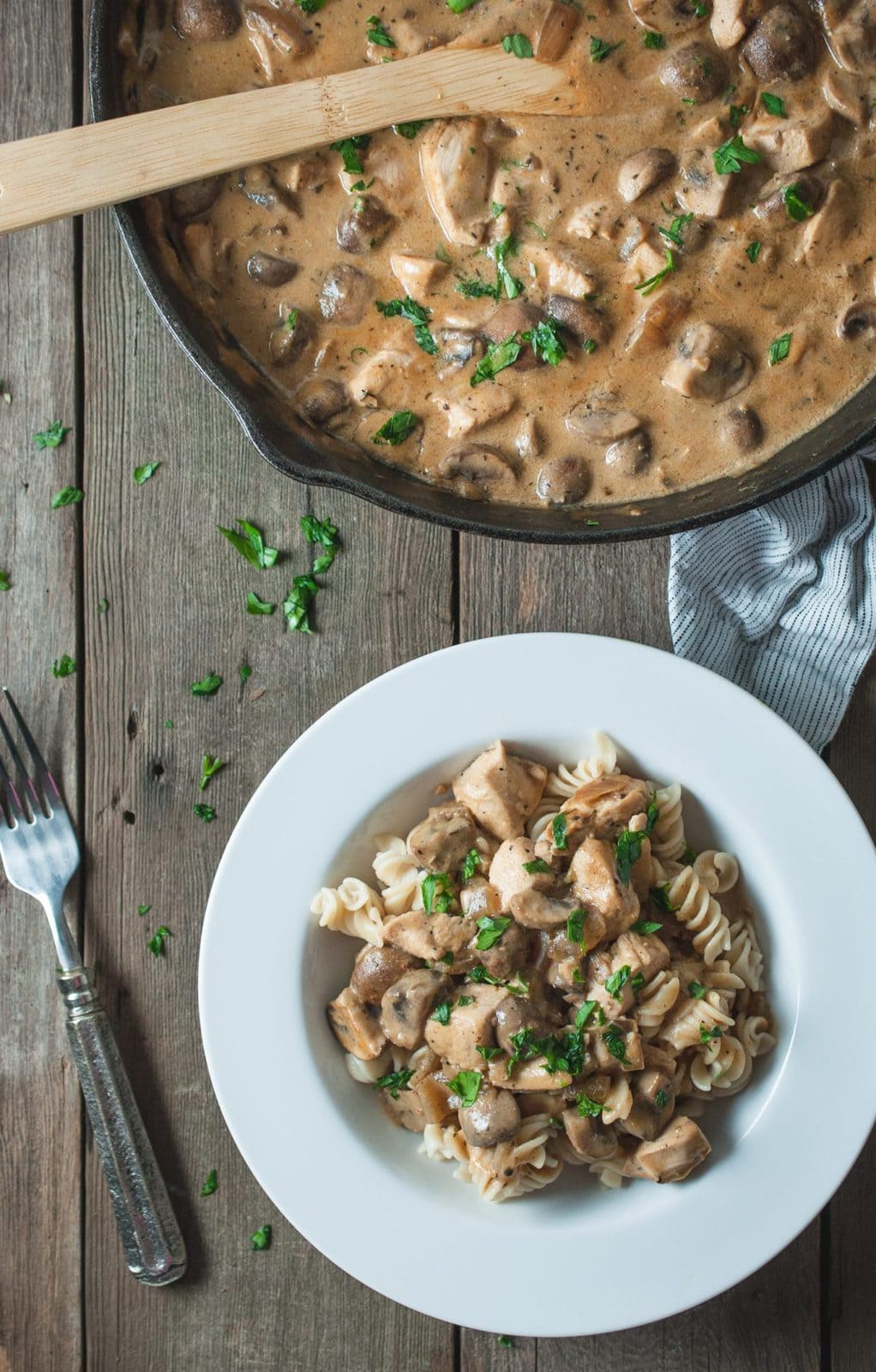 This time of year is all about the comfort food. Anyone that says they aren't craving warm saucy pasta dishes, melty cheese, and stews is most likely lying. Traditionally, winter is time to bust out the stretchy pants because all these hearty home cooked meals can take a toll on the waistline.
Although I'm a *huge* fan of stretch pants, I love putting a healthy spin on comfort food. There's nothing better than lightened up dishes where you can't even tell that that its healthier than the real thing.
In this case, there isn't a whole lot of swapping going on other than changing out beef for chicken and adding mushrooms. Chicken is a better option for us, especially since Ted has high cholesterol. Chicken has about 1/3 of the saturated fat that beef does. Even if you don't have a cholesterol issue, chicken is recommended by doctors across the planet as a healthier alternative to beef. There are too many articles out there to even begin linking to them.
To up the health factor, I also used quinoa brown rice pasta from Trader Joe's. If you don't have one near you though, you can go the traditional route with regular egg noodles.
What I would not recommend is paying that Amazon price! Dang those are some spendy noodles. Please know when I link to things like this, I'm doing this mainly to show you what I'm talking about, not to encourage you to buy something at an insanely jacked up price. $15 for something that normally costs $3 is just a wee bit ridiculous.
If you want to branch out in stepping up your pasta game, there are other options. Brown rice pasta is becoming more and more popular. In full disclosure, I've bought a few brands that were about two steps away from cardboard. It gets mushy too as leftovers. That's why I really like that brown rice quinoa blend. Its a little less… gross… In fact, its pretty good. Especially slathered in chicken stroganoff. Given, you could probably could slather cardboard in this stuff and still have it taste edible. Its so creamy and savory, it really does a good job of coating whatever noodle (or cardboard) you choose for the job.
Let's get back to the heart of this recipe – the sauce! Chicken stroganoff is so easy guys. If you're not an experienced cook, no worries. Making a roux sounds intimidating, but its totally not. Is basically just whisking flour into melted butter. From there, you pour some liquid in and whisk until it dissolves. That doesn't sound too hard does it?
If you aren't an experienced cook, the best thing you can do is prep all of the ingredients ahead of time so that you aren't scrambling between steps in a recipe. That's what always catches me up when making a new recipe. I get over confident and think I'll save time by prepping as I go. Sometimes that works. Other times, I end up with one part getting way over cooked. This is one of those recipes where you want to prep everything first for sure since it moves quickly.
I've made this chicken stroganoff recipe a few times now so I can pretty much guarantee that its a winner. It isn't one of those recipes that will knock you over the head with unique flavor. You've tasted all these flavors before and its a classic that has been redone to be a bit healthier. Simple as that.
As long as the noodles are coated in sauce (if you're using quinoa brown rice noodles), it keeps pretty well for a couple days. Which is good if you're like me and live on leftovers. Although I love cooking, I really don't want to do it every night! I have a day job and want to come home and chill the F out most nights. Weeknights are for dramatic TV shows and dog snuggles, not time intensive recipes.
As I ranted on and on about in my recent fried rice post, I'm trying to get away from takeout. No matter how you slice it, its never as healthy as homemade. Leftovers and meal planning are the only way I can pull this off. If your life is anything like mine, I'm sure you feel me on this one.
A few of my other favorite weeknight dinners are this lentil curry, this chicken potato bake, and an internet favorite – these turkey cabbage rolls. Notice how all of these serve at least six. That's my leftover-loving side strategically planning for tomorrow's dinner too. 😉
Whether you're a leftover lover or not, this recipe is one to add to your list!
Go ahead and put this chicken stroganoff on your meal plan for the week. Its hearty, delicious and basically comfort on a plate. Perfect for these cool winter days.
Creamy chicken stroganoff is comfort food that is easy enough for a weeknight dinner. This version is lightened up with mushrooms and brown rice noodles.
Ingredients
1 Tbsp. olive oil, divided
1 ½ lbs. chicken breast or thighs, cut into 1" pieces
1 medium onion, chopped (about 1 cup)
2 tsp. minced garlic
1 lb. mushrooms, washed and quartered
¼ cup butter
1/3 cup whole wheat white flour
2 cups chicken stock
½ cup sour cream
1/2 Tbsp. Worcestershire
1 tsp. paprika
1 tsp. dried thyme
1/2 tsp. salt
1/4 tsp. pepper
Parsley (optional)
1 lb. quinoa, brown rice, or egg noodles
Instructions
Put a large pot of salted boiling water on a back burner over high heat. Bring to a boil and cook the pasta according to package directions while making stroganoff.

Heat ½ Tbsp. oil in a large pan over medium heat. Add chicken and cook for 3-4 minutes until chicken is browned on all sides. Season with salt and pepper while cooking. The chicken does not need to be cooked through since it will continue to cook later on. Remove from pan and set to the side in a bowl.

Add remaining oil to pan and heat over medium heat. Add onion and sauté for 3-4 minutes. Add garlic and mushrooms and cook for 2-3 minutes until mushrooms are cooked. Remove mushroom mixture from pan and set aside in a bowl (you can use the same bowl that the chicken is in if it is big enough).

Add butter to pan and melt. Reduce heat, add flour, and whisk in to make a roux. Add about ½ cup of chicken broth and whisk together with the flour mixture. Slowly pour in the remaining broth and whisk to mix in.

Bring broth to a low simmer. Add sour cream, Worcestershire, paprika, and thyme and stir until sour cream is dissolved. Add mushrooms, chicken, and juices back into the pan and cook for 4-6 minutes until chicken is cooked through. Add additional salt and pepper if desired.

Serve stroganoff over egg noodles and garnish each serving with parsley if desired.
Nutrition
Calories: 598kcal | Carbohydrates: 75g | Protein: 35g | Fat: 17g | Saturated Fat: 7g | Cholesterol: 102mg | Sodium: 504mg | Potassium: 860mg | Fiber: 2g | Sugar: 3g | Vitamin A: 770IU | Vitamin C: 5.7mg | Calcium: 69mg | Iron: 2.4mg