Mediterranean baked feta is roasted to perfection with fresh herbs, tomatoes, olives, and a drizzle of olive oil. This is an appetizer everyone loves!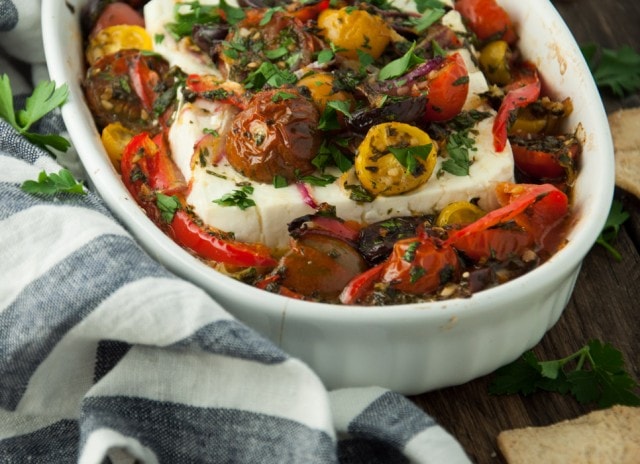 Maybe its my minute sliver of Greek ancestry, but feta really does it for me. Throw a sprinkle of feta on pretty much anything and I'm a happy camper. It just makes everything thaaat much better, ya know? You can imagine how excited I was when I first heard of baked feta. Basically just a slab of fresh cheese topped in all kinds of tasty roasted stuff like tomato, red pepper, herbs – its what dreams are made of people! Well, weird foodie dreams at least.
For this recipe you need real legit sheep feta. That crappy pre-crumbled stuff just won't suffice. This recipe is as easy as taking that big ol' chunk of cheese, plunking it down in a baking dish, topping with goodies, and throwing it in the oven. That's all there is to it really.
Feta is a good choice when it comes to cheese too since sheep milk is lower in lactose and fat. The lactose levels are so low in fact that many lactose intolerant people can eat it without any problems. I wish I had known this years ago when I was severely lactose intolerant because giving up cheese altogether was not in the cards for me. So, when a cheese worth suffering for came along, I just powered through. I'm not going to go into details on the symptoms, but they were extremely unpleasant to say the least.
Lactose intolerance is a mysterious ailment. Between me and my four siblings, three of us went through periods of lactose intolerance in our late teens and early 20's. I can't even begin to understand what caused that, but now that I'm able to handle dairy again (hallelujah!), I'm very sympathetic to those that can't. I truly feel ya man… 
Luckily, in addition to being lower in lactose, this baked feta isn't as big of a diet buster as you would think. Each serving is about 140 calories – and that's assuming you split this thing between 6 people, which makes for pretty generous portions.
Piling veggies on top helps lighten up this baked feta dip and lessen the caloric load altogether. I'm a sucker for fresh herbs and I'm completely in love with this combo of parsley, basil, and oregano. You can sub in dried basil instead of fresh without sacrificing too much flavor, but please, for the love of god, use fresh parsley and basil! Those two play a major part in creating the garden-fresh flavor that makes this baked feta what it is… which is delicious.
Here's a little before and after shot. Looks okay before, but looks tantalizingly awesome after!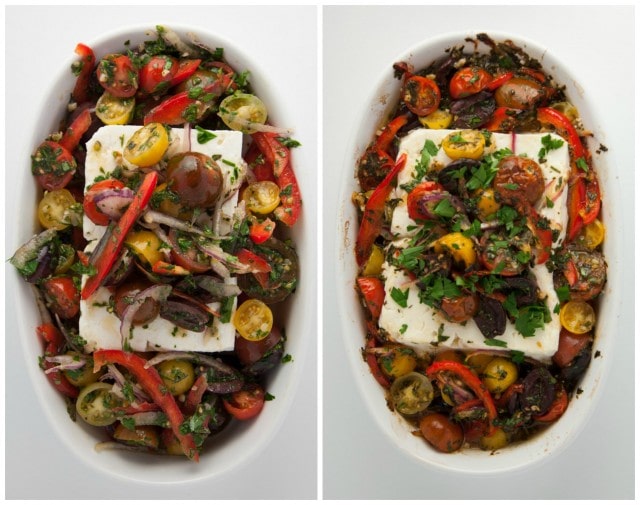 All this talk about feta has done wonders in getting my mind off of other things so thank you for listening to my feta love fest. As I'm writing this, I'm gearing up for quite the busy week, filled with lots of travel, friends, and family time. I'm on the road for work now, flying back to Portland tomorrow, picking up one of my closest friends from the airport a few hours after, and then flying out again a day later. This fabulous friend of mine is in town for a very heartbreaking reason, that I'm not entirely up to talking about at this point, but nonetheless, it will be great seeing her.
Then, the husband and I are flying out to Toronto this Friday to visit Ted's dad's side of the family for a long weekend. Meanwhile, his mom will be flying in from Argentina on the day we get back. She shares my love of old houses so I can't wait to show her around the one that we just bought. Needless to say, it'll be an action packed week filled with good people. Bring it on.
Baked Feta with Tomatoes and Olives
Mediterranean baked feta is roasted to perfection with fresh herbs, tomatoes, olives, and a drizzle of olive oil. This is an appetizer everyone loves!
Ingredients
8 oz. block of feta
1½ cups cherry tomatoes, halved
1 tsp. minced garlic
⅛ cup thinly sliced red onion (or ¼ cup if you really love onion)
¼ cup thinly sliced red pepper
⅓ cup Kalamata olives, pitted and halved
1½ Tbsp. chopped parsley
1 Tbsp. chopped basil
1 tsp. chopped oregano (or ½ tsp. dried)
¼ tsp. black pepper, fresh cracked
1 Tbsp. olive oil
Instructions
Preheat oven to 400 degrees F.
Mix all ingredients other than feta together in a small bowl.
Place block of feta into a small rimmed oven safe baking dish. Add tomato mixture to top and sides of feta, letting it spill over into the dish.
Bake for approximately 20 minutes until vegetables are roasted and feta has softened.