THE best turkey chili recipe packed with veggies, protein, and flavor is the perfect light yet hearty recipe for cold winter nights.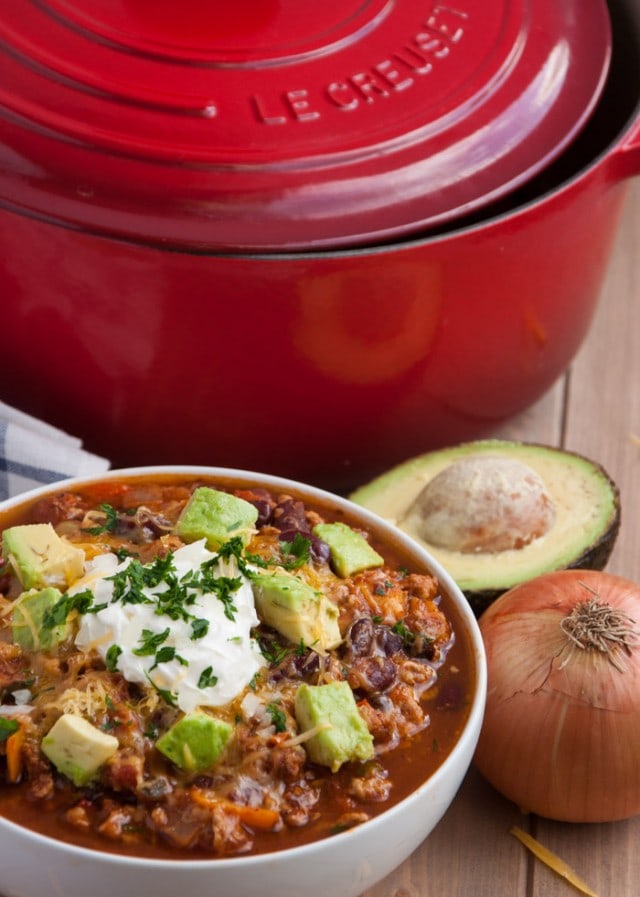 I know its Valentines day which means I should be posting something all lovey dovey like chocolate or a romantic dinner for two, buuuut, instead you get chili. Those of you that are boycotting V-day can let out a little sigh of relief. The rest of you that have nothing but romance on your mind may just want to pin this one for another day after the fervor of the 14th wears off.
With the weather here in the Pacific Northwest being about what you'd expect this time of year (rain, rain, and more rain), we've had a lot of time cooped up indoors lately. There's something about that pitter patter of rain on the roof that makes the house oh so cozy though, so I'm really not complaining. Any excuse to stay home and get caught up on Orange is the New Black is okay with me. I just can't get enough of crazy eyes this season! And that new bad a** cig hussler? Oh my, this season is full of all kinds of wickedly delightful surprises.
There's also something about this weather that calls for soups and stews. Its pretty much mandatory to have one simmering on the stove top at least once a week. Chili is pretty much the ultimate in that department too, delivering on all levels in one hearty, healthy, flavor filled bowl.
This turkey chili even takes it up a notch and by using leaner protein and tons of veggies to reduce the guilt that comes with TVathon snacking. Each serving (about 1.5 cups) has 22 grams of protein for just 278 calories, which will satisfy your hunger and keep you full longer than most comfort foods would.
I've been on a bit of a turkey kick lately. I've been swapping it with beef in everything, making turkey this, turkey that, and snapping all kinds of tasty pics along the way. I'll trickle the recipes in here and there not to overwhelm you all with turkey love, but I wanted to give you a heads up that this isn't the last you'll see of this lean protein source. You've been warned.
You've got to be careful buying ground turkey though, because the labeling can be kind of sneaky, especially if you aren't buying from a reputable organic brand. If you're going for lean, make sure that you buy 'ground turkey breast,' not just 'ground turkey,' because otherwise you'll be getting the fatty dark meat mixed in, which kind of defeats the purpose. Don't get me wrong, I'm all about that dark meat. Its normally much more flavorful and certainly has it's place, but in a dish that is already full of spice and tasty enough on its own, its not really necessary. Save the dark stuff for recipes where you can really taste the difference.
In cooking with lean ground turkey, my trick is to add all of the seasoning to the browned meat before adding any other ingredients. This way the turkey absorbs the spices and tastes more seasoned. I do this in turkey chili, turkey cabbage rolls, and pretty much any other recipe that calls for ground turkey. It really makes all the difference and most people won't even realize its turkey and not beef. Shhh.
You can definitely throw this recipe in the crockpot and let it simmer for a few hours, but I prefer to keep it stove top on the lowest heat setting. Why dirty another dish if you don't have to, ya know?
*Technically* the meat and veggies will cook in the crockpot, but browning is where all the flavor comes from! You don't want to miss this step. I want to try it in my pressure cooker
, one of these days since it'll brown and then cook in record time all in the same pot. For now, I rely on my good ol' fashioned stove top method though. Ever since my husband got me this Le Creuset dutch oven
a few bdays ago, I rarely use anything else. Its just so purdy! That guy really knows his way into this lady's heart… whether he got the gift idea from my sis or not.
I know in the recipe I refer to the add ins as "optional," but what's a bowl of turkey chili without its cheese? Exactly. So top with cheese, cilantro, avocado, green onion, and sour cream to your hearts content. Or get creative with other toppings, the sky is really the limit with this one.
The best turkey chili recipe packed with veggies, protein, and flavor is the perfect light yet hearty recipe for cold winter nights.
Ingredients
1 Tbsp. coconut oil
2 cups chopped onion
2 bell peppers (seeded and chopped)
2 small zucchini chopped (about 2 cups)
1 carrot chopped (about 1/2 cup)
1 Tbsp. minced garlic
1 lb. ground turkey
2 turkey sausage links (can use 4-6 oz. more ground turkey instead)
15 oz can kidney beans
15 oz can chili beans
28 oz. can crushed tomatoes
2 Tbsp. chili powder
1 tsp. paprika
1/2 tsp. oregano
1 tsp. cumin
1/2 tsp. salt or more if desired
1/2 tsp. fresh cracked pepper
2 cups chicken broth low sodium
1 tsp. worcestershire
2 Tbsp. tomato paste
Hot sauce per preference
Instructions
Heat oil over medium heat. Add onion, bell pepper, zucchini, garlic, and carrot and cook for 5-6 minutes until softened and onions are starting to brown. Add turkey and cook until browned, chopping into small pieces while cooking.

When turkey is browned, add spices and stir into cooked meat for one minute before adding beans, broth, and tomato paste.

Bring to a boil. Reduce heat and simmer for at least 45 minutes uncovered. Adjust spice level with hot sauce and salt before serving. Optional garnishes include cheese, sour cream, avocado, cilantro, and green onion.
Nutrition
Serving: 1.5g | Calories: 249kcal | Carbohydrates: 29g | Protein: 23g | Fat: 6g | Saturated Fat: 2g | Cholesterol: 42mg | Sodium: 1034mg | Potassium: 1101mg | Fiber: 9g | Sugar: 11g | Vitamin A: 3215IU | Vitamin C: 53.5mg | Calcium: 103mg | Iron: 4.6mg