Delicious, light lemon poppy seed bread made with 100% whole wheat flour, agave, coconut oil, and topped with a zesty lemon glaze.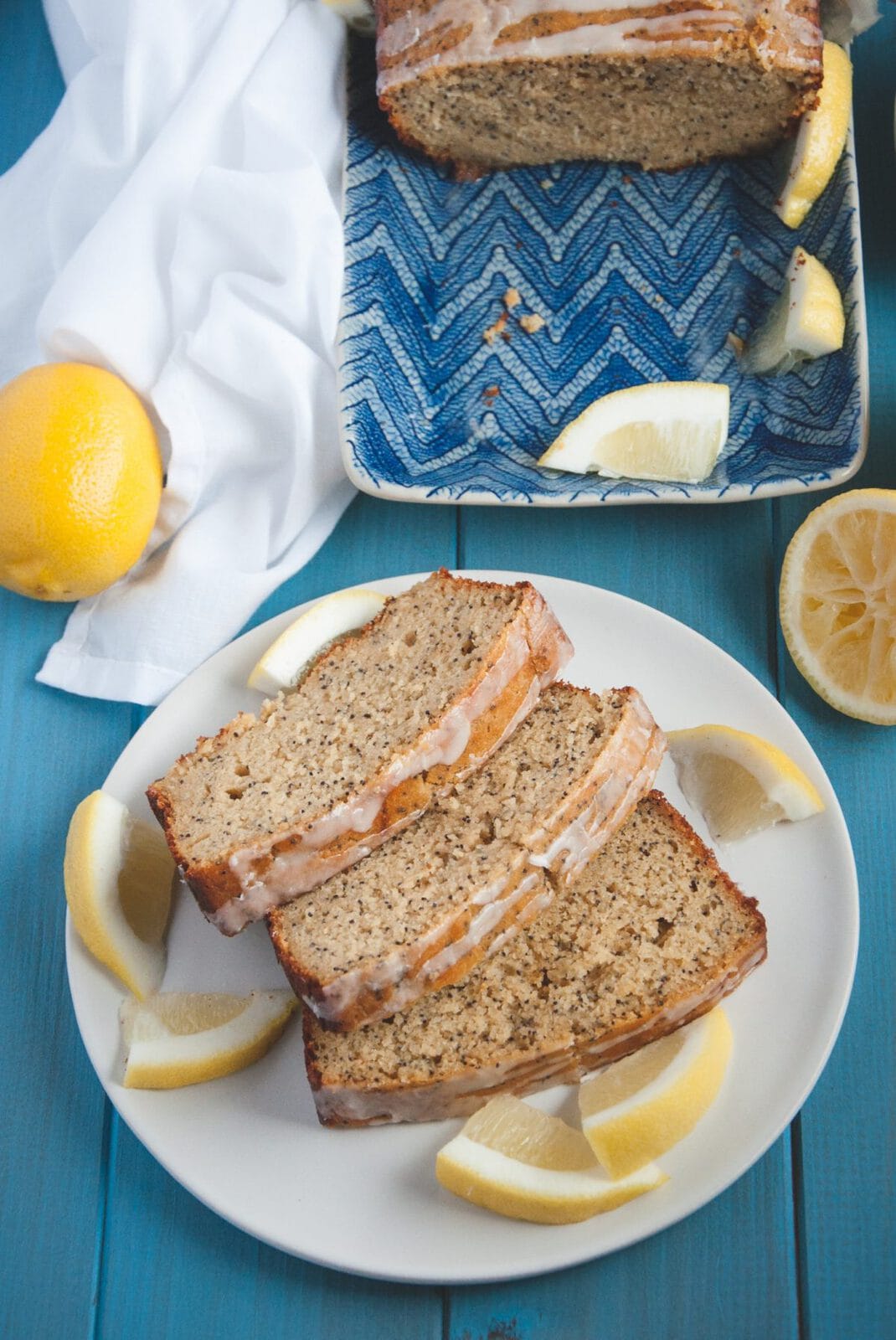 Saturday mornings are my fav. I can sip my coffee instead of chugging, eat a real breakfast, put off working out, and most importantly, share this awesome lemon poppy seed bread with you. I've made this recipe a few times, tweaking ingredients after each attempt, but last weekend was the first time it came out just right. And by 'just right,' I mean 'got to eat every piece right now delicious.' I almost feel guilty for sharing this one with you because its a real temptation having a loaf of this bread in the house. Sorry in advance.
On the bright side – it certainly won't last long so the temptation is short lived. What can I say, I'm a glass half full kind a gal.
This recipe started out with a craving for my mom's poppy seed muffins. They're to die for. Almost like mini pound cakes, definitely more of a dessert than a muffin, but totally okay for breakfast because they are still a muffin after all… right? Right. Maybe its just that I grew up eating them so its so ingrained in my psyche that poppy seed muffins = happiness, but the craving I had was taking over my life so I had to do something about it.
I think what makes my mom's muffins so dense and cake-like while still being light and moist is yogurt. Yogurt is the key ingredient in this lemon poppy seed bread so there are no substitutes there. (Also, sorry for using the word 'moist.' I know it makes many of you shudder.)
Well, after attempting this recipe a few times with just a little bit of yogurt, I was about to give up. My mom is a baking master and everything she makes is truly perfect. She's kind of a pro at rich, melt in your mouth baked goodies that are so delicious, you you can't eat just one. Try your hardest, its impossible. Trust me on this, I've had practice.
Looking back retrospectively, with how much we moved, I think my popularity in early grade school was majorly influenced by my mom's cookies. Need new friends? Bribe them with cookies. Done and done. Plus you get a cookie for yourself. Strategic? My eight year old self liked to think so.
So, anyways, I was about to ditch my lemon poppy seed bread efforts altogether thinking that that dense pound cake style recipe just couldn't be lightened up. Sometimes you just should't mess with perfection, ya know? Then, I decided to up the yogurt and add a glaze. This was the saving grace and the bread turned out sooo good that it was devoured in less than 24 hours… by two people. I warned you earlier, its addicting!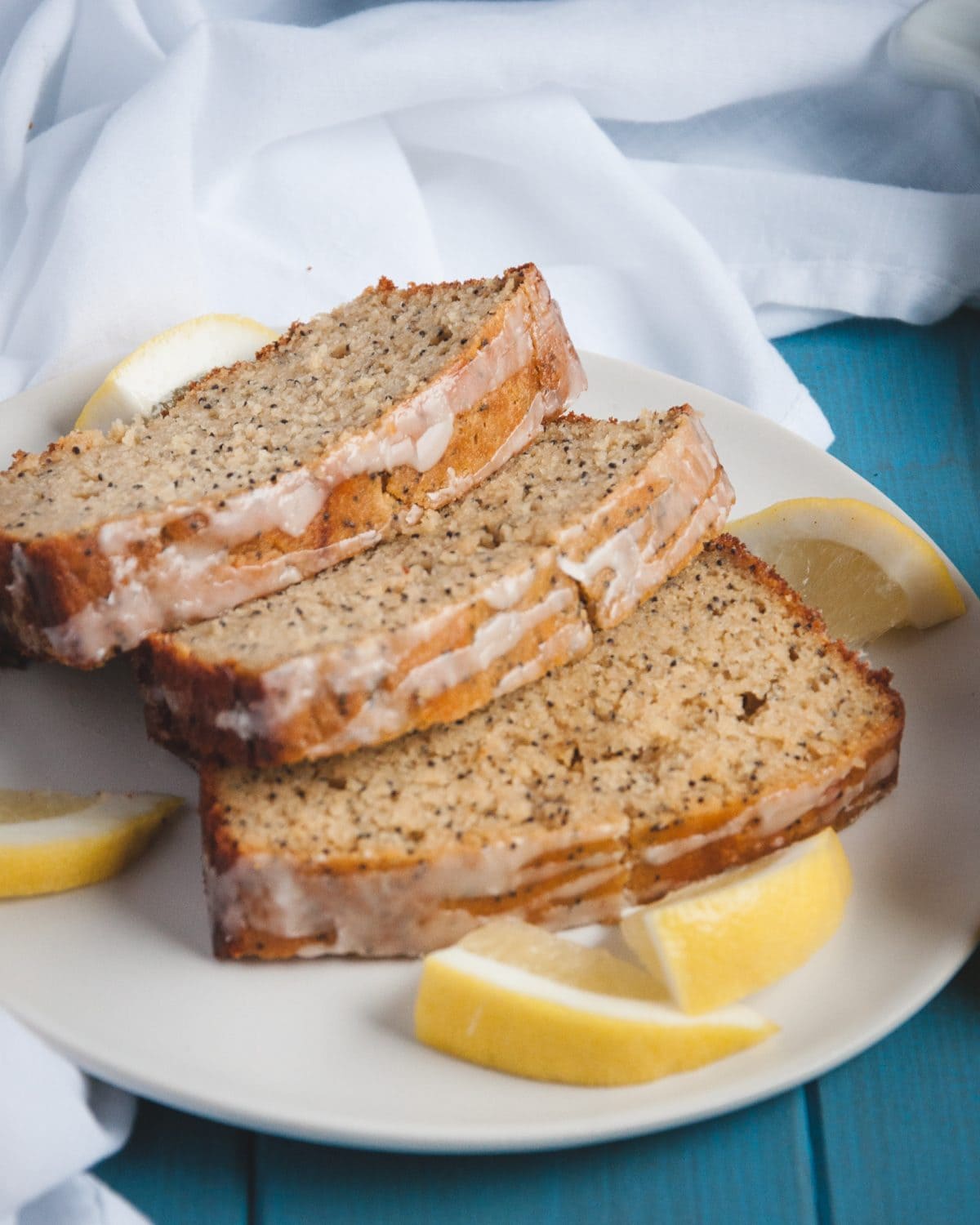 The glaze adds a touch more sugar than I normally prefer to have in my bread recipes, I admit, but its so necessary here! Sure, the bread is tasty on its own, but with the glaze, oh my gaawd! The glaze adds an extra level of zippy lemon flavor balanced with sweet sugariness – the perfect topping for this cake-like bread. Its liquid gold baby. With my healthy pumpkin bread, the glaze is optional, but with this one, you really just need to bite the bullet and drizzle that deliciousness all over it.
One slice has about 8 grams of sugar in it, which isn't too bad, but still a bit high for breakfast in my opinion. So, this is one of those semi-cheat day recipes. Not too bad, but not the cleanest recipe I've made.
Don't let that convince you not to make this though, because there's a silver lining – this bred can easily pass as desert! I know what you're thinking, the lemon screams breakfast, which is NOT an acceptable dessert option. Well, I beg to differ. We ate this for dessert. We also ate it for lunch and dinner though so I'm not sure if you should trust my opinion when it comes to this bread. I may be *a bit* biassed… and in need of a treadmill. Stat.
Delicious, light lemon poppy seed bread made with 100% whole wheat flour, agave, coconut oil, and topped with a zesty lemon glaze.
Ingredients
2 cups white whole wheat flour
1 tsp. baking soda
1/4 tsp. salt
2 Tbsp. poppy seed
1/3 cup melted coconut oil + extra for greasing pan
1/3 cup agave syrup or honey
1 cup plain yogurt (not non-fat)
2 tsp. vanilla extract
1/3 cup milk (I used 2%)
3 Tbsp. lemon juice
2 eggs
Glaze
1/2 cup powdered sugar
1 - 2 Tbsp. lemon juice
1/4 tsp. vanilla extract
Instructions
Preheat oven to 350°F (176°C). Use a paper towel to coat a loaf pan with coconut oil. Set pan aside.

Mix flour, baking soda, salt, and poppy seed together in a small bowl. Set aside.

Blend coconut oil, agave, yogurt, vanilla, and milk. Beat in lemon juice and eggs.

Stir dry ingredients into wet ingredients until combined. Do not overmix!

Pour batter into prepared pan and bake for 30 - 35 minutes until a toothpick inserted into the center comes out clean.

Let cool in pan for 10 minutes before removing loaf from pan and cooling fully on a wire rack. You may need to slide a knife between the loaf and pan to loosen before removing.

Wait until loaf is fully cool to coat with glaze. Make glaze by whisking together powdered sugar, vanilla, and lemon juice. Add lemon juice a little at a time until the consistency is thick but easily pourable. Drizzle glaze over bread and let sit for 10 - 15 minutes before cutting to let glaze harden.
Nutrition
Calories: 242kcal | Carbohydrates: 32g | Protein: 6g | Fat: 11g | Saturated Fat: 7g | Cholesterol: 37mg | Sodium: 211mg | Potassium: 118mg | Fiber: 3g | Sugar: 13g | Vitamin A: 85IU | Vitamin C: 3.5mg | Calcium: 102mg | Iron: 1mg