Balsamic roasted veggies are one of the easiest, tastiest, and healthiest way to get your vegetable servings.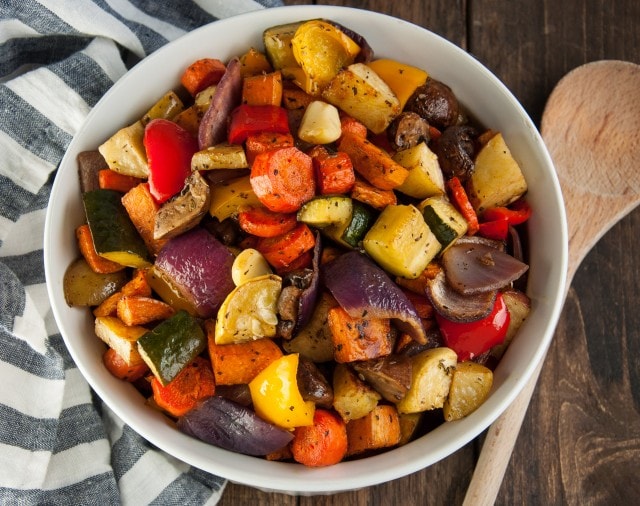 I've had a long lasting love for roasted veggies. In fact, I make them pretty much weekly and always make too much so that we can munch on leftovers for daaaays. I throw them into other dishes like enchiladas, casseroles, or just as a quick weeknight side dish.
You can mess with the vegetable and spice combos endlessly as long as you make sure to roast potatoes, carrots, and other root veggies for 10 – 15 minutes longer than their softer counterparts like mushrooms and zucchini. In this recipe, I separated the quick roasting and long roasting veggies from each other to make this process easy, but you can get away with just cutting the potatoes smaller so that they all roast together at the same time.
As long as you spread them out in a single layer and make sure to give them a good stir half way through, they'll toast up beautifully and you'll end up with a roasted veggie medley like this. Once you get the basics down, roasted veggies are breeze.
Roasting with oil, salt, and pepper is pretty good and my basic go to. BUT, adding balsamic and a blend of herbs adds more depth of flavor and a little bit of tanginess that enhances the overall roasted deliciousness of the dish. This is a great way to use those leftover vegetables rolling around in the crisper drawer on the brink of going bad. I know I'm not the only one with a few stragglers in there…
Chop em, toss em in oil and spices, and throw em in the oven. Its easy as one-two- three. I also love that by combining starchy root vegetables and more tender peppers, zucchini, and the likes, you can serve this alongside any type of protein without needing a separate side dish and get a blend of nutrients.
Once again, I'm using my Nordic Ware baking sheet, which I LOVE. Any baking sheet should do though as long as you use the amount of oil listed in the recipe and don't try to trim it down. The oil is what makes the veggies roast up so nicely and get all those flavorful crispy parts!

Although I love roasted veggies to no end, I also want to take a minute to say Happy Mother's Day to all of the moms out there! One in particular is pretty awesome. My mother is such an incredible person, I'm amazed by her more and more as each day passes and I realize everything that she did for me, everything she gave up to become a mother, and how challenging it must have been for her to be there day in and day out for five needy kids.
Life is such a roller coaster of adventure, love, happiness, sorrow, and everything in between. I'm so grateful that I've had my mom to help me navigate through this crazy world. Love you like crazy mom. Thank you for everything.
I love roasting root veggies and always make extra. Chop em, toss em in oil and spices, and throw em in the oven. Its easy as one-two- three.
Ingredients
3 carrots (peeled)
1 large sweet potato (peeled)
3 medium sized yukon gold potatoes
2 bell peppers (seeds removed)
1 red onion
1 lb. mushrooms
2 summer squash (zucchini and/or yellow squash)
1 head garlic (individual cloves removed and separated)

Instructions
Preheat oven to 450°F (232°C).

Add all dressing ingredients to a container with a tightly fitting lid and shake to mix well. Let sit while cutting vegetables.

Cut all vegetables into 1 inch pieces. Shake dressing and pour half of it over the carrot and potato. Toss to coat. Spread over a baking sheet and put in oven. Set timer for 15 minutes.

While carrots and potatoes are baking, toss the more fragile vegetables in remaining dressing. Spread out in a separate baking pan.

After carrots and potatoes have cooked for 15 minutes, remove from oven and stir. Put both pans back in oven and cook for an additional 20 - 25 minutes, removing the pans half way through to stir again. If mushrooms are releasing liquid, drain it from the pan before putting back into the oven.

Once veggies are all cooked through, remove from oven, toss together, and serve.
Nutrition
Calories: 164kcal | Carbohydrates: 22g | Protein: 5g | Fat: 7g | Saturated Fat: 1g | Sodium: 517mg | Potassium: 810mg | Fiber: 5g | Sugar: 7g | Vitamin A: 7180IU | Vitamin C: 58mg | Calcium: 74mg | Iron: 4.3mg