Simple and elegant beet salad with feta and roasted figs is an easy to make fall favorite that pairs well with any main dish.
Figs and feta and beets, oh my! This trio is seriously delish and if you haven't tried it yet, you're missing out and may need to rethink your priorities in life. Tossed with greens and vinaigrette, it hits on the just the right levels of sweet, savory, and sour notes to make your taste buds happy. Another added bonus, beet salad is fancy enough that you can trick people into thinking you went all out, when really it only took about 15 minutes of active time total. Call me lazy, but I'm all about tricking the world into thinking I put more in effort than I do. Ain't nobody got time for that in the kitchen.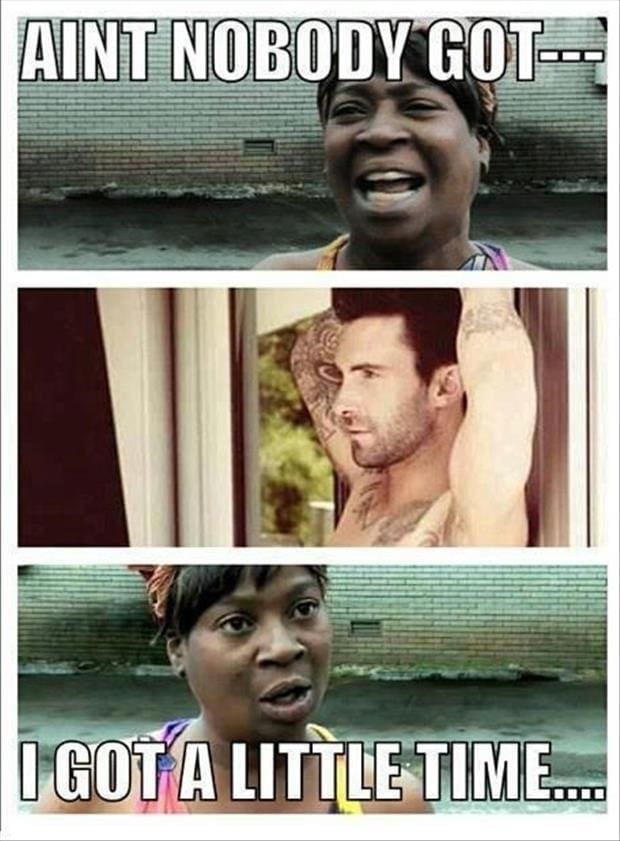 Remember her? Ha! I guess that news interview and the thousands of memes that followed made her rich. Glad to hear she's got time now.
Roasting everything in the same pan is a total time saver that makes this recipe not only quick to make, but quick to clean up too. Figs and beets baking together speeds up the process, leaving enough time to make the dressing and work on the main course while the oven does most of the work for you. The saltiness of the feta and wholesome taste of roasted pecans balances the flavors and tones down the tang of the vinegar based dressing.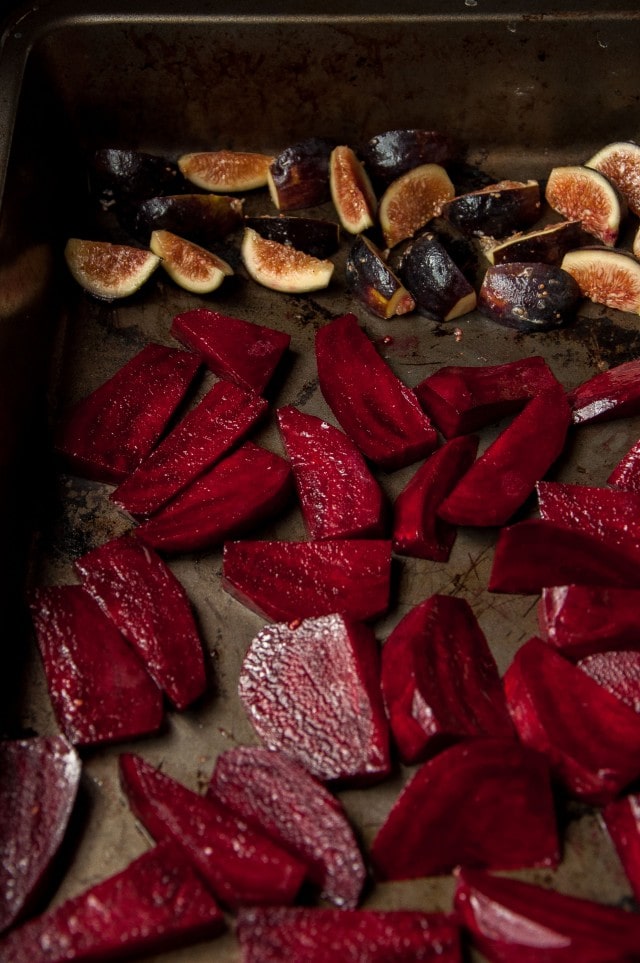 Apple cider vinegar is a rock star in the health department too. ACV is alkaline forming in your body, which most of us need to neutralize the acid in our diet. It also helps balance blood sugar levels making it ideal for weight loss, diabetics, and well, pretty much anyone.
We found out earlier this week that my husband's cholesterol is ridiculously high. Like to a scary level. Damn those meat and cheese plates… I know I have mentioned this before, but my health-consciousness has kinda gone out the window with all of the hours I have been putting in at work. This was definitely a reminder that we're creating our future health right now. Its not something that happens down the road, when things slow down and we have time. Its happening NOW, with every decision we make each day. Sooo, this realization means that you're probably going to see a fair amount of cholesterol conscious recipes start popping up on the blog. Your future self will thank me. 🙂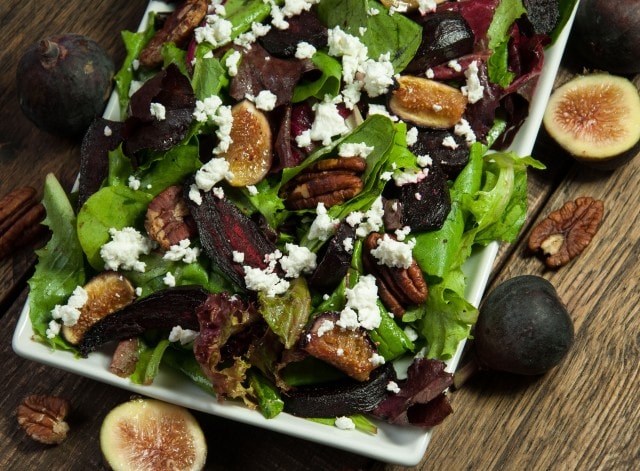 If you're in the mood for beet salads and figs just aren't your thang, check out my other favorite fall/winter salad. Needless to say, its got beets too. Can't stop. Love 'em!
Beets are the perfect addition to holiday dinners too. I don't know about you, but I love having a green salad of some kind on the thanksgiving table. It makes me feel better in some strange way about stuffing my face with mashed potatoes and deep fried turkey. Luckily this beet salad with feta and roasted figs is fancy enough to sit right next to that turkey where the very presence of green will make everyone feel at ease.
Simple and elegant beet salad with feta and roasted figs is an easy to make fall favorite that pairs well with any main dish.
Ingredients
Salad
1 Tbsp. olive oil
2 beets
Salt and pepper
1 lb. rinsed salad greens
1/4 cup feta
1/3 cup pecans
2 -3 figs
Instructions
Preheat oven to 425°F (218°C).

While oven is preheating, wash and peel beets. Cut each beet in half longways, and then cut into 1/4 inch wedges.*

Cut each fig into approximately 8 wedges. Rub with about 1/4 Tbsp. olive oil. Place in a single layer on one end of a baking pan.

Rub beets with remaining 3/4 Tbsp. olive oil and spread out in a single layer on the same baking pan as the figs. Sprinkle beats with a small amount of salt and pepper. Put pan in oven and bake for 10 minutes. After 10 minutes, remove figs and set aside. Stir beats and continue cooking for another 10 minutes.

While beats and figs are roasting, whisk vinegar, maple syrup, mustard, salt, and pepper together. Add olive oil while vigorously whisking to emulsify (you can also emulsify by shaking in a mason jar). Set dressing aside.

When beats are done roasting, remove from pan and set aside with the figs. Add pecans to pan and put in oven for 1-2 minutes until lightly toasted - watch them carefully!

Toss salad greens, beets, pecans, and figs in prepared dressing. Add feta last or just sprinkle on top to avoid discoloration from the beets. Serve right away.
Notes
*Beets will dye your cutting board and fingers pink if you aren't careful. To avoid this, place your cutting board in the sink and run cool water over the beets while cutting.
Nutrition
Calories: 152kcal | Carbohydrates: 8g | Protein: 3g | Fat: 13g | Saturated Fat: 2g | Cholesterol: 6mg | Sodium: 196mg | Potassium: 241mg | Fiber: 1g | Sugar: 4g | Vitamin A: 895IU | Vitamin C: 18.9mg | Calcium: 52mg | Iron: 0.9mg