Delicious arugula salad tossed with a tangy balsamic vinaigrette and plated with roasted beets and orange slices, then sprinkled with toasty pecans and feta.
(Recipe originally published May 23, 2014, but pictures and post text have since been updated)
Looking for the best possible salad to make this holiday season? This arugula salad with roasted beets and orange is the only one you'll need! I've already made it three times this month. It's that lovely.
When I was younger, beets were one food that I never thought I would like in a million years. They tasted like dirt and were normally downright foul. Being married to a Russian, it's inevitable that I'd have a change of heart and jump on the bandwagon. If you've been following this blog for awhile, you know I've come around to them wholeheartedly. I've made beet smoothies, sautéed beets w/ greens, beet hummus, beet soup, beet cupcakes even. You name it and I'll add a beet to it.
When done right they add an earthy sweetness and a splash of color that can't be beat (sorry, just couldn't help myself there).
I've made arugula salads with beets before that were just fine, but the orange, feta, and toasted nuts really take this one to a whole new level of deliciousness. Its so tangy and good! The splash of citrus and saltiness of the feta bring out the best in the peppery arugula. The combo is just so dreamy – and I rarely say that about a salad!
If you're on a beet salad kick, try this salad with roasted beets and figs. It's another favorite with a lot of similar elements but a totally different end result.
One thing I love about this tasty arugula salad is how versatile it is. It goes well with so many types of main courses – turkey (hey hey Thanksgiving!), seafood, chicken, lamb, or you could easily add chicken or another type of protein for a one-dish salad meal. My husband refuses to call salads dinner but I'm usually game if the salad is tasty enough. Luckily this one is.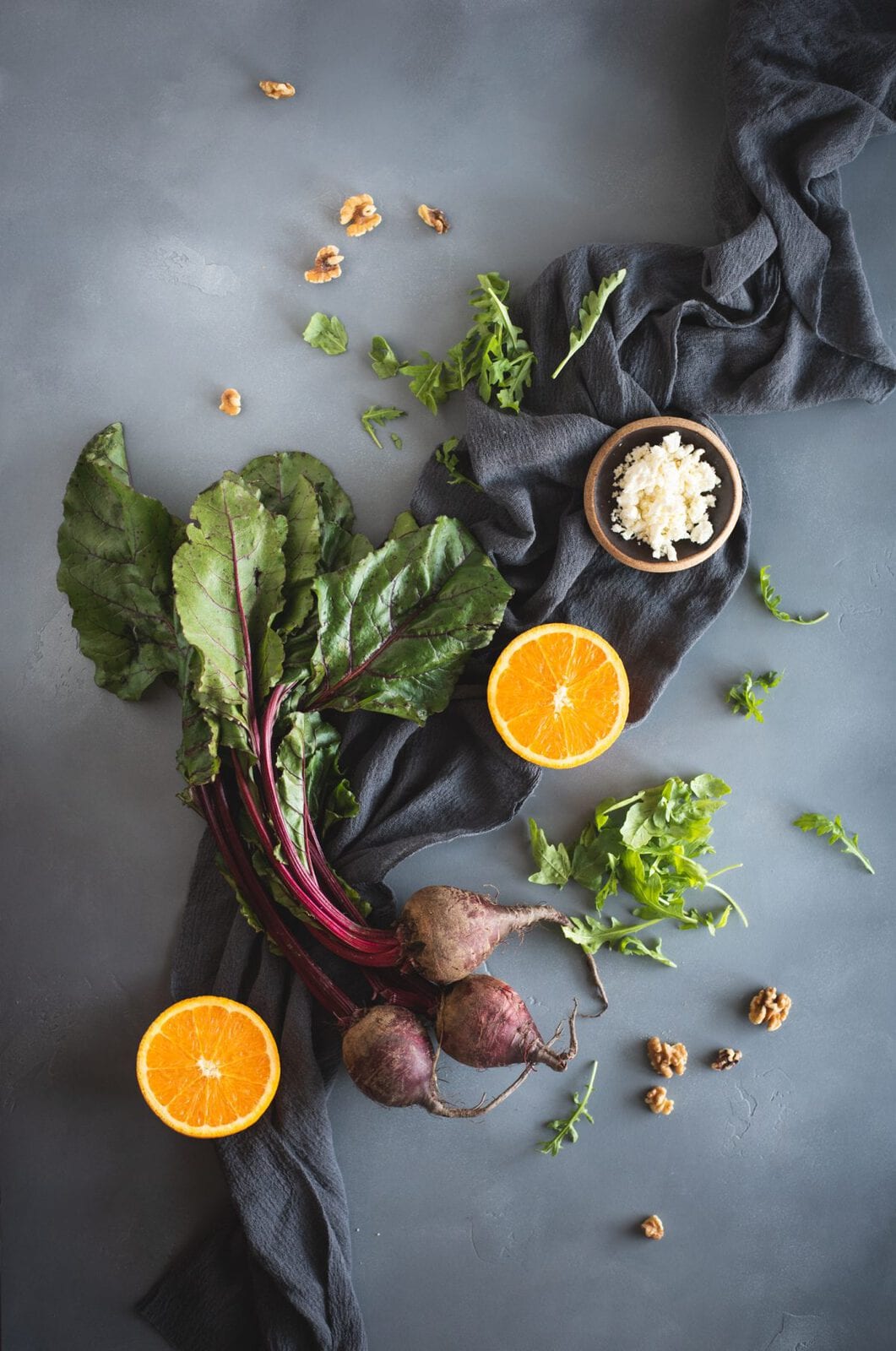 To make this recipe quicker to put together, roast the beets, make the dressing, and toast the nuts ahead of time so all you have to do is toss it together before serving. I like doing all of the prep like this sometimes just for myself so I have healthy salad lunch fixings ready to go. It pretty much guarantees I'll actually eat salad for lunch instead of getting sidetracked by whatever else sounds tasty at the moment.
As you're making the arugula salad, you might think there isn't enough dressing to make it truly saucy enough but remember, the oranges will add sooo much juiciness. They add sweetness and lots of flavor too.
You need to get good oranges though. Shouldn't be hard this time of year. They're everywhere. I actually got a box of the juiciest, plumpest oranges at Costco that I thought would be overkill for the two of us, but we devoured them.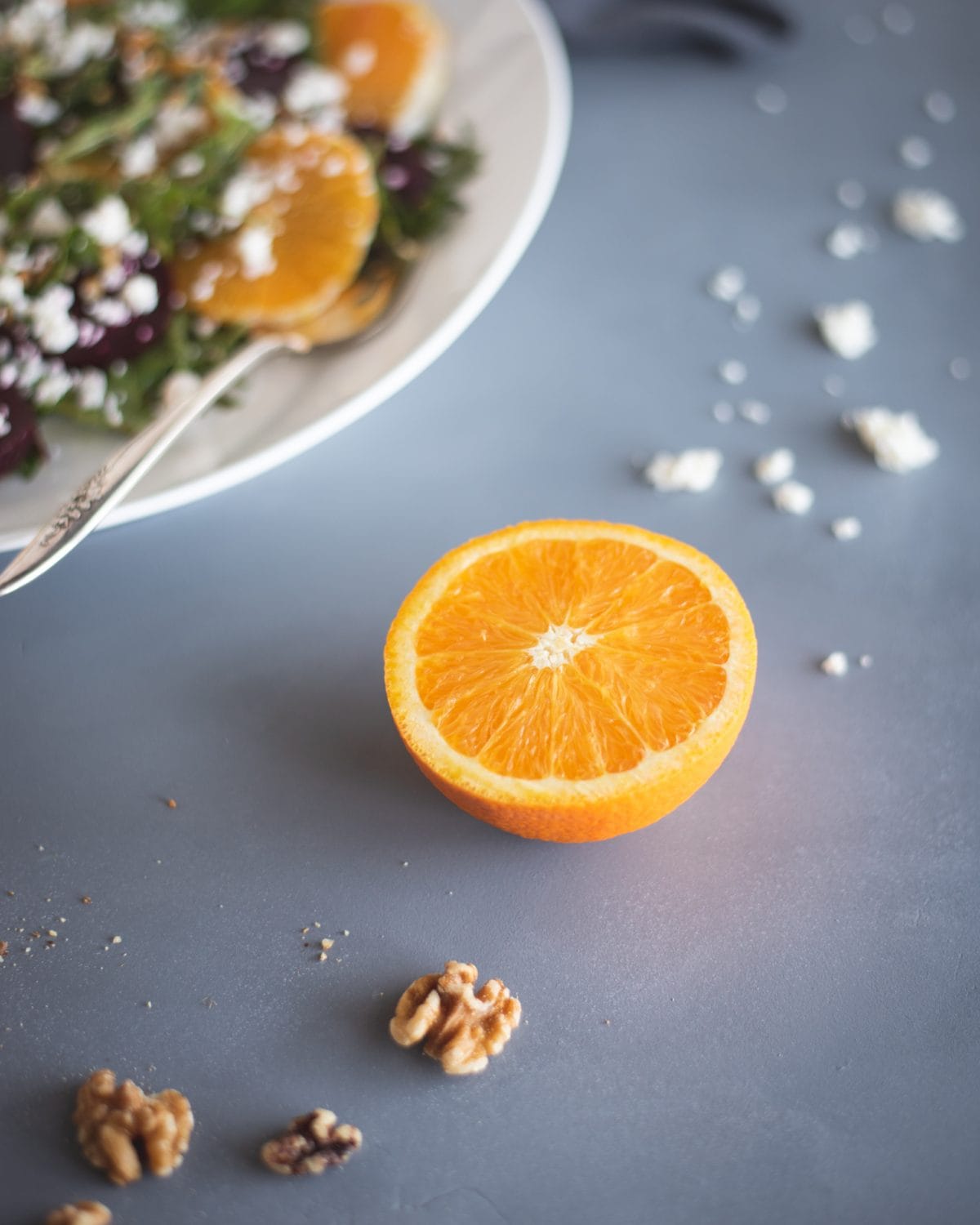 Getting nuts in bulk gives you a lot of options on hand to work with too. The recipe says walnuts but you can use pecans instead. Or you can even use roasted salted pre-shelled pistachios to skip the whole roasting step. Just something nutty in there is really all you need.
I swapped the feta for goat cheese a few weeks ago and that was tasty too. I bet you could even sub in parmesan for a richer flavor too.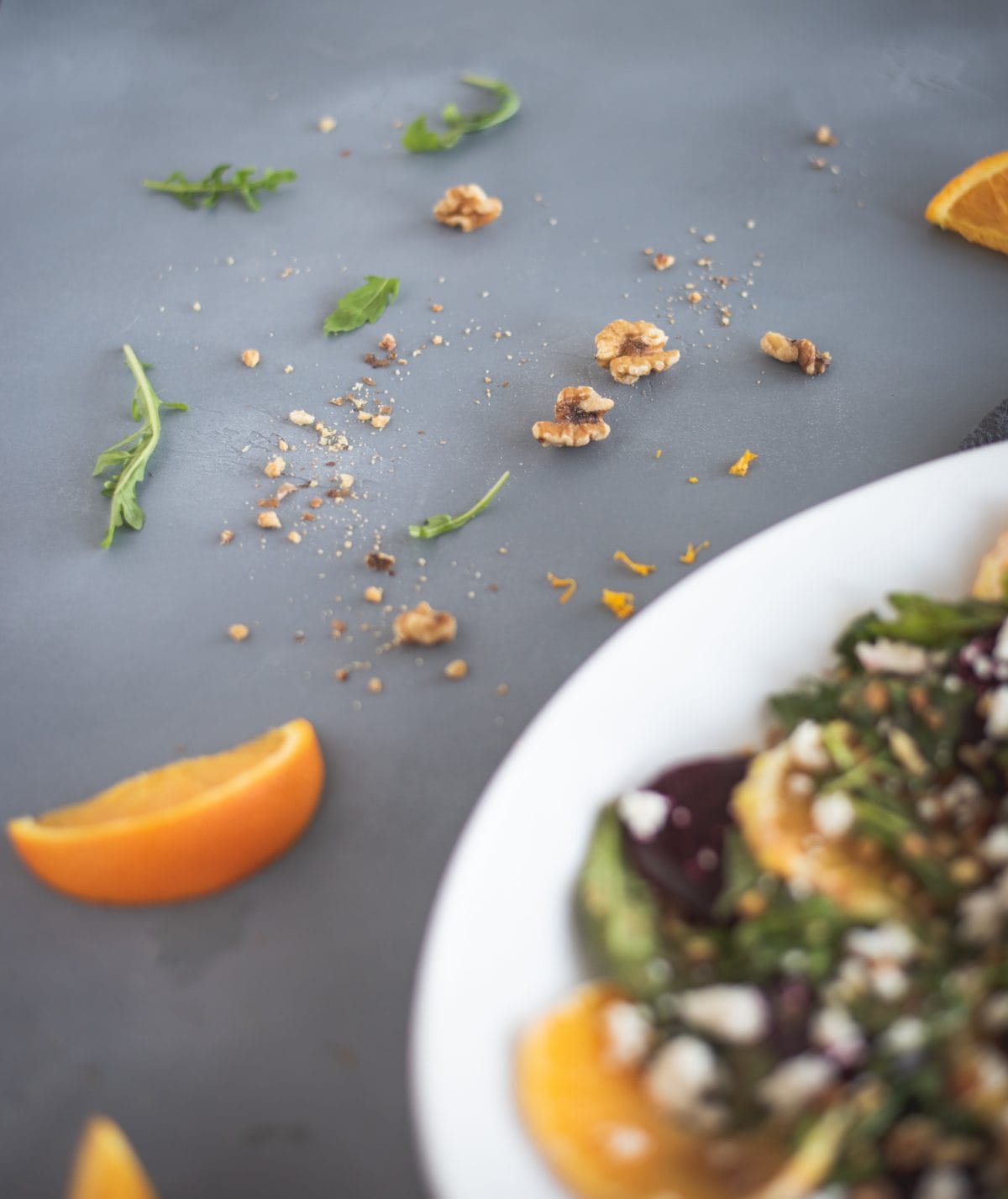 Speaking of Costco, they've got a great balsamic vinegar. Don't actually buy from Amazon, it's waaay cheaper at Costco, but that link shows the one I mean. Good vinegar is like night and day different than cheap crappy stuff and completely changes the flavor of what you're making. It's a necessity.
Aaaand, last suggestion, you can even use golden beets instead of red beets if you don't feel like dealing with the mess. The yellow beets still stain though so don't assume they won't, they're just a tad bit less messy. So, the big message here is that you can swap with similar items but keep the jist the same.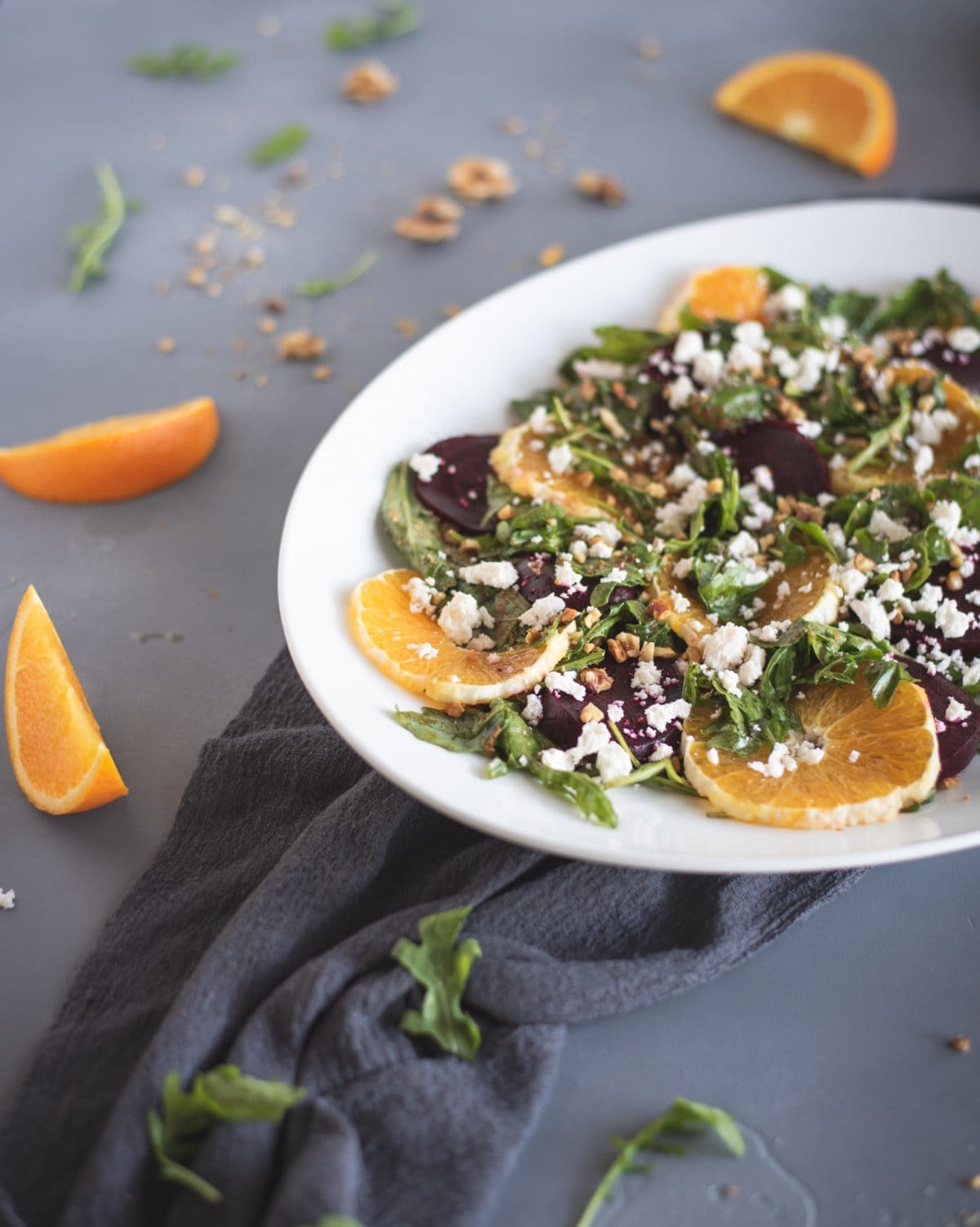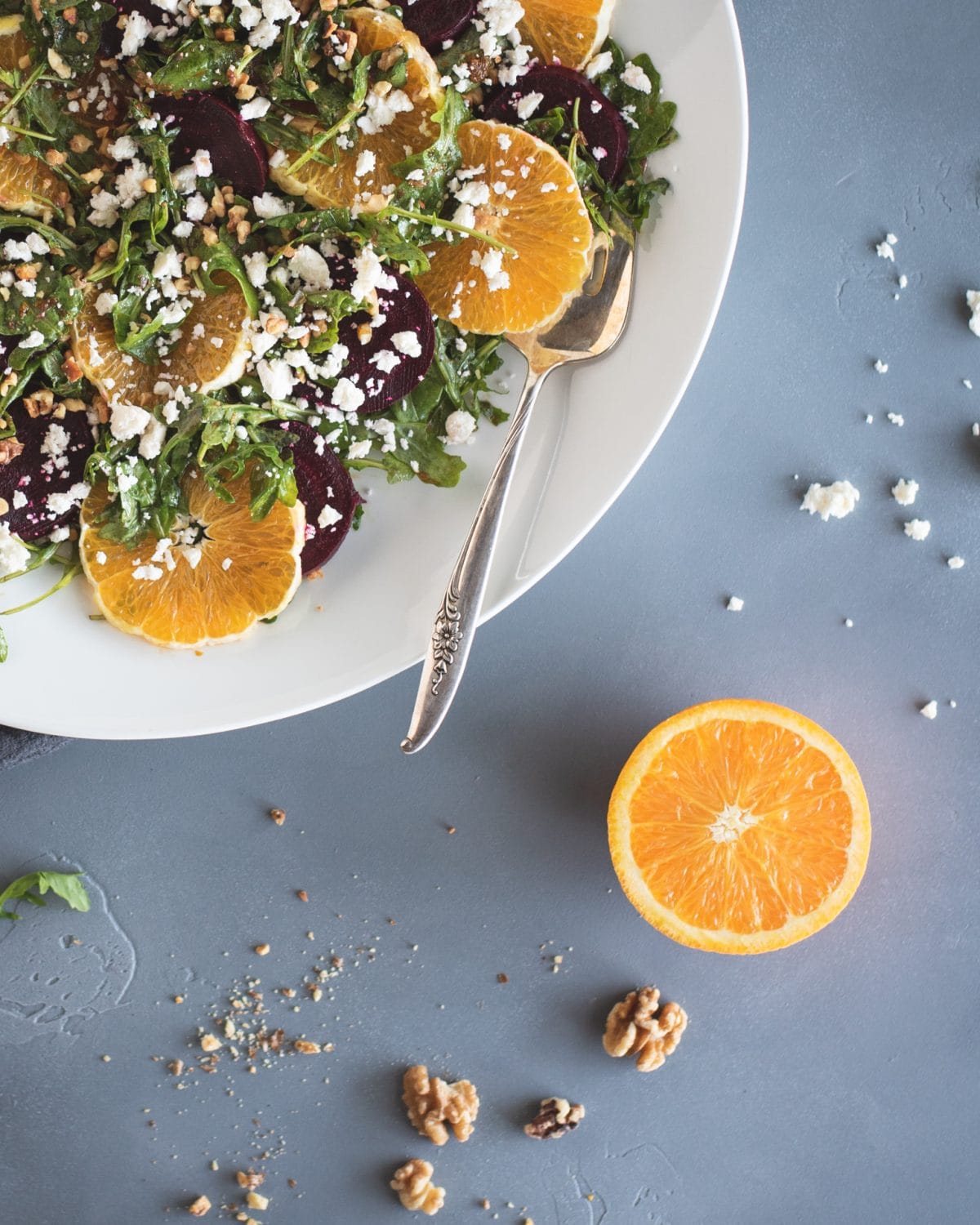 Whether you're making this for a Christmas get together or just a random dinner to help negate all of the holiday feasting, just give it a go. You'll be oh so happy you did!
Delicious arugula salad tossed with a tangy balsamic vinaigrette and plated with roasted beets and orange slices, then sprinkled with toasty pecans and feta.
Ingredients
Salad
2 beets
10 oz. baby arugula
¼ cup toasted walnuts or pecans
¼ cup crumbled feta
1 orange peeled, and thinly sliced (zest orange before peeling and reserve zest for dressing)
Instructions
Preheat oven to 425° F (218° C).

Scrub beets and slice off both the stem and root end. Wrap beets in foil, place in oven, and bake for 40- 55 minutes, until beets can be poked through the center with a sharp knife.*

While beets are roasting, add all dressing ingredients to a small container with a tightly sealing lid and shake to mix well.

Remove beets from oven when fully cooked and let cool slightly before rubbing the skin off and then slicing into thin round slices.

Toss arugula and dressing and lay salad out on serving plate.

Place orange and beet slices evenly throughout salad, tucking into the arugula. Sprinkle with feta and pecans and serve immediately.
Notes
*Toast nuts by placing on a baking sheet in preheated oven for about 5-6 minutes or stovetop by toasting in a dry pan over low-medium heat. Watch carefully since they burn easily. 
*Beets can be roasted, nuts can be toasted, and salad dressing can be made up to 48 hours in advance. Do not slice oranges, toss salad or arrange on plate until just before serving.
Nutrition
Calories: 101kcal | Carbohydrates: 7g | Protein: 2g | Fat: 7g | Saturated Fat: 1g | Cholesterol: 4mg | Sodium: 200mg | Potassium: 243mg | Fiber: 1g | Sugar: 4g | Vitamin A: 905IU | Vitamin C: 16.3mg | Calcium: 95mg | Iron: 0.8mg