Refreshing green smoothie is the perfect way to start the day with 25% of your daily required fiber and almost 9 grams of protein for just 215 calories!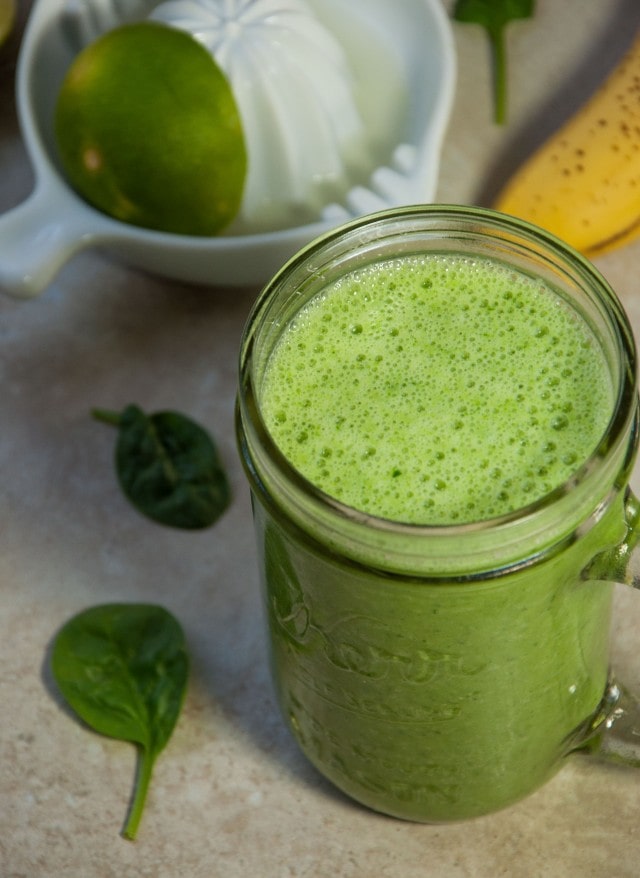 Here I go with another green smoothie… but this time it has a secret ingredient – lime! I don't know why I hadn't thought of using lime before, but it adds a nice zingy change of pace to a typical ho-hum green smoothie. This smoothie concoction is by and large the result of having an empty fridge.
I knew I needed some kind of sustenance before running out the door so I started scrounging through the crisper and somehow, five minutes later a miracle occurred. I had a little bit of vanilla yogurt, a banana, a few handfuls of spinach, a lime, and some coconut water. In a daze, I threw it all in the blender, not thinking too much about it. In the car on my way to work the awesome tangy taste shocked my taste buds. Not too 'green' and not too sour and totally satisfying.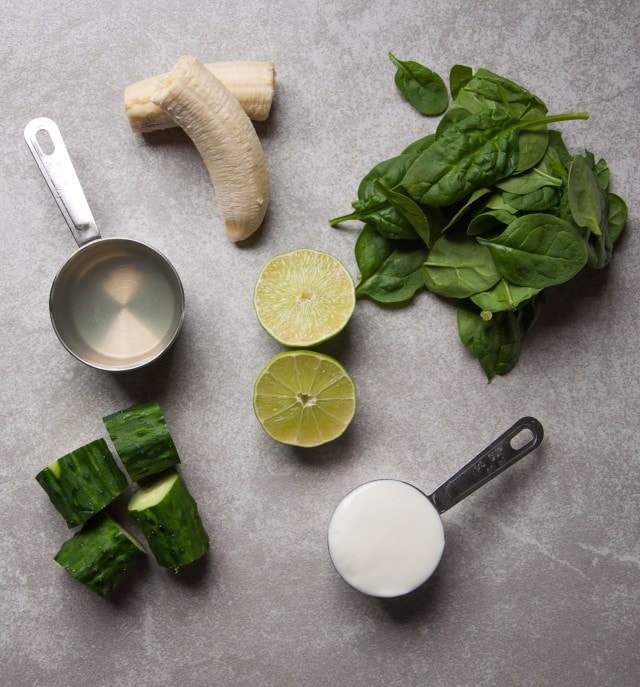 So, if you're finding yourself in a smoothie rut, think about adding citrus to the mix. Its oh so refreshing and you'll be glad you did. I used vanilla yogurt because that is what I had, but you could easily use plain yogurt, a little honey, and a few drops of vanilla extract to sweeten it up and get the same overall effect. The best part about green smoothies is that they are totally flexible like this. Out of one thing? No problem. Sub it out with whatever else you have on hand. No precise measurements needed, just a rumbling stomach, fruit, and a few leafy greens.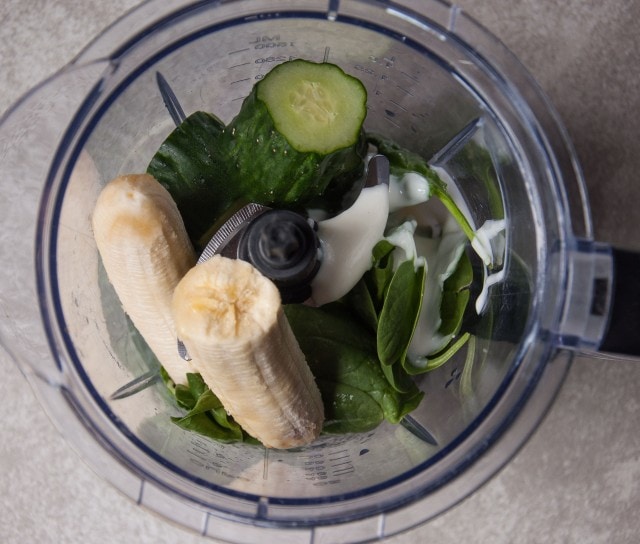 And you can't beat this color!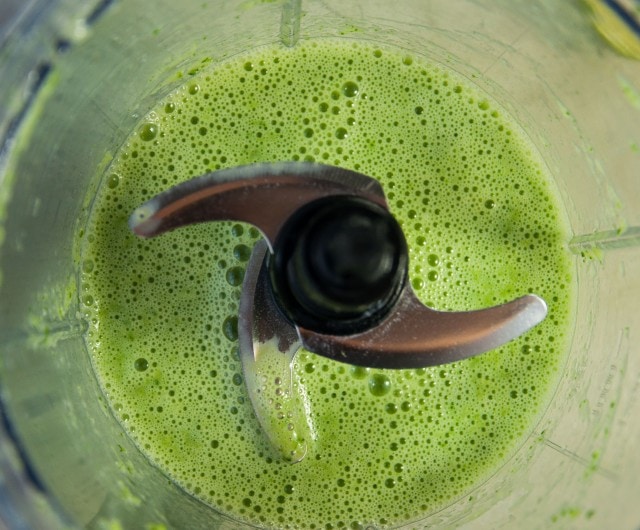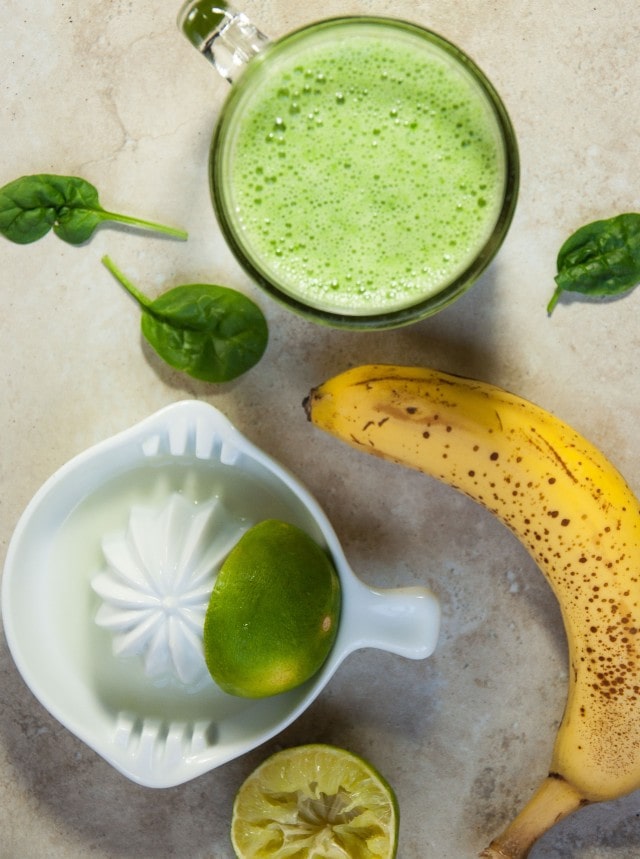 My sister left this mason jar mug at my house a while ago and I have been loving this thing! There's something about drinking out of a mason jar that makes whatever you're drinking feel that much more homey and fresh. Throw a handle on that mug of deliciousness and the mason jar becomes a fully functional, legit drinking glass. I guess if my sis reads this I'll have to give the mug back, but until then, it will be filled with green smoothies. Creamy, frothy, citrusy smoothies.
As soon as I have room in my cupboards (if this ever happens!), I'm ordering this 12 pack of mason jar mugs
and using them daily. I'm in love with the 'county fair' emblem – totally adorbs.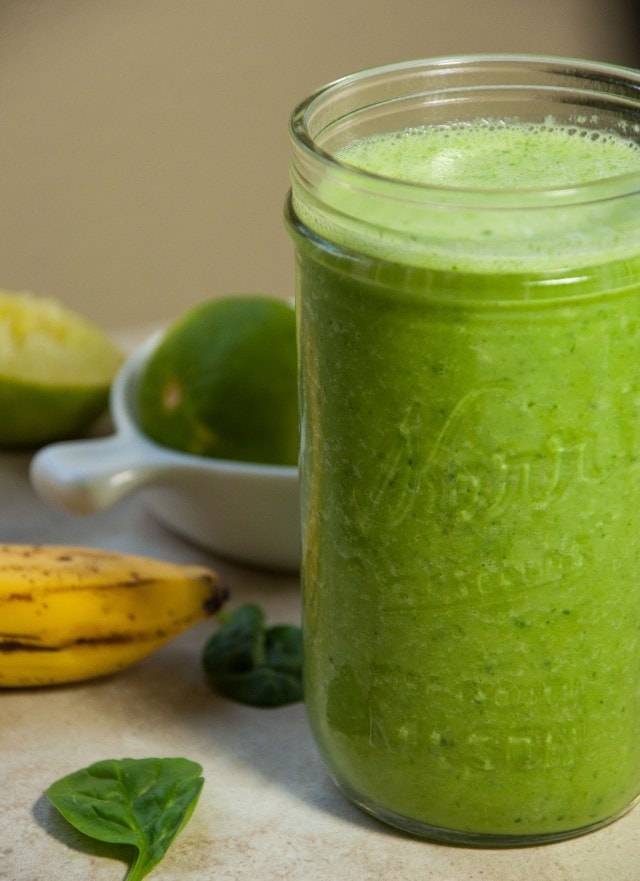 I was informed last night that my husband is 'cleansing' and not eating starch or meat all week. I love the fact that he is into healthy living these days, but his health freak status has fully surpassed mine. I'm in full on fall gluttony mode and my internal mantra this week has been, "bring on the cheese… and wine." My gym routine has been pretty much nonexistent since the beginning of August when I started traveling heavily for work and I haven't really gotten back into my routine ever since. I've been telling myself that today is the day for a week straight so I'm feeling like a rebirth of exercise love is on the horizon… but for now, I'm going to enjoy one last glass of wine, a little cheese, and some serious down time on this lovely fall day.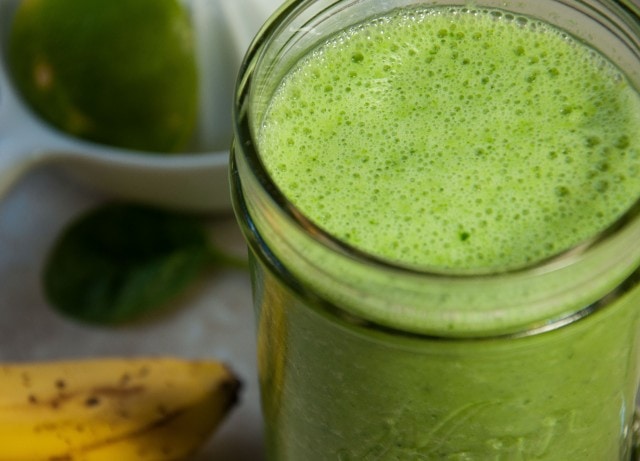 Refreshing green smoothie is the perfect way to start the day with 25% of your daily required fiber and almost 9 grams of protein for just 215 calories!
Ingredients
1/3 cup vanilla yogurt (or plain with a drop of vanilla extract and 1/2 tsp. honey)
1 cup packed spinach (large handful)
1 small banana
2 tbsp. lime juice
1/2 cup coconut water
1/2 a cucumber (about 1 cup)
1/4 - 1/2 cup ice (optional)
Instructions
Blend all ingredients together until well mixed. using frozen banana works great instead of using ice. Enjoy!
Nutrition
Calories: 230kcal | Carbohydrates: 49g | Protein: 8g | Fat: 2g | Saturated Fat: 1g | Cholesterol: 4mg | Sodium: 209mg | Potassium: 1273mg | Fiber: 6g | Sugar: 32g | Vitamin A: 2995IU | Vitamin C: 35.2mg | Calcium: 219mg | Iron: 1.8mg