Fresh carrot juice with zesty red pepper, sweet orange juice, and a tangy lemon undertone is an immunity booster, loaded with Vitamin C.
So, I want to write about this awesome carrot juice because its zesty, sweet, and delicious in so many ways, but right now we're stranded in Chicago and the thought of fresh juice is just too much to handle. Instead, we're sipping on random hotel bar beers and eating greasy airline voucher pizza. I know, we live the high life.
After an awesome time in Toronto, we boarded our flight home earlier this afternoon without a second thought about the minor flight delay warning upon check-in. And then it got delayed again. And again. Then, after missing our connecting flight, we weren't allowed to board the one we got rescheduled onto because the agent we dealt with forgot to click a button. Seriously – one button! Now we're getting home a whole 24 hours later.
So after half an hour talking with an agent, another half hour on the phone, a hotel voucher, and a shuttle later, we're finally able to relax a bit before flying to the east coast and back across the country to get home. Oy vey.
Okay, now that I've got that out of my system, let's talk aboout some OJ, eh? I know this recipe is so basic that it can barely be called a recipe, but I wanted to share it with you all anyways, because, well, because its totally tasty. Also, I had no idea how good red pepper could be in juice. Dang that shiz is good!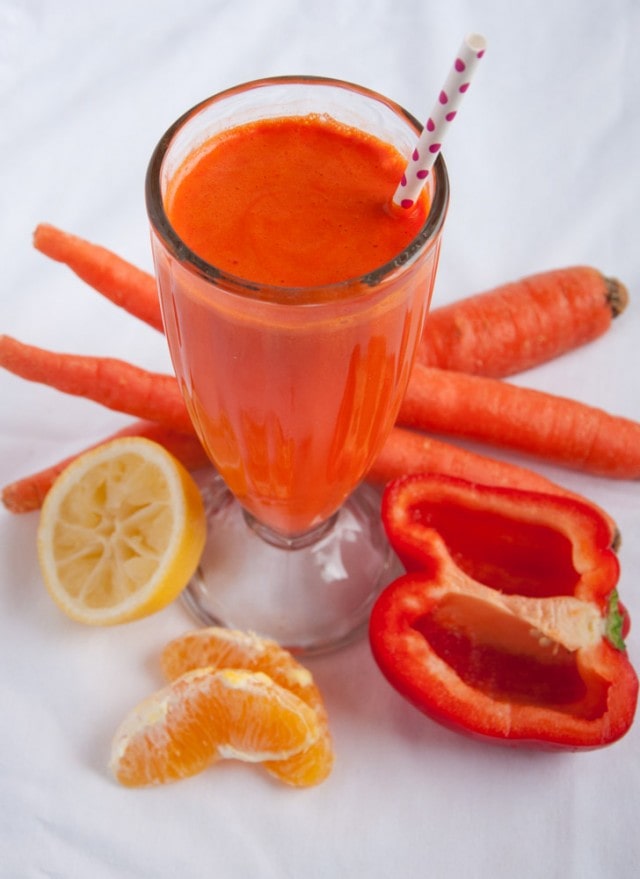 As you may have noticed in my last orange carrot juice barely a recipe share, I kinda dig this crisp combo. You've got enough carrot in there that you can legitimately classify it as a veggie juice, but enough fruit that its sweet, tangy, and refreshingly drinkable.
This juice is loaded with Vitamins A and C, making it the perfect winter immunity booster. With all the crazy illnesses that get passed around this time of year (especially on, ahem, airplanes) you don't want to risk coming down with something nasty. After drinking this juice, you can almost feel the vitamins seeping into your system. Maybe its somewhat of the placebo effect, but I feel like a total super star after downing a glass of this nutrient packed elixir.
Don't skip the little squirt of lemon juice either. It really adds balance to the mix and rounds out the rest of the flavors. It adds just the right level of tanginess.
For the time being, I'm going to be gorging on pizza and beer but as soon as I get back to my juicer
, this carrot juice is on the menu for sure. Its about time for a little mid-winter reboot!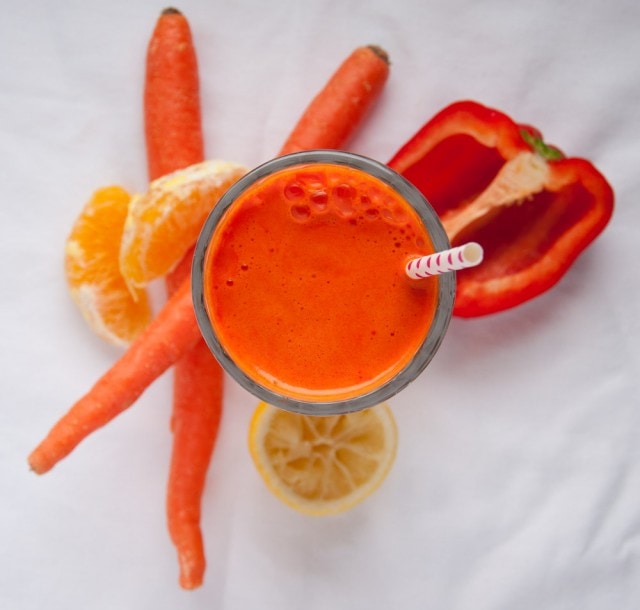 Fresh carrot juice with zesty red pepper, sweet orange juice, and a tangy lemon undertone is an immunity booster, loaded with Vitamin C.
Ingredients
1 red pepper seeds removed
5 large carrots peeled and ends removed
1 orange peeled
1/2 lemon
Instructions
Add red pepper, carrots, and orange and process. Squeeze lemon into juice and stir. Drink immediately.
Nutrition
Calories: 239kcal | Carbohydrates: 57g | Protein: 6g | Fat: 1g | Saturated Fat: 1g | Sodium: 216mg | Potassium: 1539mg | Fiber: 16g | Sugar: 33g | Vitamin A: 54975IU | Vitamin C: 268.3mg | Calcium: 167mg | Iron: 1.7mg