This chickpea salad so light and refreshing with fresh basil, balsamic vinegar, tomatoes, and avocado. Its naturally vegan but has so much flavor, you'd never know it!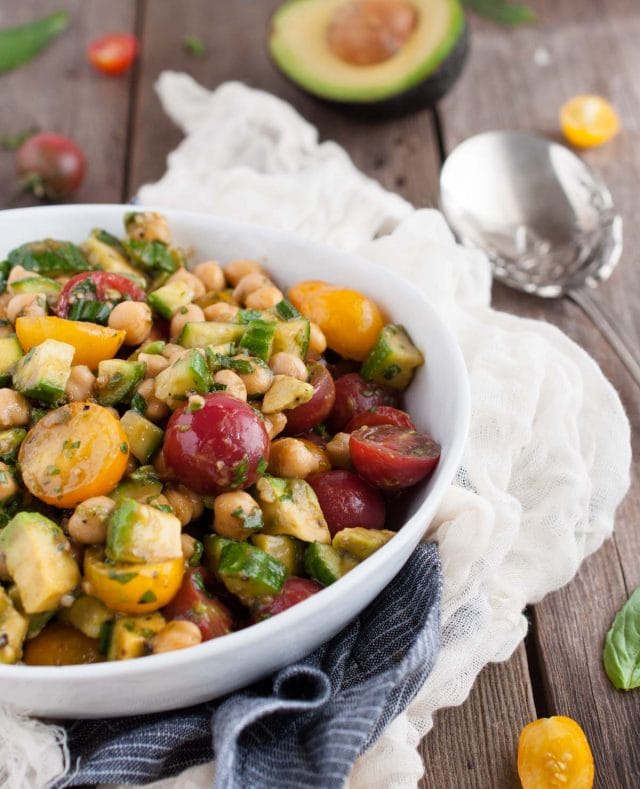 This summer marks the first year that we haven't successfully managed to grow tomatoes. Seriously, our tomatoes suck. So why is it that I'm craving tomatoes like there is no other food on the planet? In fact, our garden isn't producing much altogether this year. The only thing that is really popping off are the squash… which don't exactly require a green thumb.
Sooo, I have been buying tomatoes in mass quantities to fill the void. But just look at these beauties! A rainbow of tomatoes, all so sweet that you can pop 'em like candy. As I shared with you last summer, I make a variation of this salad at least every other week during the summer.
It's my go to summer salad recipe, and has about a hundred possible variations. Critical ingredients are beans, tomatoes, avocado, fresh herbs, and something tangy like vinegar or lemon juice. As long as you've got those bases covered, you're free to toy with the ingredients pretty liberally. For this version, I made it a chickpea salad to get some protein in the mix. Yum.
I make this kind of salad in winter too, but nothing compares to the fresh, sun kissed juiciness of tomatoes in the dead of summer. When the tomato skins are so thin that half of them burst as you're picking them off the vine.
Those are the snack tomatoes that never make it to a salad…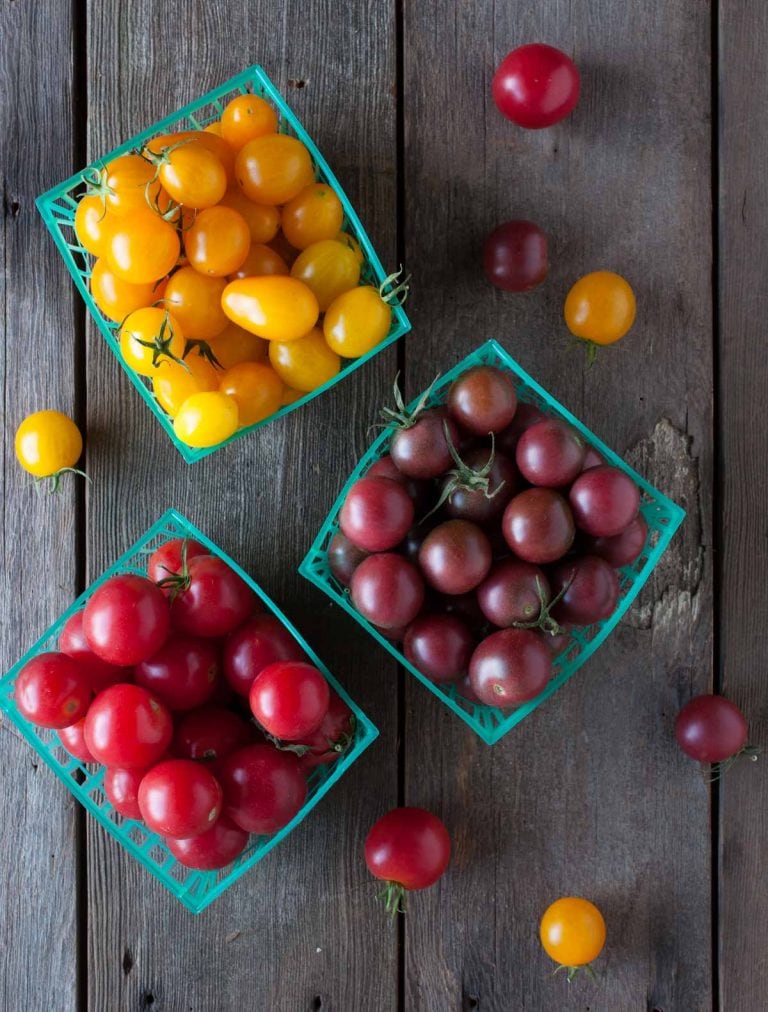 Another thing I love about this chickpea salad is that it can serve as either a side salad or a light vegetarian main dish. All that garbanzo bean protein beefs it up a bit to keep you full longer. You can add feta if you want for a little extra protein and flavor, but you don't need to by any means. It's plenty tasty without it.
And without cheese, it's completely plant based! I'm not vegetarian or vegan by any means, but you don't have to be to enjoy good plant based meals. This isn't an all or nothing thing whatsoever, and the stigmas around that really irk me. We can all benefit from making small healthy changes, without choosing to be all in 100%. I will never be completely dairy, gluten, meat, or anything free. I do, however, see the value in eating less animal products.
If you know something isn't great for your body, but it is something you love, just work on limiting the amount you eat, not eliminating it altogether. This approach is much more manageable, and will leave you happier in the long run.
Its like having your cake and eating it too.
You'll start to feel a change within a month if you make a change and consciously avoid meat two days a week. Don't fill the extra room in your diet with junk, use these days to up the veggies!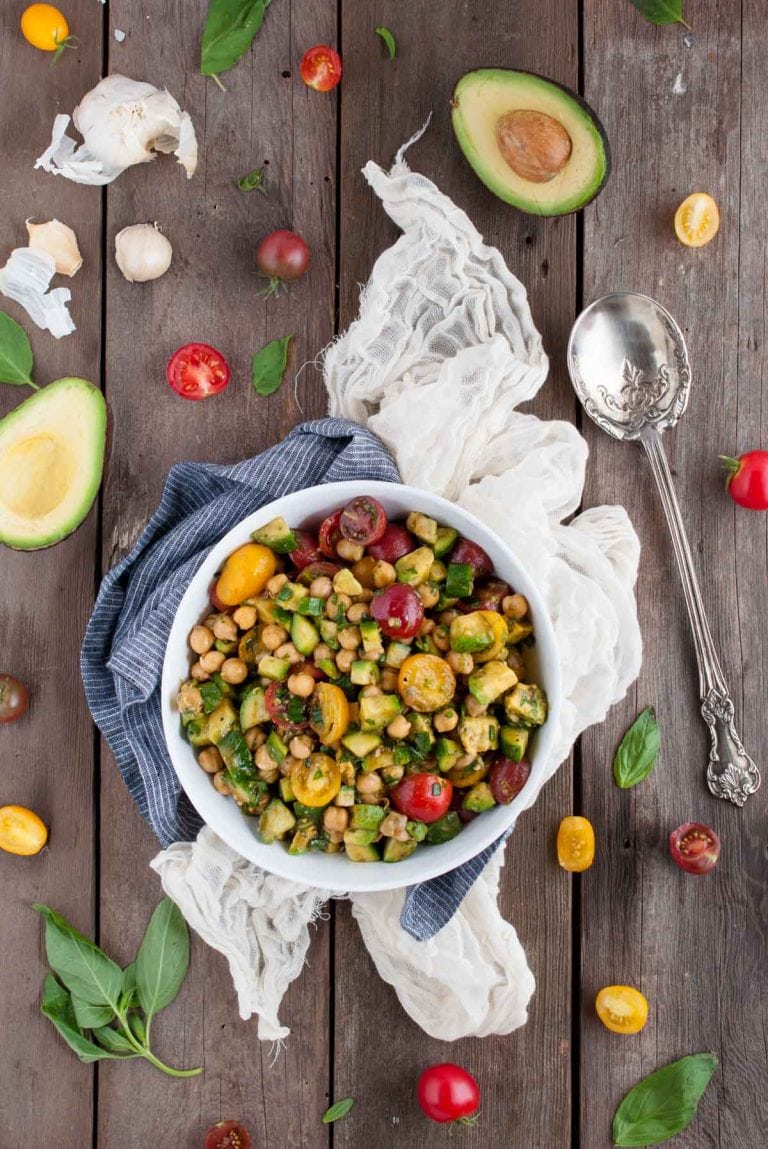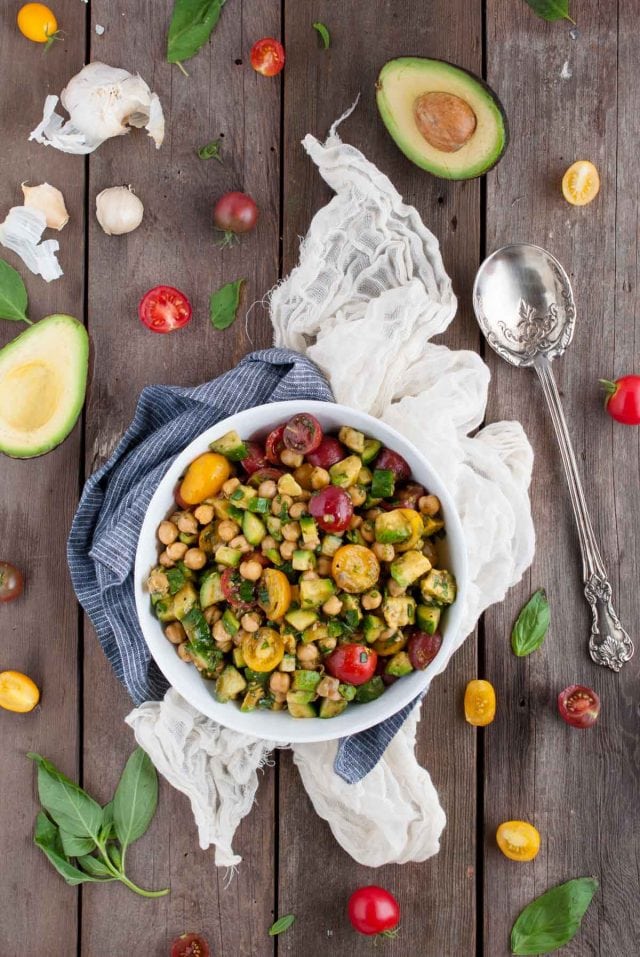 I especially love recipes like this because it goes to show that healthy doesn't have to mean less flavorful. Use a good quality balsamic vinegar for the best results, but that goes without saying. It makes a huge difference.
Many moons ago, I bought cheap, crappy balsamic and never got what all the fuss was about, then I started getting the good stuff, and realized what I was missing out on. I get this brand of balsamic, and love it, but there are lots of good vinegars out there to choose from.
If you're a chickpea or cucumber hater, try out this summer salad, with fresh blackberry vinaigrette. Its another one of my favorites. 🙂
This chickpea salad so light and refreshing with fresh basil, balsamic vinegar, tomatoes, and avocado. Its naturally vegan but has so much flavor, you'd never know it!
Ingredients
1 pint cherry tomatoes, halved
1 large cucumber, quartered lengthwise and then sliced into 1/4 inch pieces
15 oz. can garbanzo beans, rinsed and drained
2 Tbsp. fresh chopped basil
1/4 cup thinly sliced chives
1 tsp. minced garlic
1 Tbsp. olive oil
2 Tbsp. balsamic vinegar
1/2 tsp. fresh cracked pepper
1/2 - 1 tsp. salt (add one half, taste, and then add more if desired)
1 large avocado, diced
Instructions
Toss tomatoes, cucumber, garbanzo beans, herbs, and garlic in a medium bowl.

Drizzle with olive oil and balsamic vinegar and sprinkle with pepper and 1/2 tsp. salt. Toss to coat evenly.

Gently fold in avocado. Taste and add additional salt if desired. Serve immediately.
Nutrition
Calories: 332kcal | Carbohydrates: 43g | Protein: 12g | Fat: 14g | Saturated Fat: 1g | Sodium: 27mg | Potassium: 943mg | Fiber: 12g | Sugar: 10g | Vitamin A: 1260IU | Vitamin C: 38.6mg | Calcium: 99mg | Iron: 4.7mg