Chicken potato casserole is comfort food at its finest, full of flavor but loaded with chicken and veggies to makes the dish deceptively light and healthy.
Its summah time and the livin's easy. So easy that I haven't done a blog post in over two weeks! Sorry food lovers.
I've been wrapped up in my own little world of crazy over here. We've had a series of visitors staying at casa de Christy over the last month and this week has been my recovery time… before we do it all over again.
I know I've talked about our house being a magnet for visitors before, but my views have changed so much on it all over the past year. Its crazy, its fun, it can be stressful, but I don't think I would change it.
I love being able to spend that kind of time with our nearest and dearest while they pass through town. Life is short and not making time for the people that mean the most to you is really a damn shame.
These last few years I have been in such a go, go, go mode, trying to figure out what I want my life to be like, that at times, I straight up forget to just live already.
Relax, breathe, and enjoy it. We only get one life and it would be a pity to let it slip right by without early morning coffee in the garden, long walks with the dog, nights by the fire pit, way too much wine, and stopping to soak up the sheer awesomeness that is summer.
Take a deep breath. Let go of perfect, and embrace the moment. Doesn't that feel fabulous?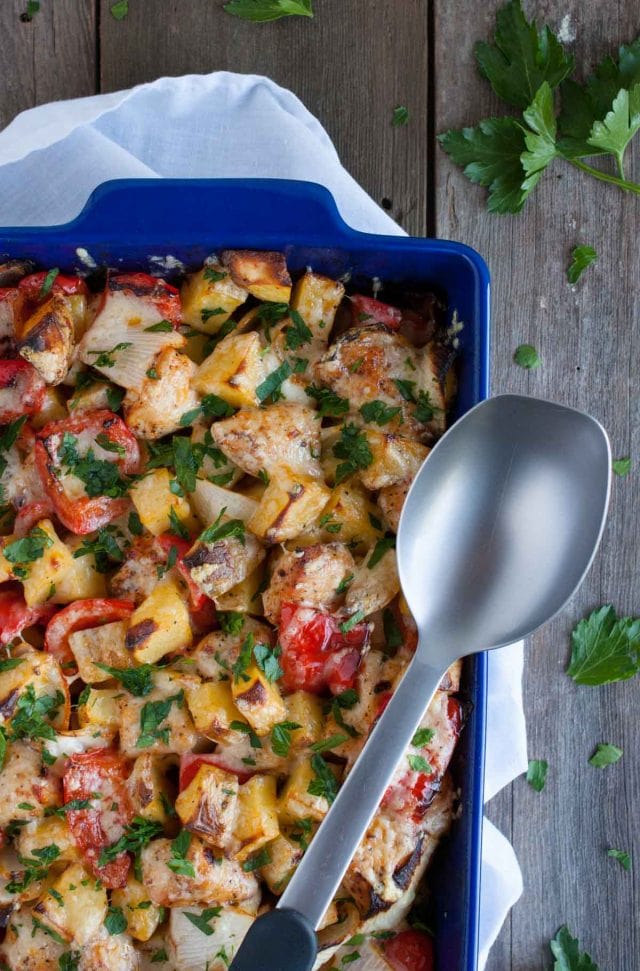 Now on to what you're really here for – food! This chicken potato casserole is where its at people. I've made it a handful of times in the last month because its just so easy and comforting. I know, I know, its July, why in the holy shiznit is comfort food on the menu.
Well, sometimes you just want chicken and potatoes. And you want said items to be covered in cheese. ASAP please.
It takes a good 20 minutes of prep work to get this chicken potato casserole in the oven, most of that being chopping. A lot of people complain about these kinds of recipes, but I really don't mind the chopping one bit. When I'm exhausted after work and my mind is a million miles away, thinking about a hundred different things, simplicity is king. I go into auto pilot and want an easy recipe that I can totally zone out on. Even better if I can pop it in the oven and forget it for a while.
If you're looking for other simple recipes, with about 20 minutes of active time, check out this enchilada casserole or this Indian curry dal. Yum yums.
Here's what this dish looks like pre-baked. Doesn't that just scream simplicity at its finest? No, it isn't your classic casserole with some kind of bread-like filling. Its just simple ingredients tossed together with a lot of flavor. No binder needed.
Plus, can I get an amen for only having to clean one dish? My lazy dish doing tendencies strike again!
But seriously… screw dishes. I consider them my evil nemesis. Covered in baked on food from bygone meals, dishes can suck it. A sink full of pots and pans can really get my panties in a bunch.
Needless to say, I'm all about the one potters, and this chicken potato casserole fits the bill perfectly.
At about 365 calories per serving, its probably one of the lighter comfort foods you'll find too. It's amazing how far a light sprinkle of cheese will go. No need to drown it in the stuff, just add a touch for flavor.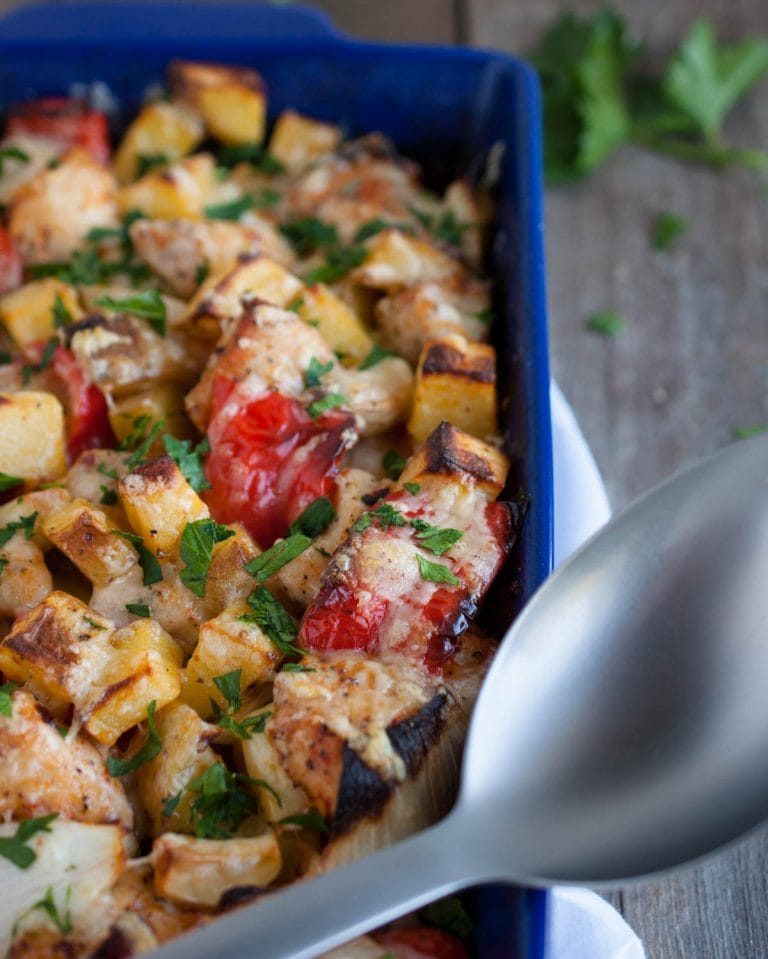 The reason this dish works so well all comes down to size. This is where size really matters. Chicken and peppers are going to cook faster than potatoes of the same size. Its just the way it is.
Buuuut, cut those taters in half, and you've got yourself an effective work around. Chicken potato casserole for the win!
You can see in the pic below what I mean. Chicken chunks are bigger, potato chunks are smaller. Not rocket science, just a little chop chop magic.
Those of you who have been reading Feasting Not Fasting for a while, probably know I'm a potato fan. Remember that potato skillet I shared forever ago? Or my breakfast sweet potato skillet (one of my absolute fav's)? Yeah, I love me some potatoes.
They get a bad rep, but are really not bad for you at all! Sure, you don't want to eat them all day, every day, but they're full of fiber, vitamin B6, potassium, vitamin C… and the list could go on and on.
French fries are terrible for you, but wouldn't carrot fries be too? Its all about the cooking method, not the potato itself. Stop picking on potatoes already you carb fearing bullies.
Forget all this talk about what's good and what's bad. If it come from the ground and isn't processed to high hell, your body can make use of it. So, feed your body what it wants. It'll thank you.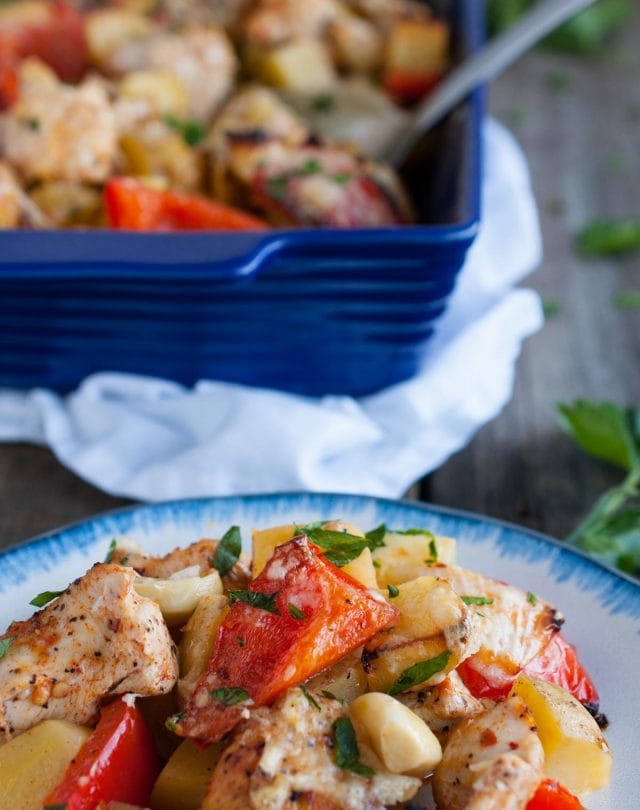 Since this recipe doesn't have any kind of creamy sauce or runny starch to tie it together, it isn't like your standard casserole, Don't expect it to be creamy or have an ooey gooey texture, it's more of a potato bake topped with cheese. If you're looking for a healthy casserole that's more of your standard casserole fare, you've got to try this chicken enchilada casserole – its to die for!
This recipe is just a simple combo of ingredients, tossed together with seasoning and baked until fully cooked and bursting with flavor. It is easy. It is delicious. It is healthy. Now go do something fun with that extra time you saved by making something easy for dinner!
Chicken potato casserole is comfort food at its finest, full of flavor but loaded with chicken and veggies to makes the dish deceptively light and healthy.
Ingredients
1 1/2 lbs. chicken breasts, cut into 1" cubes
1 1/2 lbs. yellow potatoes, cut into 1/2" pieces
2 red peppers, seeds removed and cut into 1" pieces
1 cup onion, cut into 1" pieces (use outer, larger rings of onion for this)
1 head garlic cloves, separated and skin removed (cut larger cloves in half*)
3 Tbsp. olive oil
1 1/2 tsp. paprika
1 1/4 tsp. salt
1/2 tsp. pepper
1/4 tsp. red pepper flakes
1 cup grated cheddar cheese
1 Tbsp. chopped parsley
Instructions
Preheat oven to 425° F (218° C). Spray baking dish with cooking spray or rub with additional oil.

Use a kitchen towel or paper towels to dry chicken and vegetables off and absorb excess moisture.

Place chicken, potatoes, red pepper, onion slices, and garlic into prepared baking dish and drizzle with 3 Tbsp. oil.

Add paprika, salt, pepper, and red pepper flakes and rub in with hands to coat evenly.

Place in preheated oven and bake for 30-40 minutes, stirring once half way through.

Remove from oven and sprinkle with cheese. Turn oven to broil and cook for 2-3 minutes until cheese is melted. Sprinkle with parsley and serve.
Notes
*Can use 2 tsp. minced garlic or 1 tsp. garlic powder instead if desired.
** This recipe was inspired and adapted from Life in the Loft House's Loaded Chicken Potato Casserole recipe.
Nutrition
Calories: 365kcal | Carbohydrates: 20g | Protein: 32g | Fat: 17g | Saturated Fat: 5g | Cholesterol: 92mg | Sodium: 666mg | Potassium: 1070mg | Fiber: 4g | Sugar: 3g | Vitamin A: 2340IU | Vitamin C: 70.4mg | Calcium: 192mg | Iron: 5mg
What are your favorite one pot meals?