Cold borscht is a Russian/ Ukrainian beet soup served chilled for those hot summer days where you want something refreshing and light but full of flavor.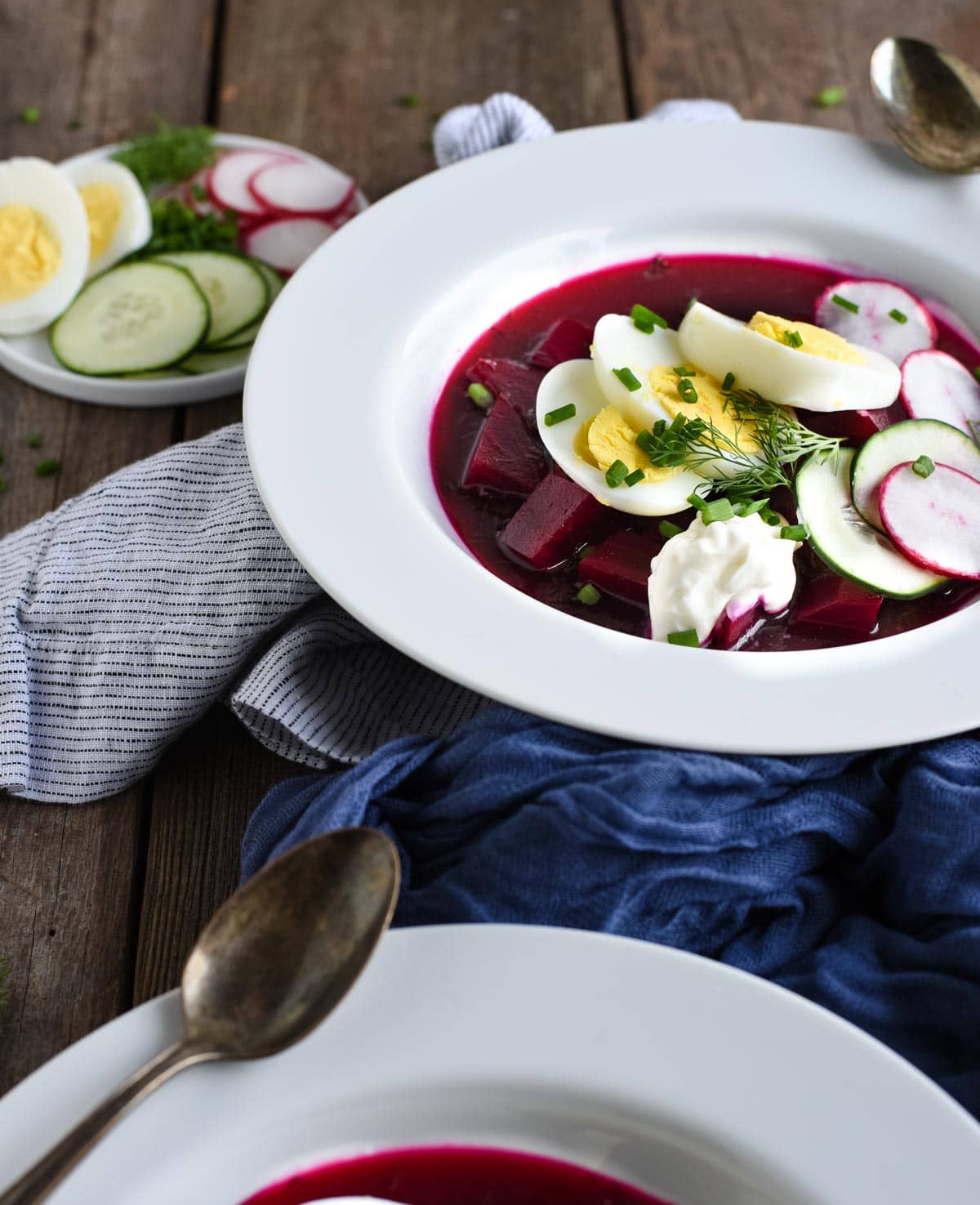 For those of you who don't know, I'm married to a Russian. Another fact that isn't widely known is that Russian food is absolutely delicious! If you are already in the know about this, you're probably nodding your head, but the rest of you, well, you might be skeptical. I swear though, when done well, its the best!
When you think of Russian food, borscht is probably what comes to mind, if not first, pretty close to it. This pink beet soup is an Eastern European classic. I was surprised how much I loved it when I tried the hot version since I wasn't a huge beet fan at the time (surprising I know since I put beets in everything now, even cupcakes and hummus).
I tried cold borscht for the first time on a hot summer day at my husband's grandmother's apartment in central Moscow, about a block away from Red Square. About as Russian as it gets.
After touristing around the city all morning, dripping sweat while nursing mind splitting hangovers, we were exhausted and in need of something refreshing. Yes, it actually gets hot in Moscow and no, don't try to keep up with a Russian when drinking vodka.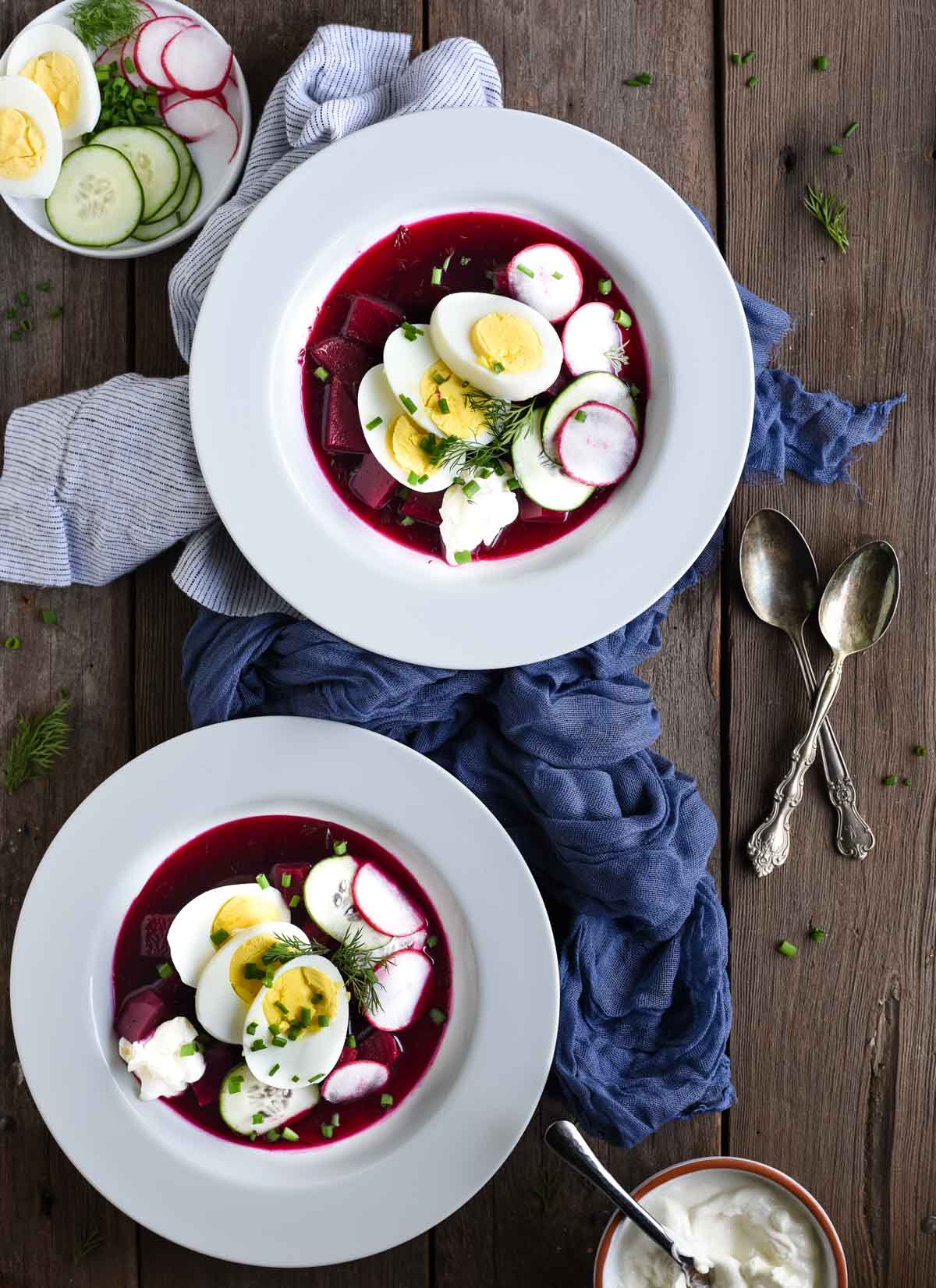 Moscow gets that sticky kind of summer humidity that makes you dart into random stores for just a few minutes of air conditioning and crave anything and everything that will lower your temperature, even just by two degrees for two minutes.
Summer borscht to the rescue! I have always been a topping fiend so, in addition to the delicious savory taste, I adore the process of dolling it up with egg, sour cream, veggies, and herbs. It makes this soup a fun lunch experience. Its not just your standard dump into a bowl kind of chowder or stew. Its a whole process. Not a complicated one, but a personalized, individual process that can be tweaked to your tastebuds' unique preferences.
You can definitely make cold borscht vegetarian by using veggie broth, and vegan by leaving out the sour cream and egg… but those are some of the best parts! The sour cream is what gives it that creamy tang so you'll have to replace it with some kind of vegan substitute to get the full affect. And the egg provides more protein so vegans will have to slip some beans in or serve with a side to make it filling enough.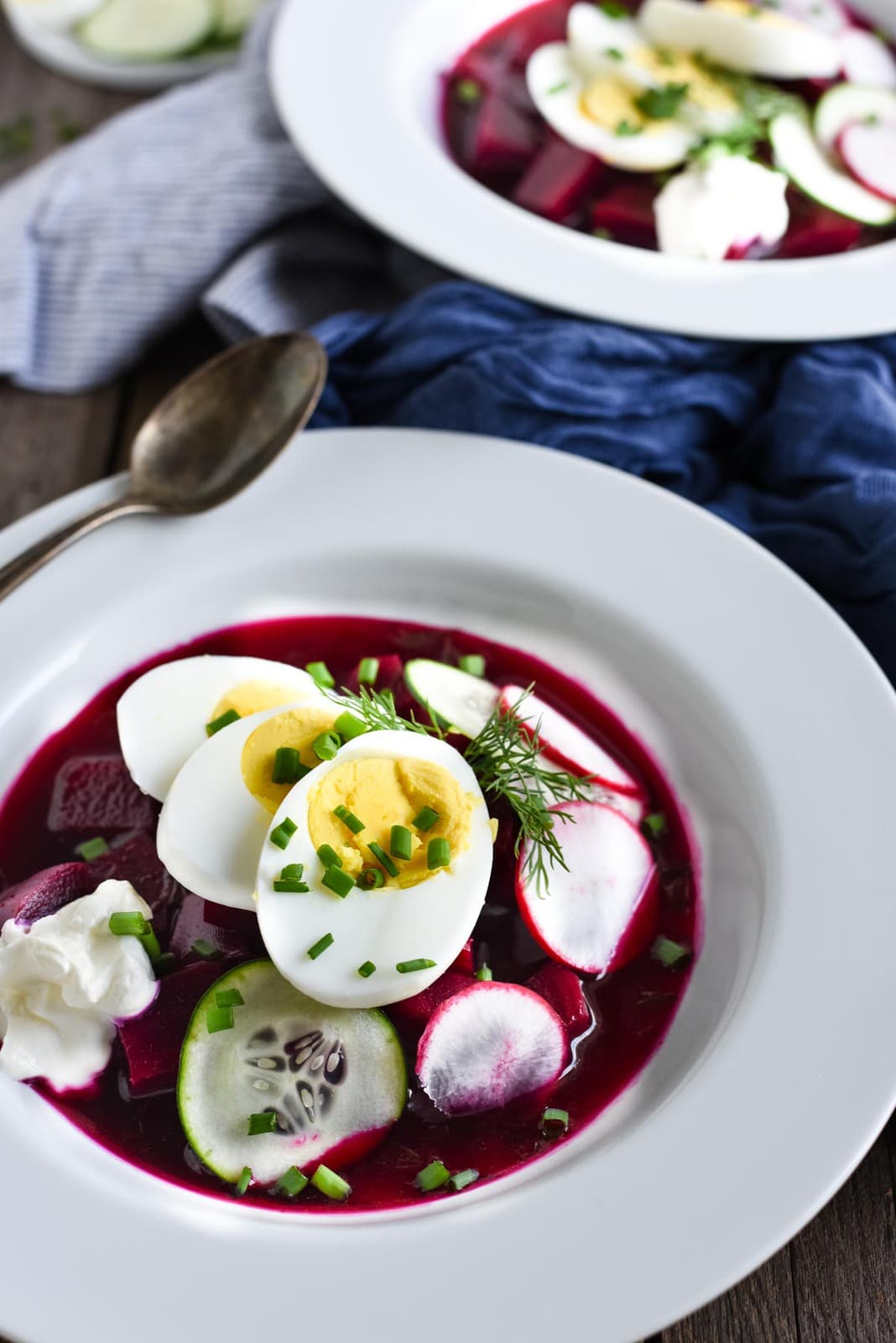 So, if you're not familiar with borscht, you might be wondering what this tastes like. It does have a bit of a beet-like flavor, but, as I mentioned earlier, even beet haters love it. It take all of the best characteristics from beets (sweetness, color, etc.) and leaves the earthiness that most people hate behind. There's a hint of dill and a tangy richness from the sour cream that is just so satisfying.
This happens to be a great first recipe to try cold borscht too. Its simple, doesn't require boiling or baking the beets separately or simmering for hours. Plus, it got the stamp of approval from two legitimate Russians now. My mother-in-law was openly skeptical when I told her I was making cold borscht for lunch, but actually ended up thinking it turned out great.
My husband thinks its the best and has been asking me to make it again ever since. I think the key is getting the salt level right. If it tastes inexplicably bland, add more salt, just a few pinches at a time, until it tastes robust and balanced. So much of cooking just depends on balancing the salt and sweet aspects of a recipe. Get the acidity right on top of that and you've got that killer combo that makes a dish truly excellent.
Knowing this was a summer recipe, I tried to reduce cook time as much as possible. Most cold borscht recipes roast or boil the beets separately and then add them to the soup later on. While this makes the soup lighter in color, it also makes it take a loooong time. Who wants to be hovering over a pot of steamy liquid on a summer day? Not I, so, I minimized that.
I really don't think it affected the flavor one bit. I love getting away with short cuts like this. Makes me feel like a legitimate kitchen prowess, irregardless of how simple the switch out is.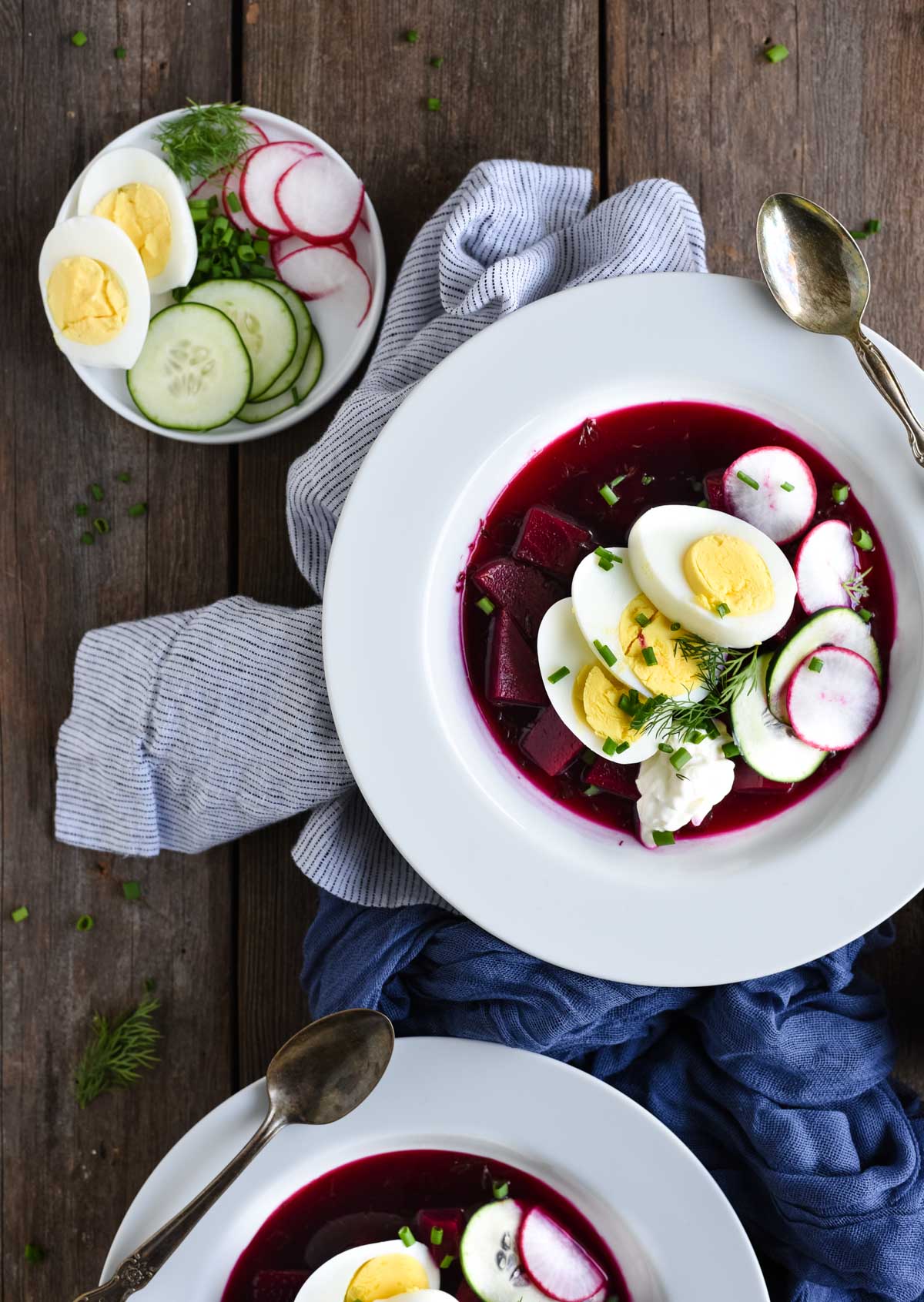 Oh, and not to brag or anything, buttt, those radishes came from our garden. As did the dill. And I milked the cow that created that sour cream. Okay, jk on that last one… but seriously, our garden is killing it this year! My husband's green thumb is truly paying off. We've got zucchini as big as a small child (oops), tomatoes, berries, eggplant, and so many other goodies. I've been posting our daily veggie haul to Instagram stories whenever I remember so if you're a garden nut, follow along with us. If his plant care translates in any way shape or form to baby care, he's going to make one hell of a dad.
As these summer days fly by and my belly gets bigger and bigger, I get more and more excited about welcoming our baby girl into this world. I still have nerves and doubts of course. The whole transition brings out the most intense feelings of elation that can easily flip flop into fear, but most days, I feel at peace about it all and just can't wait to meet her. The more time goes by, the happier I am that this is happening when it is. The timing isn't perfect, but what ever is in life?
Its hard not to focus on the future with something so thrilling right around the corner. I keep having to remind myself that these next few months will pass quickly and to take a step back and enjoy where I'm at. Enjoy the peace and quiet while I can cause she will be here before we know it.
Well, I'm off to enjoy this beautiful summer day. For the first time in a while its under 90° in Portland! I hope you try this recipe out and love it as much as much as we do. The picture below is one I took half way through eating one of my sample bowls from the picture above. I realized the color is just so much fun with the sour cream mixed in that I couldn't help but snap a quick pic.
Its a messy one, but food isn't always poised and perfect. The mess is part of the beauty of it all. Stay cool out there and have a fabulous weekend!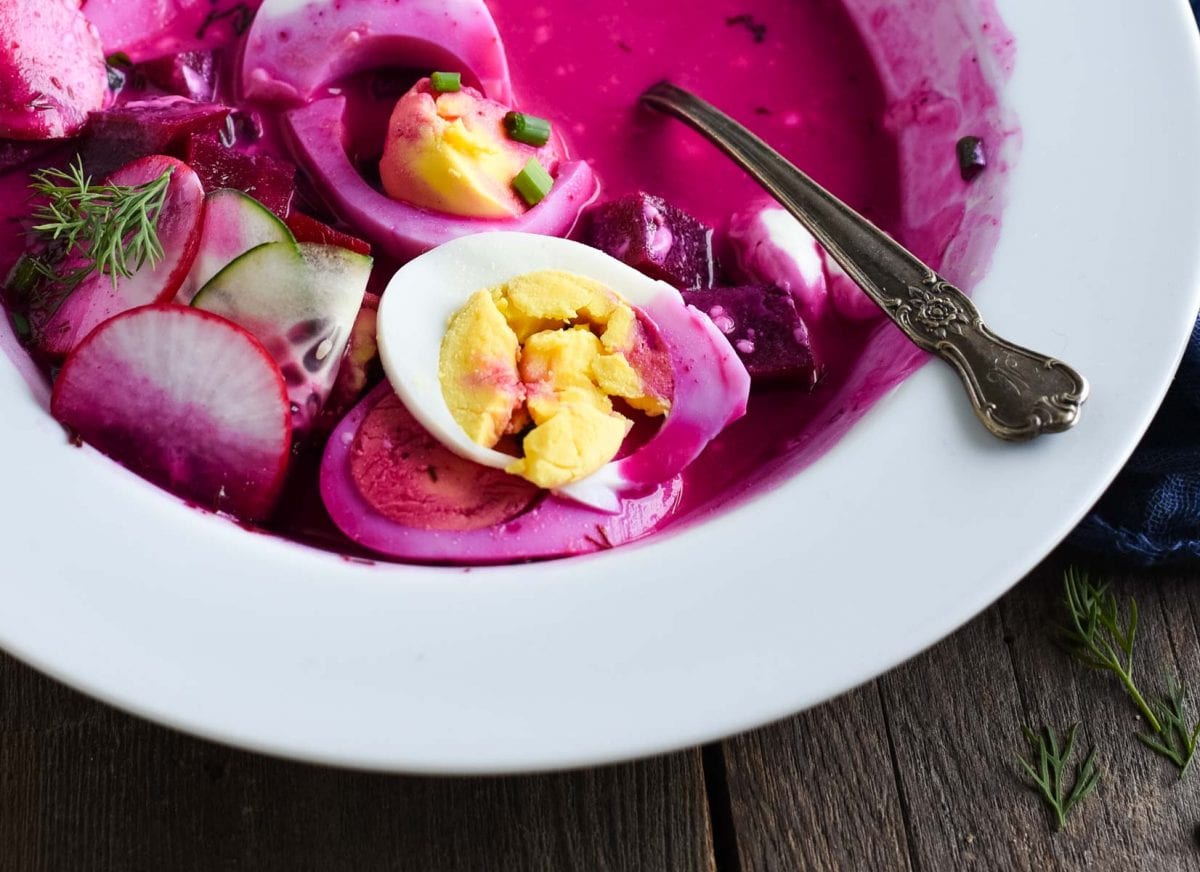 Cold borscht is a Russian/ Ukrainian beet soup served chilled for those hot summer days where you want something refreshing and light but full of flavor.
Ingredients
Soup
6 cups chicken or vegetable stock
2 lbs. beets about 5 small beets or 3 large, peeled and diced into 1/2" cubes
3 tsp. coconut sugar
2 Tbsp. lemon juice
2 Tbsp. apple cider vinegar
1/8 tsp. ground cumin
1/2 - 1 tsp. salt adjust amount if needed based on saltiness of salt
1/4 tsp. pepper
3 Tbsp. chopped dill
Garnishes
1 cup sour cream
2 cups thinly sliced cucumbers
1 cup thinly sliced radishes
6 hard boiled eggs, sliced
2 Tbsp. chopped dill
1/4 cup chopped chives
Instructions
Bring chicken stock to a boil over high heat.

Add chopped beats, reduce heat and let simmer for 10 minutes.

Add remaining ingredients, except dill, and let simmer for another 10 minutes until beets are softened.


Remove from heat and add dill.


Taste and adjust seasonings if desired.

Let cool and chill in fridge until cold (at least 2-3 hours, preferably overnight).

Serve cold with garnishes.

Notes
Make vegan by replacing sour cream with a non-dairy substitute and omitting egg.
Nutrition
Calories: 307kcal | Carbohydrates: 31g | Protein: 17g | Fat: 13g | Saturated Fat: 5g | Cholesterol: 207mg | Sodium: 1049mg | Potassium: 1084mg | Fiber: 5g | Sugar: 17g | Vitamin A: 1490IU | Vitamin C: 25.8mg | Calcium: 147mg | Iron: 3.3mg