Healthy yet tasty beet red velvet cupcakes are made with whole wheat flour and no processed sugar. They're topped off with a decadent cream cheese frosting.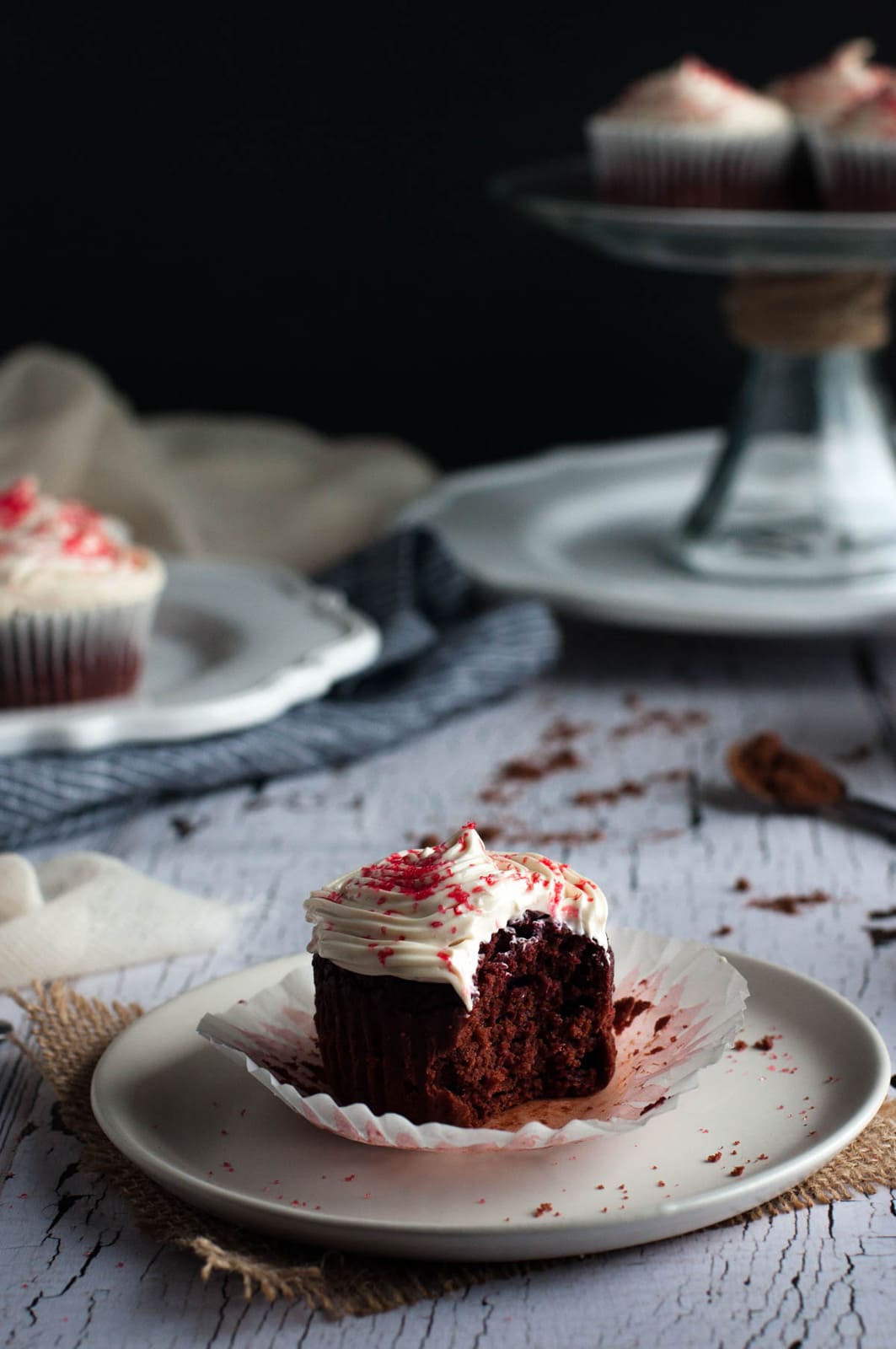 Whether you're a Valentine's Day lover or not, you can't deny this holiday has some fun desserts tied to it. I mean, when else do you make red velvet? Valentine's day kind of owns this treat. Why else would you turn a perfectly good chocolate cake red? Precisely my argument here.
Then, to complete the ensemble, the cake needs to be slathered in cream cheese icing. Simple as that. Red velvet disassembled. Normally we end up with more chocolate and unhealthy snacks than we know what to do with on this holiday. Not this year. This Valentine's day I'm rethinking it all and doing a healthy dessert. Well, not entirely healthy, but healthier.
Luckily, nature made a red veggie for us that works perrrrfect in this recipe. This unexpected veg works its magic in beet red velvet cupcakes, turning them red without any nasty chemicals. It leaves a slightly earthy taste, but isn't all that noticeable. If you're vehemently opposed to that, you can always add a touch more sugar to mask it, but for Me, I don't mind one bit. It is really rather mild and easily masked by the chocolate.
Beet flavor aside, they're sweet enough to be delicious without having a ton of extra sugar. In fact, at 14.3 grams of sugar per cupcake (including frosting!), these beet red velvet cupcakes are lower in sugar than most yogurts you'll find! Wowza, those things pack a sugar punch if you don't buy carefully. Yogurt is the new candy I guess.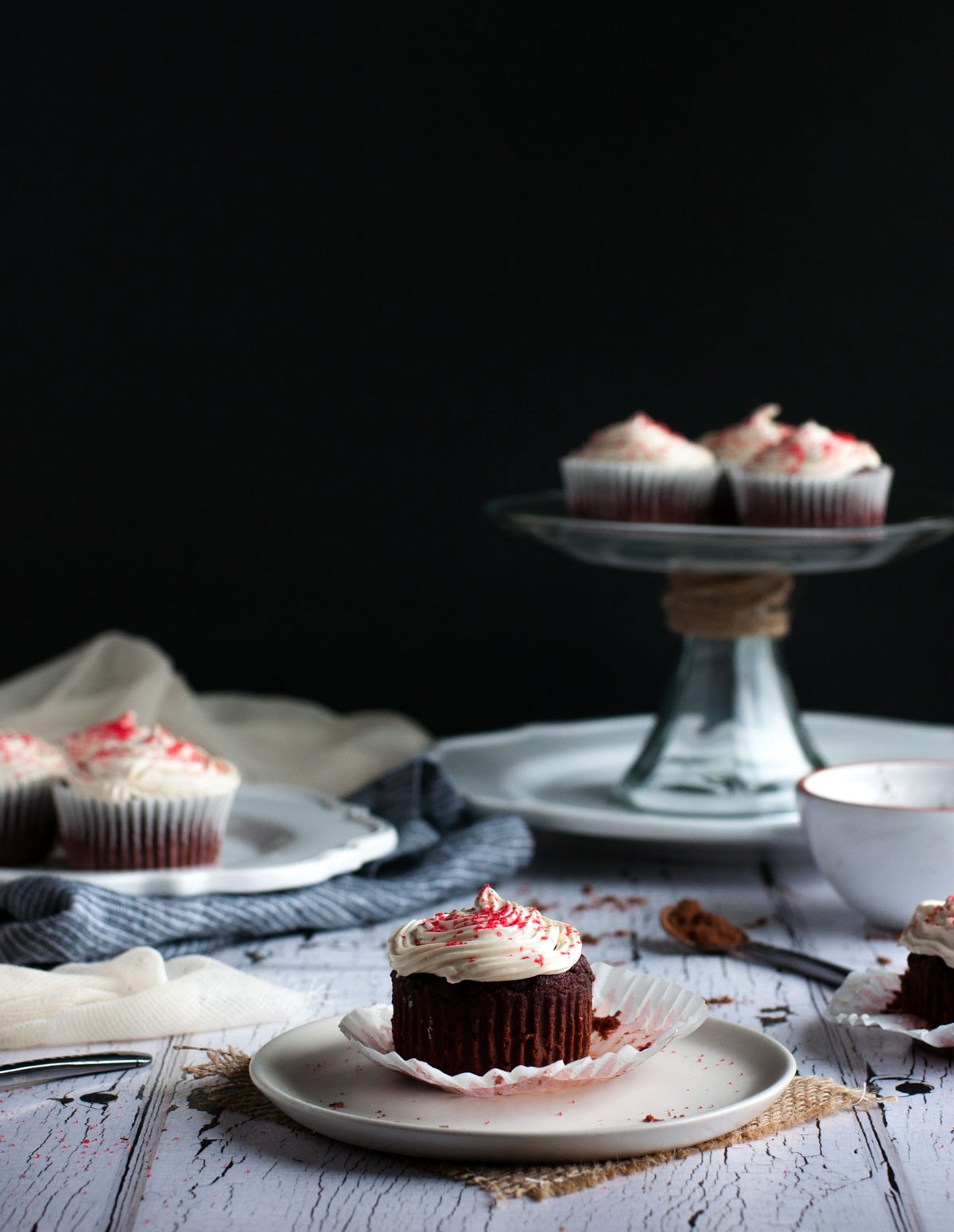 Each cupcake has five grams of protein too. I don't have kiddos (obviously), but if I did, I'd imagine teachers would thank you for bringing these in for V-day instead of sugar laden snacks that will leave kids wrecking havoc and tantrumming through the rest of the day. Low sugar + protein = less blood sugar spiking and more mental/ emotional stability. Do the kids a favor moms! Trusssst me, they won't even notice the difference.
If you're really opposed to the reminiscent hint of beet and low sugar, like I said earlier, add a touch of sugar. You can always cream a bit (maybe 1/4 cup?) of coconut sugar in at the stage where you're mixing the beet with other liquid ingredients and add a touch more sugar to the frosting. Even with this, you'll still have less than 1/3 of the sugar that a regular store bought cupcake has.
I did not do this because they're plenty sweet for me, but if you're a sugar addict and your sugar meter is skewed in the opposite direction, you'll probably crave more sweetness. Maybe that's a sign to tone down on the white stuff though altogether… just sayin…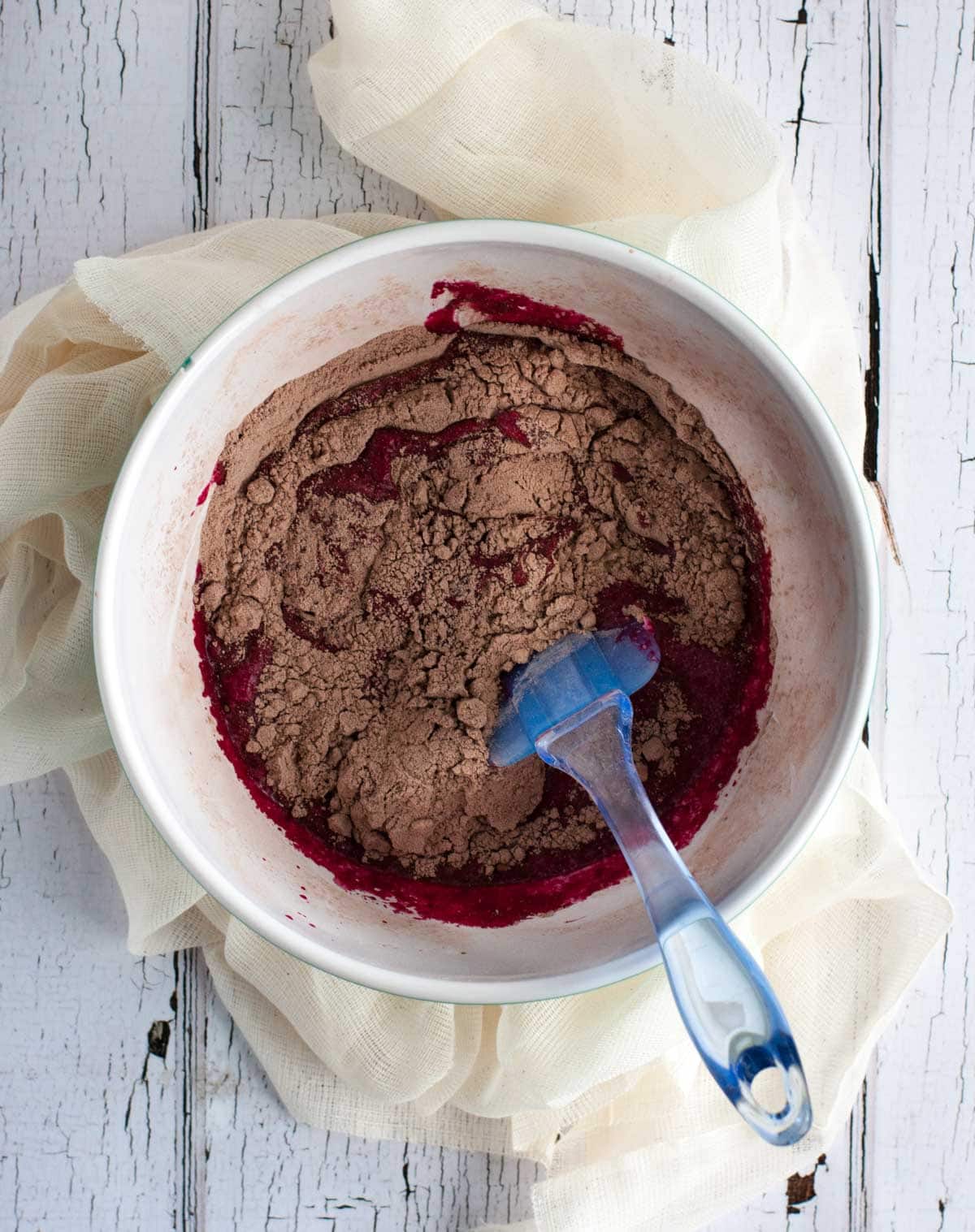 Look at that stunning batter. So purplish red and beautiful to no end. This is why red velvet is better than plain ol' chocolate. We eat with our eyes and color is fun. And why cupcakes over cake? Same reason. Cupcakes are always more fun than full blown regular sized cakes. I'm sure we can all agree on that. However good anything is in large form, its even better mini.
If red velvet isn't your thing, be sure to check out my chocolate peanut butter healthy cupcakes. That recipe is one of my all time favorites. Those would be on my greatest hits reel for sure. If you want to make a homemade box of chocolates for your sweetie, check out my avocado chocolate truffles and chocolate coconut balls. Both are always a hit.
Or you could do these cheesecake stuffed strawberries to woo your lova. All of these snacks are tried and true. I've already won my guy over officially, but dolling out choice snacks helps keep it that way. Healthy desserts mean you get to eat a bit more of them too, but in this case, you probably won't need to. These beet red velvet cupcakes are really pretty filling.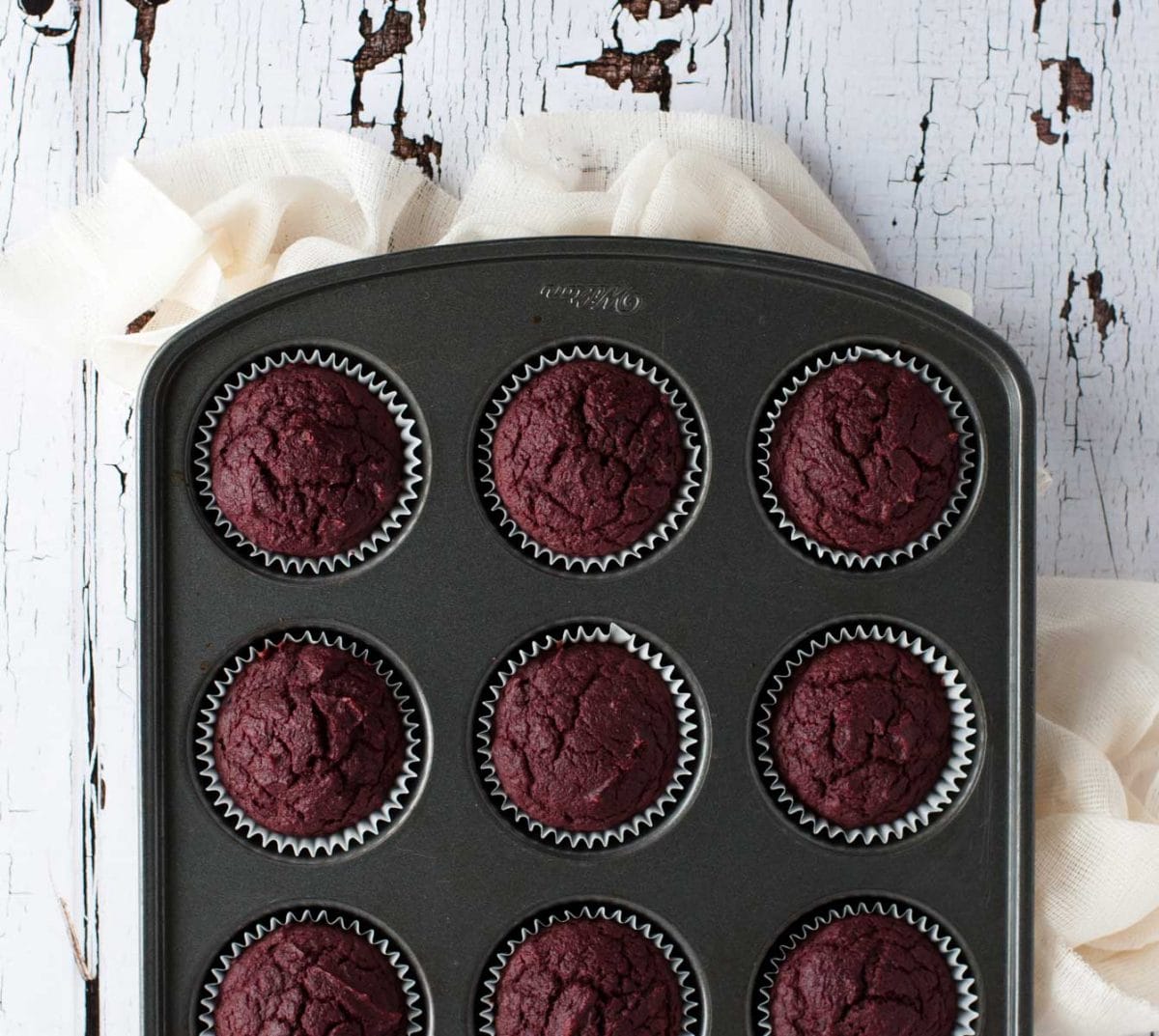 In the pic below, this shows me getting over excited and munching a cupcake before the shoot was over. I was about to call it a day and then I thought, hey, let's snap a few pics with my hangry bite taken out of it! True taste test inspiration took over at that point and I snapped a literal handful more pictures before calling it a day and devouring every last crumb of that sacrificial snack. Just filling in the backstory on this weird hand picture.
Do any other photographers out there find that hands are the weirdest thing to photograph? I can take dozens of pictures with hands in them and not like any of them. Who would've thought that something as basic as a hand would be such a challenge to get non-weird pictures of.
Another thing I love about these cupcakes is that they keep pretty well. That can't be said for all healthy desserts, or any desserts for that matter. The sprinkles (if you use them) will melt into the frosting so its best to hold off on that until right before serving, but the cupcakes on their own will hold up in a sealed container in the fridge for a few days.
We were snacking on them for at least three days and feeding them to anyone that stopped by. I have to say, between my husband having a home based business and the oodles of friends that drop by our place on a daily basis, I'm never short on taste testers. #blessed?
Beet red velvet cupcakes aside, what are your Valentine's Day plans? We're celebrating tonight because we've got a friend coming into town tomorrow. Dinner and drinkies a day early. Yay. 🙂
Healthy yet tasty beet red velvet cupcakes are made with whole wheat flour and no processed sugar. They're topped off with a decadent cream cheese frosting.
Ingredients
Frosting
8 oz. 1/3 less fat cream cheese
1 1/2 tsp. vanilla
¼ cup honey
1 - 3 tsp. milk if needed (I used almond)
Instructions
Preheat oven to 350 degrees F.

Line muffin pan with muffin pan with liners or spray with baking spray.

Place beet in food processor and pulse until finely chopped. Add milk, vanilla, and honey and pulse to thoroughly mix. Add coconut oil and eggs and pulse for about 10 seconds to mix in.

In a separate bowl, combine flour, cocoa, baking powder, and salt and stir to mix. Pour liquid mixture into bowl and stir to combine.

Pour batter into prepared muffin cups, filling each about ¾ full.

Bake for 16 – 18 mins until a toothpick inserted into the middle comes out clean. Cool in pan for 10 minutes before moving muffins to a cooling rack for 20 – 30 minutes. Cupcakes must be fully cool before frosting.

To make frosting, place cream cheese, vanilla, and honey in a bowl and beat with whisk attachment on blender until smooth and creamy.

Add milk 1 tsp. at a time to thin and make desired consistency. Place in piping bag and pipe over cooled cupcakes.
Nutrition
Calories: 161kcal | Carbohydrates: 25g | Protein: 4g | Fat: 5g | Saturated Fat: 3g | Cholesterol: 22mg | Sodium: 125mg | Potassium: 180mg | Fiber: 1g | Sugar: 14g | Vitamin A: 85IU | Vitamin C: 0.2mg | Calcium: 82mg | Iron: 0.7mg