Avocado Caprese salad is one of the easiest and most refreshing side dishes you can serve with any meal, especially topped with a tangy balsamic glaze.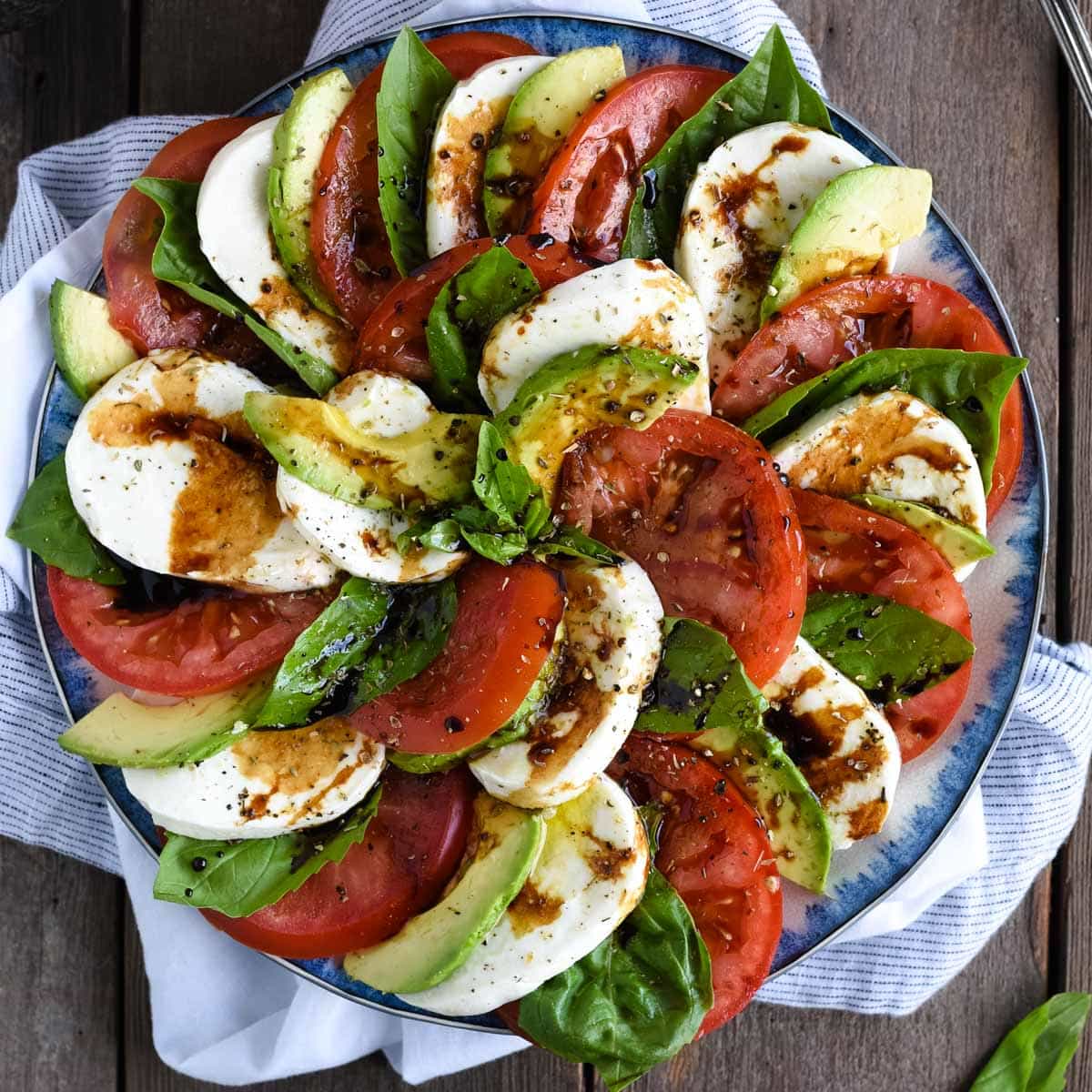 Avocado Caprese salad is the salad to conquer all salads. I'm a Caprese addict already and probably ate my weight of them in Italy earlier this summer, but something about adding that avocado brings an extra level of creaminess that I just adore. Then instead of topping with straight up balsamic, drizzling a thickened balsamic glaze over the top brings a whole new level of complexity to the mix.
Sure you can just top with olive and vinegar and call it a day, and I do that all the time when I'm in a crunch. The glaze is just so much more satisfying though if you can take the extra 15 mins that it takes to whip it up.
And, not to undersell the recipe, but they sell a shelf stable balsamic glaze at Trader Joe's that is to die for. Here's a link to the glaze on Amazon to show you what I mean, but know that its under $5 a bottle in-store. This stuff is now a pantry staple in my house. Its seriously that delicious.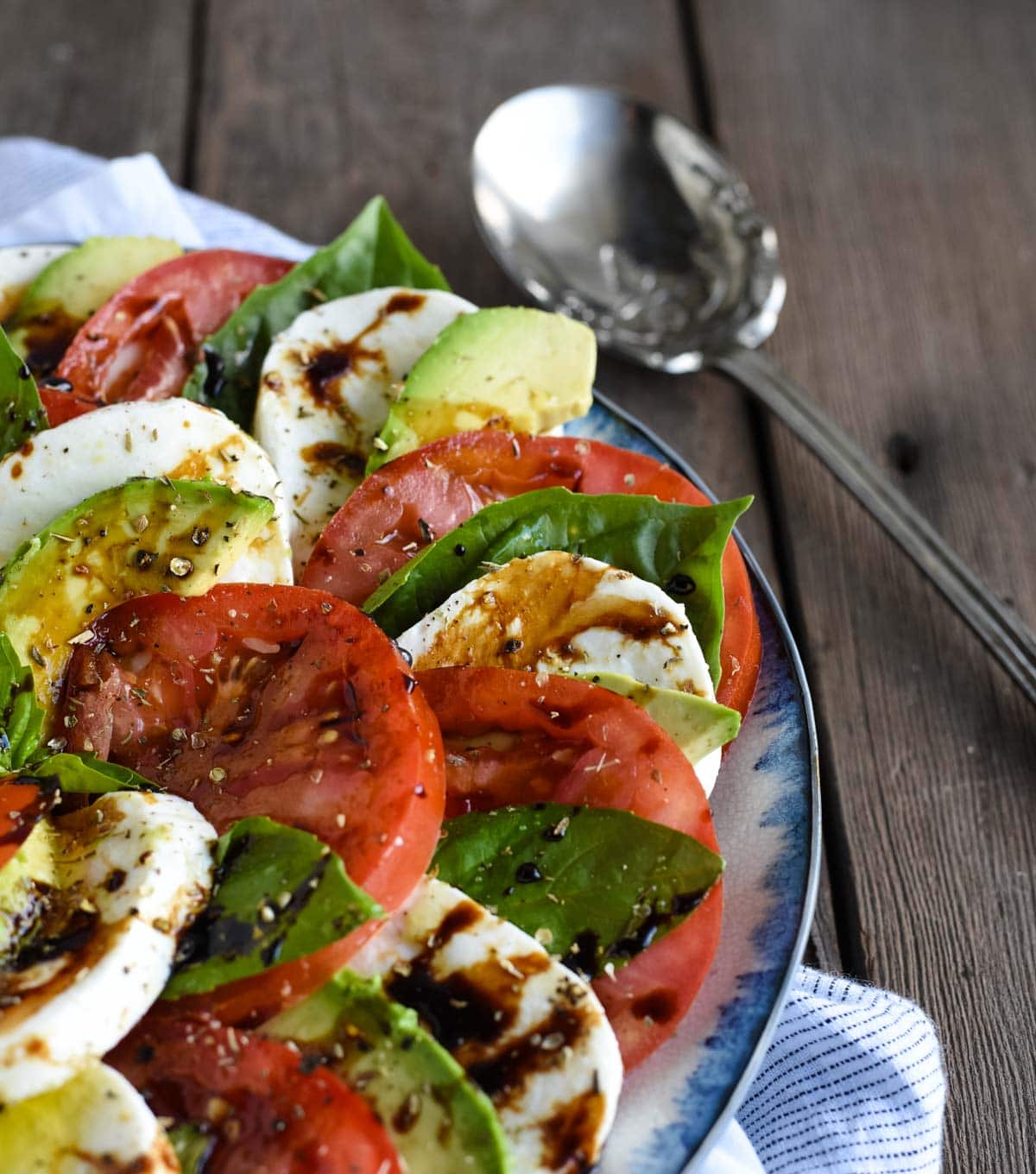 I've always been of a DIY-er though, for better or worse so I often opt to make glaze on my own. The choice is yours though and you can flip flop between the two like I do, depending on how much effort you feel like putting in.
Creeping into motherhood, I'm sure that shortcuts are going to become the norm in my kitchen. I'm already finding that I don't have the energy for long, complicated recipes in pregnancy so I can only imagine how this is going to intensify with a newborn.
I've shared before that veggies weren't exactly my friend there for a while, but this food aversion is starting to go away (thank god), and I'm back to reveling in the salads. I've been making avocado Caprese salad and my go to avo-cucumber salad like they're going out of style. If you're looking for new ideas, check out this list of 12 salads that I put together earlier this year. I'm slowly working my way through them and haven't found a bad one in the bunch yet.
Getting back to this avocado Caprese salad recipe, there are two things I haven't mentioned yet. First, its easy. Like, really, really easy. Sure, the glaze takes extra time to prepare and the layering can be finicky, but for the flavor punch it delivers, this is simple at its finest.
Second, hello buffalo mozzarella! I've always been a fresh mozzarella fan and have it in my fridge all summer long to throw it into salads, on pizza, pasta, sandwiches, or whatever I'm cooking up. Pairing with basil, tomato, and balsamic though, well that's downright magical.
When we were in Amalfi, the mozzarella was out of this world. Its so creamy there and usually made fresh within the past 48 hours. A lot of restaurants offered a fancier version too, burrata. Oh my laaands people!
Right when you think you've died and gone to heaven with regular buffalo mozzarella, burrata is placed in front of you and your eyelids flutter from being in utter food ecstasy. The Kitchn posted an article on the difference between the two for anyone that is interested. If you're not, skip past all of this and go straight to the recipe. I just get a little caught up talking about cheese… 🙂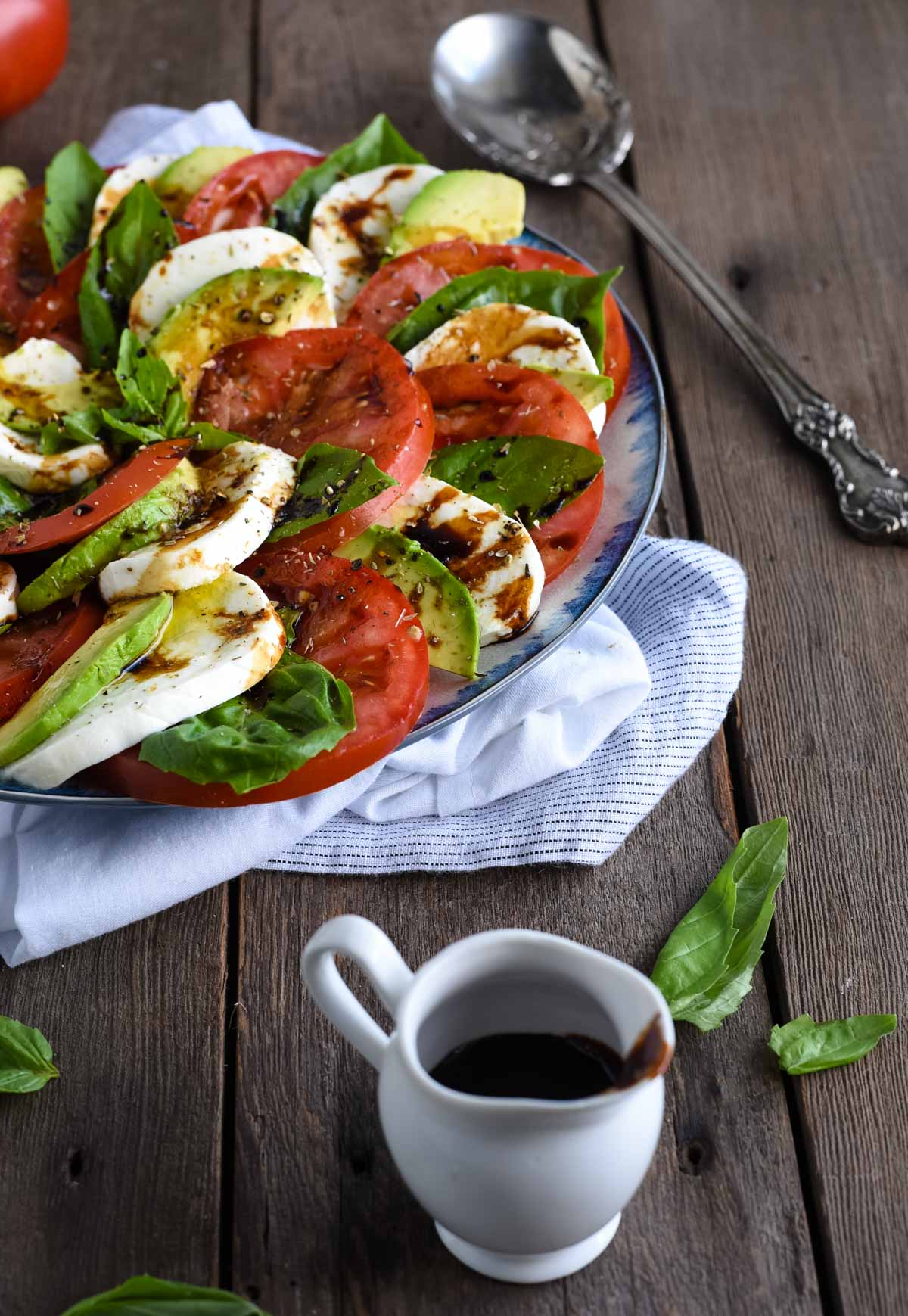 Avocado Caprese salad is one of the easiest and most refreshing side dishes you can serve with any meal, especially topped with a tangy balsamic glaze.

Ingredients
1 lb. sliced buffalo mozzarella
2 large ripe tomatoes, sliced
1 large avocado, sliced
1/4 cup basil leaves
1 Tbsp. olive oil
1/4 tsp. dried oregano
salt and fresh cracked pepper
Instructions
Heat vinegar and sugar in a small pan over medium heat, whisking to dissolve sugar.

Bring to a simmer, then reduce heat to low.


Let simmer, stirring occasionally until vinegar has reduced and sauce coats a spoon when dipped into it (about 15 minutes). Remove from stovetop and let cool for 1 minute, but not longer (sauce thickens as it cools).


While vinegar is cooking down, prepare salad by layering a slice of tomato, a basil leaf, a slice of mozzarella, and then a slice of avocado on a round plate, starting at the outer most portion of the plate.


Repeat, overlapping each layer until plate is full and you are out of ingredients.

Drizzle olive oil over salad. Follow with balsamic glaze. Sprinkle oregano and salt and pepper to taste. Serve immediately.

Notes
If you're in a time crunch, use store bought glaze like this Trader Joe's balsamic glaze that allows you to skip that step. 
Nutrition
Calories: 327kcal | Carbohydrates: 10g | Protein: 17g | Fat: 24g | Saturated Fat: 11g | Cholesterol: 59mg | Sodium: 485mg | Potassium: 329mg | Fiber: 2g | Sugar: 5g | Vitamin A: 955IU | Vitamin C: 9.2mg | Calcium: 398mg | Iron: 0.8mg