Cranberry Moscow mule recipe made with zesty orange, zippy ginger beer, vodka, lime, and cranberry just might be the most refreshing drink on the planet. Try one today!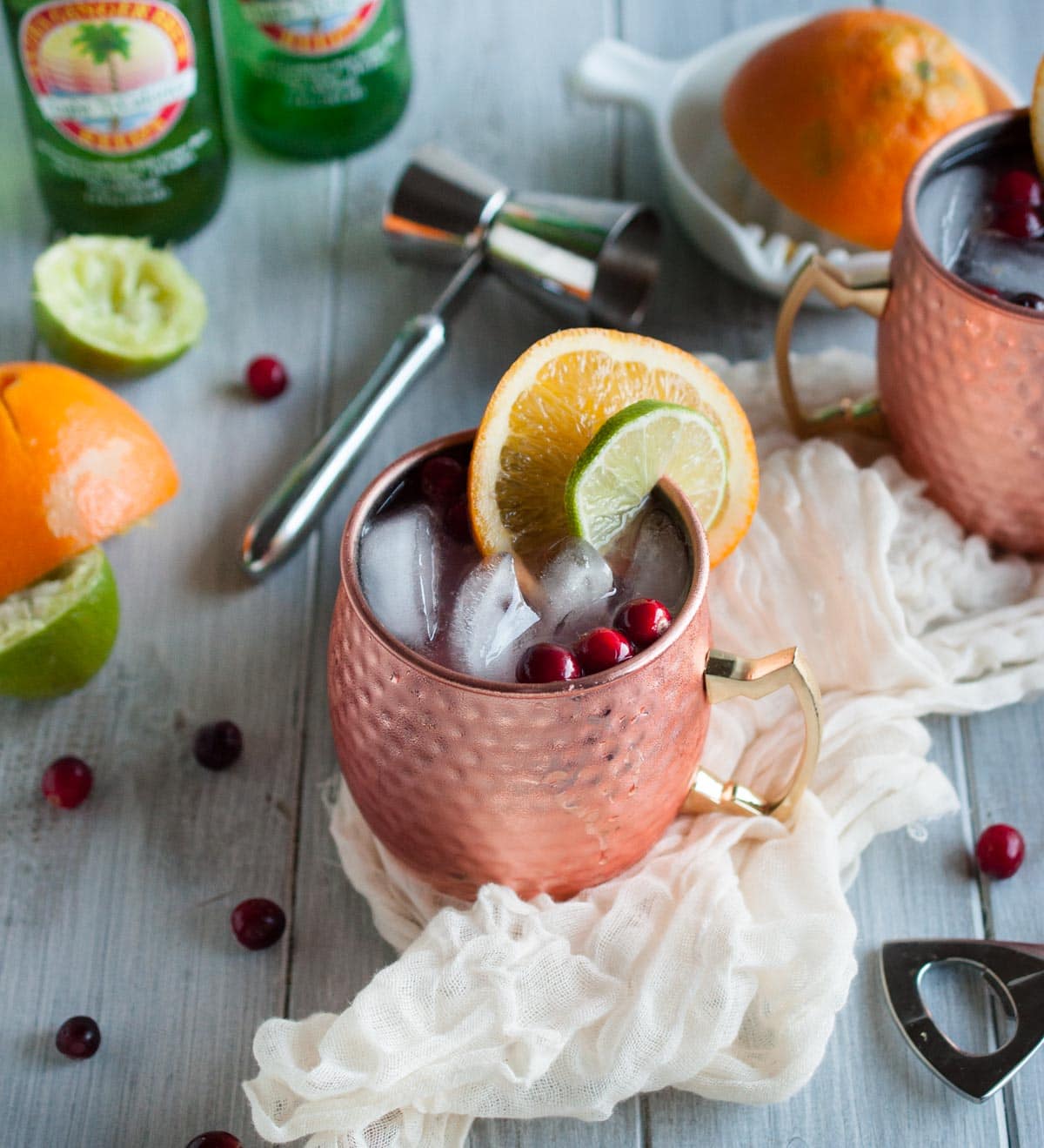 Looking for a drink idea for NYE? Cranberry Moscow mule all the way baby. I've been obsessed with mules ever since that gingery tingle first hit my lips. Between that, the vodka and the lime, I was hooked right away… and you might be too. There are few boozy beverages this crisp and refreshing.
I've made many different variations, but cranberry Moscow mule is always a favorite. Most recipes don't use the twist of orange that this one does but its an easy addition that packs a lot of flavor.
As far as holiday cocktails go, this is an easy drink to make too. So easy that a recipe is barely even needed. Think of it more as an inspiration than a recipe. Quickly glance at the ratios and then use that as a guide to create your own tasty concoction. Kind of like those holiday mimosas I taught you to make last year.
To make the recipe even easier for a group setting, you can pre-mix the juices together so that all you need to do is add a splash of vodka and ginger beer to serve. Heck, you can even mix it all and just pour over ice when serving each glass if you think it'll get drank quickly before the fizz of the ginger beer goes away.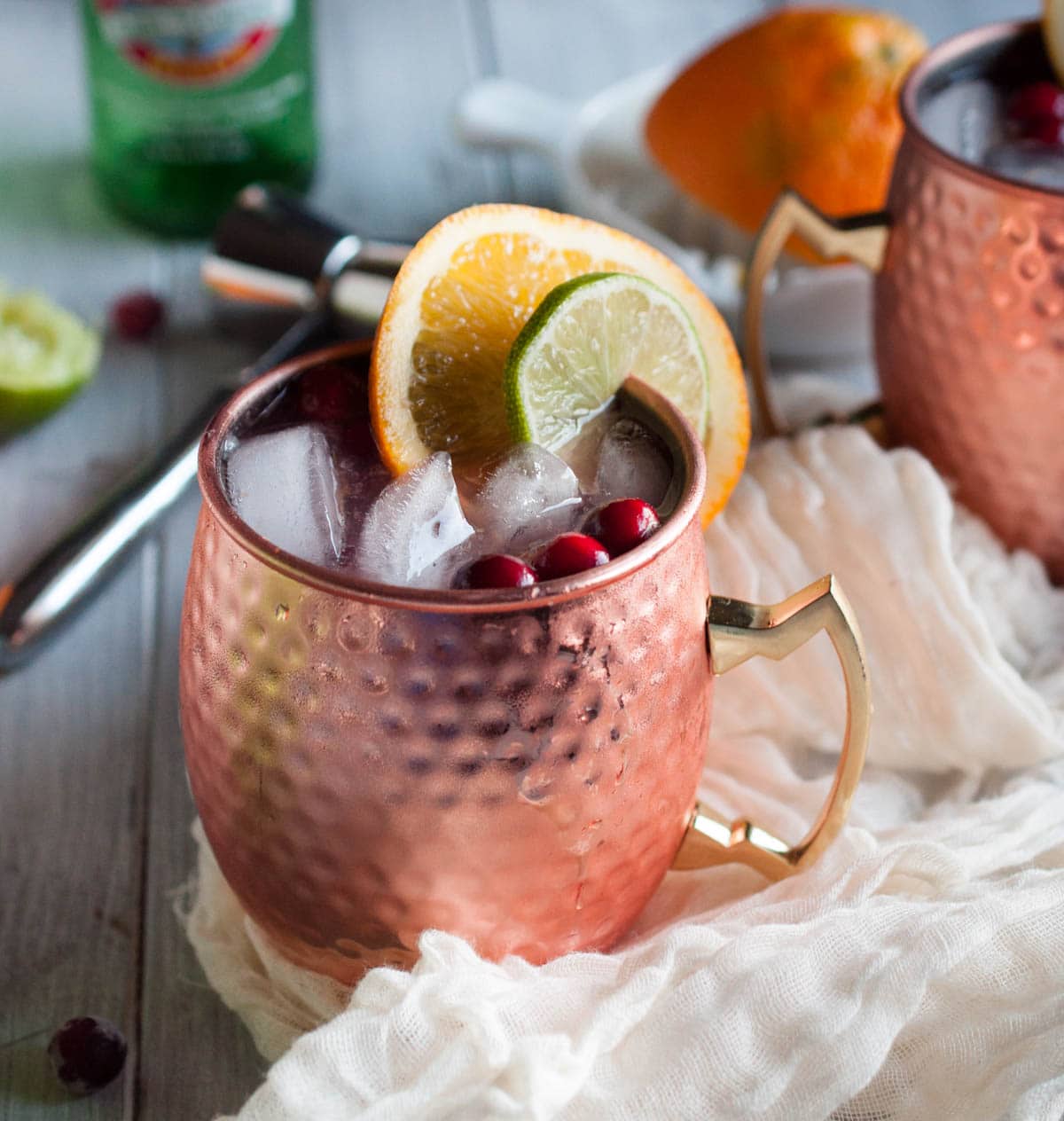 I've been dying to share a drink recipe with you since getting these fancy mule mugs. Even spilling a cranberry Moscow mule all over myself on Thanksgiving, didn't deter me from the mugs or the tasty beverage inside.
Although, I like the classic recipe mule as is, this combo is extraordinarily delightful for a two reasons. The cranberry and the OJ lightens up the zest of the lime in the best way possible. Also, the cranberry makes for a fun, festive color.
Yes, drink color is a legitimate benefit. Don't question me on this…
I know this site is all about the healthy stuffs, and booze isn't necessarily a staple of good nutrition, but you've gotta live a little. If you're not a newcomer to the site, you probably already know that I'm all about indulgences. Within reason, treat yo-self. Especially on the holidays!
What's the point of being healthy and living longer if the life you're living isn't enjoyable?
Speaking of which, how many of you are going to fun, NYE ragers? Still contemplating if we will or if we'll just embrace the fuddy duddies that we are quickly becoming and bring in the new year from home. With cranberry Moscow mules of course… but home nonetheless.
The thought of waiting for an Uber for two hours after being body slammed by sweaty bodies at a packed show just doesn't sound appealing right now. If you're brave enough to join the new years eve crowds, power to you.
As for me, I'm still on the fence. I love dressing up and seeing friends so I might make an appearance. For now though, I'll be day drinking, snacking on roasted grape crostini and sippin this cranberry Moscow mule not give two cares.
Catch you all in 2017!
Cranberry Moscow mule recipe made with zesty orange, zippy ginger beer, vodka, lime, and cranberry just might be the most refreshing drink on the planet.
Ingredients
2 oz. vodka
1 tsp. fresh squeezed lime juice
2 oz. pure cranberry juice
2 oz. orange juice
3 oz. ginger beer
Ice
Instructions
Pour vodka, lime juice, cranberry juice, and orange juice into a copper mug (or any cup really), and stir. Add ice.

Pour ginger beer in slowly and stir again. Garnish with lime or orange wedges and cranberries.
Nutrition
Calories: 212kcal | Carbohydrates: 20g | Sodium: 8mg | Potassium: 157mg | Sugar: 19g | Vitamin A: 115IU | Vitamin C: 35.1mg