With roasted grapes, goat cheese, rosemary, and pecans piled high on crostini, this appetizer is bursting with flavor and is a crowd pleaser at any event!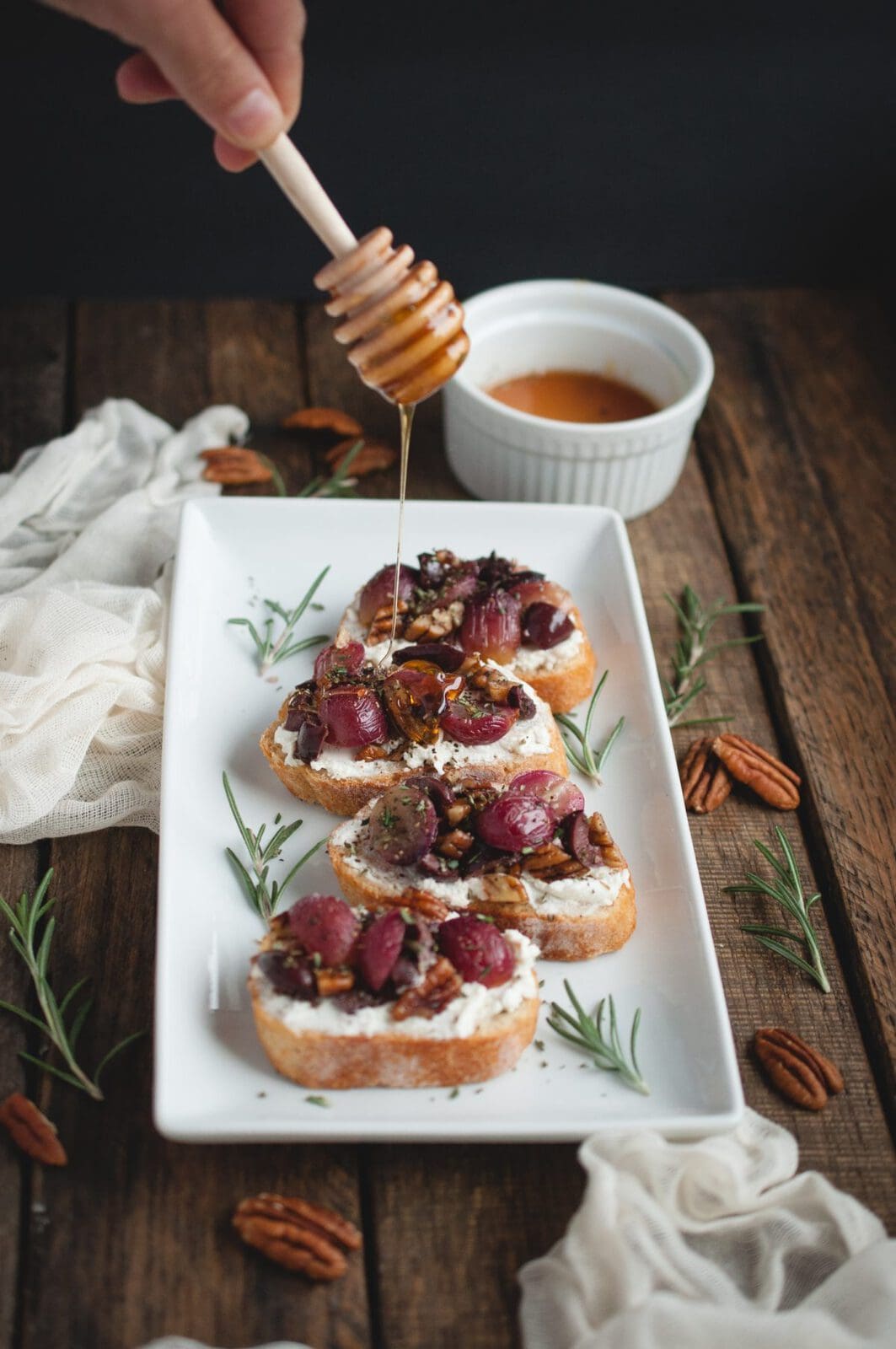 Oh where to even begin with this appetizer! Roasted grapes, goat cheese, pecans, kalamatas, and rosemary – aww, its sooo good! The combination of flavors meld together perfectly making this the holiday horsd'oeuvre of champions – the perfect opener to a thanksgiving feast!
All the toppings are perfectly delicious on their own, but when piled high on crispy crostini, that extra needed crunch is brought to the table. Add a drizzle of honey and they become truly devine. Truly.
And if you've never tried roasting grapes, oh my friend, you're in for a treat. Grapes are already tasty naturally, but when roasted, the sweetness deepens and becomes more complex. I love adding roasted grapes to cheese platters for a touch of sugary goodness so pairing with goat cheese seemed oh so natural. Tossing in a touch of balsamic adds a tangy bite to balance the sweetness of the grapes and saltiness of the cheese and olives.
With the holidays right around the corner and thanksgiving less than a week away (how did that happen?!?!), wintery appetizers are out in full force. While this isn't as light as my typical appetizer fare, its the time of year for decadence and I could not resist sharing this deliciousness with you.
To minimize dish washing, I threw the nuts, olives, and grapes in the same pan. This way, you can just remove the nuts and olives half way through the baking time and let those grapes bake on until they've reached ultimate level of perfection – i.e. wrinkly and bursting at the seams. Yum.
As you can see, there are little green flecks all over everything. Before roasting, everything gets tossed in a rosemary, olive oil, and balsamic concoction to add further flavor. It sounds complicated, but really comes together pretty quickly.
Here, I halved the olives before baking, but that really is unnecessary because you'll end up chopping those and the nuts afterwards. Be smarter than me and skip that step.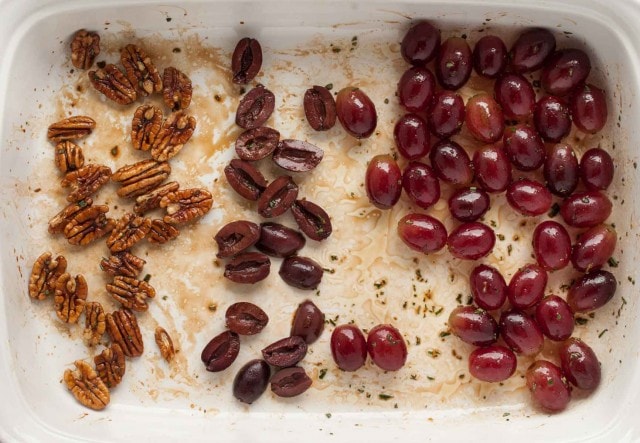 Here are the roasted grapes post-oven. See what I mean about them getting wrinkly and wilted. That's the level of roasted that we're going for here folks.
Here I used a glass baking dish to roast them, but the next time I made this recipe I used my Nordic Ware baking sheets for both the grapes and the crostini. I know I rave about them a lot, but they're just so much better than the other ones I've used. Great for roasting, baking, and everything oven related.
Although this recipe has multiple steps, they are done in stages. This makes it pretty simple to put together. While the olives, grapes, and nuts roast for that first 10 minutes, you'll be prepping the baguette slices. Then, while those toast and the grapes continue to roast, you can be chopping up the nuts and olives. You'll have a few extra minutes to clean up dishes… or just chat with friends and pour yourself a drink.
Its the holidays after all and those dishes can wait.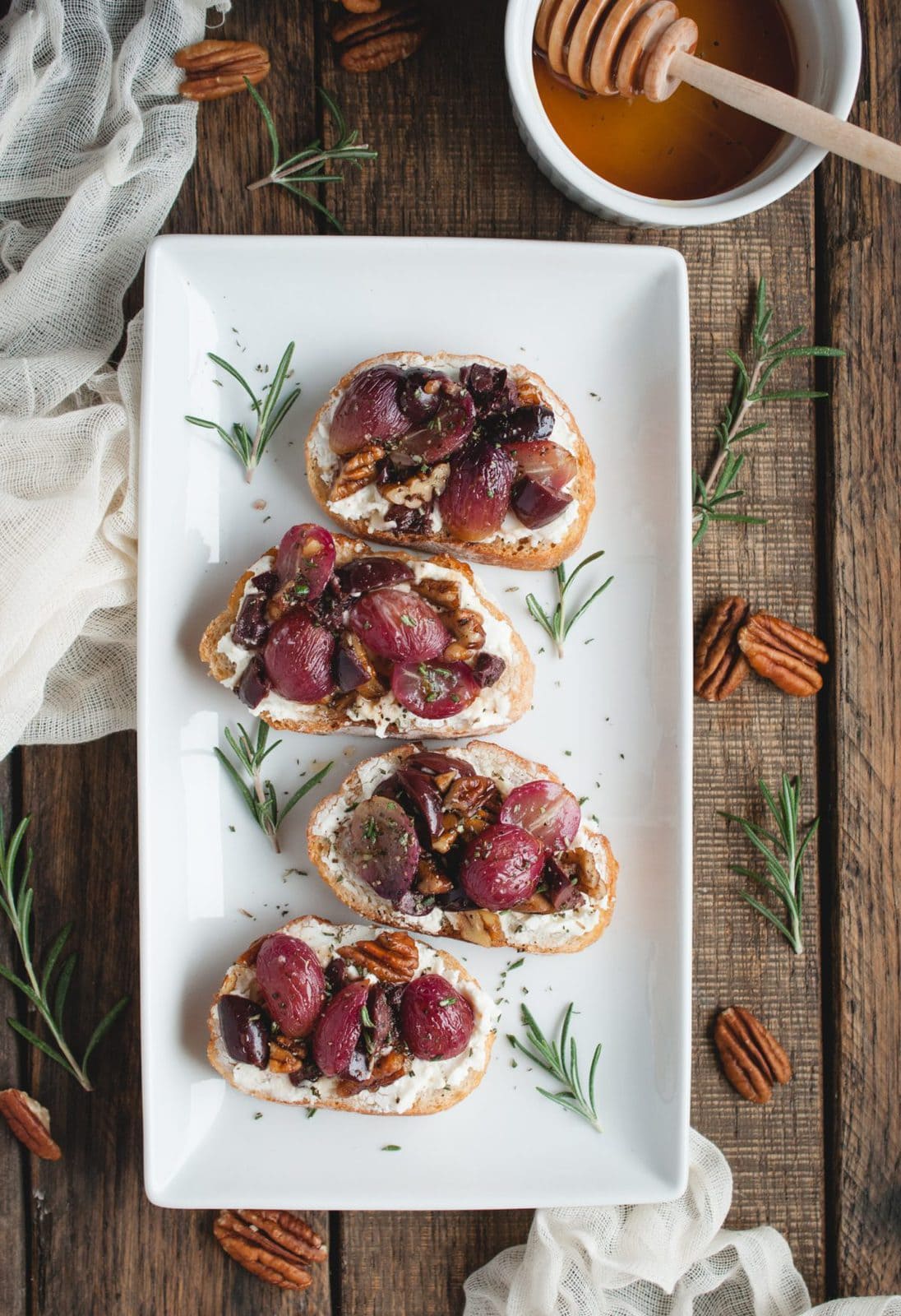 We are hosting a friendsgiving this year and I couldn't be more exited. Right now its looking like we'll have 15 – 20 people and we're setting up a long table down the middle of our living room since we won't all fit in the dining room.
I think Thanksgiving just *might* be my favorite holiday. I love Christmas and all, but I love Thanksgiving in a whole nother kind of way. With all of the sad happenings in the world lately, I am looking forward to having a day set aside to cherish the wonderful people in my life and celebrate all that we have to be thankful for.
Crostini with Roasted Grapes, Goat Cheese, and Pecans
With roasted grapes, goat cheese, rosemary, and pecans piled high on crostini, this appetizer is bursting with flavor and is a crowd pleaser at any event!
Ingredients
1 baguette (1 lb.)
2 cups seedless red grapes
1 ½ T chopped fresh rosemary
1 Tbsp. balsamic vinegar
2 Tbsp. olive oil
1 cup pitted kalamata olives
1 cup pecan halves
5 oz. goat cheese
Fresh cracked pepper (about ⅛ tsp.)
1 -2 tsp. honey
Instructions
Preheat oven to 375 degrees F.
Add grapes, kalamata olives, and pecans to baking sheet.
In a small bowl, whisk vinegar, 1 Tbsp. of oil, and 1 Tbsp. rosemary together. Drizzle vinegar mixture onto grapes, pecans, and olives and use your hands to toss and rub in. Make sure to keep grapes to one side of baking sheet separate from olives and pecans since they need to cook longer.
Place in oven and bake for 8 – 10 minutes until pecans are toasted (be careful – they can burn easily!). While cooking, slice baguette into ⅓ inch slices (should make about 35 rounds). Lay the bread slices on a baking sheet and brush with remaining Tbsp. olive oil. You can spray with cooking spray instead if preferred.
After 8 – 10 mins, remove pan from oven. Remove pecans and olives and place pan with grapes back into oven to cook for 10 more minutes. Place bread slices on other rack in oven to toast at the same time.
While cooking, coarsely chop olives and pecans and stir together.
Remove grapes and bread after 10 minutes when baguette slices are lightly toasted and grapes are just starting to wrinkle and burst.
Spread a thin layer of goat cheese onto crostini. Sprinkle with pecan/olive mixture. Half grapes and add several grape halves to each crostini.
Sprinkle fresh cracked pepper over crostini and drizzle with a slight amount of honey.
Food items aside, I got to do a photo shoot of my new niece earlier this week! For a first time baby shoot – a few of them turned out great! Every time a new addition is added to the family, I'm utterly blown away by how immediately and whole heartedly I fall head over heals in love with them. Spending time with Emmy-Lou and my new nephew Charlie has been so incredibly wonderful. These two new little souls just starting their journey but already so incredibly loved. Baby snuggles are simply the best. Keep the nephews and nieces coming sisters. 😉