Delicious and creamy carrot soup delivers a healthy twist on Thai flavors from coconut milk and spicy curry to zesty lime and crunchy peanuts. All this for under 200 calories in each generous serving!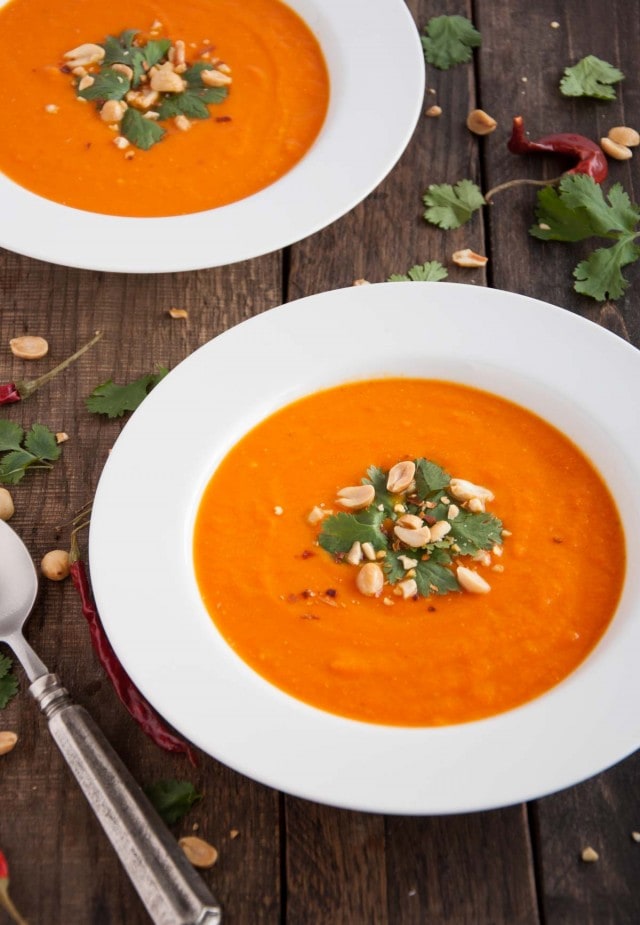 Carrots are an often overlooked nutrient superstar. Before I started food blogging I didn't notice that trends are almost as prevalent in food as they are in fashion, but these days I'd take the latest food trend over adding a new dress to my closet in a heartbeat. Yup, I'm officially a frumpy old lady. Cat collecting starts next week.
As far as foodie trends go, lately cooked carrots seem to be slinking to the back burner joining the ranks of other has-been's like Krispy Kreme and tater casserole. Its a shame really because these suckers are loaded with Vitamin A and are satisfyingly starchy for their low calorie content. Why doesn't this veggie get more play these days? I'm proposing a carrot revolution. Who's with me? One step at a time. Let's start with carrot soup.
This velvety soup is one of my absolute favorite ways to get my veggie quota. The Thai curry paste adds spice and depth that melds seamlessly with the broth and coconut milk base to create a smooth blend of both texture and flavor.
For those of you thinking that blended soups are a little too reminiscent of baby food purée, I challenge you to give this one a try. Between the sophisticated flavor combination and slew of toppings, this is a palate pleaser made for adults. You might be able to get it past a little one, but you'd probably have to tone down the curry paste… or risk a cranky munchkin.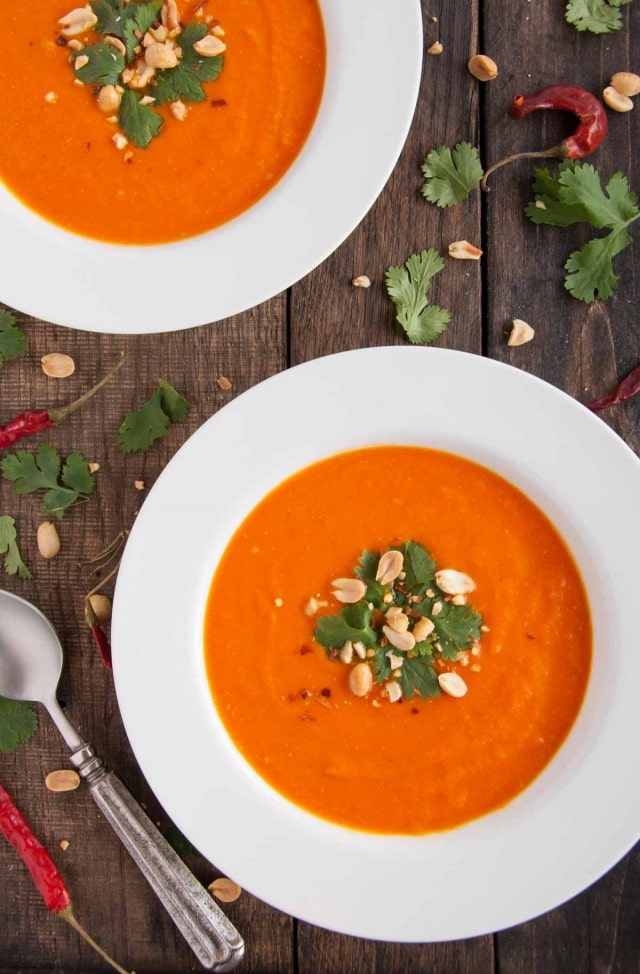 This recipe is vegan and gluten free and can be paleo if you use full fat coconut milk. Sooo, there's really no excuse not to make it really.
I don't have any in the picture, but serving with lime wedges is a must. The peanuts add crunch, the cilantro adds freshness, and the lime adds that little tang of zippiness that helps cut the spice and bring it all together. You can adjust the spice level by using crushed red pepper flakes as a garnish too, but that is totally optional and can be done to taste. This is especially handy if you have some super spice fiends in the mix.
If you want to get super fancy, reserve a couple tablespoons of the coconut milk to use as a garnish and swirl it in like this YouTube video does. I was going for flavor over fanciness so I skipped that whole ordeal. The next soup purée I make is getting some kind of swirl though. I'm dying to try that out!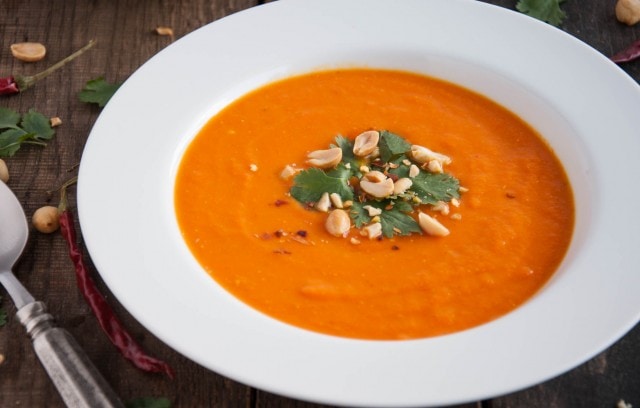 I just realized that we've spent a ton of time talking about flavor and texture and haven't even gotten to COLOR! If that orange isn't ridiculously awesome, I don't know what is.
So gorgeous. I love bright colors on otherwise dreary, rainy days. With everything starting to bloom outside, things are definitely on the up and up, but a little pop of color in a bowl never hurts either.
Speaking of bright colors, we're almost at the one-week countdown to our Barbados trip! I can't stop googling pictures of white sand beaches and Caribbean crystal clear seas. Ahhh! I can't wait to be right there in the middle of it all! I prepped a few extra recipes to share with you while I'm gone so you'll see a couple trickle out the week after next.
In the meantime, if you need me, I'll be over here day dreaming the days away on Google…
servings (1 1/2 cups each)
Delicious and creamy carrot soup delivers a healthy twist on Thai flavors from coconut milk and spicy curry to zesty lime and crunchy peanuts.
Ingredients
1 T coconut oil
1 large onion (diced)
1 -2 Tbsp. Thai red curry paste* (1.5 Tbsp. is about the right spice level for me)
1 tsp. minced garlic
2 lbs. carrots peeled and chopped into 1" pieces (about 6 cups chopped)
4 cups broth (vegetable or chicken)
1 tsp. salt (or less if using a high sodium broth)
13.5 oz. canned coconut milk (13.5 oz., I used lite)
2 Tbsp. lime juice

Instructions
Heat coconut oil in a large pot over medium heat. Add onion and cook until starting to brown (4-5 minutes).

Add curry paste and garlic and sauté 1 minute longer. Add carrots and broth and bring to a boil. Reduce heat to a simmer and cook for 20 - 25 minutes until carrots are soft.

Use an emersion blender (or transfer to a food processor or blender) and blend until smooth. Add coconut milk, salt, and lime juice (return to pan first if using a food processor or blender) and heat to a simmer. Let simmer for 5 minutes to let flavors meld.

Ladle soup into bowls and garnish with cilantro, roasted peanuts, lime wedges, and crushed red pepper flakes.
Nutrition
Calories: 286kcal | Carbohydrates: 25g | Protein: 5g | Fat: 21g | Saturated Fat: 16g | Sodium: 1089mg | Potassium: 763mg | Fiber: 7g | Sugar: 12g | Vitamin A: 25925IU | Vitamin C: 18.4mg | Calcium: 77mg | Iron: 1.8mg