Chipotle hummus is a little bit spicy, ultra creamy and 100% delicious! Its packed with lean protein and fiber making it the perfect healthy snack.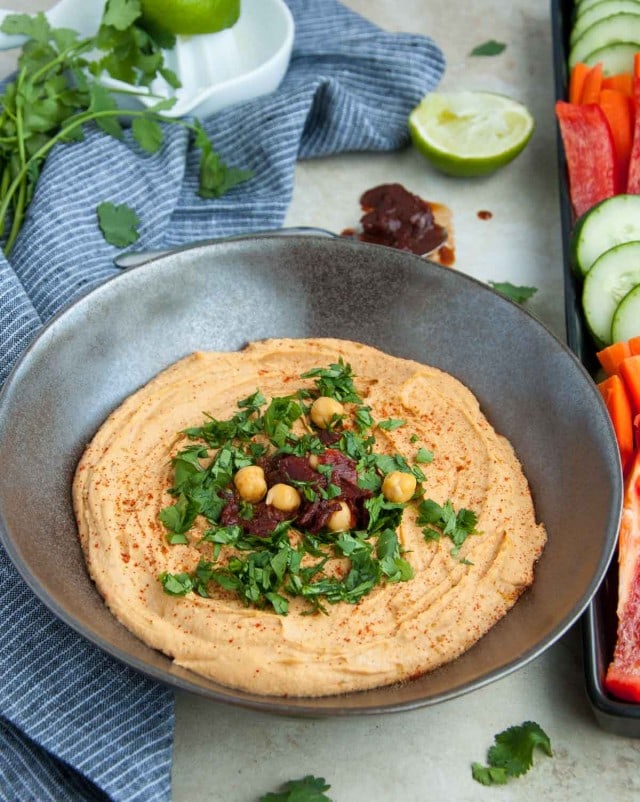 I hate to start this post (or any really) with a mea culpa, but I know I'm looong overdue in sharing this recipe! I meant to auto-post this ridiculously awesome chipotle hummus while livin' it up in the Caribbean last week, but had a bit of technical glitch and the recipe didn't post. Aaaand I was having too much fun in the sun that I didn't fix it. Sorry guys…
Luckily, this chipotle hummus is all kinds of fabulous and I'm convinced you'll forgive me after trying it. Remember that avocado hummus I made a while back? Well, this *might* just replace that as my favorite hummus. If not an all out replacement, its at least a tie between the two.
Chipotle chilis in adobo sauce add such rich flavor to this recipe making it the perfect dip for veggies, chips, and just straight up fingers if you get desperate. I've made it a few times now and it gets gobbled up in record time without fail no matter who you serve it to.
In this picture, there are only two chili peppers in the food processor, but I ended up adding a few more in to kick it up a notch. That's another thing to love about this recipe. Its customizable as can be. Like it spicy? Make it spicy. Can't handle the heat? You don't need to.
I saw somewhere that you can actually chop up and freeze leftover chipotle chili peppers in adobo sauce so that you don't waste the whole can. I freeze mine in an ice cube tray and store them in a ziplock. From here, I make a point of using them within a month or two to make sure they still pack the same punch.
Its like having little spicy flavor bombs at your finger tips, just waiting to make your food taste better. Yum.
The only thing better than the smokey chipotle flavor is the texture. I know I've talked about removing the outer skin from the garbanzo beans before, but I really can't emphasize the importance of this enough. This is the key to smooth, creamy, restaurant style hummus. That and blending the mother lovin' hell out of it.
Blend, blend, and then blend some more. Think you're done blending? You should probably go another minute. I usually blend for about 5 minutes total.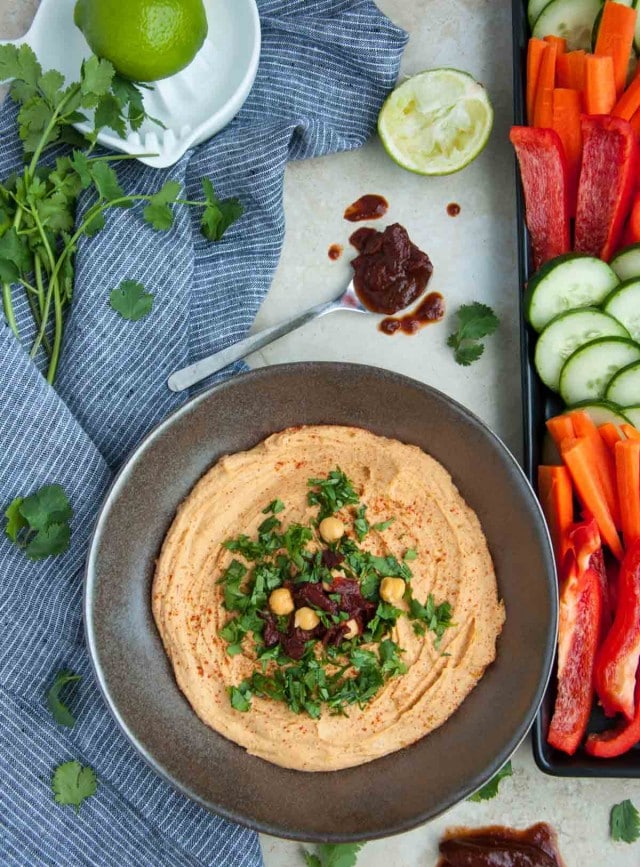 Chipotle hummus is great for weight loss too with over 7 grams of protein in each 3-4 Tbsp. serving. Serve it with veggies and you have yourself a filling, nutrient packed snack. Certainly a welcome reprieve from salads from time to time.
You know I love you salad, but c'mon. When given the choice, chipotle hummus is the winner lately for me. In all fairness (to salad) its hard to complete with a dip like this when it comes to healthy snacks and lunches.
And, in case you were wondering, yes, Barbados was AWESOME. Almost too incredible for words. White sand beaches, delicious food, good company, and waaaay too many pina coladas (aka "chi-chis" in the Caribbean). Its hard to believe its already over, but I'm so grateful that it happened in the first place. Feeling refreshed and ready for the next adventure.
Chipotle hummus is a little bit spicy, ultra creamy and 100% delicious! Its packed with lean protein and fiber making it the perfect healthy snack.
Ingredients
1 15 oz. can of garbanzo beans
1 tsp. cumin
1 tsp. minced garlic
1 - 2 chipotle chili in adobo sauce
1/2 tsp. salt
1 1/2 Tbsp. lime juice
2 Tbsp. tahini
2 Tbsp. olive oil
3 Tbsp. water
1 T roughly chopped cilantro
Instructions
Rinse garbanzo beans using a strainer. Add rinsed beans to a bowl of room temperature water (not hot or particularly cold). Remove outer skins from garbanzo beans. You do not need to remove 100% of them, just as many as you can. Discard skins.

Add all ingredients, except cilantro, to food processor and process until smooth and creamy, AT LEAST 3-4 minutes, preferably 5. Add more water if needed to reach desired consistency.

Top hummus with chopped cilantro and additional chopped chilies before serving if desired.
Nutrition
Calories: 149kcal | Carbohydrates: 17g | Protein: 6g | Fat: 7g | Saturated Fat: 1g | Sodium: 197mg | Potassium: 183mg | Fiber: 5g | Sugar: 3g | Vitamin A: 305IU | Vitamin C: 1.9mg | Calcium: 37mg | Iron: 2.3mg