This easy air fryer pumpkin seeds recipe is quick to make and versatile to satisfy all your cravings. Full of warm, savory flavor, it's a nutritious snack you'll look forward to eating! Coated with warm spices, these air fryer pumpkin seeds are crisp, crunchy, and so easy to make for a healthy snack you can enjoy all fall.
Easy Air Fryer Pumpkin Seeds
I don't know about you, but I'm a sucker for all things fall, especially the treats. I mean, with recipes like easy pumpkin scones and healthy pumpkin muffins, how could anyone resist indulging in an extra snack or two? Yet, as much as I love all the sweets, I'm a savory girl at heart and have a soft spot for anything with a salty taste and satisfying crunch.
That said, we love the tradition of carving jack-o-lanterns and although its a bit of a hassle, I always save the pumpkin seeds for roasting. That's what makes going through the messy carving process more worth it. Roasted pumpkin seeds are by far one of my favorite fall snacks, and I look forward to them every year.
However, this fall, we seriously changed the game by discovering air fryer pumpkin seeds! If you've never tried them, prepare for your mind to be blown. They're every bit as delicious and nutritious as oven baked pumpkin seeds but are so much easier, faster and crispier, too! Trust me. You need them in your life, and I'm giving you all the nitty gritty details you'll need to make the best pumpkin seeds in the air fryer.
Health Benefits
Pumpkin seeds might be small, but they're nutritional powerhouses full of fiber, vitamins, nutrients, and healthy fats. To keep things short and sweet, they're great sources of phosphorous, manganese, magnesium, iron, and more.
Bonus – this recipe is high in protein and naturally gluten free, dairy free, vegan, whole 30, paleo, keto friendly, free of common allergens and safe for most diets! If your kid's school doesn't allow nuts, pumpkin seeds are a safe protein filled snack to send instead.
Can You Eat Pumpkin Seeds In Their Shell?
Yes, unless you have a health condition such as Crohn's disease, ulcerative colitis, or irritable bowel disease which may make it difficult to digest certain foods, whole pumpkin seeds are completely safe to eat. In fact, I recommend doing this! Not only are they even crunchier prepared in their shells, but they also have a lot more fiber to keep you full.
Savory, Allergy-Friendly Ingredients
For this air fryer pumpkin seeds recipe, I kept the ingredient list short, sweet, and savory for an almost chip-like taste you're going to love. Here's everything you'll need:
Pumpkin seeds – Make sure your pumpkin seeds have been thoroughly cleaned and are free of pulp!
Oil – High-quality olive oil or avocado oil works well to help the seasonings stick to the seeds while allowing them to crisp up in the air fryer. They also add a boost of healthy monounsaturated fats to make this recipe even more nutritious.
Spices – A combination of salt, pepper, garlic powder, and smoked paprika creates a warm, savory taste that will leave you coming back for more.
Flavor Variations
Of course, one of the beautiful things about making your own air fryer pumpkin seeds at home is that you can adjust the spices to suit your tastebuds. Feel free to use as little or as much spice as you like and try alternative flavor combinations like the following:
Cinnamon and Sugar
Everything But the Bagel seasoning
Ranch Seasoning
Pizza (Parmesan cheese or nutritional yeast, basil, oregano, salt, garlic powder)
Dill Pickle (white vinegar, dill, garlic powder, salt, pepper)
How to Clean Raw Pumpkin Seeds
It's crucial to clean your seeds right after harvesting your pumpkins. Otherwise, the seeds will begin to rot quickly. Lucky for you, I've got a few tips to make it a breeze to do!
Refrigerate. Cleaning the seeds can be time-consuming. So, if you don't have time to do it immediately, refrigerate the seeds and pulp together, making sure to sort, clean, and air fry your seeds within 24 hours.
Soak. Pumpkin seeds float in water! Given this, submerging them in a bowl while you sort them out from the pulp can help speed up the process.
Use a Colander. Once you've removed as much pulp as you can with your hands, rinse the seeds in a colander until they're clean, shiny, and slippery to the touch.
How to Make Air Fryer Pumpkin Seeds
Roasted pumpkin seeds are one of the easiest snacks you'll make, meaning you can easily get the kids involved in the kitchen to help!
Once cleaned, lay the pumpkin seeds on a towel, and rub them dry. Or, leave them out to air dry for 30 minutes or overnight.


Coat the seeds in oil, and sprinkle the seasonings on top. Then, using your hands, rub the seeds, making sure they are all well coated and the seasoning sticks.

Spread the seeds in the bottom of your air fryer. Air fryer at 360° Fahrenheit until the seeds are slightly browned and crisp, shaking halfway through.
Once cooked, let the seeds cool. Store them for later, or enjoy right away!

Pro-Tips for the Best Results
Over the years, I've discovered a few extra tips and tricks that guarantee your pumpkin seeds turn out perfectly crunchy, salty and delicious every single time.
Adjust the Spices. For this recipe, I used 2 cups of pumpkin seeds. However, every pumpkin will yield a different amount. So, be sure to adjust the spice ratio, using more or less depending on how many pumpkin seeds you have.
Air Fry in Batches. It's okay if you have a little bit of overlap in your air fryer. However, you want the seeds to be able to fit in a fairly even layer. If you have more or a smaller air fryer, work in batches in order to allow them to cook evenly.
Dry Pumpkin Seeds First. But, extra drying isn't necessary. Many recipes recommend letting them sit and air dry on a kitchen towel overnight. However, waiting 30 minutes to an hour worked fine compared to seeds that sat overnight. If you're in a rush though, the air fryer does a great job drying. If you dry them well with a clean kitchen towel or paper towels this isn't necessary and saves you tons of time. I tested both ways and the ones that weren't set out to dry just took a minute or two longer in the air fryer but the end result was the same.
Shake the Seeds. If you're using an air fryer basket or the seeds aren't super dry, be sure to shake them after 6 minutes of cooking.
Check the Seeds. Every air fryer cooks differently. For instance, my Ninja oven style air fryer takes 12 minutes and my Cosori basket style air fryer takes 14 minutes. Be sure to check on your pumpkin seeds after 10 minutes to gauge how much time they'll need.
Avoid Overcooking. You'll know your seeds are done air frying when they're crisp and just a few are beginning to brown. You don't want them all to be evenly browned or they'll taste burnt!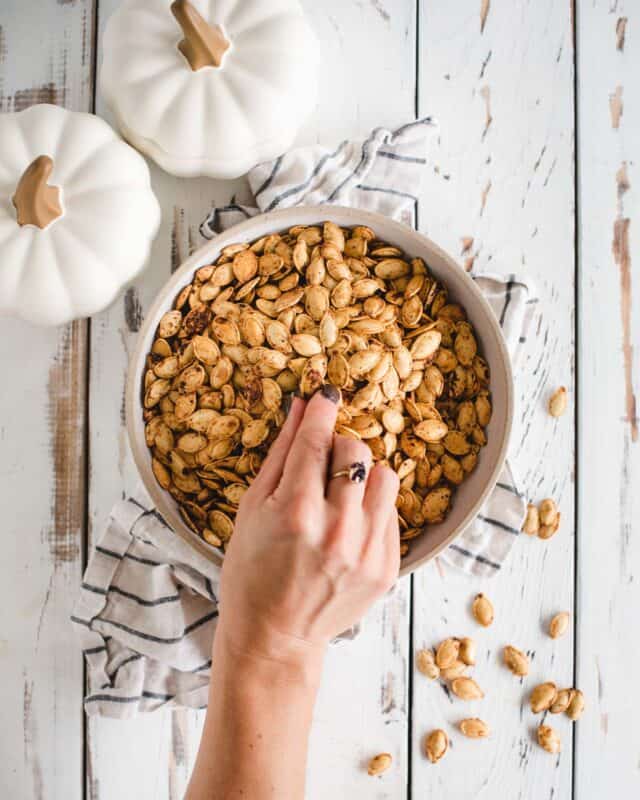 How to Store
Once your seeds have been removed from the air fryer and cooled completely, they can be transferred to an airtight container and stored in a cool, dry place at room temperature for up to 2 weeks. Or, for a longer-lasting option, keep them in the refrigerator for 4-6 weeks.
Should you boil the seeds before roasting?
There's no reason to! The seeds won't taste any different, and it's more work.
Do you have to soak pumpkin seeds?
You don't have to and I don't. However, submerging the seeds in water overnight can help soften the shell, making them slightly crispier once air fried and easier to digest.
Do pumpkin seeds have protein?
Yes, pumpkin seeds are high in protein with 3-5 grams of protein in each 1/4 cup serving.
Can I double this recipe?
Yes, of course! Just make sure you don't overcrowd your air fryer, and work in batches so that all of the seeds cook evenly.
More Easy Nutritious Snacks
I'm all for snacking, but try to opt for healthy options like these air fryer pumpkin seeds instead of candy or potato chips when possible. Luckily, I've got lots of options to keep me satisfied! If you're in the market for more to munch on, check out some of the following recipes:
Coated with warm spices, these air fryer pumpkin seeds are crisp, crunchy, and so easy to make for a healthy snack you can enjoy all fall!
Ingredients
2 cups fresh pumpkin seeds pulp removed and rinsed well
1 Tablespoon olive or avocado oil
1 teaspoon salt (just use 1/2 tsp. if you don't like things very salty)
½ teaspoon garlic powder
½ teaspoon smoked paprika
¼ teaspoon ground black pepper
Instructions
Right after separating pulp from seeds and rinsing, lay clean pumpkin seeds out on a kitchen towel and rub to remove excess water. If you have the time, let the pumpkin seed lay out on a clean kitchen towel for 30 minutes to an hour to dry out further, but if not, just dry well with a kitchen towel or paper towels.

Place pumpkin seeds into a bowl and rub with oil (if using an oven style air fryer this can be done directly on air fryer tray). Sprinkle on seasoning and rub in with your hands to evenly distribute.

Spread the seeds out evenly on the air fryer tray or basket. Its okay if there is a little bit of overlap but if you have a smaller air fryer, you may need to cook in two batches.

Preheat air fryer and air fry seeds at 360° for about 12 minutes. If using an air fryer basket or if seeds aren't very dry to start with, shake the basket half way through aft4er 6 minutes.

Check the seeds at 10 minutes to avoid over cooking since cook time will vary based on air fryer model. Seeds should be crispy with some just starting to brown. Do not let them get evenly browned or they will taste burnt.

Remove seeds from air fryer and let cool before storing in an air tight container on the counter for up to 2 weeks or in the fridge for 4-6 weeks.
Notes
Pumpkin seeds float so placing pulp into a bowl of water can help with separating them from the pulp as much as you can. Once pumpkin seeds have been separated, rinse thoroughly in a colander to remove remaining gunk and pick off any big pieces. They will still feel slippery when clean, which is fine.
Pulp must be removed from seeds right after harvesting or the seeds will start to rot. It can be time consuming so if you don't have time after carving, refrigerate the pulp and seeds together and sort, rinse and roast within 24 hours.
Adjust spice ratio to match however many seeds you have. If you have more or a smaller air fryer, cook the pumpkin seeds in two batches.
Cook time will vary by air fryer and seed dryness. My Ninja oven style air fryer takes 12 minutes and my Cosori basket style air fryer takes 14 minutes.
Nutrition
Serving: 0.25cup | Calories: 106kcal | Carbohydrates: 2g | Protein: 5g | Fat: 10g | Saturated Fat: 2g | Polyunsaturated Fat: 4g | Monounsaturated Fat: 4g | Trans Fat: 0.01g | Sodium: 292mg | Potassium: 135mg | Fiber: 1g | Sugar: 0.2g | Vitamin A: 64IU | Vitamin C: 0.3mg | Calcium: 8mg | Iron: 1mg