This Traeger smoked salmon recipe is pellet grill perfection! Made with brown sugar & salt dry brine and hot smoked until done and delicious.
There are lots of ways to cook salmon but, when done right, smoked salmon is other worldly in its deliciousness. Oven baked lemon dill salmon is delicious but that smokey flavor turns this tasty fish into a real delicacy. And if you don't have time for smoking but want that charred flavor try these marinated chicken kabobs or this Greek chicken marinade recipe.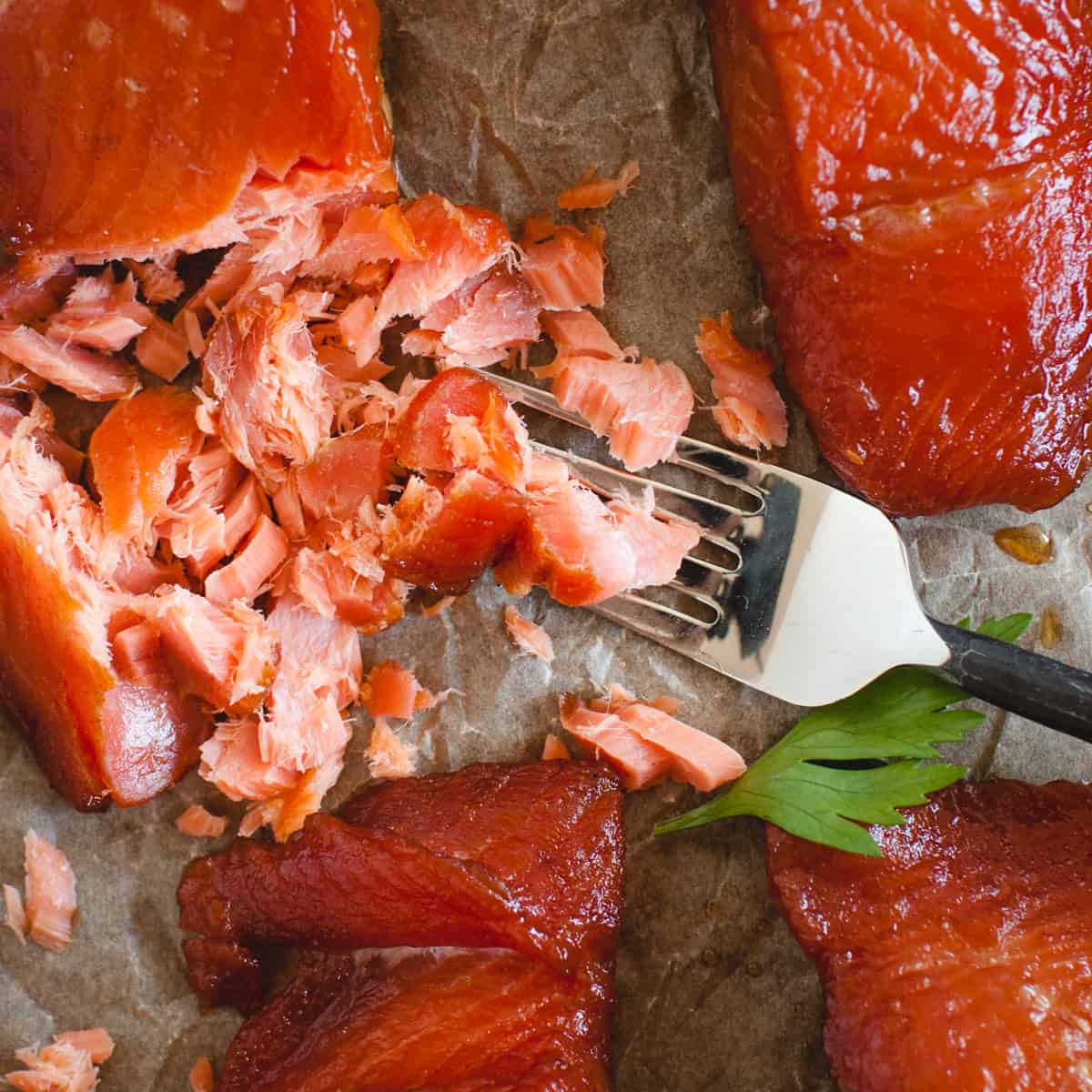 Why make this Traeger smoked salmon recipe
As a born Alaskan that grew up on salmon, I can truly vouch for this one. It is my husband's recipe and it's tried and true! We've made this recipe or some variation of it probably 100 times over the last 15 years or so. In fact, our neighbor was so inspired by our smoked salmon, he started a smoked salmon food cart in downtown Portland using this recipe.
This Traeger smoked salmon is easy to make and so rewarding! The dry brine is a simple mix of ingredients that can be adjusted to your taste preference and scaled to the amount of salmon you are using.
This style of smoking is referred to as hot smoking since it uses heat and the fish will be fully cooked in the end. This is different than lox which has a rawer texture since it uses a salt cure and then adds smoke at a low temperature to add flavor.
Both are delicious but we prefer hot smoked salmon since it is more versatile. It's great for eating as an entrée, appetizer, freezing, making dips, adding to recipes, you name it.
Don't let the nutrition contents food you either! Nutrition information assumes all sugar and salt is used in recipe by default but most of the brine will be thrown away. Salmon is a heathy protein source and loaded with Omega-3 fatty acids.
And last but not least – the leftovers! We have a whole section on using smoked salmon leftovers.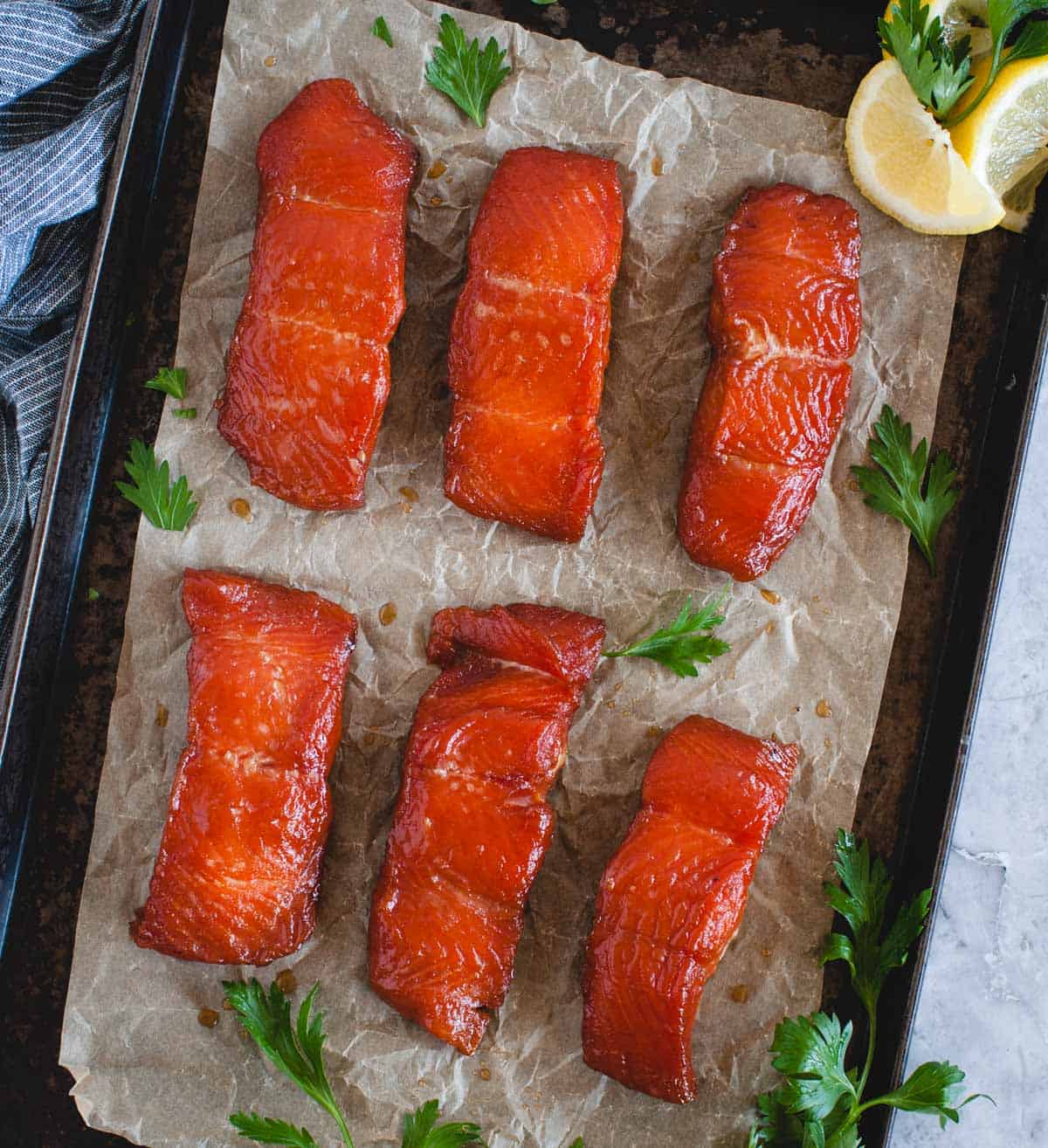 Does this have to be made on a Traeger?
Nope! Even though I named this Traeger Smoked Salmon, I've made this same recipe on a barrel smoker, electric box smoker and it can even be made on a regular grill. The Traeger is my favorite to work with so far mainly since it is so easy and predictable. Similarly, we've owned several box style electric smokers that were excellent, easy set and forget it option.
If you are not using a pellet smoker, I recommend soaking your wood chips in water before adding them to the smoker to keep the salmon moist. Also, make sure to check the grill temperature regularly to make sure it stays the proper temperature. Similarly, it can be helpful to use an electric temperature probe for the salmon as well.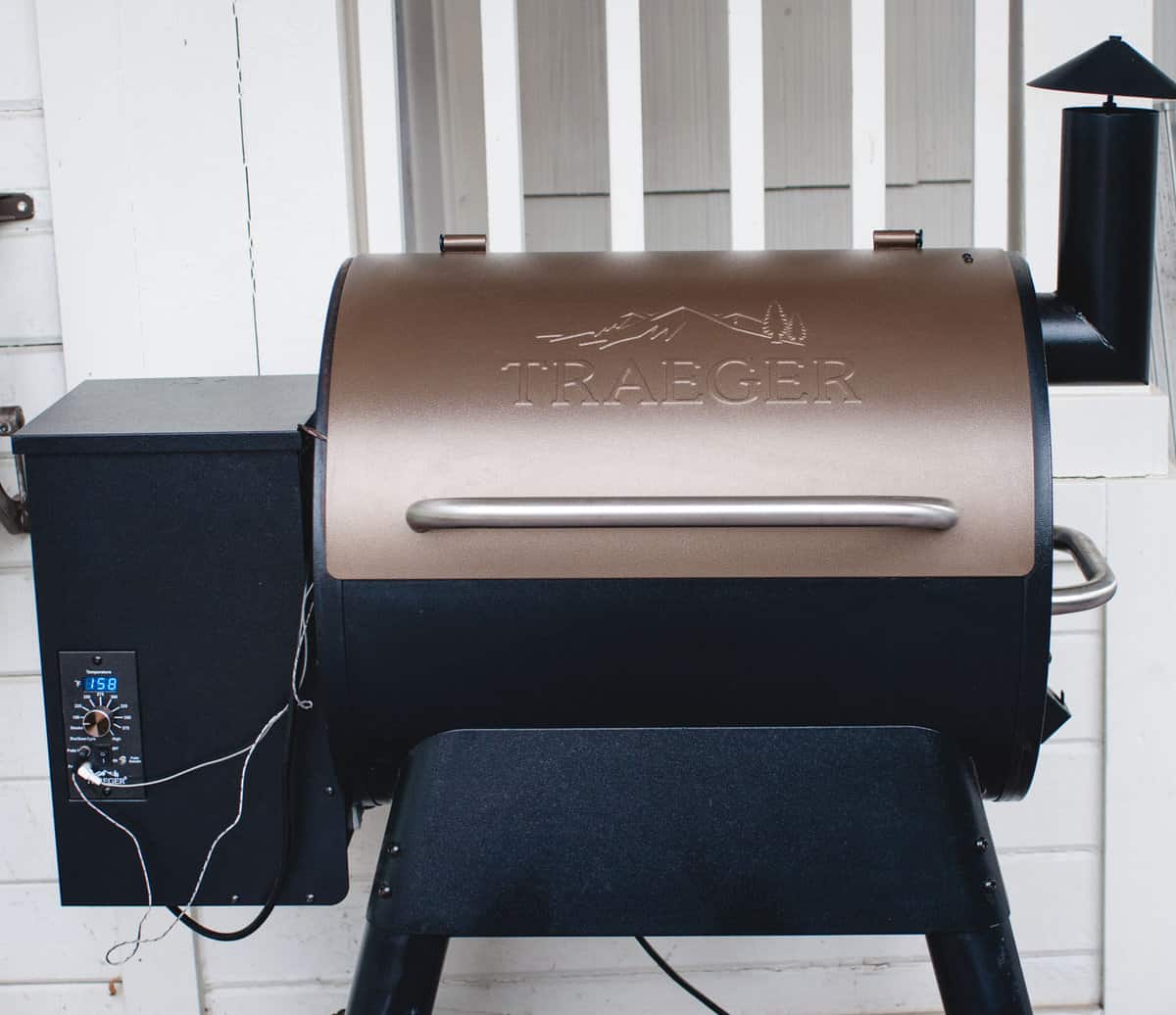 Ingredients
The ingredients here are all simple with salmon being the most important part. The rest are pantry staples that you'll probably have on hand.
salmon – for tips on picking the best salmon for smoking, read our section on how to pick salmon.
brown sugar – make sure yours is fresh and break up any lumps.
kosher salt – don't use regular table salt for smoking! Course kosher salt enhances the flavor without making smoked meats become overly salty. In addition, it measures differently than finer salt varieties and the ratios will be off if you substitute for another salt type.
paprika – smoked paprika is fine here too.
garlic powder – I buy ours at Costco since we go through it quickly.
onion powder – look for fine ground, not the kind with larger granules if possible.
If you want spice, you can add a little bit of cayenne powder or black pepper. Sometimes we brush the salmon with honey or teriyaki sauce while it is smoking as well for a different flavor twist.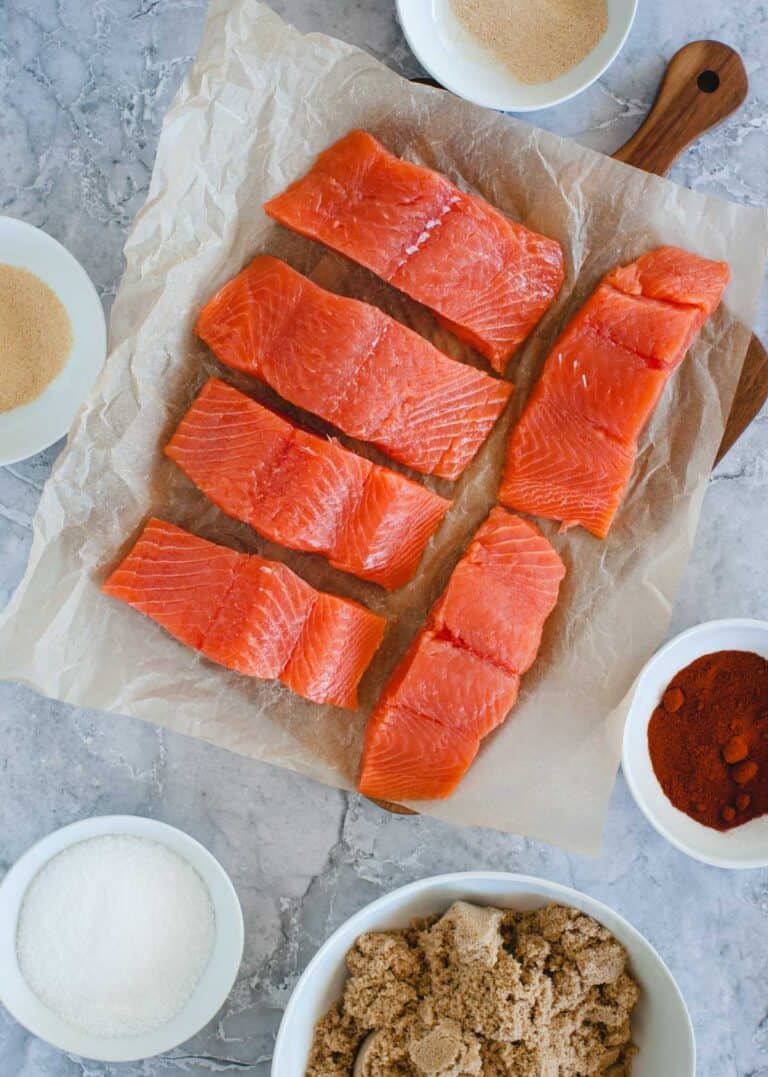 How to pick the best salmon
In the Pacific NW we are truly spoiled when it comes to salmon. In most areas you can find good fish if you know what to look for though. Of course, fresh is best. I'm lucky my husband catches most of the salmon we eat locally but I've bought my fair share too. Here are my tips on choosing the best salmon:
Make sure you buy from a reputable place. Seafood is not something to buy from a bargain grocer unless they're specifically known for fresh fish.
Ask when the fish was caught and/or when it arrived at the store.
Smell is harder to isolate in a fish market or store but if you can smell the filet up close that is a good indicator of freshness. It should smell fresh and not have a strong off-putting odor.
Color can range from pink to orange-red to deep red and does not always indicate quality. It can be indicative of the fish's diet, species, or time of year it's caught. Most farmed salmon has dye added to make it a more appealing color. Look for consistency and a nice pink to red color.
When buying fresh, the filet texture should appear glossy and moist not dried out or curled up at the edges.
Don't be afraid to buy frozen! Freezing is a great way to get wild caught (or farmed) salmon that is frozen at its freshest. Look for pieces that are tightly sealed and appear consistent without freezer burn and defrost thoroughly before using.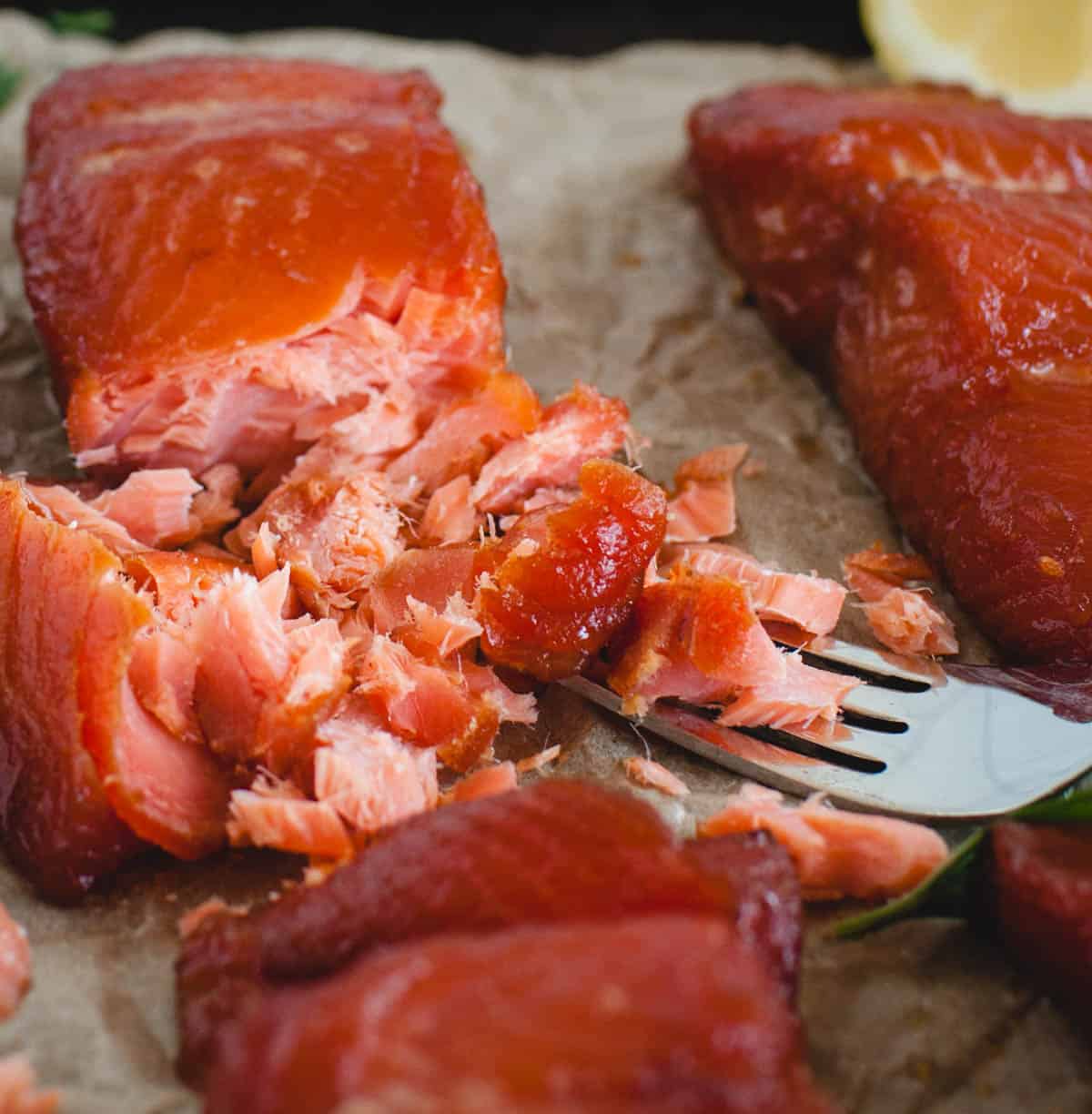 Wild vs. farmed salmon
Although it is expensive, wild caught is usually better quality. Wild salmon also has lower contaminants than farmed and is healthier in general. This being said, buy what you can afford, focus on freshness, and don't stress it too much. Smoking adds great flavor regardless and if wild caught salmon is too cost prohibitive to purchase, farmed will work fine.
Farmed salmon is available fresh and frozen year round and wild is only available fresh in the summer months. We eat frozen wild salmon year round though and since it's frozen right after catching and cleaning instead of being transferred to various distributors or stores, the quality is often better than what I can buy in stores.
There are also multiple varieties of salmon. Farmed salmon is usually from the Atlantic ocean and is harvested year long. The pacific ocean has multiple different species including king (chinook), sockeye coho (silver) and pink. There are other varieties and different names describing the same fish types too.
We typically keep the best quality fish for eating other ways and smoke the rest. If you are purchasing fish for smoking and have a choice, King and Sockeye are good options due to fat content but any will work for smoking.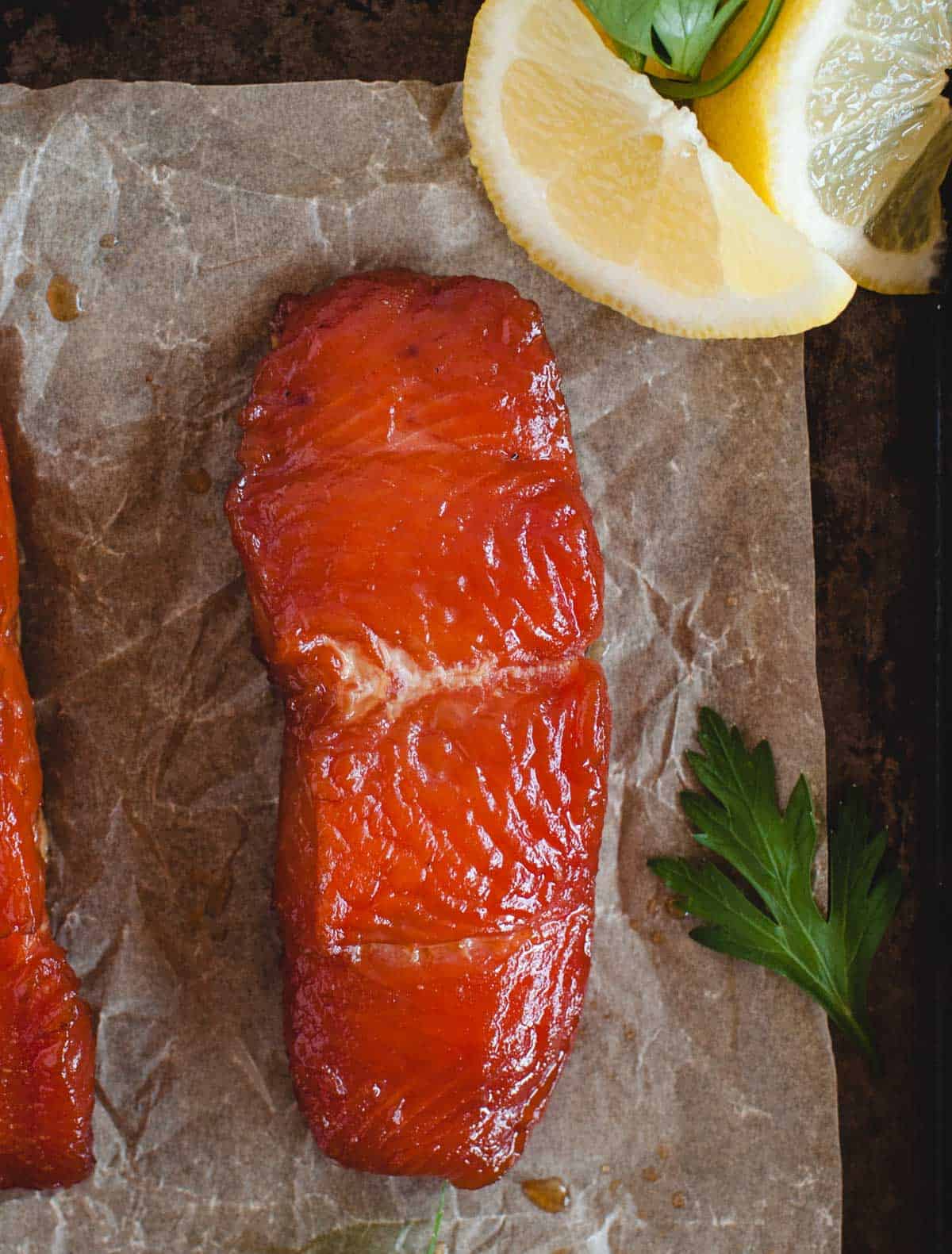 How to smoke salmon
While making smoked salmon is a day long process, very little of that time is active time. The main high level steps are are:
Prepping the fish (cutting, removing bones, etc.)
Making the dry brine
Brining the salmon (this is the long but easy part)
Letting it rest – critical for getting the best texture
And finally, smoking the fish!
Preparing the fish
To prepare the salmon, you can remove the bones using tweezers if desired (I normally don't since it's time consuming). Then slice it into strips. In the last few years, we started removing the skin since that makes it less fishy tasting but that is optional as well.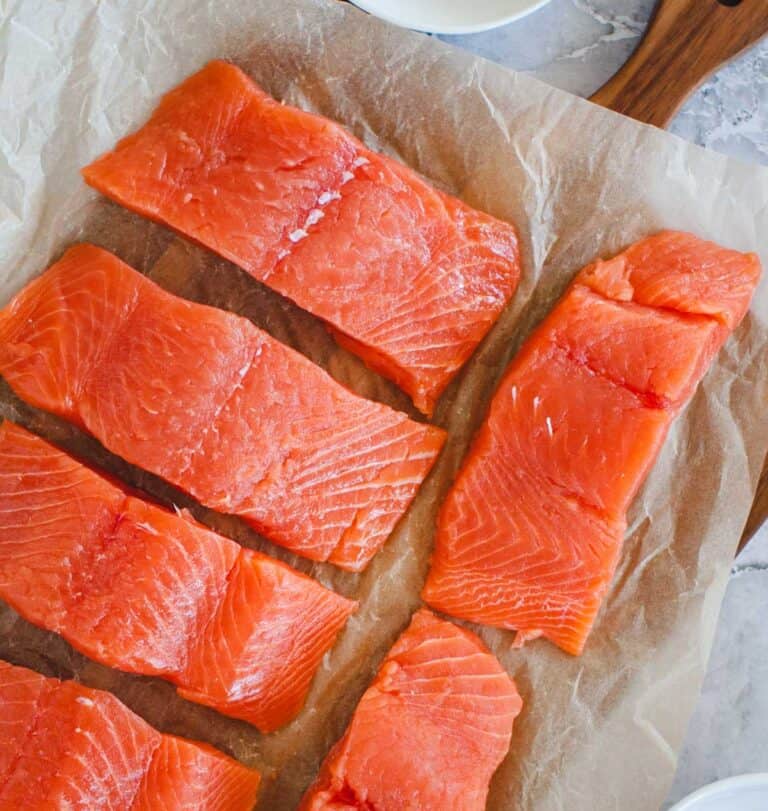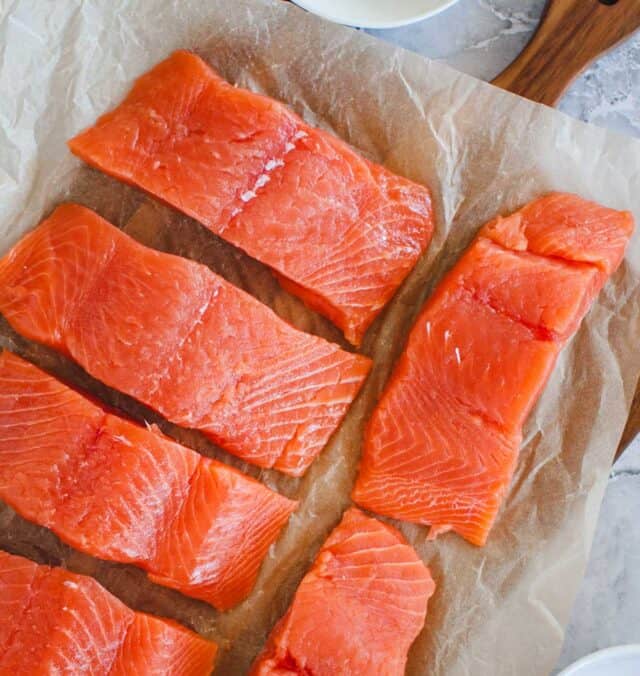 Making the dry brine
Next, toss the kosher salt, brown sugar, and spices into whatever container you'll be brining in. We typically just use a large bowl but a food storage container or bag works too. Stir to mix all of those ingredients well.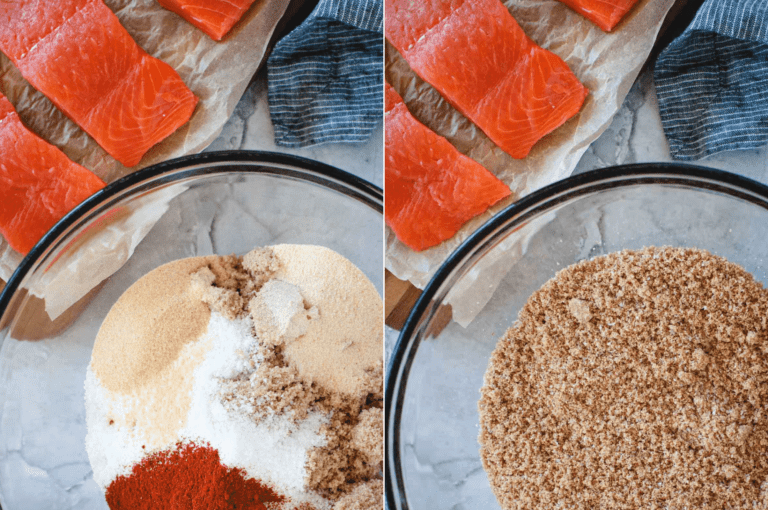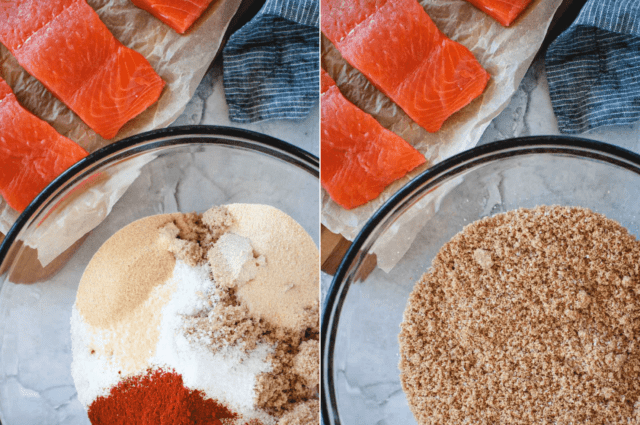 Dry brining the salmon
Add the salmon to the dry brine mixture and toss gently to coat each piece evenly. Place the bowl in the refrigerator for 12-24 hours. It isn't mandatory but it helps the texture to drain off any liquid that accumulates at the bottom of the bowl about half way through this brining period.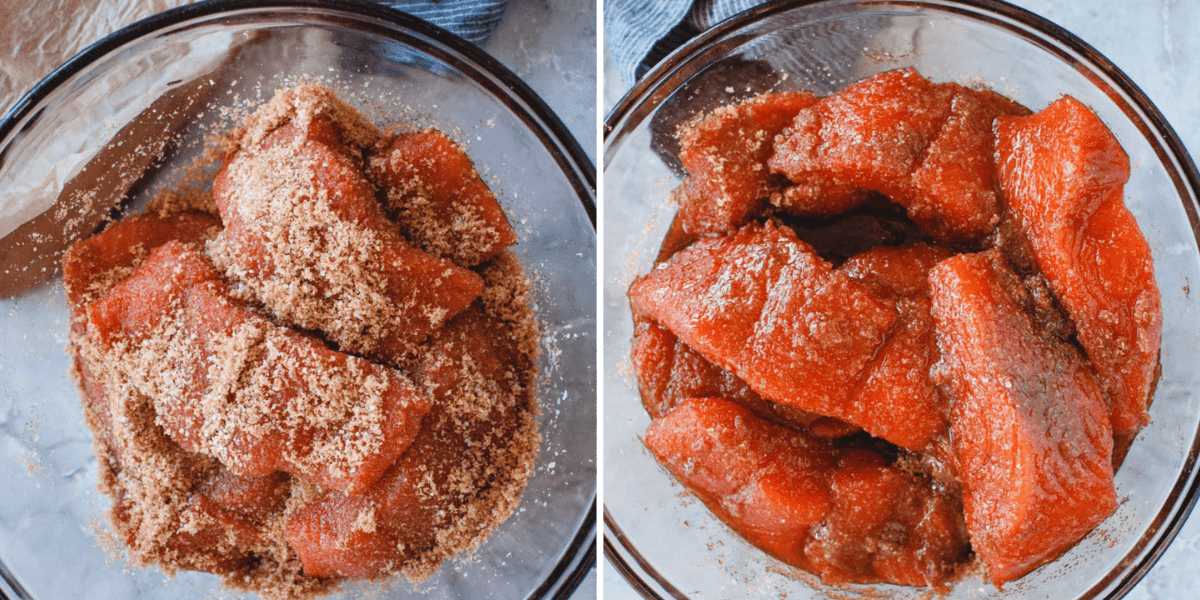 Letting it rest
When you're almost ready to start smoking, you need to rinse the dry brine off of the salmon, dry it off and let it sit for about an hour. This creates that hard outer part called pellicle, which is critical for both locking in moisture and creating that candied bacon-like exterior.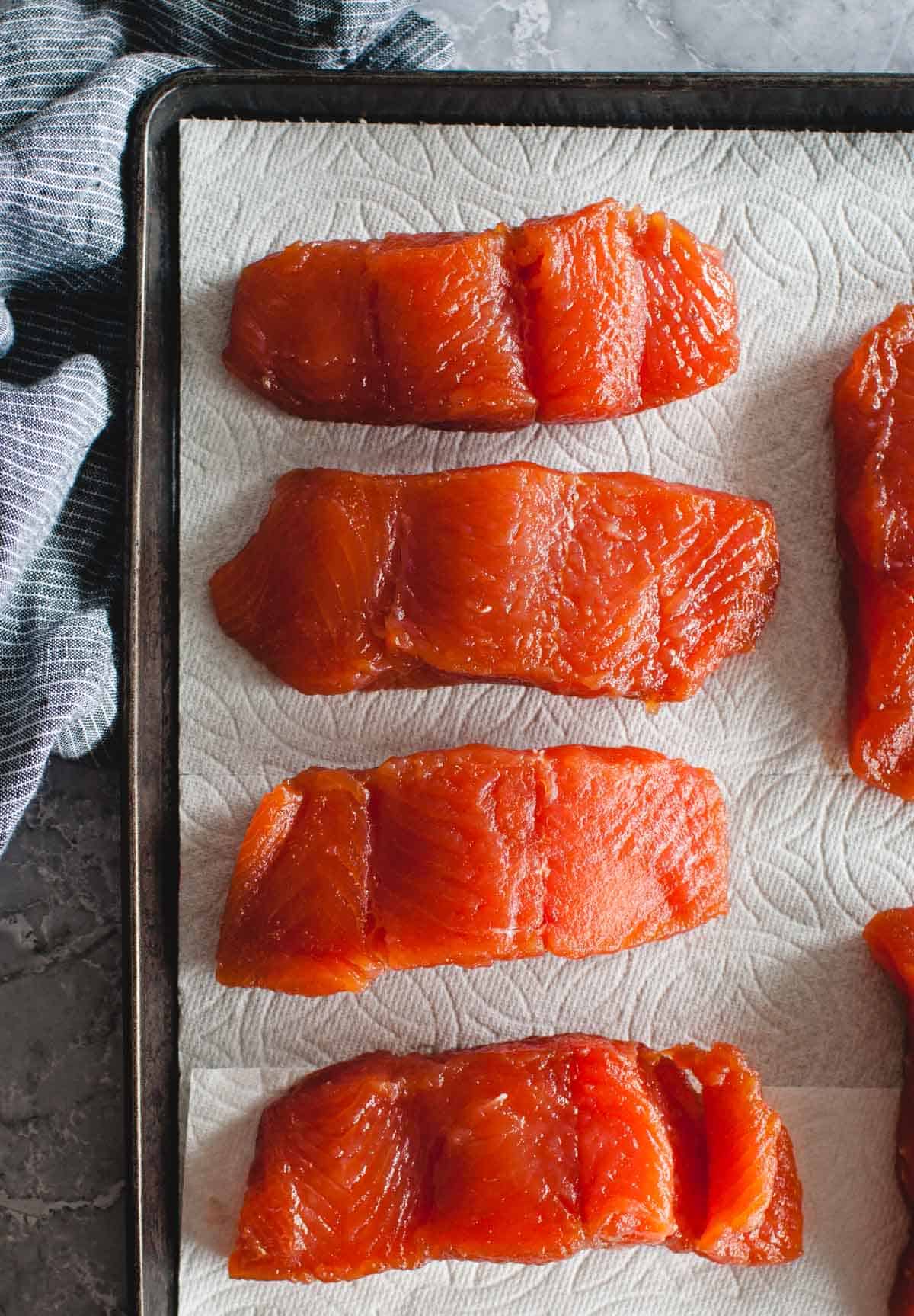 Smoking the salmon
Now we're finally ready to smoke that salmon! While the salmon is resting I normally start up the Traeger. Make sure the grill is clean and all ash is cleaned out of the fire pot (round part inside barrel that wood pellets empty out into). This is really important when smoking at low temperatures since having that fire pot be clogged or dusty can lead to the dreaded LEr error code that shuts your smoker off.
Turn the smoker to 180° F and let it come to temperature. If you want to insert a probe to turn the smoker off when it reaches 125° F make sure to insert it into the fattest part of the fish on a piece near the middle.
Place the salmon on the smoker and let the Traeger do the work! Once the salmon is done cooking, remove it from the grill and let sit for at least 10 minutes before eating. Let leftovers cool completely before placing in the refrigerator or freezing.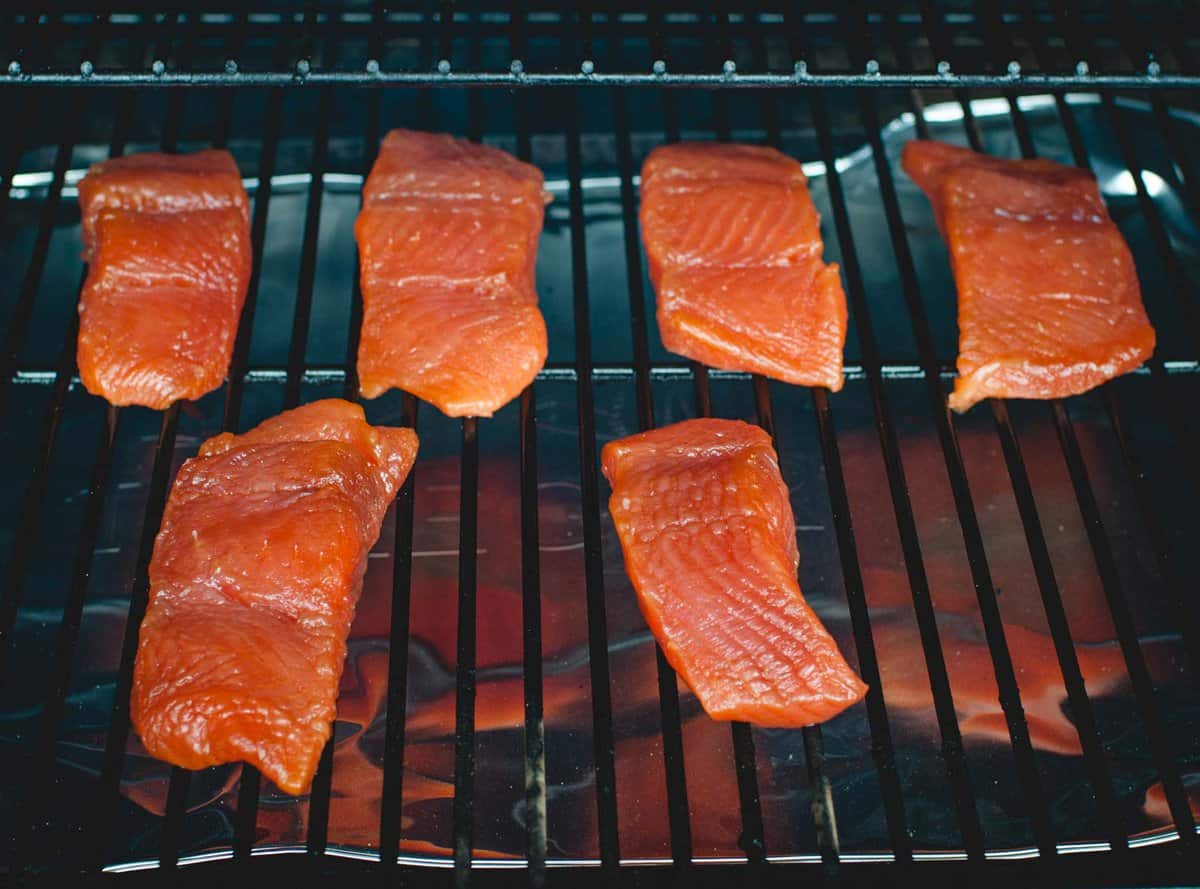 Recipe Tips
Use good fish. Our guide on choosing salmon can help you with this.
Recipe can easily be adjusted for the amount of salmon you have. The important thing is to keep the ratio of sugar to salt at 4 parts sugar to 1 part salt. Cayenne and other spices can be added to according to your preferences.
Store in a tightly sealing container for 1-2 weeks in the refrigerator or vacuum seal and freeze for up to 6 months for longer term storage.
For sweeter salmon or a different flavor, you can brush with honey or teriyaki sauce 2 -3 times during the cooking process, waiting about 30 minutes between each glaze.
For best results use a mild wood like apple, cherry alder or mesquite wood pellets.
Check your smoker every half hour or so just to make sure everything is working properly.
What to serve with smoked salmon
If you're serving the salmon as an entrée, it goes well with many sides. I like keeping the sides relatively simple to allow the salmon to shine. Here are a few of our favorite recipes to serve with it.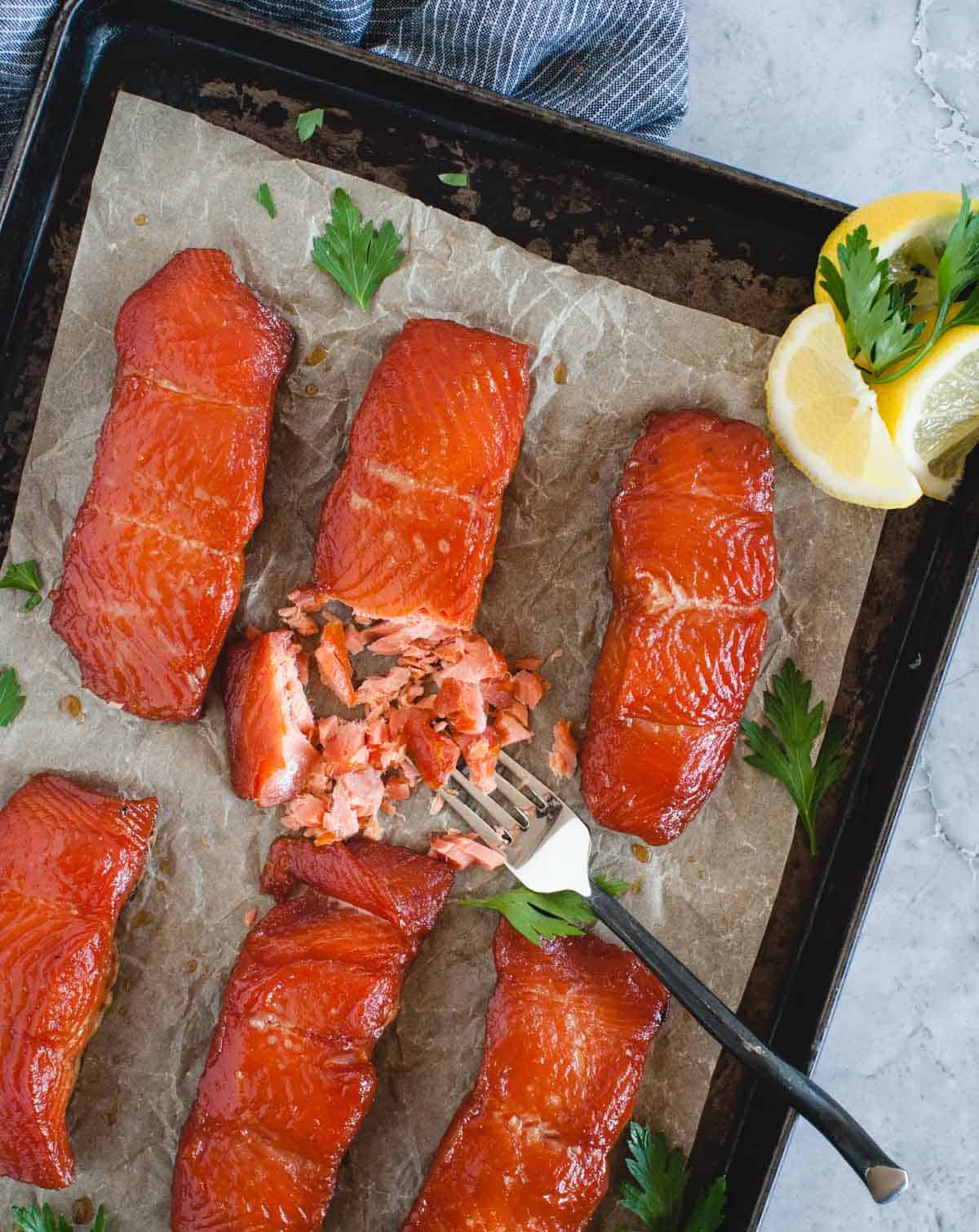 Uses for leftover smoked salmon
This is a recipe that lends itself well to leftovers. We often double it and then use it over the course of a week, freezing whatever we know we won't eat. Here are may favorite uses for leftover smoked salmon:
In smoked salmon dip that doubles as a spread for sandwiches and bagels
On a bagel with cream cheese (or my favorite dairy free cream cheese). To make it more fancy, add fresh dill, capers, thinly sliced red onion and a sprinkle of fresh cracked pepper.
Added to pasta like this simple roasted veggie pasta recipe
In an omelette, frittata or to turn a veggie quiche into a meaty one
Served on crackers or cucumbers with cream cheese and fresh dill (one of my favorite easy appetizers!)
As the protein on veggie rice bowls
With a bock of cream cheese and crackers (this is what we did in Alaska)
In sushi with cream cheese and cucumber as a Philadelphia roll
With a lemon kale salad or this zesty orange kale salad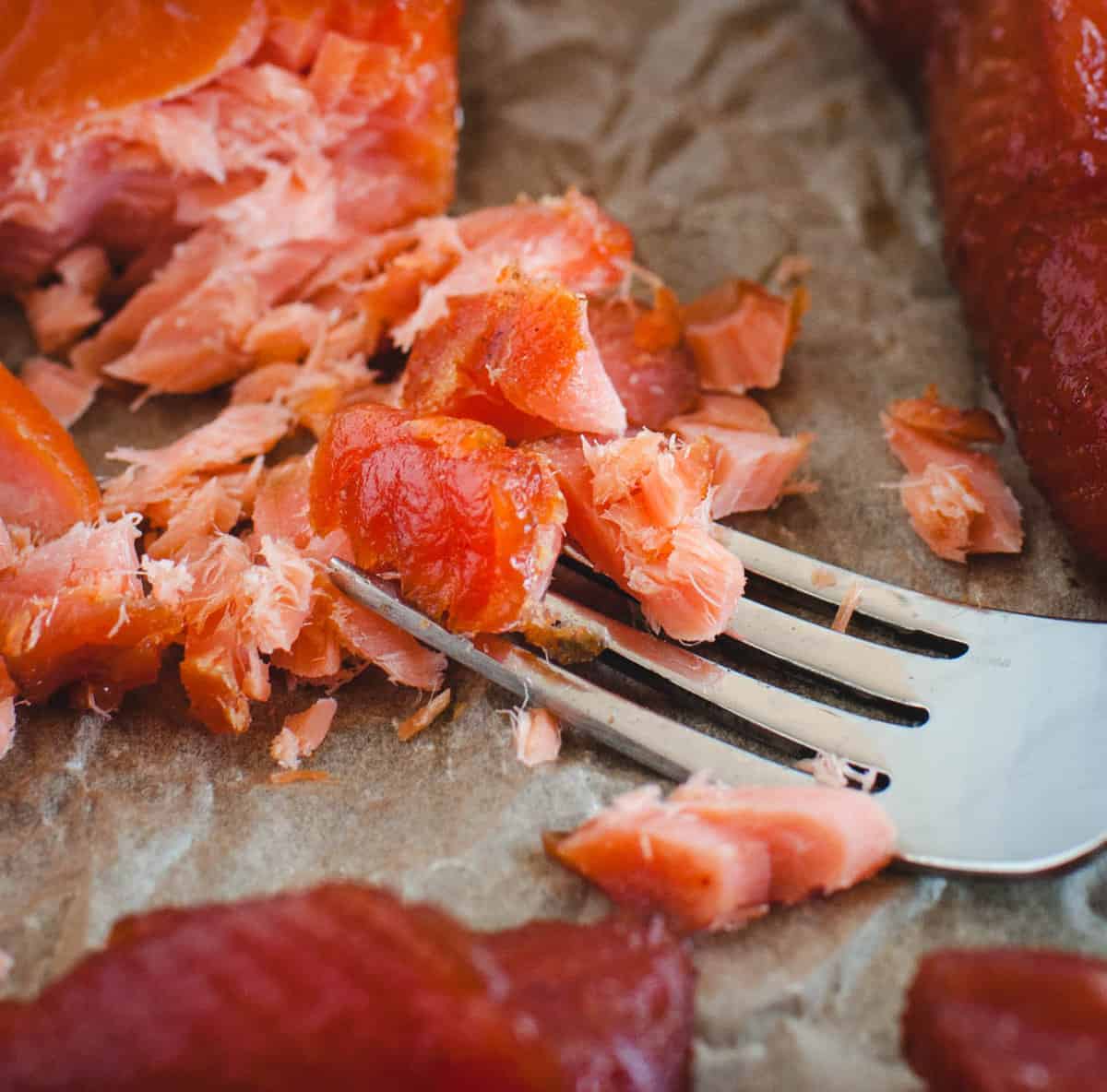 What is a brine?
A brine is simply a cure for the meat that adds flavor and helps it retain moisture while it cooks. A wet brine soaks the meat in a salt solution and a dry brine uses salt, sometimes sugar, and other spices rubbed onto the meat.
What temperature should I smoke salmon at?
180° F (82° C) is best temperature to smoke salmon at. Some prefer to smoke it faster at a higher temperature but we've found slow smoked is best.
How long to smoke salmon at 180° F?
Approximately 3 hours. This will vary depending on the thickness of the salmon, how large the pieces are and how fatty the fish itself is.
Can you freeze smoked salmon?
Yes! To freeze, let the salmon cool completely and then vac-seal and freeze for up to six months. To thaw, remove vacuum sealed salmon from the freezer and let defrost in the refrigerator overnight or place in a bowl of cool water for 30 – 45 minutes.
This Traeger smoked salmon recipe is pellet grill perfection! Made with brown sugar & salt dry brine and hot smoked until done and delicious.
Equipment
1

Smoker We use a Traeger but any smoker or grill will work
Instructions
Cut salmon into 2-3" wide strips through the center bone. We like to remove the skin fist since it makes it less fishy tasting but that's optional. You can also use tweezers to remove the bones before cutting into strips if you'd like to but we typically just pull them out when eating it.

Stir all dry brine seasonings together in a large bowl. Add salmon and toss to coat.

Place bowl with seasoned salmon in the refrigerator for at least 12 hours, preferably 24 hours. About half way through the brine time, move the salmon pieces around to make sure each piece gets evenly coated and drain off any liquid that has accumulated in the bottom of the bowl.

Remove the salmon from the refrigerator and rinse the brine off of each piece of fish.

Line a large tray with paper towels (or clean kitchen towels) and place the salmon pieces on top of them, leaving space between. Pat the tops dry and let the salmon rest and come to room temperature for 1-2 hours. Do not skip this step!

Add wood chips (apple, cherry and mesquite are best) to the Traeger and preheat temperature to 180° F (82° C).

Place salmon skin side down (or side where skin would have been if skin is removed) onto the grill grate. If using a probe, set it to 125° F (52° C) inserting it into the fattest part of the fish towards the middle of the grill.

Cook for approximately 3 hours until salmon is done. Exact time can vary from 2-4 hours depending on thickness of salmon pieces. Let sit for at least 10 minutes before eating and let cool completely before storing leftovers in a tightly sealing container in the refrigerator. If you plan to eat some of the salmon fresh right away, pull it off at 125° – °130° (52-54° C) for a cooked but less well done texture. If you like your salmon firm on the inside or plan to keep it in the refrigerator for awhile and/or freeze it, smoke it until it reaches 135 – 140° F (57-60° C) for best results.
Notes
Recipe can easily be adjusted for the amount of salmon you have. The important thing is to keep the ratio of sugar to salt at 4 parts sugar to 1 part salt.
Store in a tightly sealing container for 1-2 weeks in the refrigerator or vacuum seal and freeze for up to 6 months for longer term storage.
For sweeter salmon or a different flavor, brush with honey or teriyaki sauce 2 -3 times during the cooking process, waiting about 30 minutes between each glaze.
Nutrition information assumes all sugar and salt is used in recipe but most of brine is thrown away.
Nutrition
Calories: 361kcal | Carbohydrates: 38g | Protein: 30g | Fat: 10g | Saturated Fat: 2g | Polyunsaturated Fat: 4g | Monounsaturated Fat: 3g | Cholesterol: 83mg | Sodium: 4794mg | Potassium: 824mg | Fiber: 0.4g | Sugar: 36g | Vitamin A: 389IU | Vitamin C: 0.2mg | Calcium: 56mg | Iron: 2mg