This easy kale salad gets tossed in the perfect zippy dressing before getting delicious add-ins thrown in like sharp cheddar, raisins, and pine nuts.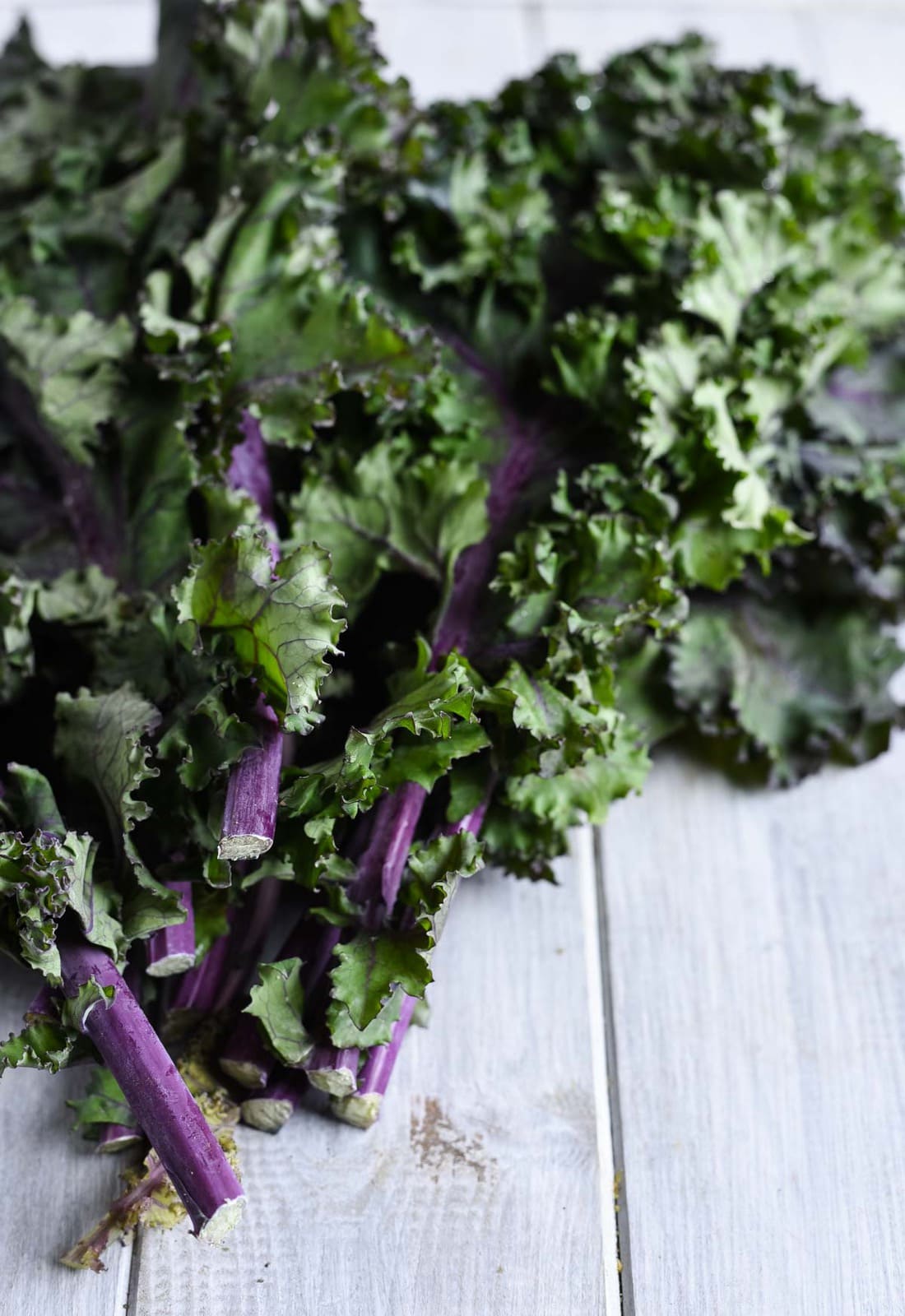 I know kale is normally a winter vegetable but can we just do one more easy kale salad before summer takes over? Thanks for humoring me. I loooove this kale salad and have been making it for months and just couldn't wait all the way until next fall to share it with you.
It has the perfect balance of savory, sweet, tangy, and salty to hit all the right tastebuds. I just love the way the cheddar pairs with the tartness of the dressing. Its absolutely divine. Did I mention yet that its a simple, easy kale salad, that you can whip up in about 15 minutes?
Now your ears are perking up! Chopping the kale can take some time, especially if you're new to it. I just cut out the center stem and then lay the leaves on top of each other and slice. Its a pretty efficient method. Or, I know Trader Joe's sells pre-chopped kale in bags and most other grocery stores seem to too now a days. That will shave even more time off of the prep. Either way, this easy kale salad is worth whipping up soon.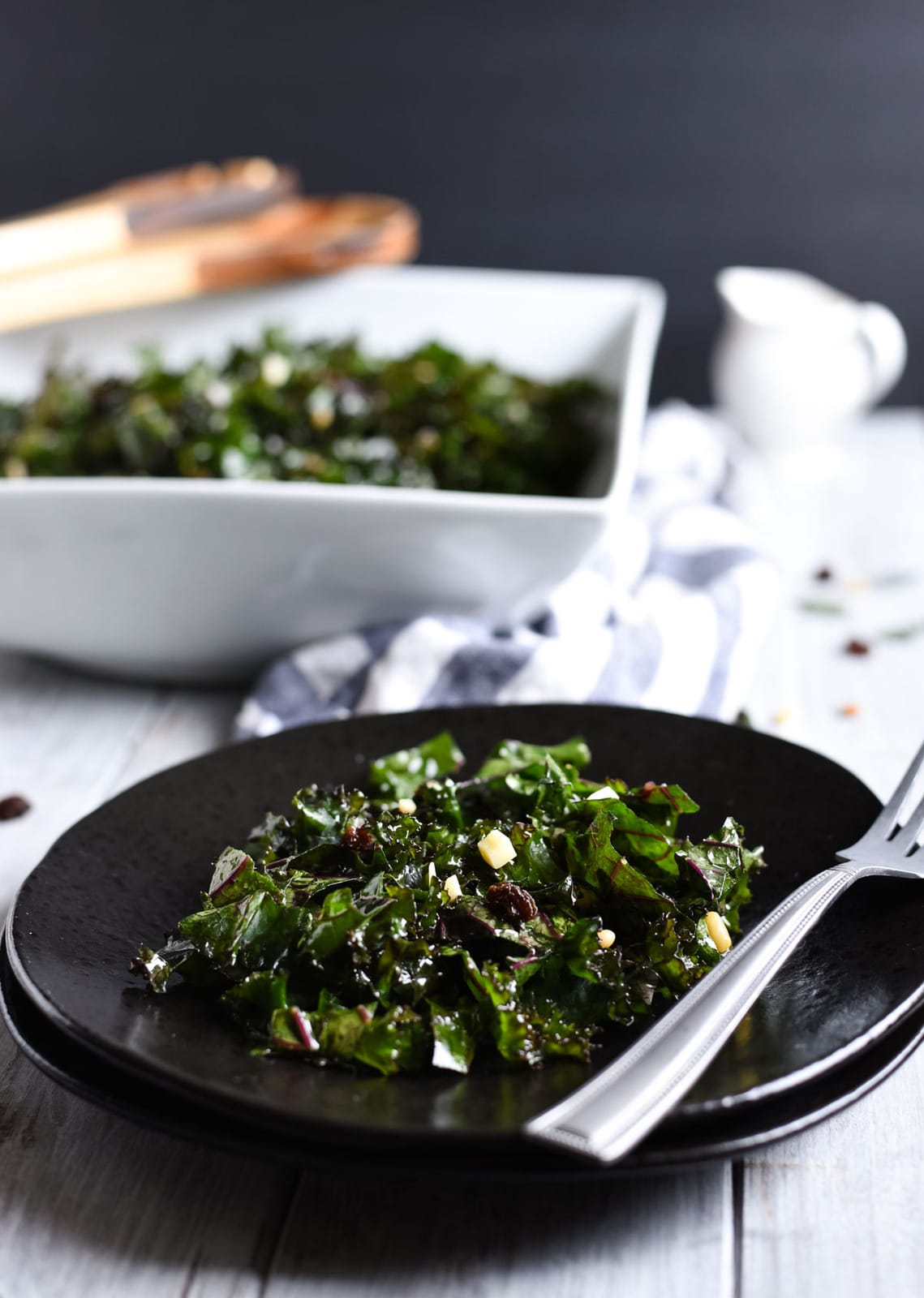 The other thing that makes this recipe easy, is that we whisk the dressing together directly into the salad bowl.
In other salad recipes like my strawberry spinach balsamic one or my more recent tahini dressing salad, I use a small mason jar to shake the dressing into being mixed. That is really my favorite way to do in most cases, but with kale, it doesn't really mater if the dressing is all at the bottom because we're going to be massaging it in with our hands anyways.
In the picture below, I made the dressing separately but that's mostly because I just can't resist a good pour shot. I just love how they turn out! Having action in still photos is always a challenge so whenever it is able to be captured with food, I make it a priority.
Someday when my photography studio isn't a few boards on a trunk by the window, my pics will get a whole lot fancier. Some day… for now, I'll take the easy action shots where I can.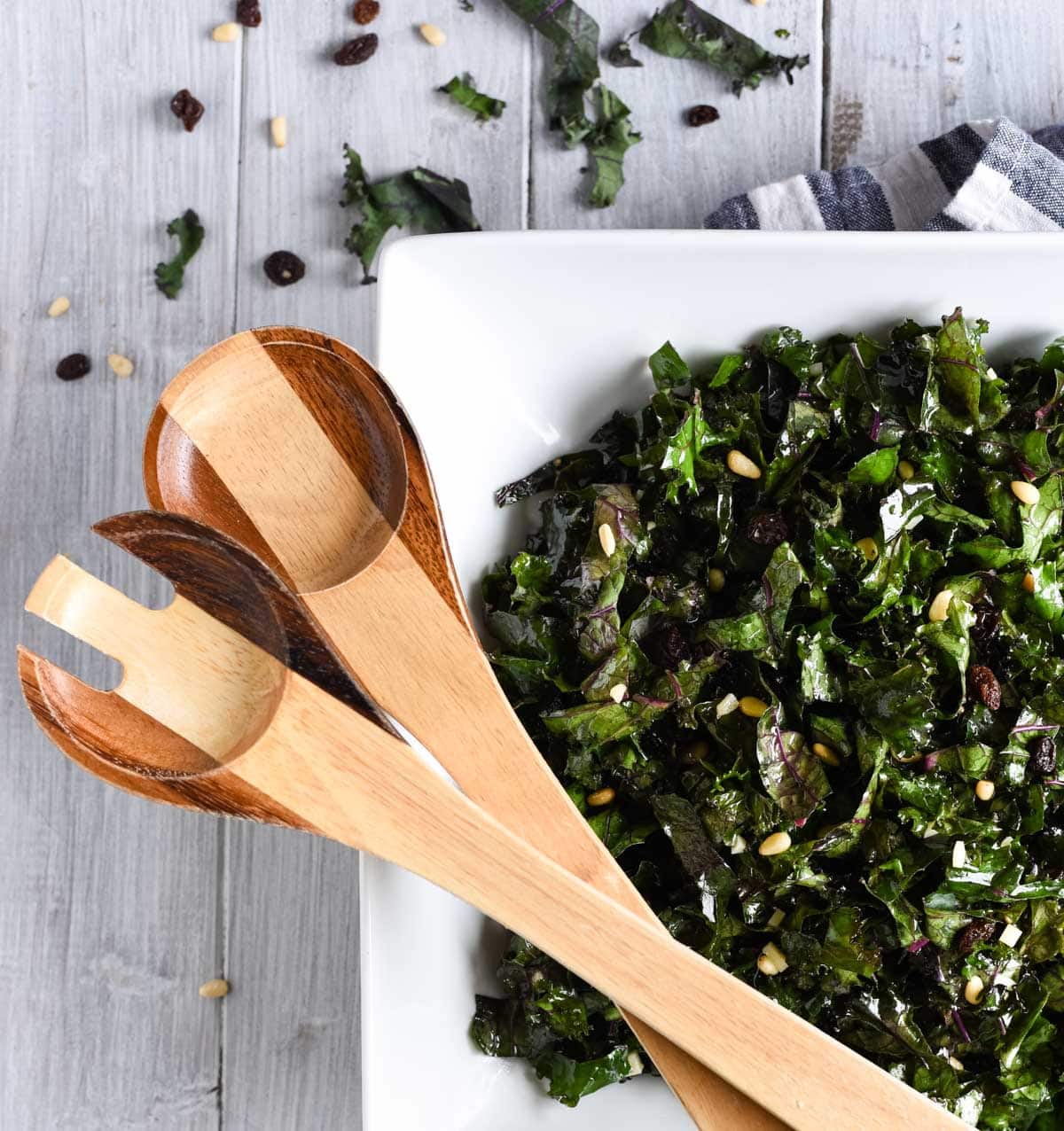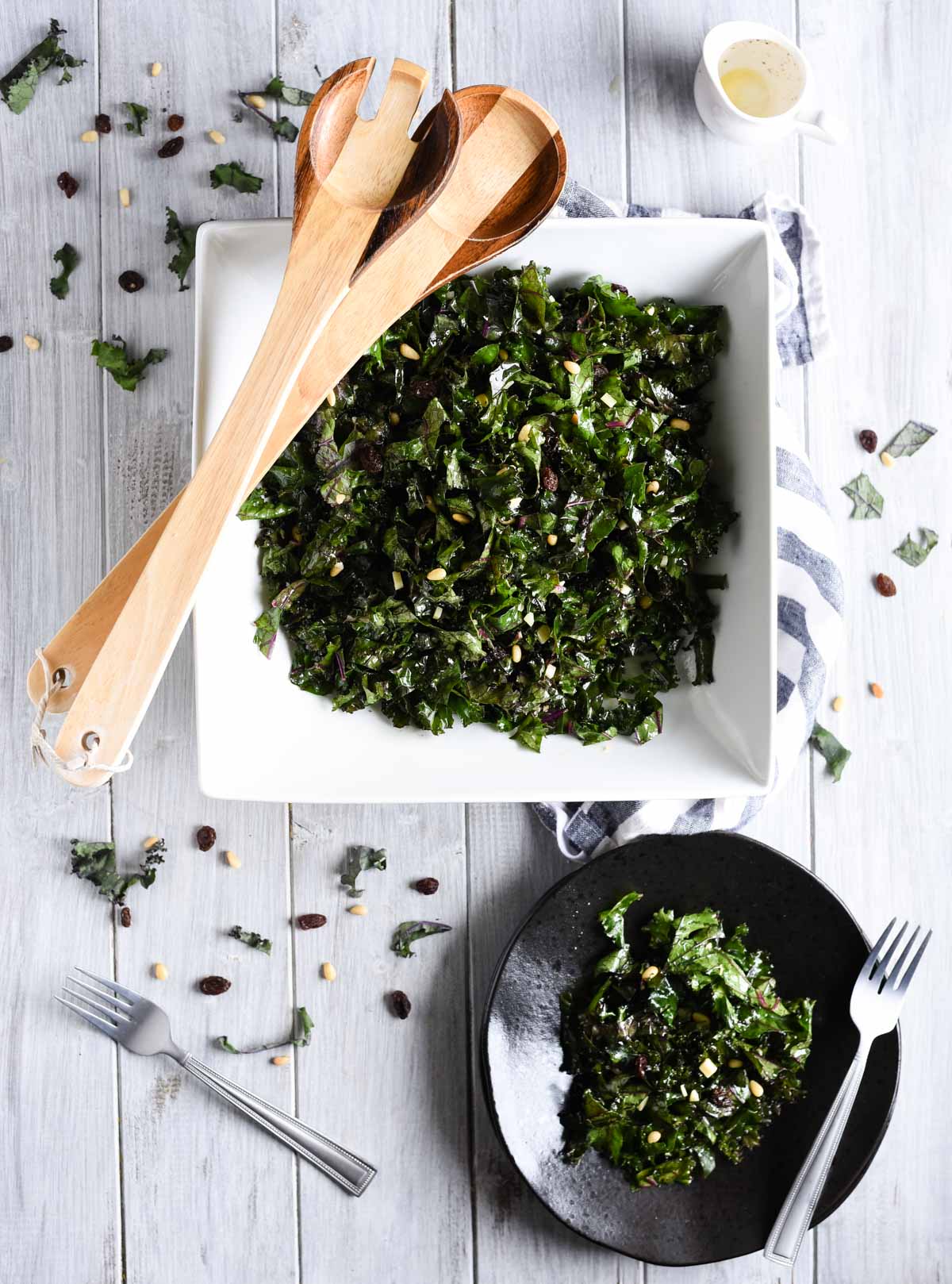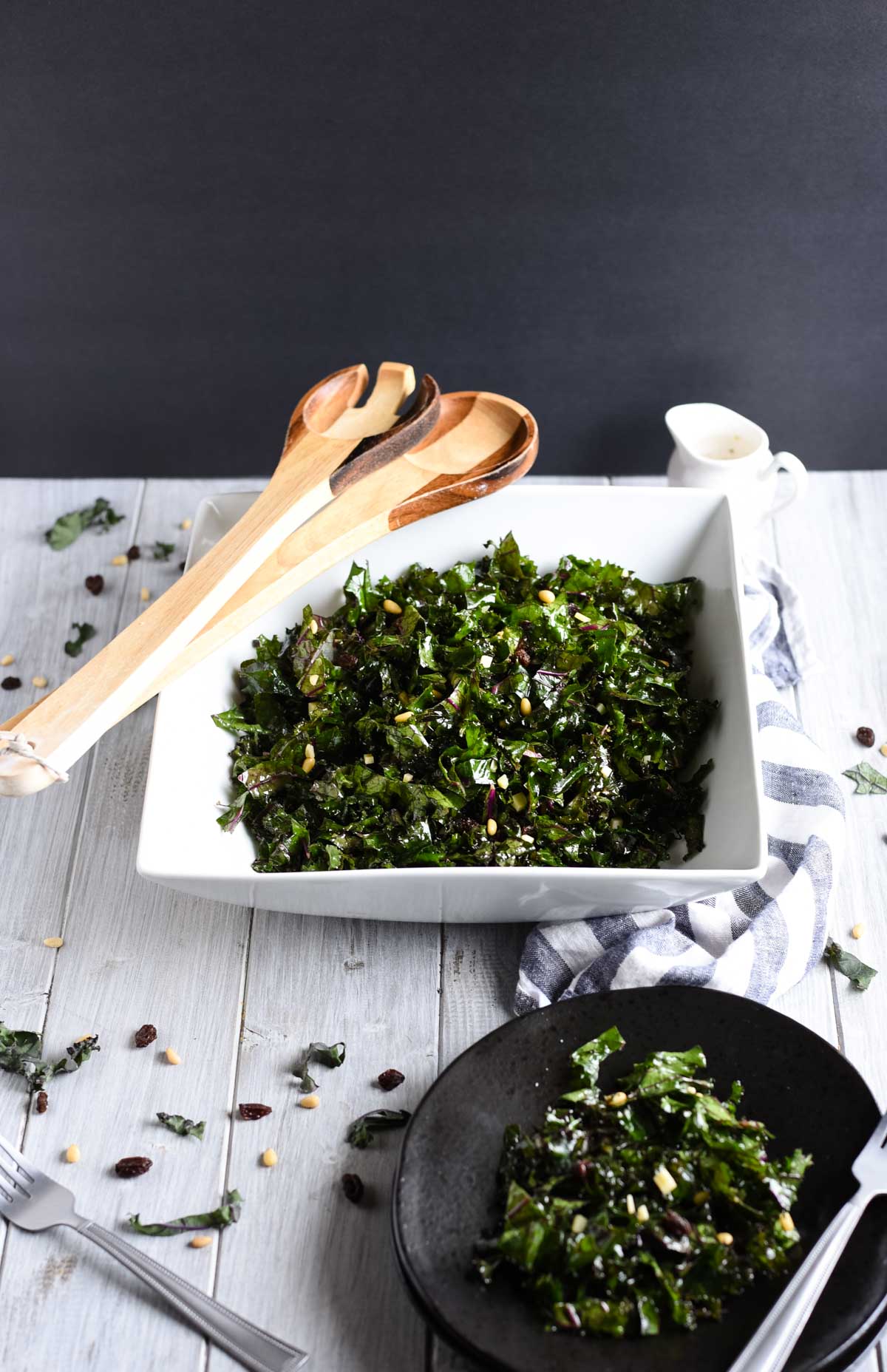 On a completely unrelated note – when this recipe posts, I'll be on my way to the Amalfi Coast! Ahhh!! I'm so excited, I can barely stand it. Its the night before we leave and I'm frantically getting things ready to be gone for almost a full two weeks with my love.
Remember last Christmas when he gave me a trip anywhere in the world as a present? Yeah, he's a keeper. 😉
Well, for that reason, I'm keeping it short and sweet. Ciao!
This easy kale salad gets tossed in the perfect zippy dressing before getting delicious add-ins thrown in like sharp cheddar, raisins, and pine nuts.
Ingredients
8 cups finely sliced kale, stems removed and discarded (one large bunch)
2 Tbsp. apple cider vinegar
3 Tbsp. olive oil
1 tsp. fresh minced garlic
1 tsp. pure maple syrup or honey
1/4 tsp. salt
1/4 tsp. fresh cracked pepper
1 ounce sharp white cheddar cut into 1 1/16" cubes (about 1/4 cup)
1/4 cup raisins
1/4 cup toasted pine nuts*
Instructions
Whisk vinegar, olive oil, garlic, maple syrup, salt, and pepper together in a large bowl. Pour oil in while whisking to make sure it emulsifies in with the vinegar. 

Add kale and toss to coat about half hour before serving. Works best if you rub it in with your hands to make sure the dressing evenly coats the kale. Let sit to allow dressing to soften the kale.

When ready to serve, toss in cheddar cheese, raisins, and pine nuts.

Notes
*To toast, heat pine nuts in a small pan over low heat, stirring regularly until they smell toasty and start to turn golden in spots. Watch them carefully – they burn quick!
Nutrition
Calories: 283kcal | Carbohydrates: 21g | Protein: 8g | Fat: 20g | Saturated Fat: 3g | Cholesterol: 7mg | Sodium: 217mg | Potassium: 783mg | Fiber: 1g | Sugar: 1g | Vitamin A: 13460IU | Vitamin C: 161.7mg | Calcium: 255mg | Iron: 2.8mg