I think I can safely say that quiche is one of my all time favorite things to make. Quiches are one of those breakfast foods that make it look like you went all out and spent a lot of time and effort, when in reality they are soooo easy. Seriously, I can have one prepped and ready to go in the oven in under 15 minutes, making this a perfect brunch for guests, holidays, a potluck, or just to eat and horde to yourself. Its a great way to use up leftover veggies before they go bad and although  bacon is a fantastic addition, with all of the eggs, milk, and cheese, you really don't need to add any meat since there's already a good amount of protein. Case in point – check out all these awesome veggies…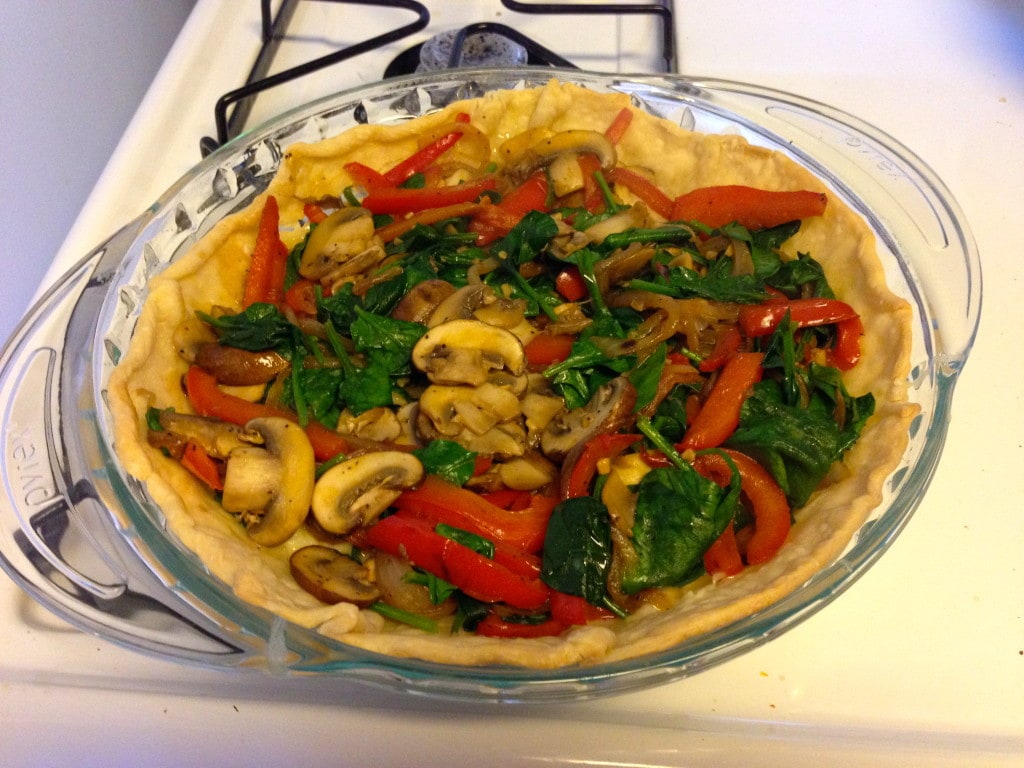 My love affair for quiches really started when I discovered refrigerated pie crusts. I use the Pillsbury brand and know they are less than healthy so I am going on the hunt for a more natural option – I promise to report back when I find one. Sometimes I go crust-less, but the crust is really one of my favorite parts so needless to say, crust-less quiches are not a regular food item in my house.
I recently got this awesome pie shield which I LOVE. It isn't entirely necessary for quiches since they aren't in the oven as long as pies, but it helps the edges not get overly browned.
Easy Veggie Quiche
Servings: 8
Prep time: 20 minutes
Cooking time: 40 minutes
Ingredients:
1 refrigerated pie crust
1/2 cup cheese, grated (I usually use sharp cheddar, Swiss, or gruyere)
1  1/2 cups milk (I use 1%)
5 eggs
1/4 tsp. salt
1/4 tsp. pepper
1/8 tsp. nutmeg (optional)
1 tbsp. oil (I use coconut oil)
1 tsp. garlic minced
1 red bell pepper sliced into thin strips
1/2 an onion sliced into thin strips
1 lb. mushrooms, sliced
2 loose cups spinach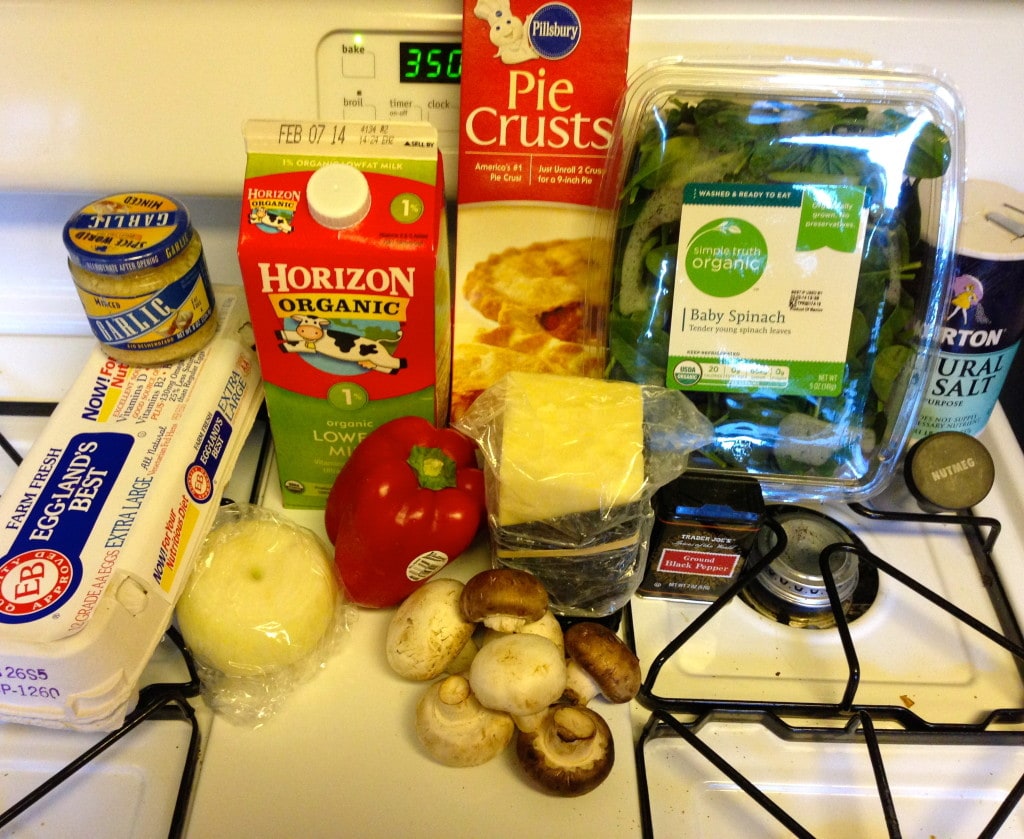 Instructions:
Preheat oven to 350 degrees F. Heat oil in a medium sized pan. Add onions and peppers and sauté for 2-3 minutes until onions start to turn translucent. Add mushrooms and garlic and cook until mushrooms are cooked through, approximately 5 minutes. Add spinach and cook 1 minute longer until spinach is wilted and remove from heat. Remove from heat. Unroll refrigerated pie crust and press into 9-inch pie pan.* Crack eggs and whisk together with milk, salt, pepper, nutmeg. Mix cheese in with cooked veggies and put into pre-prepared pie crust. Pour egg and milk mixture over veggies. If you have a pie crust shield (pictured above), add it before putting in oven. Bake for 35-40 minutes until starting to brown on top. Remove from oven and let sit for 5-10 minutes before serving. Quiche can also be served at room temperature.
* To prevent the bottom crust from getting soggy, you can pre-bake the crust prior to adding filling. To do this, add dried beans or pie weights to the crust and bake at 350 degrees F for 10 minutes or until starting to brown. Remove from oven, add filling, and bake.
Nutrition per Serving
Calories: 138
Carbs: 8.1 g
Fat: 8.3  g
Protein: 9.1  g
Sodium: 204 mg
Dietary fiber: 1.2 g
Sugar: 4.6 g