The best easy veggie quiche recipe using milk, loads of vegetables and pre-made crust for a quick, healthy vegetarian breakfast.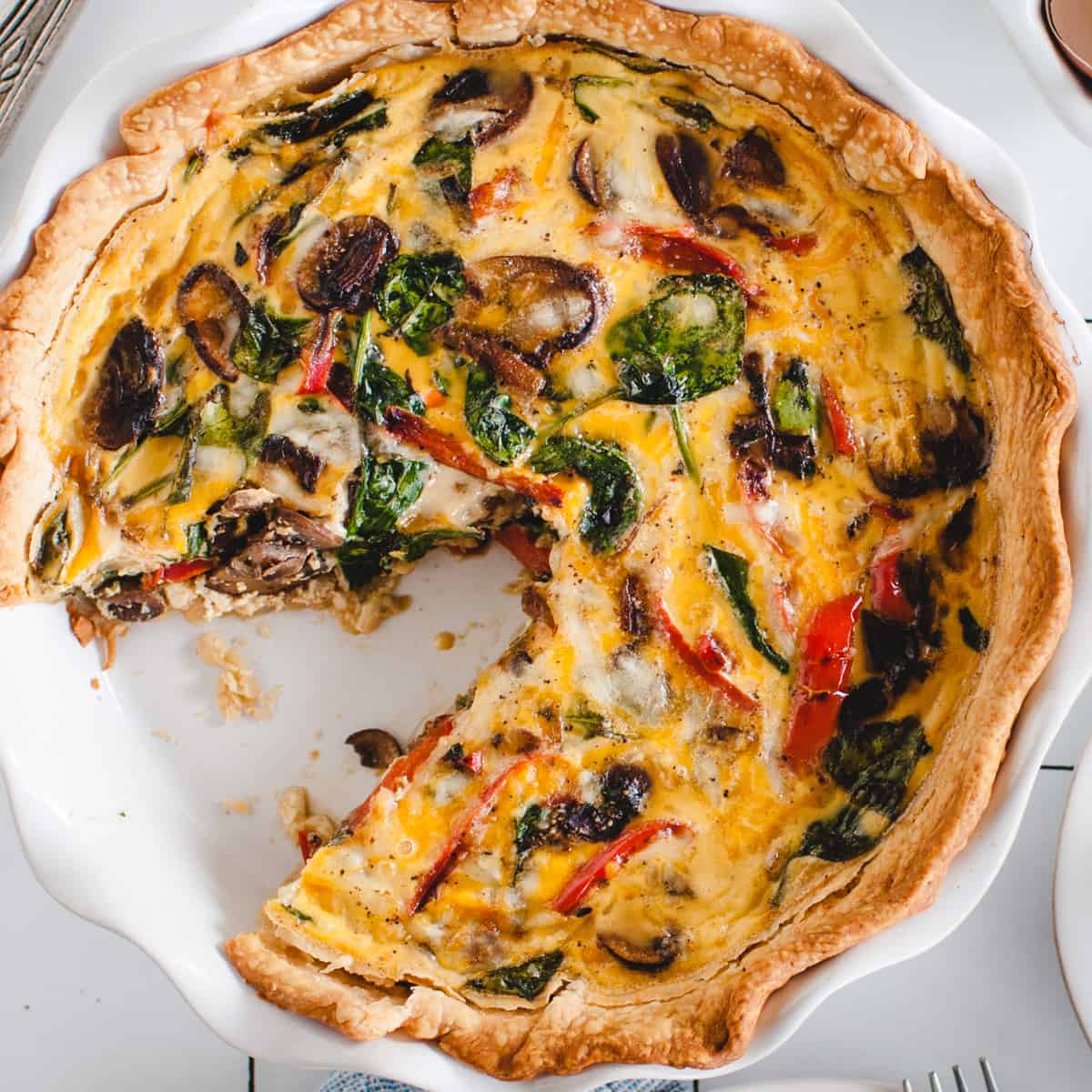 Veggie quiches are one of those breakfast foods that make it look like you went all out and spent a lot of time and effort, when in reality they can be easy and stress free.
With this recipe, you can have a vegetarian quiche prepped and ready to go in the oven in under 15 minutes. This makes it a perfect brunch for vegetarian (or meat eating!) guests, holidays, a potluck, or just to eat and horde to yourself since it reheats so well.
If you're looking for a low carb quiche recipe, try this crustless quiche, these mini egg muffins, or these eggs baked in ramekins. Or for something sweet but still healthy try this strawberry banana steel cut oat bake.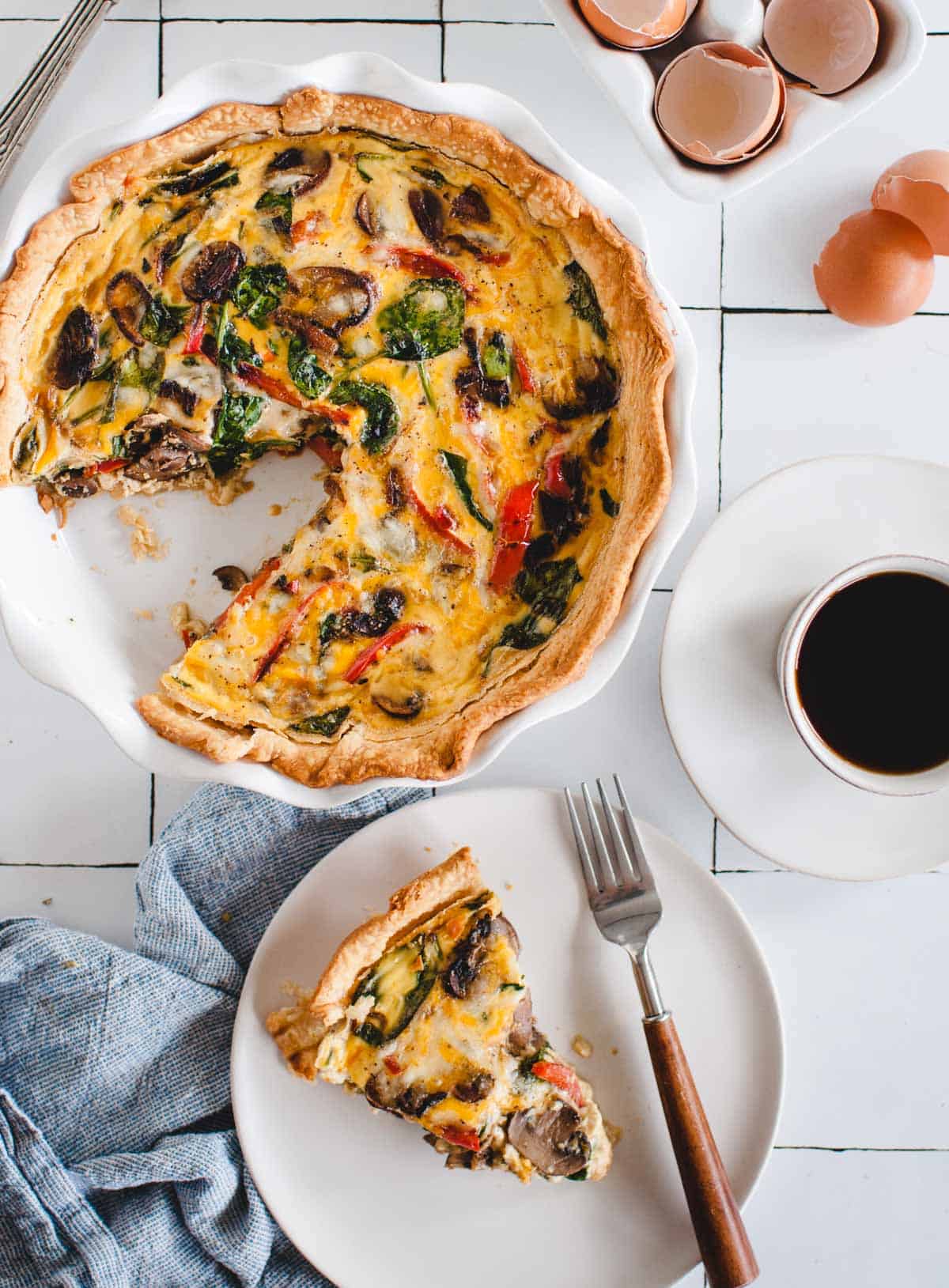 FEATURED COMMENT
"This was just what I needed! I love the light, delicate texture (whipped those eggs!), and the proportions were perfect for the pie plate and crust specified. It was not too salty, nor dense. Pretty presentation. Thank you!"
– J How
Why you should make this veggie quiche
This tried and true recipe is just as delicious as it is healthy without all of the extra hassle! Here are some highlights on what makes this vegetarian quiche great:
12 grams of protein for each under 300 calorie serving
Reheats and freezes well making it perfect for meal prep or making head of time
So versatile you can sub with other veggies or cheese you need to use up easily
Appears fancy so great for entertaining at a brunch or breakfast get together
It travels well so you can bring it to a friend's place
Crust doesn't need to be par-baked making it faster than a standard quiche
Easy as can be since there's no meat to cook, the veggies cook fast and the crust is store bought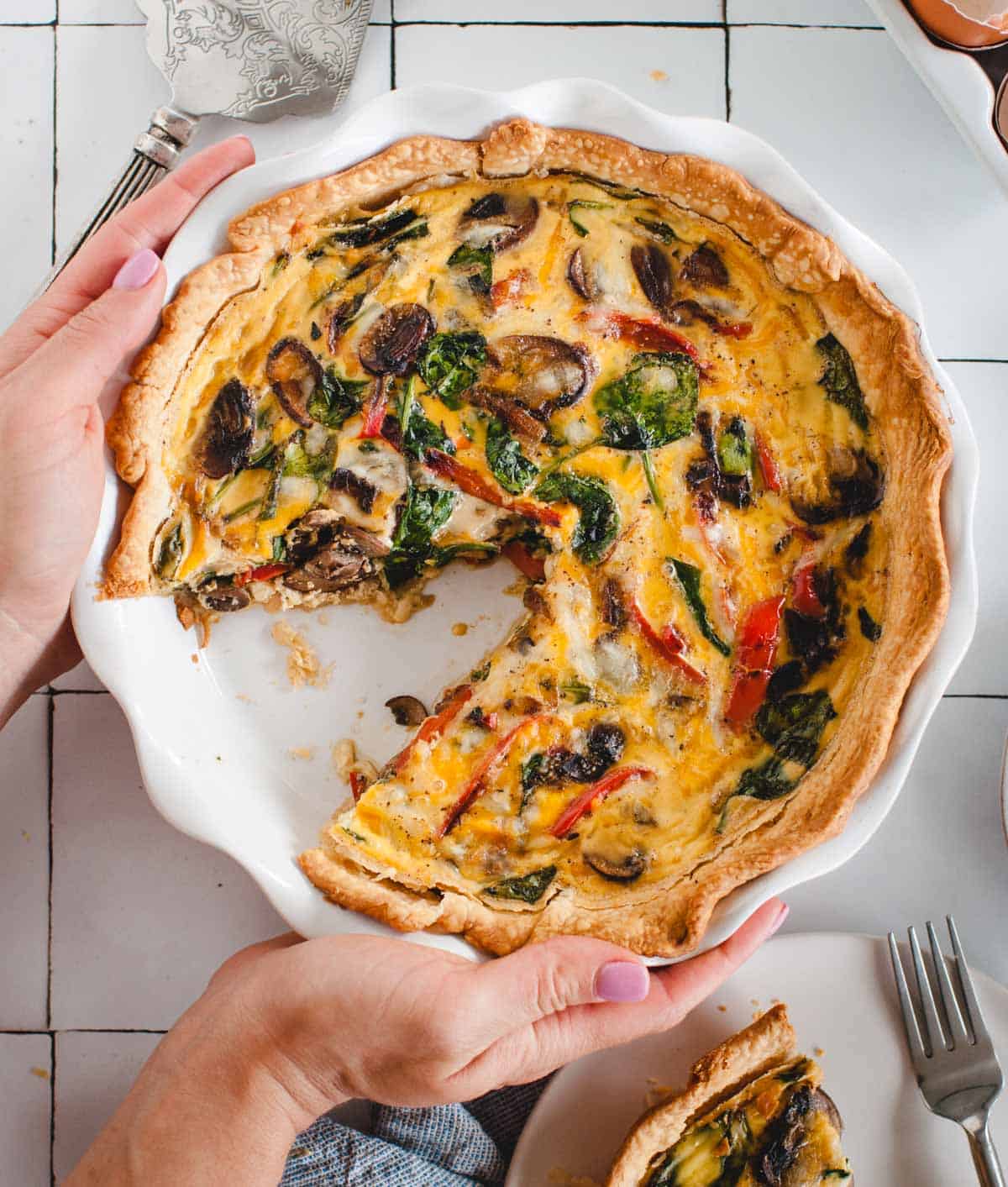 Ingredients
Here's what you'll need and a few notes on what to use:
avocado oil – this is my favorite oil to cook with due to it's high smoke point but you can use whatever you prefer best
onion – either red or yellow will do
red pepper – I slice mine in strips and then chop the slices in half to make them easier to eat.
minced garlic – jarred pre-minced garlic is fine here
mushrooms – I just use crimini but shitake would be great too
spinach – if spinach pieces are large, chop a few times to break up
refrigerated or frozen pie crust – this is what makes it so easy! I use refrigerated if I want to use my own pan but the frozen ones come in disposable pie tins and typically turn out crispier on the bottom.
whole milk – I use whole milk and recommend that but 2% will work ok. Whatever you do, DO NOT use non-fat or your quiche will be a watery mess.
eggs – I prefer eggs with dark yellow yolks but just get the best ones you can afford. Pasture raised is better than cage free but egg labeling is notoriously tricky. Often times the same eggs are labeled differently and listed at different prices under different brand names so be mindful of this, experiment and find your favorite.
salt – I use himalayan pink salt in pretty much everything but table salt works fine.
pepper – fresh ground is always best.
nutmeg – just a sprinkle of ground nutmeg for that hint of extra flavor.
grated cheese – I prefer either a sharp cheddar or gruyere but use your favorite here.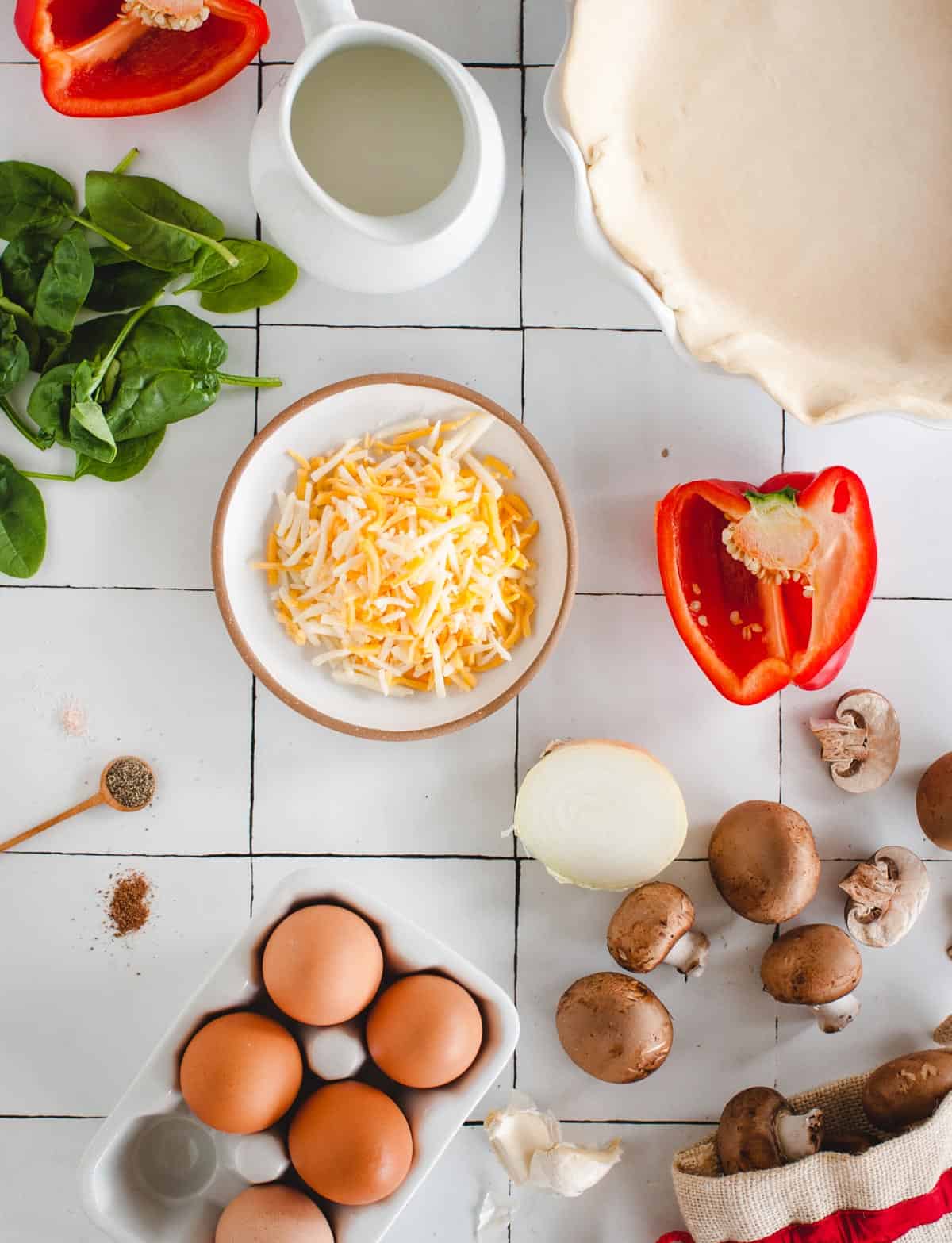 How to make a vegetarian quiche
It takes a fair amount of time to bake, but the hands-on time is truly minimal. The steps below show how simple it is to assemble.
First you start by sautéing the veggies in three stages:

Then you prepare the quiche filling by whisking the eggs, milk and seasonings together
Place the vegetables in the prepared pie crust
Sprinkle cheese on top
Pour the filling over the vegetables
Place the quiche in the oven and bake for 35-40 minutes
Remove from the oven and let cool for 10 minutes before serving
What pie crust to use
While a homemade crust is delightful, my love affair for quiches really started when I discovered refrigerated pie crusts. I started out using the Pillsbury brand refrigerated ones that you roll out but, as with homemade crust, I found they bottom can be kind of gummy without par-baking the crust. I now prefer frozen pie crust since it gets crispier on the bottom.
That being said, you can't transfer the frozen pie crust to another pan so it won't have that same homemade presentation. You can put the crust and it's tin into another pie serving pan though to make it look a little more presentable.
I also usually use one of these pie shields to keep the top crust from getting overly browned. It isn't entirely necessary for quiches since they aren't in the oven as long as pies and you can always pull the quiche out and tent foil strips around the edges if you notice the top crust is browning too fast.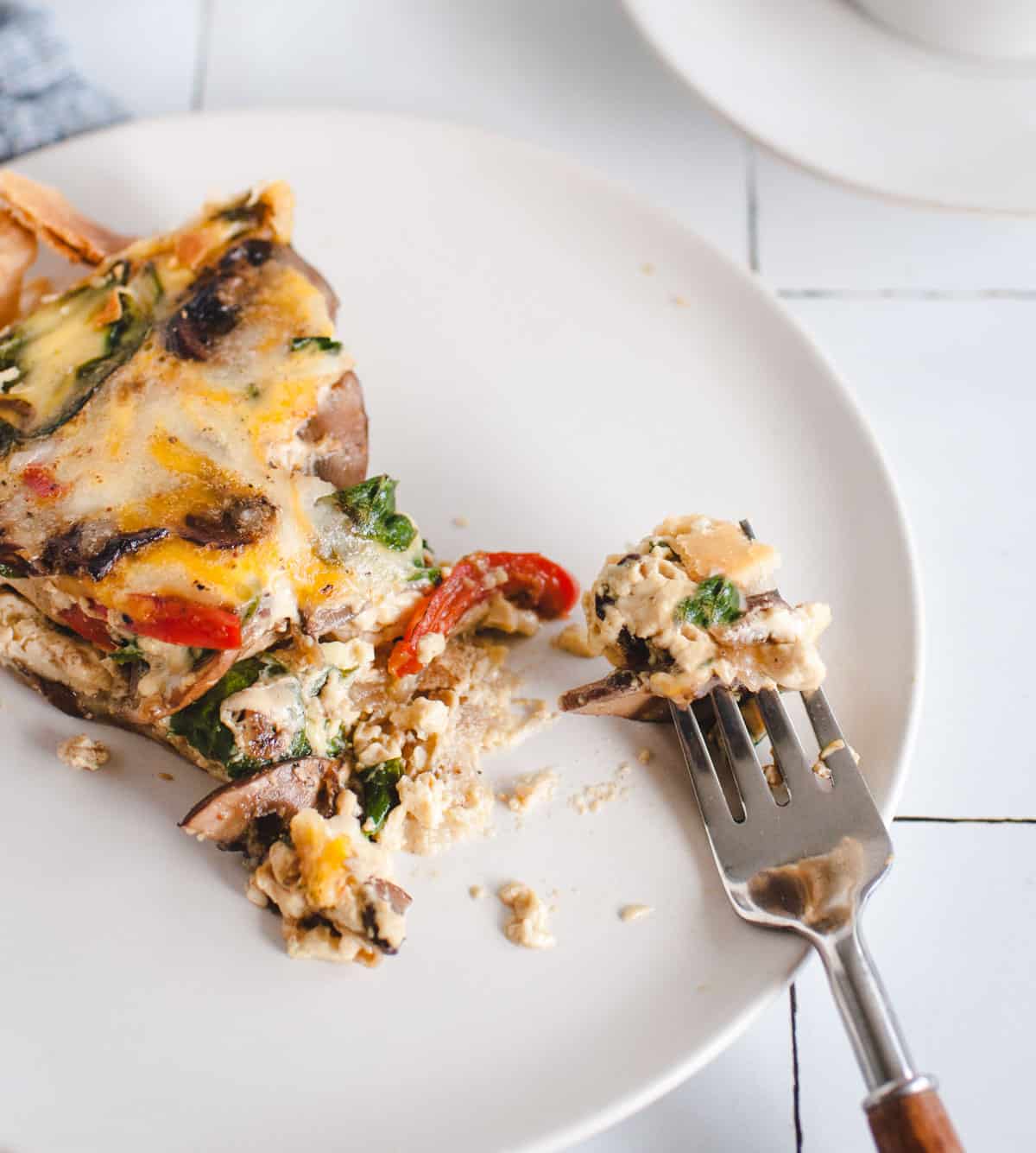 Substitutions
There are many substitution options and here are a few notes on substitutions for the main ingredients:
Cheese swapping is simple and as long as you use a good cheese it will work. Freshly grated melts best but pre-grated will work in pinch too. I love using either a sharp cheddar or gruyere but any cheese is welcome here. I've even done feta and goat cheese which was a nice change of pace.
Vegetables can be swapped out for whatever you have on hand or according to your preference. Just make sure to cook them down and keep an eye on the moisture content.
Gluten free is simple using a gluten free crust or even going crustless. If you choose crustless be sure to grease your pie tin very well or use a silicone baking mold.
Garlic – you can use 1/2 teaspoon of garlic powder in exchange for minced garlic.
Nutmeg – just leave it out if you don't have it.
Milk – I recommend using whole milk but you can replace with 2% or cream, whipping cream or heavy cream. I have tried with oat milk as well to reduce the overall amount of dairy in the recipe and it wasn't perfect but worked decently.
Different Variations
There are more vegetarian quiche combinations than I could possibly list but here are a few to get your ideas churning:
Caramelized onion, mushroom and gruyere – add a splash of balsamic during the last minute of caramelizing those onions for extra flavor.
Goat cheese, cherry tomatoes and fresh herbs – just make sure to get most of the juice out of the tomatoes to keep them from making the quiche watery.
Broccoli cheddar – this one is great for kids! I've got a recipe for mini crustless broccoli cheddar quiches here if that's more your style.
Mediterranean with feta, kalamata olives, cherry tomatoes, red onion and fresh basil and maybe some spinach.
Asparagus, sun-dried tomatoes, fresh herbs and either goat cheese or feta.
Really the possibilities are endless and it's fun to play around with quiche ingredients. Just make sure not to add too many veggies or the overall egg to filling ratio will be off.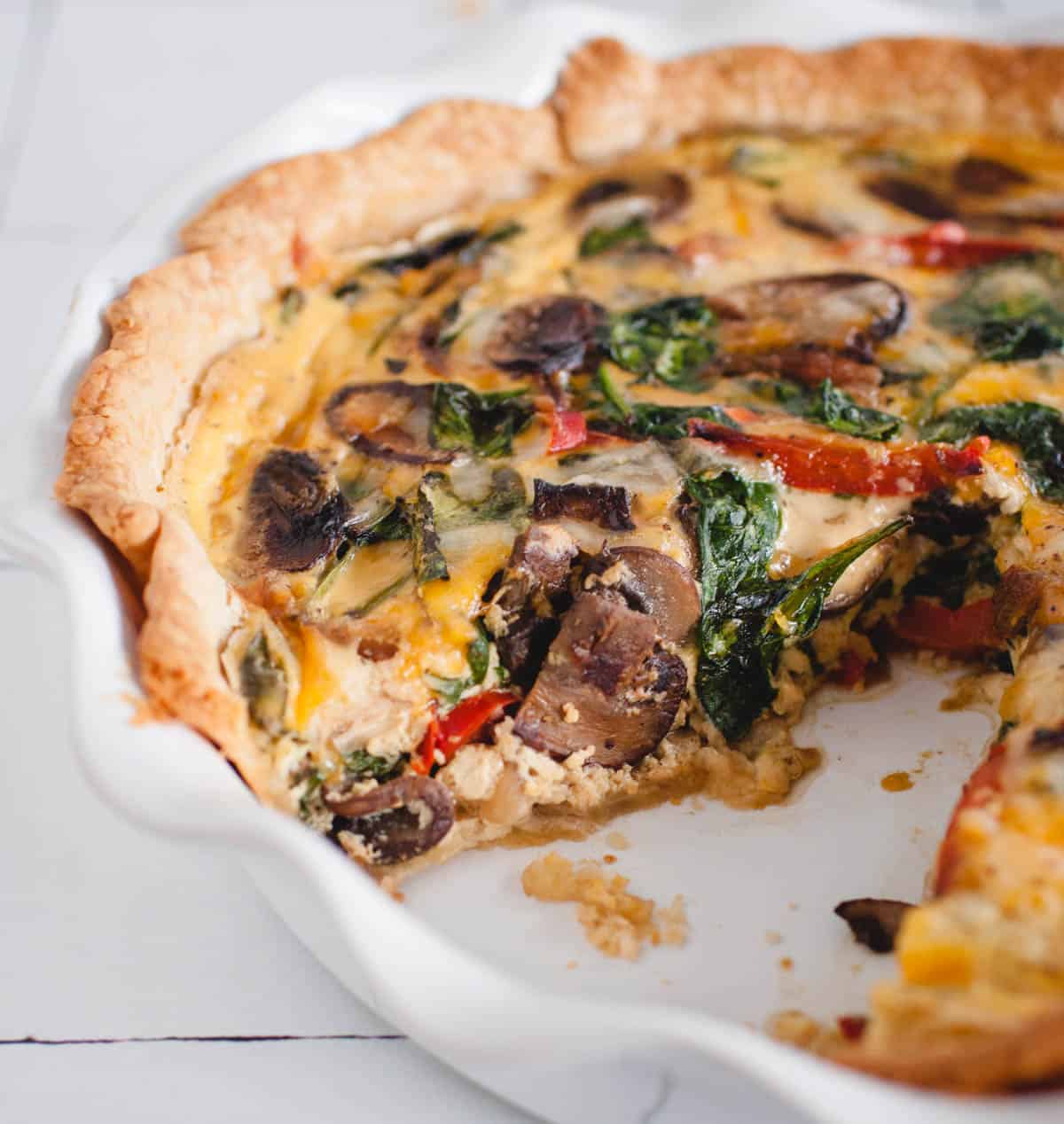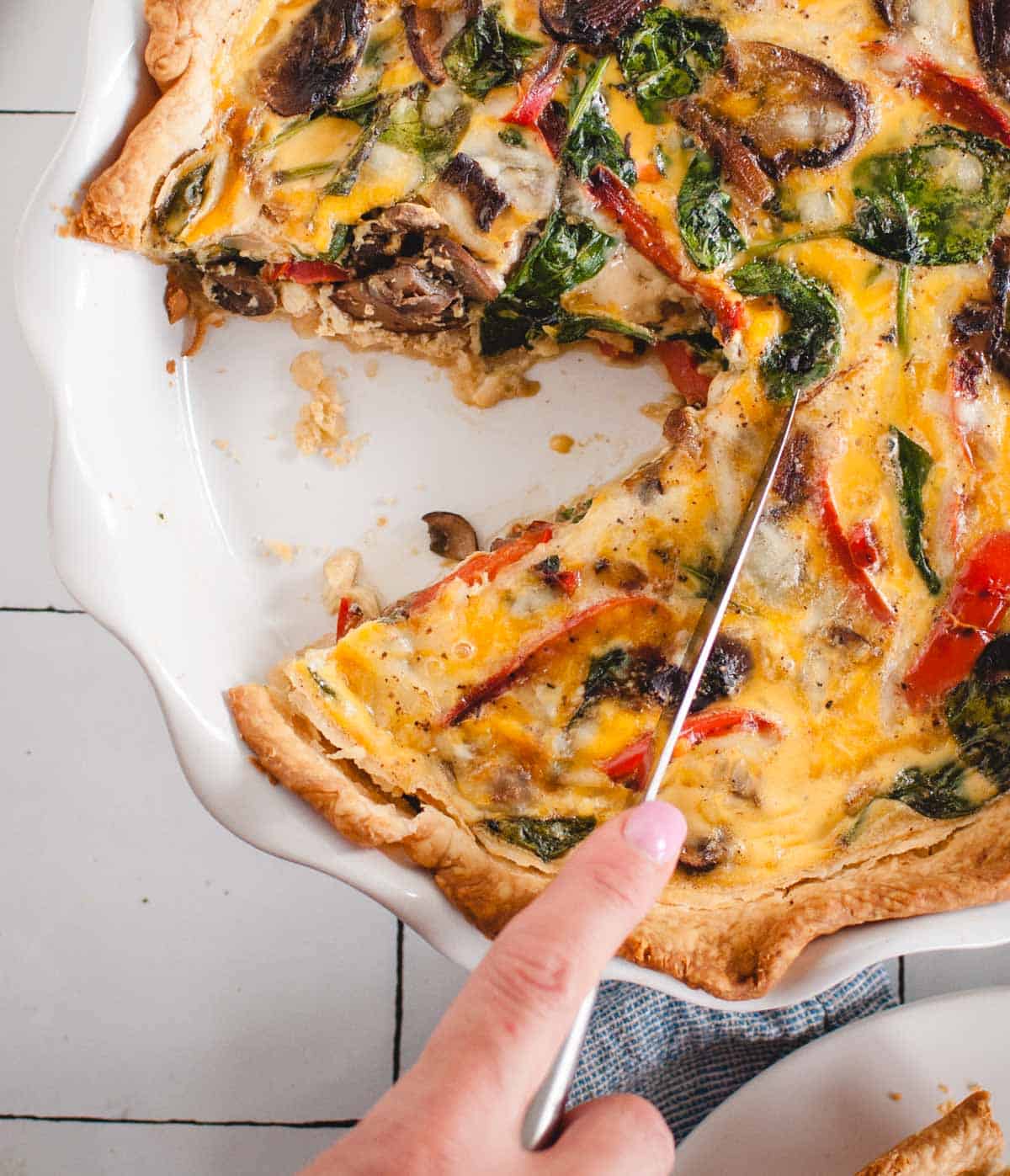 Tips and Tricks:
Place your quiche pan on a baking sheet to make it easier to take in and out of the oven.
If you are using a homemade crust and don't want to par-bake, place the pan in the bottom third of the oven to help the bottom crust become more crisp.
Make sure to cook the mushrooms cook down all of the way until they've released all excess liquid.
More breakfast and brunch recipes
If you want other breakfast or brunch recipes you can always peruse our catalog of breakfast recipes or here are some of my breakfast and brunch favorites:
(Recipe originally published January 31, 2014, but pictures and post text were updated May 20, 2019 and again on September 13, 2022. Recipe was also updated to use less liquid to easily fit into a 9″ pie pan)
The best easy veggie quiche recipe using milk, loads of vegetables and pre-made crust for a quick, healthy vegetarian breakfast.
Ingredients
1 tsp. avocado oil (or whatever type of oil you prefer)
1/2 onion, sliced into thin strips
1 red pepper, seeded and sliced into thin strips
1 tsp. minced garlic
1/2 lb. mushrooms, sliced
2 cups loosely packed baby spinach If spinach pieces are large, chop a few times to break up
1 1/2 cups milk (I used whole milk but 2% is fine, DO NOT use non-fat)
5 eggs
1/4 tsp. salt
1/4 tsp. pepper
1/8 tsp. nutmeg
1/2 cup grated cheese (sharp cheddar, swiss, or gruyere work great)
Instructions
Preheat oven to 375° F (190° C).

Heat oil in a medium sized pan. Add onions and peppers and sauté for 2-3 minutes until onions start to turn translucent.

Add mushrooms and garlic and cook until mushrooms are cooked through and all water in pan has evaporated, approximately 5 minutes. Remove pan from heat and add spinach. Stir for 1 minute longer until spinach is wilted and set aside.

Crack eggs and whisk until frothy. Add milk, salt, pepper, and nutmeg and whisk until frothy (2-3 minutes).

If veggies are watery, remove any excess liquid from the cooked veggies by squeezing them in a kitchen towel or paper towels over the sink (this keeps the crust from getting soggy).

Remove frozen pie crust from freezer or unroll refrigerated pie crust and press into 9-9 1/2" inch pie pan.

Place veggies on top of crust in pie pan in an even layer. Sprinkle cheese on top. Pour egg mixture evenly over the veggies and cheese.

Bake for 35-40 minutes until starting to brown on top. Remove from oven and let sit for 5-10 minutes before cutting and serving.
Notes
*Recipe has been adjusted to use less liquid to fit into a 9″ pie pan.
Place quiche pan on a baking sheet to make it easier to take in and out of the oven.
If using homemade crust and don't want to par-bake, place pan in the bottom third of oven to help the bottom crust become crisper.
Cook vegetables down all of the way to avoid a watery quiche.
To make ahead all filling steps can be done ahead and the vegetables, cheese and egg / milk mixture can be refrigerated together in a sealed container for up to 48 hours. When ready to use, just pour into a pie crust and bake.
Freeze the crust and filling separately. Prep all of the filling (veggies, milk/egg, cheese) and put all into a bag or freezer safe container. Lay flat and freeze for up to 3 months. To use, let the filling defrost in the fridge overnight or place the container of filling into a pan of water to defrost faster. Pour the filling into the pie crust and bake as you would normally.
Freezing leftovers can be frozen as individual servings in tightly sealing containers for 1-2 months. Defrost in the refrigerator overnight or on the defrost setting on your microwave.
Reheating leftovers can be done by microwaving each serving for 30-60 seconds. It helps to cut the quiche slice into several pieces so it microwaves more evenly.
To reheat a full quiche that you've already fully baked, let it warm in a pre-heated 350° (175° C) oven until the center is warm. You can check by inserting an instant read thermometer into the center and it will read 165° F (73° C). For a cold quiche, this will take 30-35 minutes. It will heat much faster if the quiche is already room temperature. If edges are getting too dark, foil strips can be crinkled around them to prevent burning.
Nutrition
Calories: 286kcal | Carbohydrates: 21g | Protein: 12g | Fat: 17g | Saturated Fat: 7g | Polyunsaturated Fat: 2g | Monounsaturated Fat: 6g | Trans Fat: 0.01g | Cholesterol: 153mg | Sodium: 343mg | Potassium: 414mg | Fiber: 2g | Sugar: 5g | Vitamin A: 1952IU | Vitamin C: 30mg | Calcium: 185mg | Iron: 2mg