Easy veggie quiche recipe that uses milk instead of cream and loads of veggies to lighten up this breakfast classic while keeping it simple & quick to make.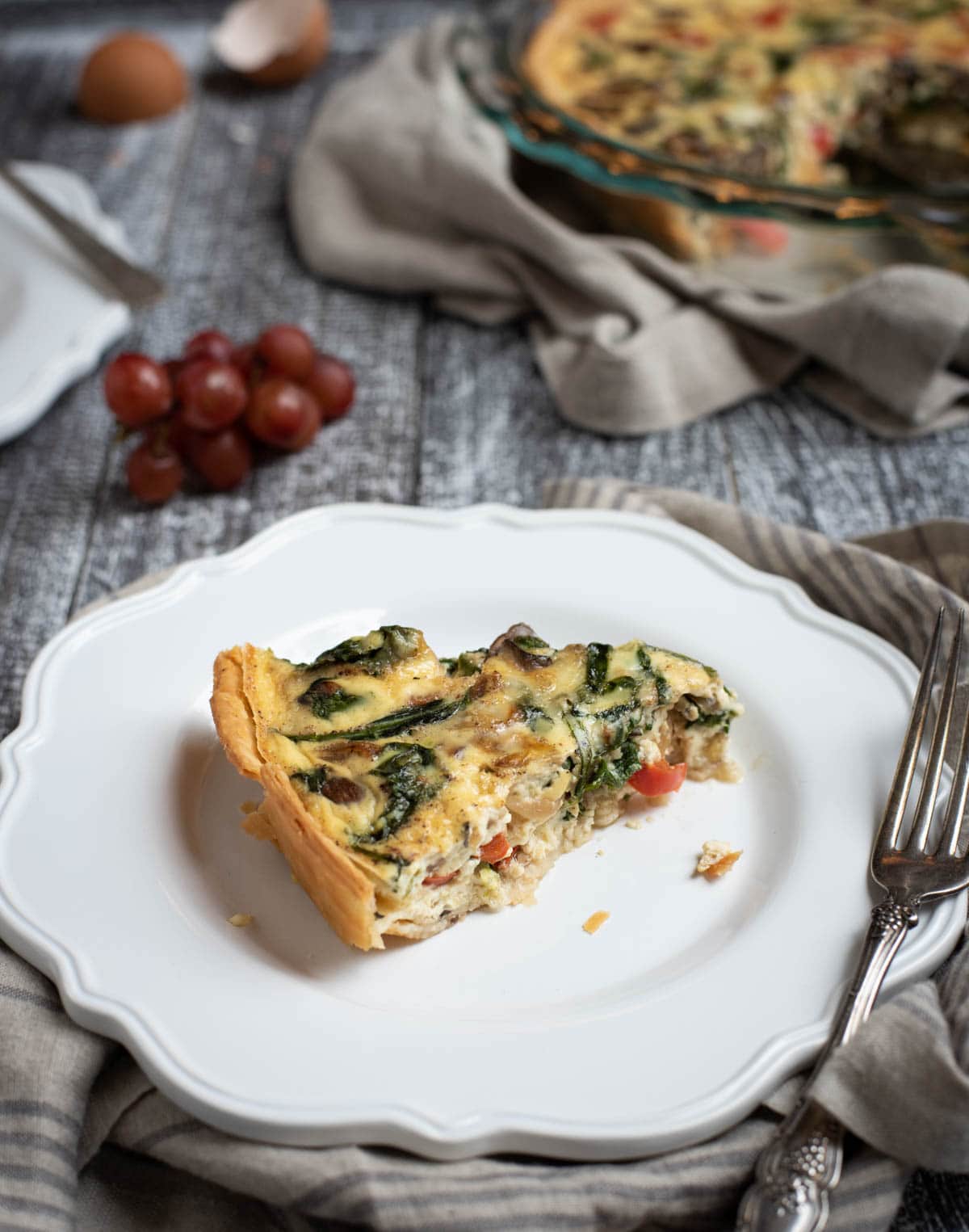 (Recipe originally published January 31, 2014, but pictures and post text have since been updated)
I think I can safely say that quiche is one of my all time favorite things to make. Quiches are one of those breakfast foods that make it look like you went all out and spent a lot of time and effort, when in reality they are soooo easy. Seriously, I can have one prepped and ready to go in the oven in under 15 minutes, making this a perfect brunch for vegetarian (or meat eating!) guests, holidays, a potluck, or just to eat and horde to yourself.
Plus, its a great way to use up leftover veggies before they go bad! Although ham or some other breakfast meat can jazz things up, with all of the eggs, milk, and cheese, you really don't need to add any meat since there's already a good amount of protein and tons of flavor. Case in point - check out all these awesome veggies: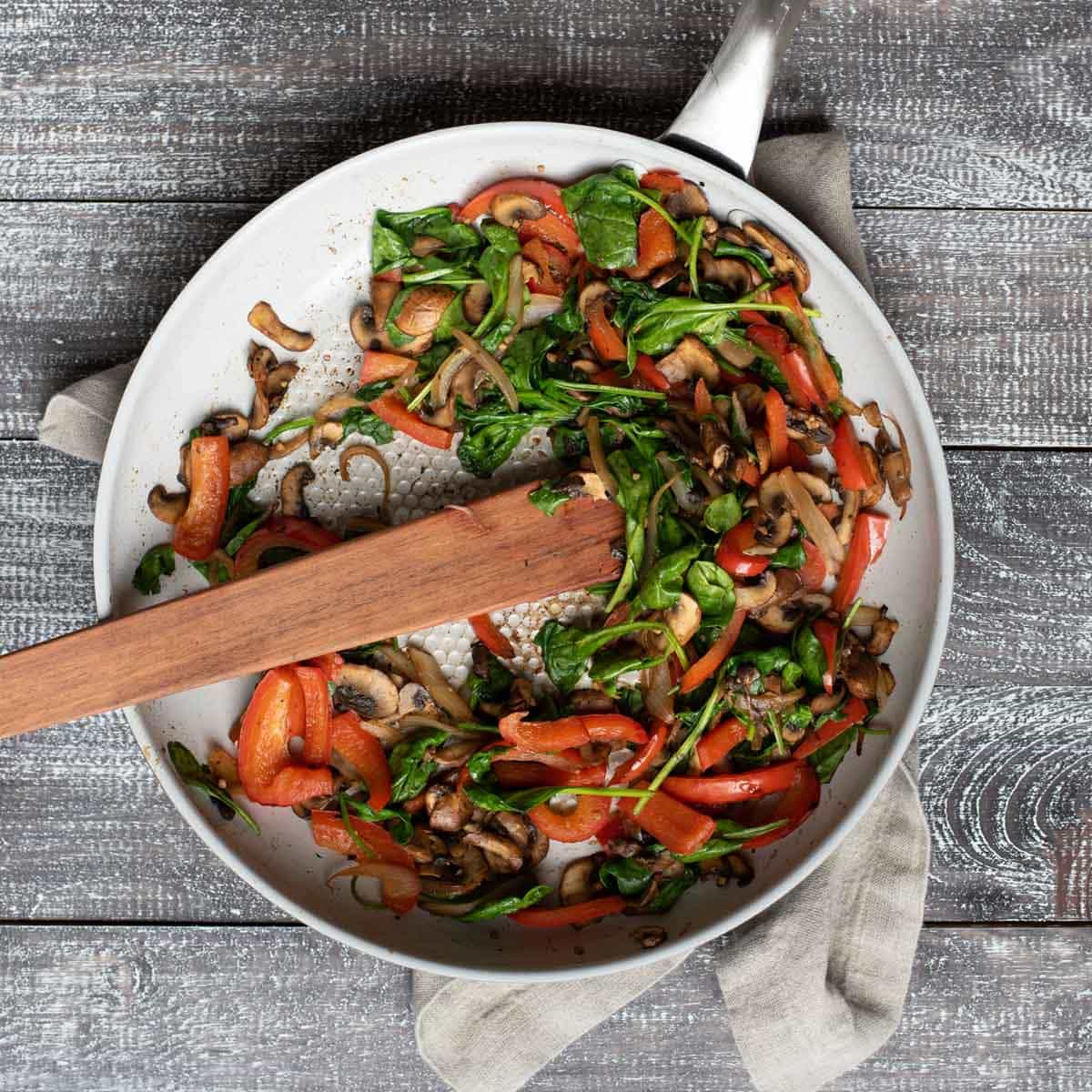 See? The meat just isn't necessary here. Use a good cheese and you're good to go. I love using either a sharp cheddar or gruyere but any cheese is welcome here. I've even done feta which was a nice change of pace. Each generous slice has 12 grams of protein and less than 300 calories, and that's using whole milk too.
This easy veggie quiche reheats well too for quick weekday breakfasts that are actually satisfying! Screw the cold cereal. The crust won't be quite as crisp reheated in the microwave, but eh, that's to be expected. The flavor is all still there.
Or, make it for a weekend brunch and impress the homies. It'll seem way fancier than it actually is and people always seem to be impressed by it. They don't need to know the crust is store-bought. Secret's safe with me.
And when I labeled this EASY veggie quiche, I did so for a reason. It truly is simple to make. And not using meat means the veggies cook up fast, there's minimal cheese to grate, and the filling just takes a couple cracked eggs and a minute or two to whisk up.
It takes a fair amount of time to cook, but the hands-on time is minimal. The steps below show how simple it is to assemble this easy veggie quiche. Veggies, cheese, then pour on the egg/milk filling and bake. Boom. Done.
My love affair for quiches really started when I discovered refrigerated pie crusts. I use the Pillsbury brand and know they are far from healthy and don't use butter from grass-fed cows or organic flour or anything that I normally would opt for, but they work. All of the fancy-shmancy organic, natural brands I've tried have sucked. They either break as you're spreading them out, aren't quite the right size or suffer from some other less than preferable crust characteristic. If you have a recommendation, please let me know and I'll be sure to update this post if I find one myself! For now, Pillsbury it is.
Sometimes I even just go crust-less, but the crust is really one of my favorite parts so, I only do this when I'm on a solid clean eating streak. I use one of these silicone baking moulds when I do a crustless quiche so that the egg doesn't stick but you could probably just grease a pie tin instead.
I also usually use one of these pie shields to keep the top crust from getting overly browned. It isn't entirely necessary for quiches since they aren't in the oven as long as pies, but it helps sometimes. I certainly wouldn't rush out and buy one to make this recipe, but if you already have one, bust it out.
If quiche just isn't your thing, I've got a strawberry banana steel cut oat bake that is simply divine, some delicious oat flour waffles, and a ton of other breakfast recipes for you to check out. I know you'll find something you'll like!
Easy Veggie Quiche
Easy veggie quiche recipe that uses milk instead of cream and loads of veggies to lighten up this breakfast classic while keeping it simple & quick to make.
Ingredients
1

tsp.

avocado oil

(or whatever type of oil you prefer)

1/2

onion, sliced into thin strips

1

red pepper, seeded and sliced into thin strips

1

tsp.

minced garlic

1/2

lb.

mushrooms, sliced

2

cups

loosely packed spinach

1

refrigerated pie crust

1 1/2

cups

milk

(I used whole milk but 2% is fine)

5

eggs

1/4

tsp.

salt

1/4

tsp.

pepper

1/8

tsp.

nutmeg

1/2

cup

grated cheese

(sharp cheddar, swiss, or gruyere work great)
Instructions
Heat oil in a medium sized pan. Add onions and peppers and sauté for 2-3 minutes until onions start to turn translucent.

Add mushrooms and garlic and cook until mushrooms are cooked through, approximately 5 minutes. Add spinach and cook 1 minute longer until spinach is wilted. Remove pan from heat and set aside.

Unroll refrigerated pie crust and press into 9.5 to 10" inch pie pan. Set aside. 

Crack eggs and whisk until frothy. Add milk, salt, pepper, and nutmeg and whisk to mix in.

Remove any excess liquid from the cooked veggies by squeezing them in a kitchen towel or paper towels over the sink (this keeps the crust from getting soggy).

Place veggies on top of crust in pie pan in an even layer. Sprinkle cheese on top. Pour egg mixture evenly over the veggies and cheese.

Bake for 40-45 minutes until starting to brown on top. Remove from oven and let sit for 5-10 minutes before cutting and serving.

Notes
*Recipe has been edited to use a 9.5 - 10" pie pan. I manually measured mine and it was labeled 9" but was actually 9 1/2 inches. 
Nutrition
Calories:
287
kcal
|
Carbohydrates:
21
g
|
Protein:
12
g
|
Fat:
17
g
|
Saturated Fat:
6
g
|
Cholesterol:
152
mg
|
Sodium:
343
mg
|
Potassium:
399
mg
|
Fiber:
1
g
|
Sugar:
5
g
|
Vitamin A:
1950
IU
|
Vitamin C:
29.9
mg
|
Calcium:
175
mg
|
Iron:
2
mg
Did you make the recipe? I love seeing your creations!
To be featured tag @FeastingNotFasting on Instagram and use the hashtag #FeastingNotFasting - please leave a star rating below too! ★★★★★