This healthy crustless quiche is the perfect breakfast! Lightened up with whole milk while ham and broccoli make it kid friendly but still delicious.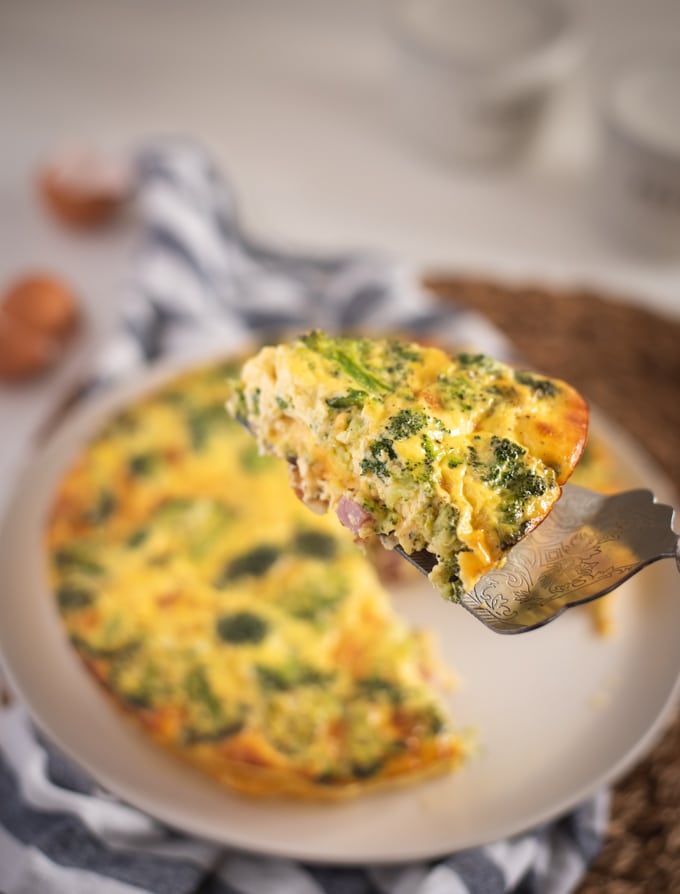 Why you should make a crustless quiche
While I love quiches with crust, it's no secret that pie crusts aren't the healthiest part of the quiche. The trick to not missing the crust is perfecting the filling and baking technique. When the filling is tasty enough on it's own, you really don't need a crust. Even my toddler loves it! It's one of my sneaky go-to ways to get her to eat broccoli.
Adding ham, broccoli, or whatever other ingredients you choose adds additional nutrition with barely any added carbs. With so many people doing Keto, low-carb, or macro tracking diets these days, crustless quiches are king for their protein content (18g per serving) and lack of carbs. Plus, crustless quiche is extremely low calorie at 217 calories per slice. I mean, that's almost half the calories of a standard ham and broccoli quiche with crust.
Crustless quiche is easy to make too. And by easy, I mean eeeeeasy. Like, 15 minutes of prep, only 8 ingredients, pop it in the oven and enjoy kind of easy.
While you can use whatever ingredients you want as add-ins, but ham and broccoli contribute to the easy factor. Ham is already cooked and the broccoli just needs a quick sauté.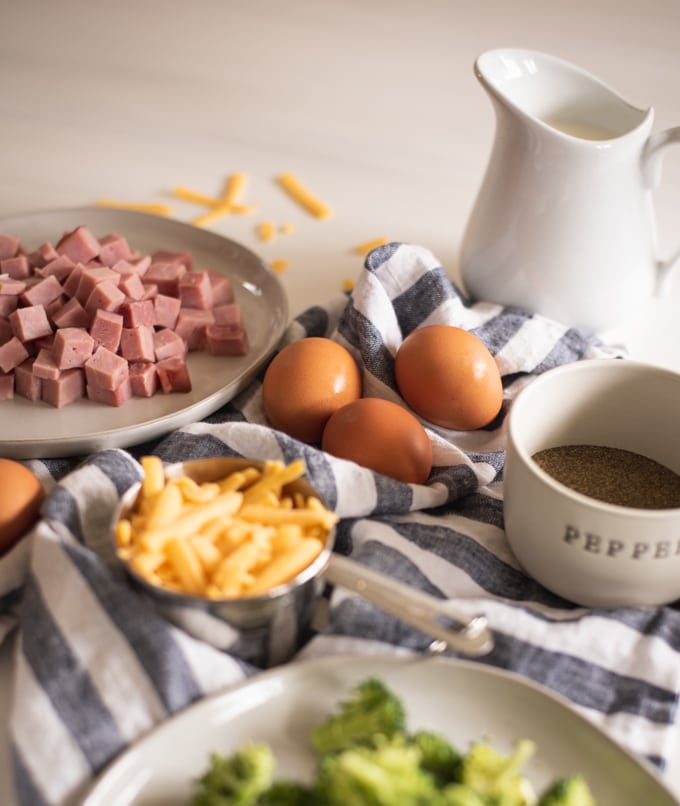 It also reheats perfectly throughout the week for quick weekday breakfasts, making life even easier. I'm all about that easy life these days and I suspect you probably are too.
To re-cap, here's why you need this quiche in your life:
kid-friendly
light and healthy
keto / low-carb friendly
high in protein
reheats well
its easy to make
How to make a crustless quiche
I know I've stated how easy it is, but here's the step where I show you. First you dry sauté the broccoli.
Then, you beat the eggs, milk, mustard, salt, and pepper until it looks like this: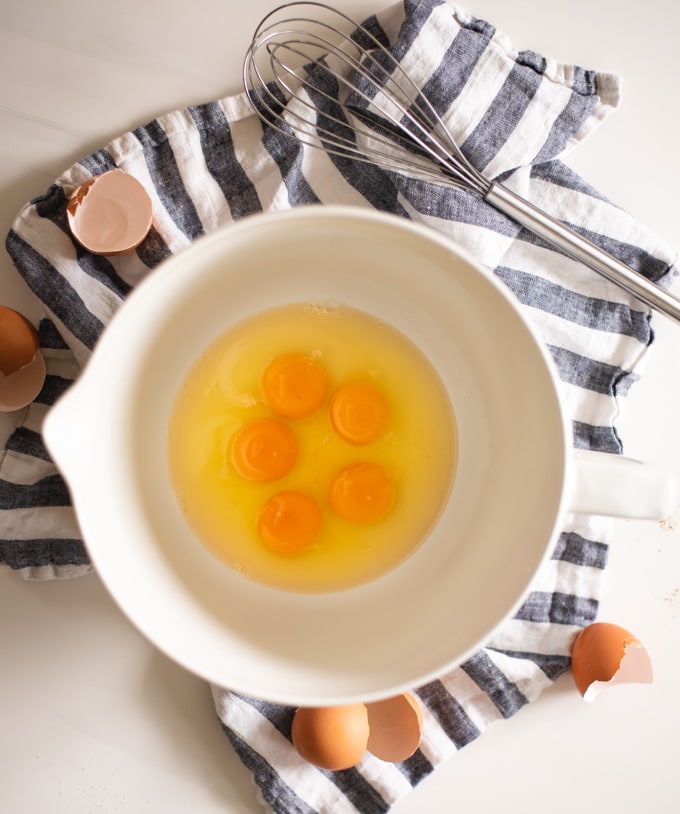 From here, you place the broccoli, ham, and cheese in a pan like so: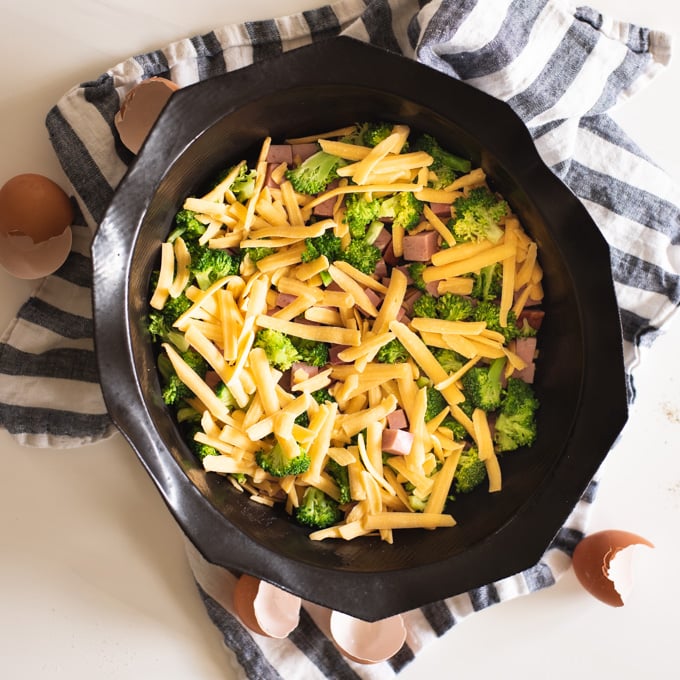 Then pour the milk/egg mixture over the top of it and place the pan in the oven. Bake for 35-40 minutes, pull it out and let it sit for 15 minutes, and then serve. See, that was easy as can be!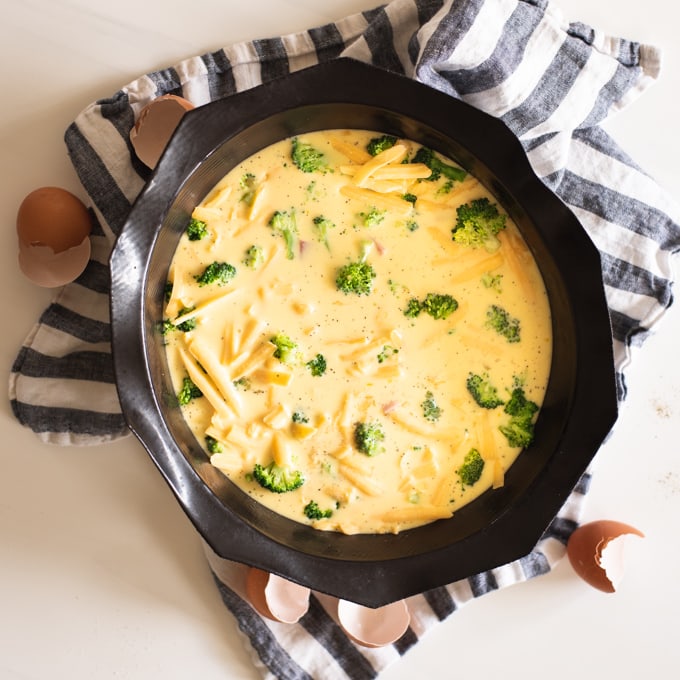 What is the best pan?
I prefer a Demarle cake pan which I LOVE, but they're kind of expensive and not necessary to make this recipe work. Here are some cheaper silicone pans that would be a great alternative. I made it the other day in a regular pie tin and it turned out excellent too so just work with what you have. I rubbed more butter on the pan to grease it than I normally would with a cake or casserole to make sure it wouldn't stick to the edges too bad.
Whatever you do, don't use your fancy, quiche/tart pan with a removable bottom. Those depend on crust to keep the liquid from seeping out. Using a Demarle pan, you can just slide it on out onto a plate or serving platter. With a pie tin, you just serve the quiche directly out of whatever pan you baked it in, which is totally fine. Pinkies down folks.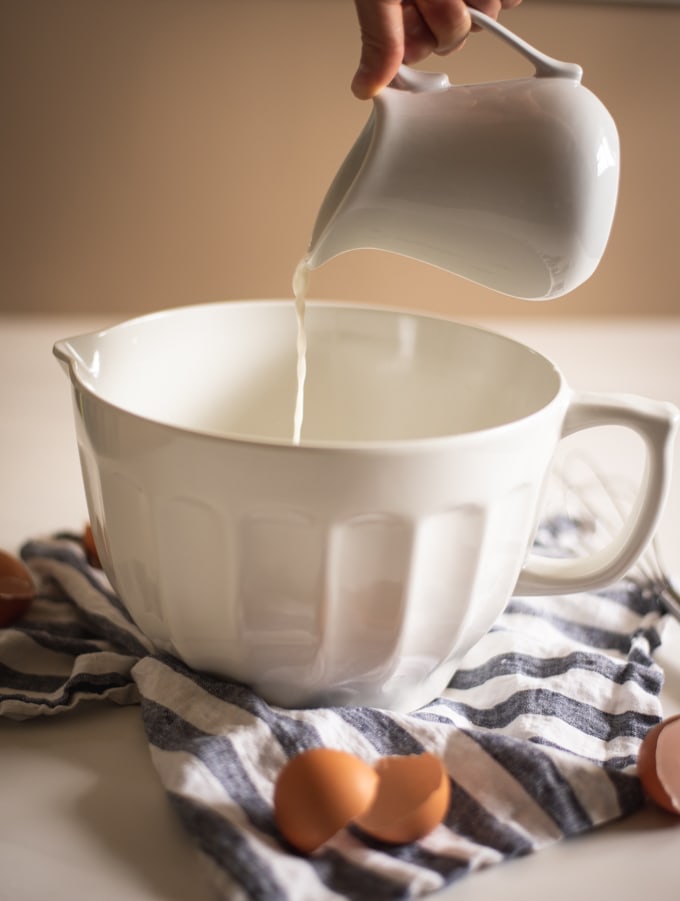 Crustless quiche ingredient options
The options are truly endless here. As long as you keep the fillings to about 3 cups +1 cup of cheese you'll do alright. You can add more cheese (in fact, its delicious to add more!), but I warn you against adding more veggies since that will affect the egg to filling ration more noticeably.
Here are a few combinations I love:
Roasted red pepper, feta, basil
Mushrooms, caramelized onion and gruyere (make sure to squeeze any excess water out of those cooked mushrooms)
Spinach, onion and bacon
And vegetarians that just want a broccoli quiche without any of that ham nonsense, I've got you covered. If you leave out the ham, I suggest upping the broccoli to 2 or 2 1/2 cups, increase the salt to 1/2 tsp. and add an extra cup of cheese. You can get away with one cup of cheese still but the quiche won't be as flavorful.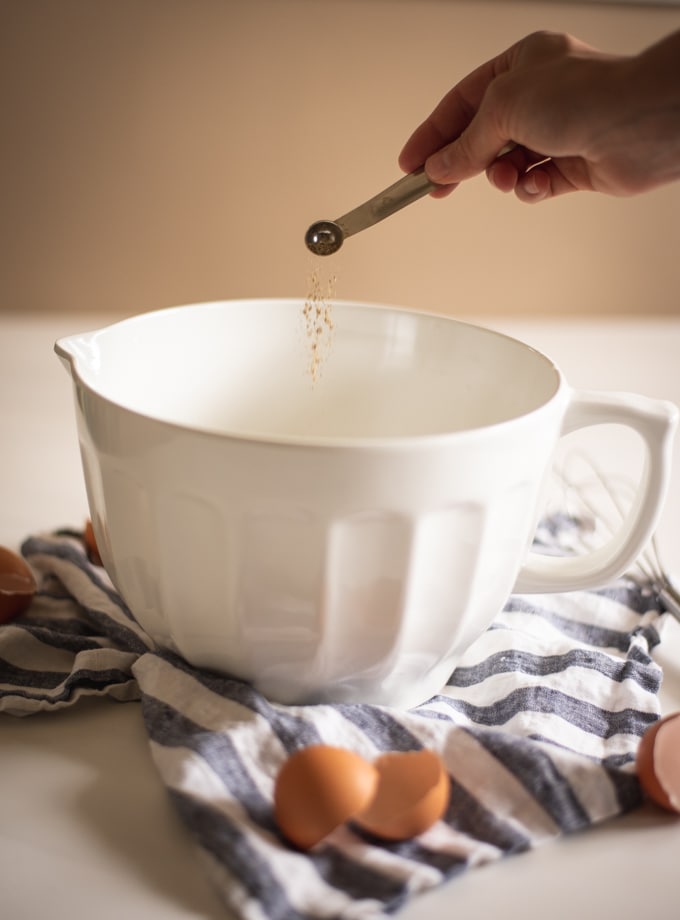 Tips for making THE BEST crustless quiche
I've made this exact same recipe about a dozen times this past year, maybe even more. To say I've got it down to a science is an understatement. There are many important elements of a perfect crustless quiche so I broke them out into a list for you:
Cook water off add-in ingredients by sautéing. I've tried adding steamed or microwaved broccoli to try to speed it up, which made the quiche watery in the end.
Squeeze water out of ham and broccoli if it seems to be really moist. I don't always find this necessary but sometimes the ham is pretty juicy, especially if you buy pre-cubed ham pieces packaged in water. I usually buy a slice of ham steak and cube it myself or use leftover ham (cube it freeze it next time you have some leftover!).
Butter the pan heavily. this is necessary if using a metal or glass pan. Alternatively, use a nonstick Demarle cake pan to avoid this.
If making for a toddler or baby, break the broccoli into smaller pieces so they can't pick it out. Similarly, I notice that when I chop the ham smaller, mine is more likely to eat the egg and broccoli since it's harder to pick the ham pieces out.
Use good cheese – sharp cheddar or a gruyere/ Swiss blend are my favorites.
Don't over bake! Bake until the outside is firm and starting to brown but the very center still has some jiggle to it when you pull it out of the oven. If it bakes too long, a quiche will become watery.
Don't raise oven temperature to speed up baking time. Bake low and slow as the recipe instructs. If the eggs overcook, the proteins in the eggs break down and release water making the quiche watery.
Don't use skim or low-fat milk. The best quiches are made with cream, but this is a healthy crustless quiche recipe and using whole milk makes for a lower fat alternative that still has that silky, creamy texture that makes quiches so enticing. Don't skimp on this!
Don't bake on very top rack. Using a rack set to the bottom 1/3 of the oven will allow more moisture to cook off.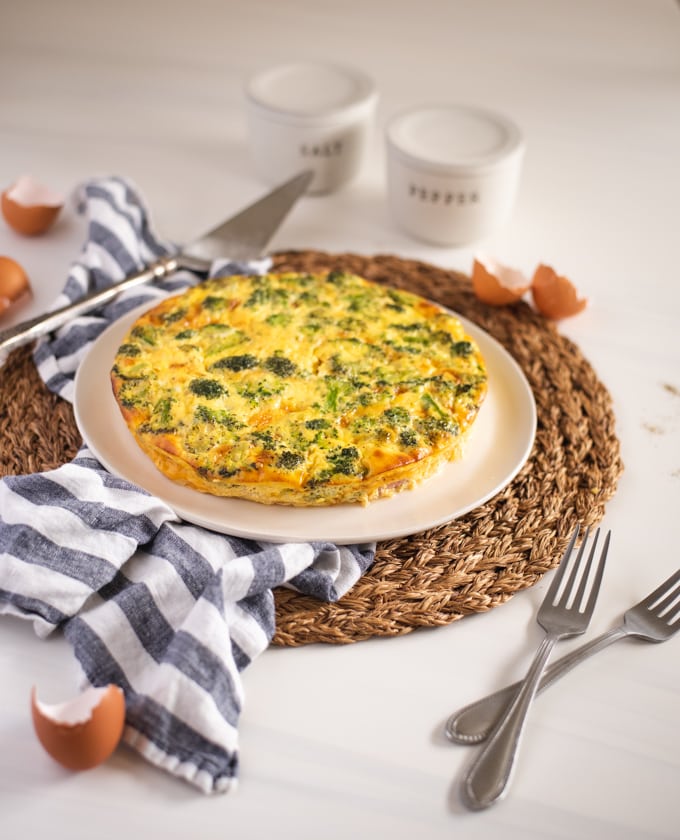 What to do if your quiche comes out watery
Sometimes a quiche can turn out watery or will have a texture that isn't smooth. Follow the previously outlined tips to avoid this, but in case you miss them, here are a few things you can do to try to salvage your quiche.
Use a kitchen towel to protect your hands and tilt the pan and drain out any excess water. You may have to do this several times over the course of a few minutes since the overcooked egg will continue to release water while it sits.
If you're using a silicone baking pan and can slide the quiche out onto a plate, this will allow you to soak up more of the liquid being released. If you're using a regular pie tin, you can remove a slice and then tilt the pan in the direction of the missing slice so the water pools there and you can soak it up with paper towels or a clean kitchen towel.
I know, non of these recommendations are groundbreaking. Follow the tips I gave earlier on to make sure you never have to try to salvage a watery quiche!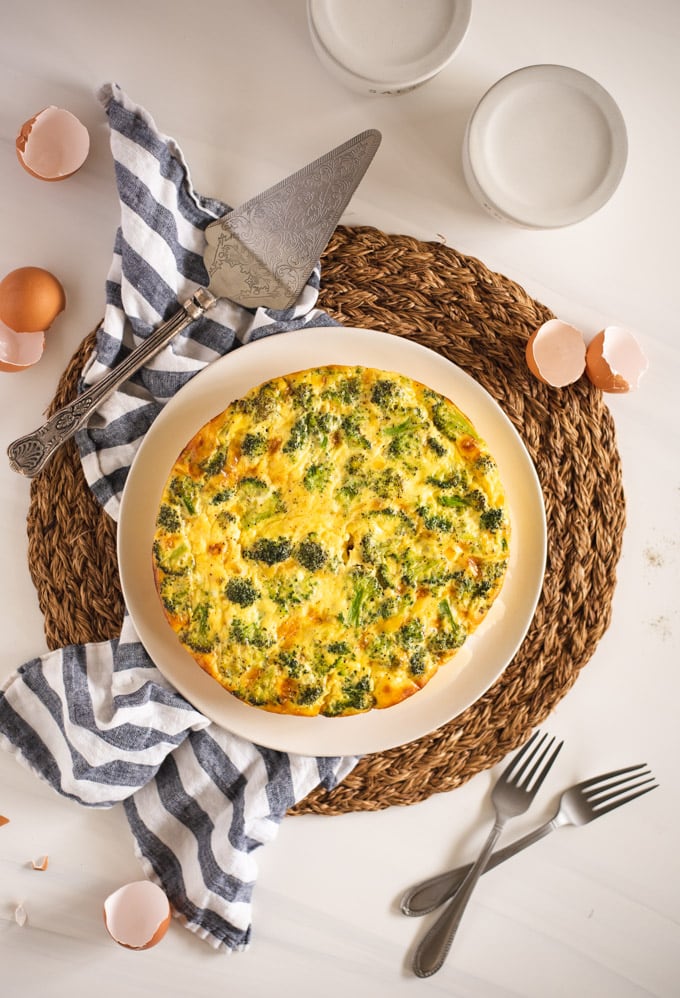 Preparing ahead of time
You certainly can pre-bake the quiche and then reheat it, but I wouldn't do this for guests since it doesn't end up the same as a freshly baked quiche. That being said, a lot of the prep work can be done in advance. You can mix the egg/milk mixture ahead of time and can even freeze it in a tightly sealing container. Just pull it out and let it defrost in the refrigerator the night before you plan to make it.
Similarly, you can sauté the broccoli the night before, grate the cheese, cube the ham, etc. and keep these ingredients refrigerated until you intend to use them.
Once baked, I heat quiche slices back up in the microwave. I usually cut a slice into 2-3 pieces to make sure it heats evenly and heat for 30-40 seconds, but the time will vary based on the strength of your microwave. Quiche reheats well for 3-5 days.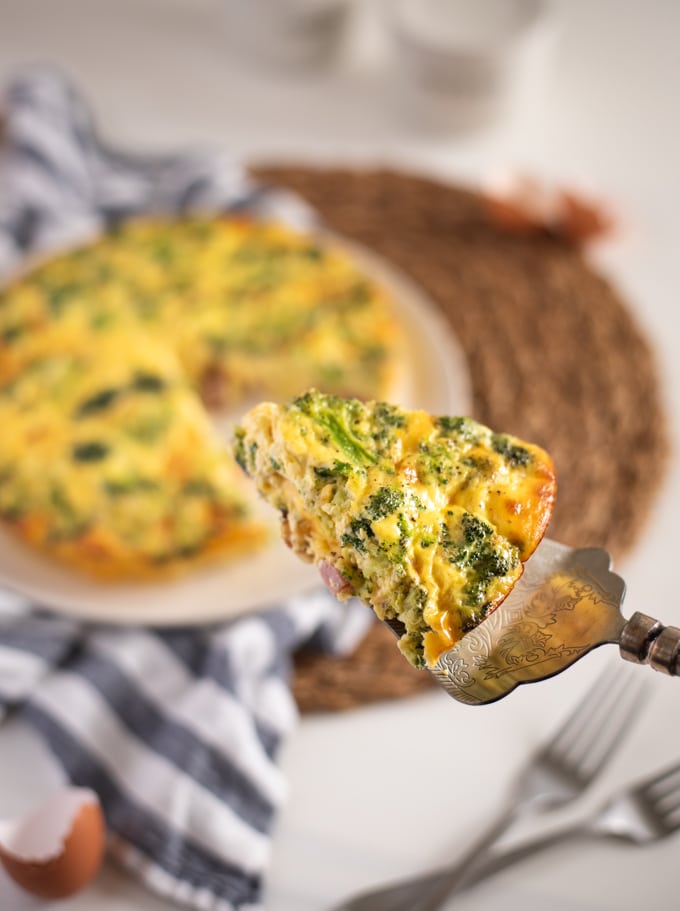 Looking for more breakfast or brunch recipes?
When it comes to breakfast recipes and hosting brunch parties, I've got you covered. Here are some of our healthy breakfast favorites:
This healthy crustless quiche is the perfect breakfast! Lightened up with whole milk while ham and broccoli make it kid friendly but still delicious.
Ingredients
1 1/2 cups broccoli florets
5 eggs
2 cups whole milk*
1 tsp. dijon mustard
1/4 tsp. salt
1/4 tsp. black pepper
1 cup cheese (I use cheddar or a gruyere/Swiss blend)
1 1/2 cup ham cubes
Instructions
Preheat oven to 350° F (177° C).

Heat broccoli florets in a small sauté pan over medium heat and dry sauté without any oil for 5-10 minutes until cooked and starting to lightly brown.

While broccoli is cooking, crack eggs into a medium sized bowl. Add milk, mustard, salt, and pepper. Whisk with a wire whisk until bubbly and mixed thoroughly.

Spread broccoli, ham, and cheese out in a silicone 9" round baking dish or a buttered 9" pie tin (make sure it is buttered thickly to keep from sticking). If using a silicone baking dish, make sure to put it onto a metal sheet pan to allow it to be easily put into and pulled from the oven.

Pour egg mixture evenly into baking dish. Place pan in oven and cook for 35-40 minutes until quiche is cooked through, starting to lightly brown, but still jiggly in the center.

Remove quiche from oven and let cool for 15 minutes before cutting and serving. Keep leftovers for 3-4 days in the refrigerator, reheating using the microwave.
Notes
*Do NOT use low fat or nonfat milk. To make recipe vegetarian, leave out the ham, increase the broccoli to 2 1/2 cups (or add a cup of another veggie), increase the salt to 1/2 tsp. and add an extra cup of cheese.
Nutrition
Calories: 217kcal | Carbohydrates: 7g | Protein: 18g | Fat: 14g | Saturated Fat: 7g | Cholesterol: 180mg | Sodium: 672mg | Potassium: 248mg | Fiber: 1g | Sugar: 5g | Vitamin A: 660IU | Vitamin C: 20mg | Calcium: 259mg | Iron: 1mg