This isn't your standard boring green salad and just might end up being your favorite! The curry balsamic dressing is all kinds of delicious - try it today!
I know right now you probably have some doubts about how well curry and balsamic can possibly go together, but you're going to have to trust me on this one. They're a match made in salad dressing heaven, oh so tasty!
We normally don't keep bottled salad dressing around and just whip up a small batch of balsamic dressing whenever the need arises. Balsamic dressing is great an all, but sometimes my taste buds just crave something a little bit different. Something a little exotic even. In comes curry to save the day!
I warned you a while back that I have been on a curry kick and I didn't lie when I said I was adding it to EVERYTHING. I made this salad to accompany some saucy Indian curry and after getting rave reviews, made it a few more times. At this point, its a staple in our house, and whether there's curry to pair it with or not, its always a welcome accompaniment to any meal.
You can even add beans or chicken and call it a whole meal. As with most salads, the customization options are truly limitless.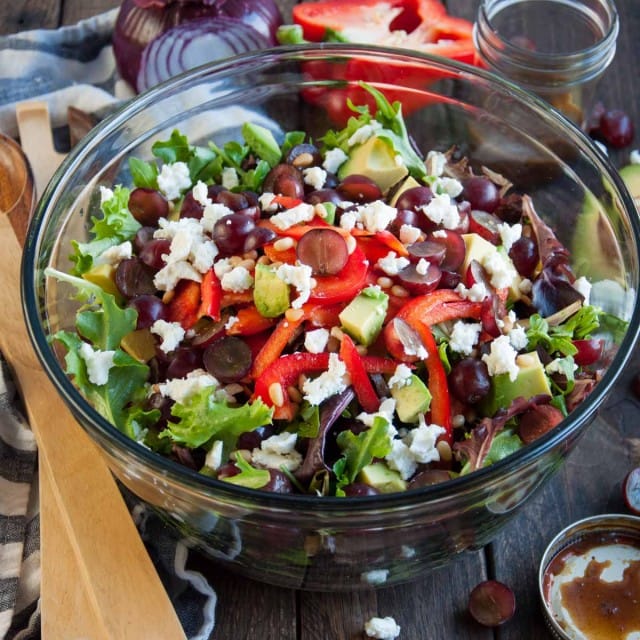 If you're intimidated by the thought of making your own dressing, its a lot easier than you think. Mine typically come together in about 3 minutes using a mason jar to speed the mixing up. I feel like such a cliche for my over use of mason jars, but they're just so darned convenient. And cute. I like these half pint jars
best, but really any small container with a tight fitting lid will do the trick.
I find the 'emulsify by shaking' method a bazillion times easier than actually pouring the oil in while whisking at the same time. My multitasking skills just aren't up to snuff when it comes to that kind of coordination and I hate having gross, separated salad dressing. If you don't make salad dressing this way, give it a try. Its super duper easy.
With salad season right around the corner, its about time to up your salad game and branch out from the basic. If you're looking for other salad ideas, this strawberry balsamic and this lemon kale salad are some of my absolute favorites. Regardless of the salad you choose, have a great week and enjoy the spring weather if you've got it!
Green Salad with Curry Balsamic Dressing
This isn't your standard boring green salad and just might end up being your favorite! The curry balsamic dressing is all kinds of delicious - try it today!
Ingredients
6

cups

salad greens

1 1/2

cup

grapes

(halved)

1/4

cup

toasted pine nuts

1/2

of a red bell pepper

(thinly sliced)

1/2

of a medium avocado

(cubed)

1/3

cup

feta cheese

(optional)
Instructions
Toss salad greens, grapes, pine nuts, bell pepper, and avocado together.

Add all dressing ingredients to a small container with a tightly fitting lid (I use a mason jar) and shake to mix well.

Pour dressing over salad and toss to coat before serving.
Nutrition
Calories:
235
kcal
|
Carbohydrates:
20
g
|
Protein:
5
g
|
Fat:
16
g
|
Saturated Fat:
3
g
|
Cholesterol:
12
mg
|
Sodium:
217
mg
|
Potassium:
442
mg
|
Fiber:
3
g
|
Sugar:
13
g
|
Vitamin A:
1275
IU
|
Vitamin C:
37.5
mg
|
Calcium:
84
mg
|
Iron:
1.7
mg
Did you make the recipe? I love seeing your creations!
To be featured tag @FeastingNotFasting on Instagram and use the hashtag #FeastingNotFasting - please leave a star rating below too! ★★★★★