Creamy, delicious green smoothie bowl to power your morning and kick start your day with 11 grams of protein, 9 grams of fiber, and an abundance of vitamins and nutrients.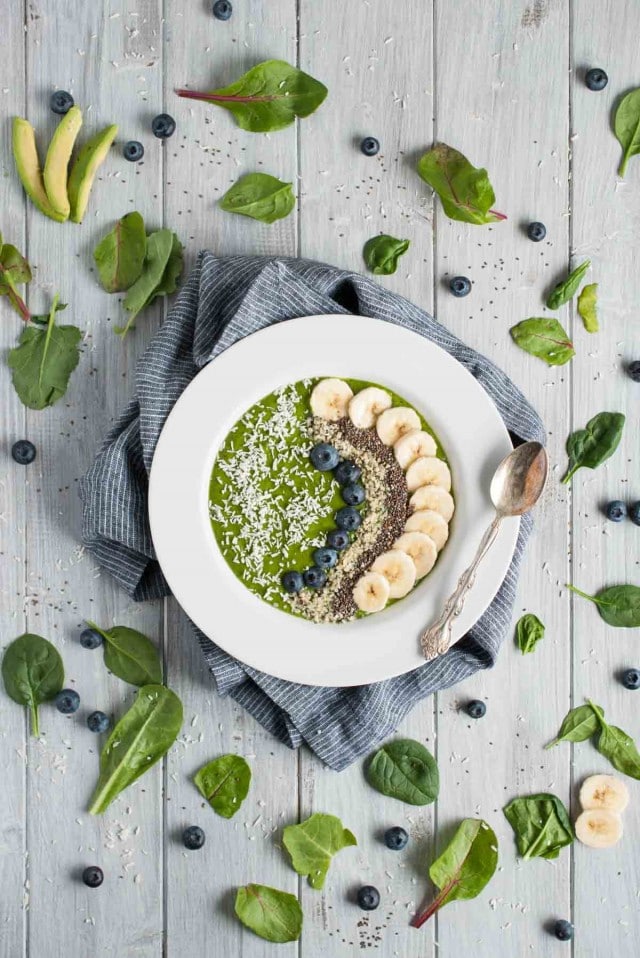 Have you tried a green smoothie bowl yet? I learned via Instagram that they are all the rage lately so I jumped on the bandwagon and decided to try eating my morning smoothie with a spoon. The verdict: oddly satisfying, nice texture, and just as crazy delicious as their drinkable counterpart. Plus, they're pretty.
So what is a green smoothie bowl? Its basically a smoothie with fruit and veggies poured into a bowl, then sprinkled with all kinds of toppings to add texture and variety. I'm kinda digging this because the add-ins makes me feel like I'm eating a heartier breakfast.
Also, high protein toppers like chia seeds and hemp hearts will keep you full longer. If you're a regular smoothie drinker, you've probably made a few that have left you ravenously hungry an hour later. That's not fun when you're stuck in traffic, the office, or anywhere really, so I aim to get as much protein in my morning smoothies as I possibly can.
As I've shared in every post since getting back from our crazy long month of vacations, we are trying to eat quite a bit healthier these days. What I haven't shared yet, is one of the main reasons. My husband has extremely high cholesterol. Like extremely, dangerously you need to make life altering changes immediately high. So, we're doing just that.
Overnight, I transformed into an obsessive (err- loving?) wife, reading every nutrition label and trying my damnedest to reverse this stroke of unfortunate luck. Much of it is due to a cruel genetic twist of fate, while the other part can be curbed with diet. It sucks that we eat pretty much the same way and somehow I'm healthy as can be and he's plagued with teetering on the verge of a heart attack at 31.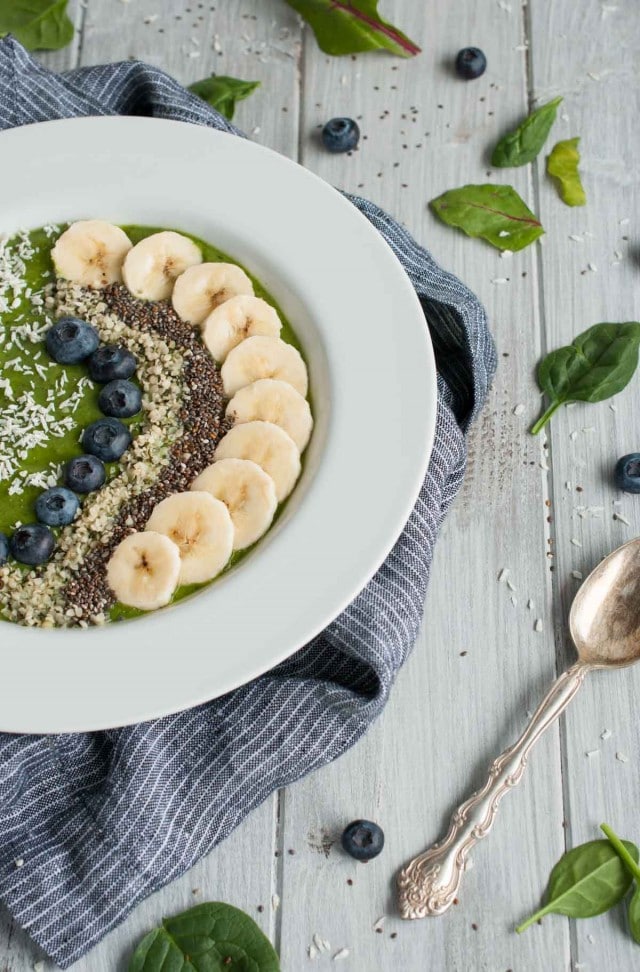 Unfortunately, I'm finding that most tasty things in life are now on the naughty list. Think cheese, butter, egg yolks, charcuterie, alcohol, and an ungodly number of other things. Luckily, I already love cooking healthy meals and packing as many veggies as I can into whatever I'm cooking, but we also enjoy eating out and getting a good dose of decadent, rich, fat-laden goodies to satisfy all inner foodie lusts. Given this, I've tasked myself with making healthy food feel and taste more indulgent and luxurious.
I know, its hard to call a smoothie "decadent" on any level, but I figured adding some toppers and making it look amazing might help this transition go over a bit more easily. Finger crossed I'm right.
As you can see above, the toppers I chose include more banana, blueberries, chia seeds, hemp hearts, and a good dash of coconut to complement the tropical flavors in the mango and banana.
The picture below shows the hidden ingredients that make up the smoothie portion of this delicious bowl. The cast of characters includes greens, almond milk (or whatever kind you prefer), banana, avocado, vanilla extract, and frozen mango. Yum!
Although it looks like it takes more time to create this, adding toppings really only tacks one extra minute onto your smoothie prep. Essentially, it goes down like this:
Toss ingredients in blender. Pour in a bowl. Add toppings. Bam. Smoothie bowl. Eat.
You can even do the prep the night before to make this breakfast even faster to make in the morning. You certainly don't have to take the time to lay your toppings out in neat little rows either. I did that sheerly for aesthetics of course, but you can just give the top of your smoothie bowl a good sprinkle and call it a day. No fussing necessary.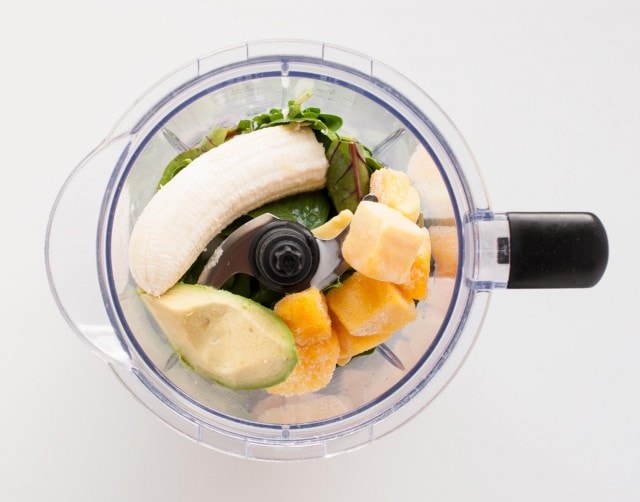 You don't have to have a spendy Vitamix or Blendtec to make smoothies a regular part of your diet. Sometimes I get hung up on not feeling that I have the proper equipment to do certain things, but I'm living proof that a $30 blender works just fine. I've had my Ninja Master Prep blender for a few years now and its still getting the job done. No excuses.
If you're already a smoothie master and want to try something a bit more daring, check out the beet smoothie recipe I shared a few weeks ago. Its just as delicious as it looks and has a good healthy dose of protein too.
Working a few smoothies into your week is a great (and tasty) way to make sure your body is getting the nutrients it needs. You can't argue with the nutrition facts on this one. It doesn't get much healthier than a smoothie bowl.
Creamy, delicious green smoothie bowl to power your morning and kick start your day with 11 grams of protein, 9 grams of fiber, and an abundance of vitamins and nutrients.
Ingredients
Smoothie
2 cups greens (I used a packaged green power blend)
1/4 small avocado
1/2 cup frozen mango
1/2 banana
1/2 cup milk (I used unsweetened almond milk)
Toppings
Other half banana, sliced
1 tsp. unsweetened coconut
1/4 cup blueberries
1/2 Tbsp. hemp hearts
1 tsp. chia seeds
Instructions
Place all smoothie ingredients in blender and blend until smooth and mixed through.

Pour into bowl and top with toppings of your choice. The ones the nutrition information is based on are listed under in the ingredients section above, but feel free to experiment! I included a few ideas as optional to provide some other topping ideas.
Nutrition
Calories: 394kcal | Carbohydrates: 59g | Protein: 11g | Fat: 16g | Saturated Fat: 6g | Cholesterol: 12mg | Sodium: 80mg | Potassium: 957mg | Fiber: 9g | Sugar: 36g | Vitamin A: 2000IU | Vitamin C: 64.4mg | Calcium: 190mg | Iron: 1.9mg
Have any of you had to transition to a low cholesterol diet? Any tips you have are more than welcome!