This Thai curry soup is better than most restaurants I've eaten at! The combination of curry paste, coconut milk, lime, and other delicious seasonings makes it taste authentic while the slew of veggies makes it light and healthy.
Yes, the word on the street is true. I have yet another curry soup recipe to share with you. But this Thai curry soup is so incredibly different than the sweet meat squash soup I shared with you two weeks ago or my curry carrot soup recipe. In fact, it just might be my new favorite soup EVER. Scratch the "might," it is definitely my new favorite soup!
I've had a hankering for all the Thai foods lately. In the past week I've made fried rice, a couple stir fries, peanut sauce to slather on everything in my fridge, and now this glorious bowl of noodles. Yup, me and fish sauce have been getting quite intimate.
I found a Korean grocery store a mere mile from my house a few months back and from that point on, this kitchen has been full of all kinds of mouthwatering, saucy, spicy recipes that actually taste pretty authentic. Hurray! About dang time I learned the ropes to Thai cooking.
Before this discovery, if I wanted curry paste or thai basil or lemongrass, or whatever semi-obscure Asian ingredient I needed at the moment, I would have to trek across town and take at least a good hour or two out of my day to procure said ingredients. Now it takes me less than 15 minutes. Booya.
I know for those of you living in small towns without access to international grocery stores, a two hour excursion might seem like a trivial feat to get access to a world of exotic ingredients. I on the other hand, am spoiled by convenience. Portland is such a foodie city, that we're really quite pampered with all things food related. Its not me, I swear. I blame it on my locale.
Out of everything I've concocted so far though, I've got to say that this has been my favorite Thai inspired recipe to date. From the rich spiciness of the curry paste to the saltiness of the fish sauce and the tang of the lime, this soup is bursting with complex, well balanced flavors.
The red pepper, mushrooms, onion, and fresh herbs help to lighten the soup up and make it more nutritious. The veggies also add great texture and make this a simple one pot meal. Or you could pair with this tasty Thai salad for even more of a vegetable kick. Your sodium intake for the day will be through the roof… but it will be totally worth it.
When Ted's uncle and his girlfriend were here last fall, she cooked up a storm of tasty treats in our kitchen. She also left a few random ingredients in our cupboard that I've been slowly finding ways to use. These noodles for instance. I used the thin wheat noodles shown below but thin rice noodles would work perfectly too and soba noodles would add even more nutrition.
They soak up A LOT of liquid though the longer they sit so make sure to serve the soup right away before it turns into more of a noodle bowl. Alternatively, you could probably make this Thai curry soup in advance and then place it on the stove and bring it to a simmer right before serving and add the noodles then. I haven't tried this yet but am going to for a Thai inspired dinner party soon and will report back if this make ahead method is successful. Or, if you beat me to it, let me know how it worked for you. 😉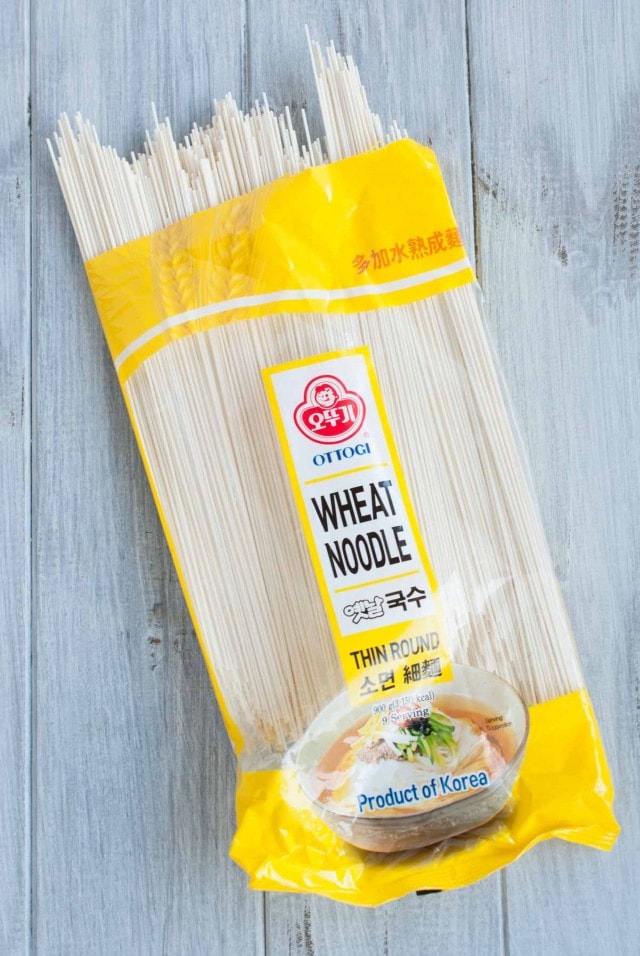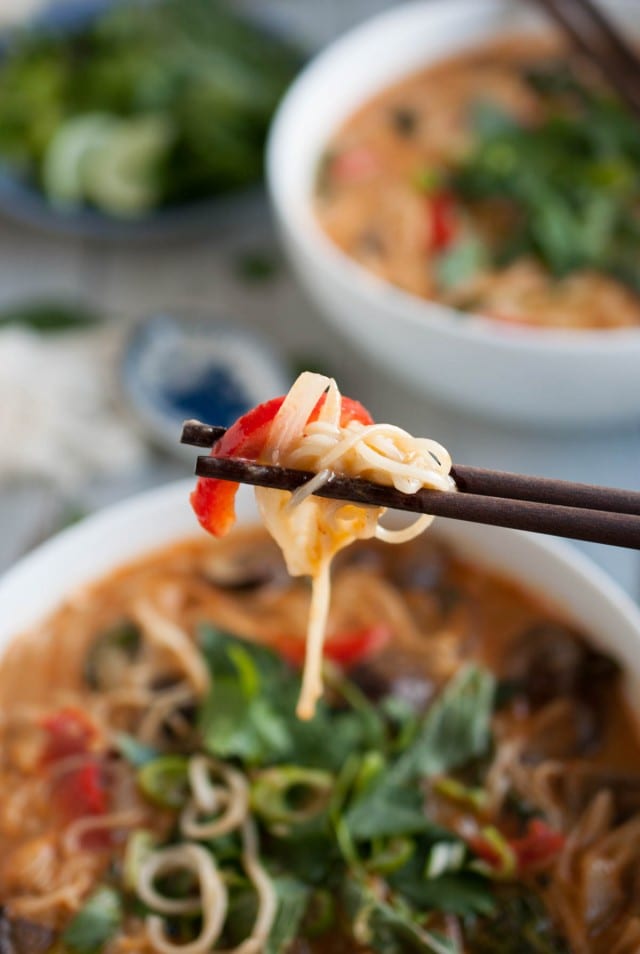 What is your favorite Thai dish? Have you tried making it at home yet?
This Thai curry soup is better than most restaurants I've eaten at! The combination of curry paste, coconut milk, lime, and other delicious seasonings makes it taste authentic while the slew of veggies makes it light and healthy.
Ingredients
2 Tbsp. coconut oil
1/2 Tbsp. minced garlic
1/2 Tbsp. grated ginger
1/4 cup Thai red curry paste
2 chicken breasts, sliced very thinly
6 cups reduced sodium chicken broth
1 cup coconut milk (lite is fine here)
1 small onion, thinly sliced
1 red pepper, thinly sliced
1 lb. mushrooms, washed and quartered
2 Tbsp. fish sauce
2 Tbsp. lime juice
4 cups baby greens (baby spinach works great)
Garnishes (optional but strongly recommended)
1/2 cup thai basil leaves
1/2 cup cilantro leaves
1/2 cup chopped green onion
Instructions
Heat oil in a large pot over medium heat.

Add garlic, ginger, and curry paste and stir for 1-2 minutes until fragrant.


Add chicken and cook for 2-3 minutes until chicken appears to be mostly cooked on the outside but not cooked all the way through.

Add broth, coconut milk, onion, red pepper, mushrooms, and fish sauce. Let simmer for 10 minutes.

Add lime juice, greens, and noodles and cook 2-3 minutes longer. Serve immediately. Make sure to check the package directions on the noodles to see how long they need to cook (should be 3-5 mins for thin rice or wheat noodles). The noodles will continue cooking in the soup and will absorb broth so if you are preparing not planning on serving right away, wait to add noodles until just before serving.
Nutrition
Calories: 516kcal | Carbohydrates: 51g | Protein: 42g | Fat: 17g | Saturated Fat: 11g | Cholesterol: 72mg | Sodium: 1218mg | Potassium: 1437mg | Fiber: 3g | Sugar: 6g | Vitamin A: 4165IU | Vitamin C: 60.5mg | Calcium: 91mg | Iron: 4mg