Healthy cheesecake parfaits are an excellent, easy summer dessert that only have 220 calories per each nutritious, delicious serving!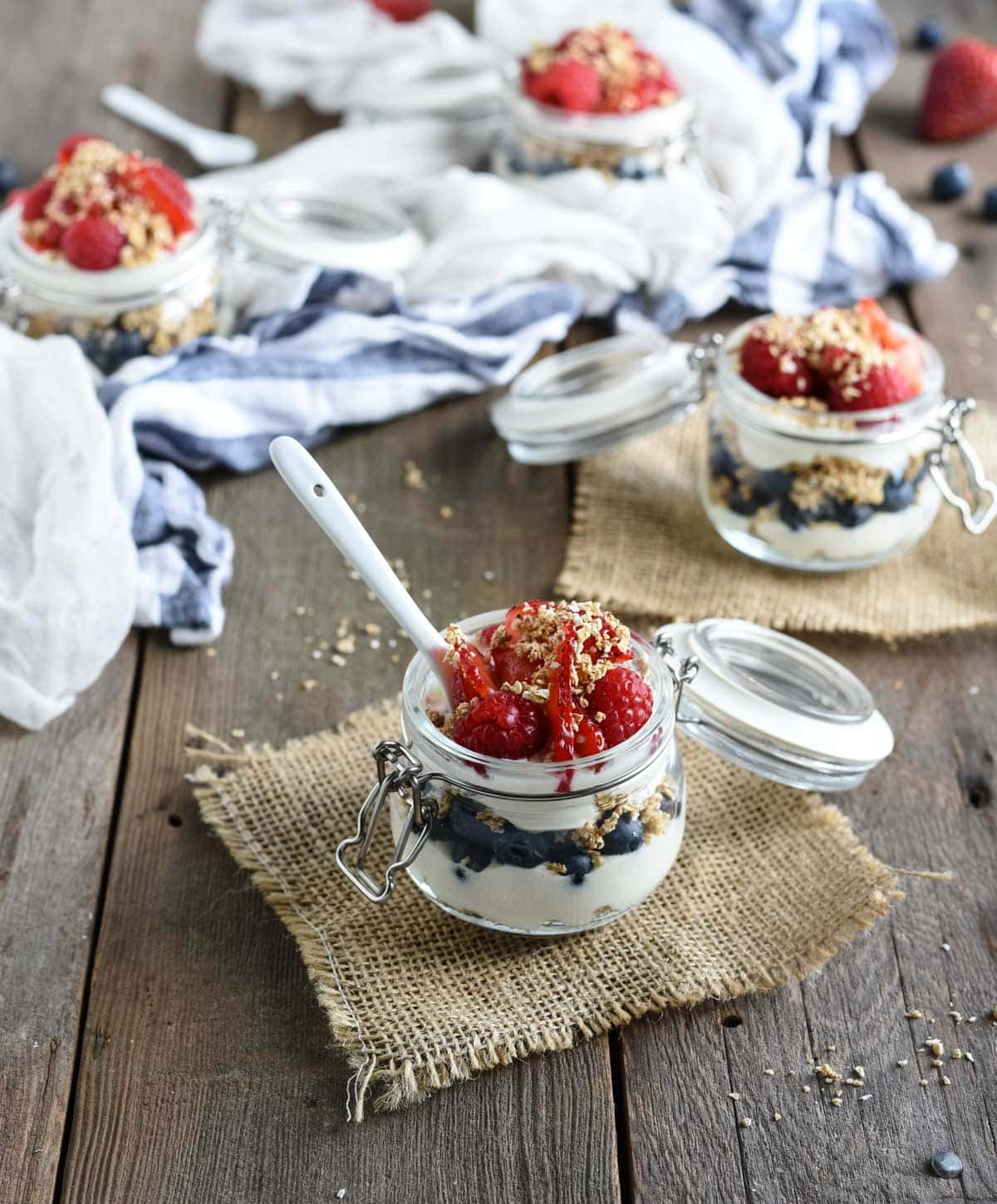 Hello on this beautiful Sunday afternoon! I'm so incredibly happy to share these healthy cheesecake parfaits with you, especially considering that many of you will be celebrating July Fourth, the USA Independence Day, this Tuesday. For those of you not in this country, we usually do epic BBQ throw downs with a spattering of red, white, and blue, fireworks, and relaxed summer fun. Its a cheesy good time.
Recent politics have me feeling pretty conflicted about my homeland so I'm sharing this recipe as simply a recipe. Not necessarily a Fourth of July thing, just a recipe. If you choose to make it on the holiday, great. If you make it for another summer get together, that's perfectly fine too. Just make it!
If you're looking for another easy Fourth of July recipe, try the cheesecake stuffed strawberries I posted last year or you could make these healthy red velvet cupcakes and top them with blue sprinkles instead of red. So many tasty options to choose from on the internet these days!
I'm typing this post from a coffee shop in Homer, Alaska right now. I know if you follow me on Instagram, you're probably sick of seeing my world traveling Insta stories lately, but this is our last big trip before baby FNF comes so don't be too jealous! Pretty soon I'll be cleaning diapers and my big trip each week will be to the grocery store. I'm soaking it up while I can and truly enjoying every minute of this stage.
Baby girl is still un-named. The husband doesn't approve of any of the names I've suggested so I've dubbed her Shaniqua for now. She will go by this ultra fabulous moniker until a viable name option is reached so suggestions are more than welcome.
But, once again, I digress. We were talking about cheesecakes, weren't we?
Aside from being as absolutely adorable as food can get, this recipe is full of ingredients that are actually not too bad for you. The cream cheese, honey, and maple syrup you end up eating per serving is minimal and the bulk of the dessert is just oats and berries. Doesn't get much healthier than that.
Oats and berries don't a dessert make though so I had to dress things up a bit. Luckily, I found a way to do this that is easy. This is yet another one of those recipes that allows you to fool others into thinking you're a culinary smarty pants when really it only takes about 20 minutes of active time and a couple hours of chilling to whip these puppies up.
I think toasting the oats is critical since it give the recipe that "freshly baked" taste. Just make sure to keep an eye on them cause they toast quickly!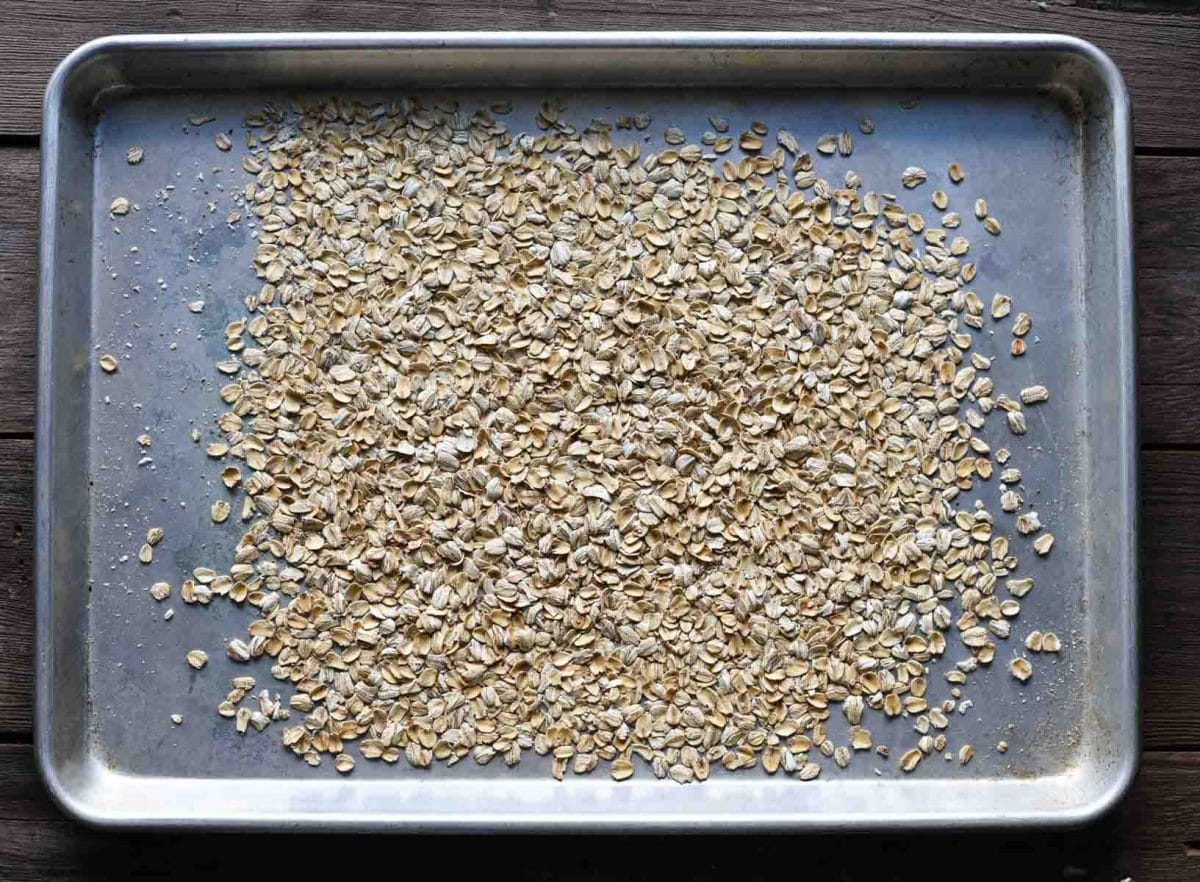 The crust is good and all, but the cheesecake filling is where its at in my opinion. I loooove cheesecake. While this version has a thinner consistency, the flavor is all there. And its naturally sweetened to keep this a healthy dessert, not just a dessert that is pretending to be healthy.
There's nothing I hate more than to click through to a recipe titled "healthy" that has 2 cups of white sugar in it. There's just no place for that kind of trickery in my world. Sooo, this recipe is full of honest ingredients. No form of sugar is good for you, we all know that. Honey and pure maple syrup are light years better for you than the ultra processed white stuff though so swap it out when you can.
Although the recipe itself if delicious, can we take a minute to talk about these show stopper jars? They're from Ikea and I am absolutely in love with them. I've been slowly organizing with pantry with these jars so they're everywhere at my house. I highly recommend them.
If you use them for this recipe, just make sure not to fill the jars too full or you'll have cheesecake squirting out the sides. Trusssst me. I learned this one the hard way for all of us.
You can easily just use mini mason jars, small cups or anything else see through that you have around. I even made the recipe in shot glasses one day which made about 10 of them. That was fun but you'll need to serve with teeny tiny spoons for people to be able to get the goods out.
Well, I'm back to adventuring for the day. I hope you all have a fabulous rest of your weekend and a great holiday if you're celebrating.
Here's a few last photos to make your mouth water… 🙂
Healthy cheesecake parfaits are an excellent, easy summer dessert that only have 220 calories per each nutritious, delicious serving!

Ingredients
Cheesecake Filling
4 oz. light cream cheese (1/3 fat, room temperature)
1/4 cup plain yogurt (if using vanilla yogurt reduce honey and omit vanilla)
2 Tbsp. honey
1 tsp. vanilla extract
Berry layers
1 cup blueberries
1/2 cup sliced strawberries
1/2 cup raspberries
Instructions
Preheat oven to 425 degrees F.


Spread oats out in a single layer on a small baking sheet and toast in preheated oven for 5-6 minutes until lightly toasted.

Add oats, maple syrup, and cinnamon to a small food processor or blender and pulse to mix and roughly break up oats. Set aside.

Add cheesecake filling ingredients to a small mixing bowl and beat with a mixer until smooth and creamy (about 3 minutes depending on softness of cream cheese).

Spoon a small amount of oat mixture into four glass serving dishes or jars. Top with layer of cheesecake filling mixture, followed by a layer of blueberries.

Repeat the three layers substituting strawberries and raspberries for blueberries on top. Sprinkle tops with any remaining crumb mixture.

Place jars in refrigerator and chill for at least two hours before serving.
Notes
Prepared cheesecakes will keep well in the refrigerator overnight and can be made the day before serving. 
Nutrition
Calories: 219kcal | Carbohydrates: 35g | Protein: 6g | Fat: 6g | Saturated Fat: 3g | Cholesterol: 17mg | Sodium: 143mg | Potassium: 258mg | Fiber: 4g | Sugar: 17g | Vitamin A: 190IU | Vitamin C: 18.1mg | Calcium: 87mg | Iron: 1.2mg