These tasty cheesecake stuffed strawberries are a healthier dessert that will actually satisfy your sweet tooth for under 100 calories per serving.
It may be out of season, but I was lucky enough to find some plump, juicy berries at the store a few weeks ago and couldn't resist snatching them up. A friend of mine brought cheesecake stuffed strawberries to a super bowl party a few years back and I got a sudden craving for them. Does that ever happen to you? A weird memory back to something delicious you tried once and then next thing you know you're in the kitchen trying to recreate it? It certainly does to me.
All of the (tons of) recipes I saw online for cheesecake stuffed strawberries, use some kind of highly processed sugar. I wanted to go a healthier route, so I experimented with honey instead. I'm happy to say the experiment was successful!
Every week, I seem to stumble upon a new article about how horrible sugar is for your body. I've spent most of my life with sugar as a major part of my diet and have been trying to curb those habits over the past few years. I can't even help my weakness for sweets though! Serious candy addiction over here.
I've got to get my fix somewhere or I'll end up ravenously shoving chocolate in my face at midnight like a mad woman. No one wants to see that. Trust me.
My problem is that a lot of healthy desserts leave me unsatisfied and still craving sugar. They either aren't sweet enough or frankly, just aren't very good. Well, these hit the mark on every level. And they're easy and fun to make.
Since strawberries are the main ingredient, obviously, the end result is only going to be as tasty as the berries you use. So, make sure you pick good ones! Cutting off the tip of each berry helps them stay upright on the plate so they don't spill their filling all over.
As you can see below, I just used a ziplock with the corner snipped off to squeeze the cream cheese filling into the berries, but you can use a cake decorating bag instead if you want to. Either works just fine.
For a party, I'd guess that each person would eat about 3 or 4 so you might want to double the recipe if you have a big group. That being said, I brought a single batch into the living room the other night for my husband as a surprise healthy dessert and we devoured them in record time. It took us roughly the duration of a two hour movie to put every last one of these suckers down.
If you're serving cheesecake stuffed strawberries (to normal people) though, along with other snacks, a few per person should be plenty.
Don't skip the graham cracker sprinkle either! It adds a touch more sweetness and just enough texture to make these seem rich and more like the real deal.
If you're not a cheesecake lover, try these healthy chocolate truffles out or these fancy coconut balls. Both passed the healthy but actually delicious test!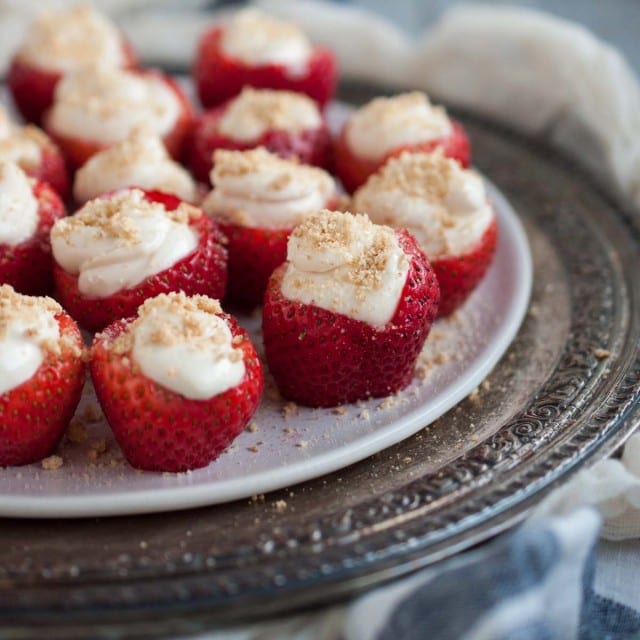 Whether you're trying to eat healthy or not, these cheesecake stuffed strawberries are a win and deserve to be made. Give it a go and join the fan club. 😋
These tasty cheesecake stuffed strawberries are a healthier dessert that will actually satisfy your sweet tooth for under 100 calories per serving.
Ingredients
1 lb. fresh strawberries
4 oz. cream cheese room temperature
1-2 Tbsp. honey I used 1 but if you prefer it sweeter, add more
1 tsp. vanilla extract
1/2 a graham cracker crushed (about 2 Tbsp. crumbled)
Instructions
In a small bowl, stir cream cheese, honey, and vanilla extract together until well mixed.*

Cut the hull out of each strawberry and cut the bottom tip off so that it will sit evenly on a plate.

Place cream cheese mixture into a decorating bag ( you can use a plastic bag and cut the corner off instead if desired).

Pipe cream cheese mixture into each strawberry in a circle to create a swirl.

Sprinkle with graham cracker crumbs. The strawberries do not keep well so serve immediately.**
Notes
*If you use light cream cheese, do not use a hand mixer or it will become too runny. Putting in the fridge for half hour can help firm it back up some. ** The strawberries can be hulled and the filling can be prepared an hour beforehand, but don't squeeze the filling into the berries and sprinkle with the graham cracker crumbs until right before serving. 
Nutrition
Calories: 103kcal | Carbohydrates: 9g | Protein: 1g | Fat: 6g | Saturated Fat: 3g | Cholesterol: 20mg | Sodium: 69mg | Potassium: 141mg | Fiber: 1g | Sugar: 6g | Vitamin A: 265IU | Vitamin C: 44.5mg | Calcium: 31mg | Iron: 0.4mg
Nutrition facts are for 1 serving (Recipe makes 18-24 berries with each serving being 3-4 cheesecake stuffed strawberries, depending on how large they are).