Creamy and fresh with a smokey rich flavor, this smoked salmon dip is so deliciously mouthwatering that it'll be in high demand at every party!
Living in the Pacific NW, I realize that I'm spoiled as spoiled can be when it comes to seafood. Its abundant, wild caught, fresh and delicious. I'm even more lucky that my husband wakes up at the crack of dawn to go fishing and deliver this deliciousness to my doorstep.
Ahh, the perks of being an old married broad. In all seriousness though, his smoked salmon recipe is so top notch that our neighbor used it to start a smoked salmon food cart downtown Portland featuring all kinds of tasty salmon dishes. Sooo, yeah… we kinda know a thing or two about salmon.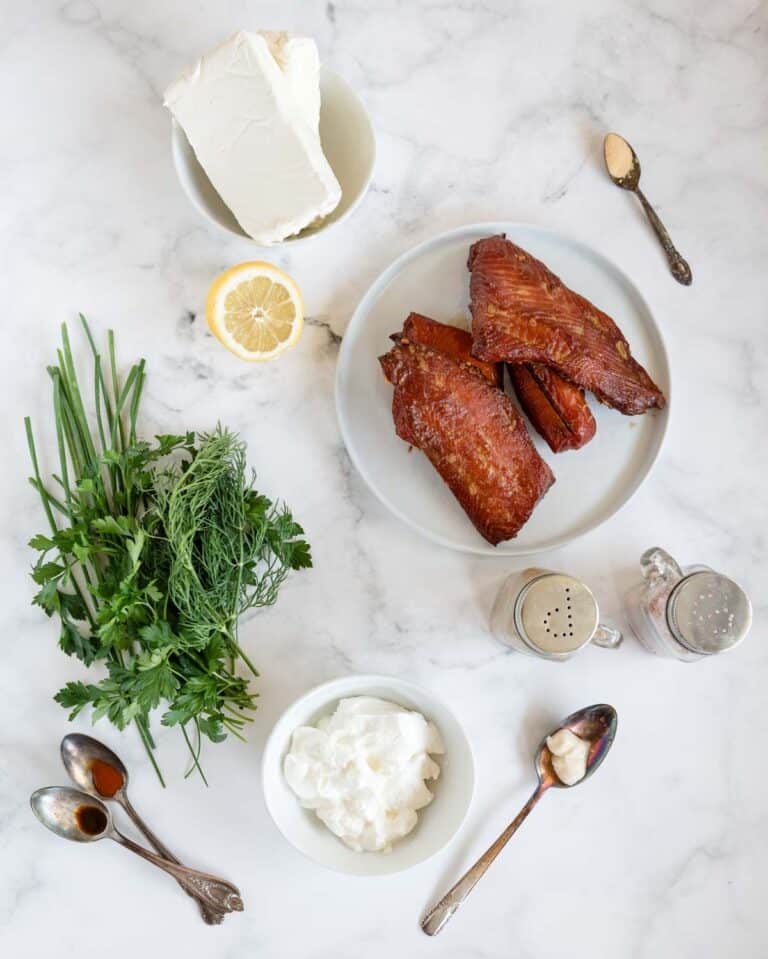 This steady influx of fish has given me plenty of time to perfect my smoked salmon dip game, which at this point, is pretty amazing if I do say so myself. Its loaded with chunks of smokey, rich fish and just the right amount of lemon and dill to add that characteristic fresh perkiness that every good smoked salmon dip needs without being overly fishy or too cream-cheesey.
Nothing is more annoying than salmon dip that doesn't have enough salmon in it. Yes, you heard me right, NOTHING. Luckily, with this recipe, you can avoid that abomination forevermore.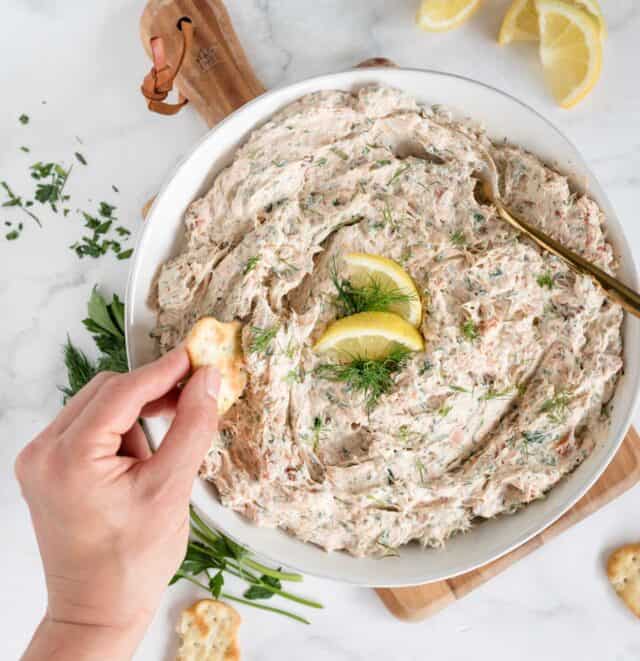 This salmon dip recipe is a total crowd pleaser and has gotten demolished in mere minutes every time I've made it. I highly recommend hiding a small portion for yourself deep in the back of the fridge for the next day when you find yourself lustfully longing for more. Don't feel weird about it. Just do it.
Its pretty much indisputable that salmon is one of the healthiest animal based protein sources around. If you're looking for a healthy dinner option, wild caught Pacific salmon is where its at with a single serving size containing almost half of your daily vitamin B needs, in addition to an abundance of other vitamins and minerals that your body needs to function and thrive.
Omega-3 fatty acids are a nutrient superstar that help in both combating disease and preventing it. Research links omega-3's to reduced risk for alzheimer's, dementia, and depression. Fish oil
also is known to reduce triglycerides (unhealthy fats) and prevent heart disease. And whoever thought of packing all this healthiness into a tasty, decadent dip is a genius (obviously).
I know cream cheese based dips have gotten a bad rep for being unhealthy, and its hard to argue with the fact that cream cheese doesn't exactly fall into the health food category. I used 1/3 fat cream cheese, which I know also isn't exactly the epitome of health food, but balance is really key in my opinion. I don't eat cream cheese every day, but when I do, I enjoy it and then move on. Life's short and sometimes you've gotta let loose and live a little.
If you're really concerned about making this salmon dip healthier, chop up some veggies to use for scooping. I've dipped bell peppers, snap peas, carrot sticks, and cucumbers into this smokey appetizer and haven't felt like I was sacrificing any flavor in doing so. So, dip, dip away and share the love with this tasty treat.
Creamy and fresh with a smokey rich flavor, this smoked salmon dip is so deliciously mouthwatering that it'll be in high demand at every party!
Equipment
1 Medium bowl

1 Spoon or spatula, for mixing dip
Ingredients
12 ounces reduced fat cream cheese at room temperature
1 cup light sour cream
2 Tablespoon chopped dill
2 Tablespoon chopped chives
1 Tablespoon chopped parsley
1/4 teaspoon black pepper
1 teaspoon garlic powder
1 teaspoon hot sauce optionalI used Tapatio)
1 teaspoon creamy horseradish
1 teaspoon worcestershire
2 Tablespoon lemon juice
1 lb. smoked salmon bones removed and pulled into bite sized pieces
1/4 -1/2 teaspoon salt or measure to taste
Instructions
Place all ingredients, except for salmon, into a mixing bowl and either mix with a spoon by hand or use a hand mixer to mix until thoroughly.

Add smoked salmon and stir in or pulse hand mixer to combine.

You can serve immediately with crackers, bread, crostini, and/ or veggies. For best results chill dip for at least two hours to let flavors meld.
Nutrition
Calories: 97kcal | Carbohydrates: 3g | Protein: 7g | Fat: 6g | Saturated Fat: 3g | Polyunsaturated Fat: 0.5g | Monounsaturated Fat: 2g | Cholesterol: 23mg | Sodium: 396mg | Potassium: 144mg | Fiber: 0.1g | Sugar: 1g | Vitamin A: 231IU | Vitamin C: 2mg | Calcium: 57mg | Iron: 0.4mg