These whole wheat blueberry muffins are made with wholesome ingredients like honey, coconut oil, and Greek yogurt to your make breakfast more nutritious.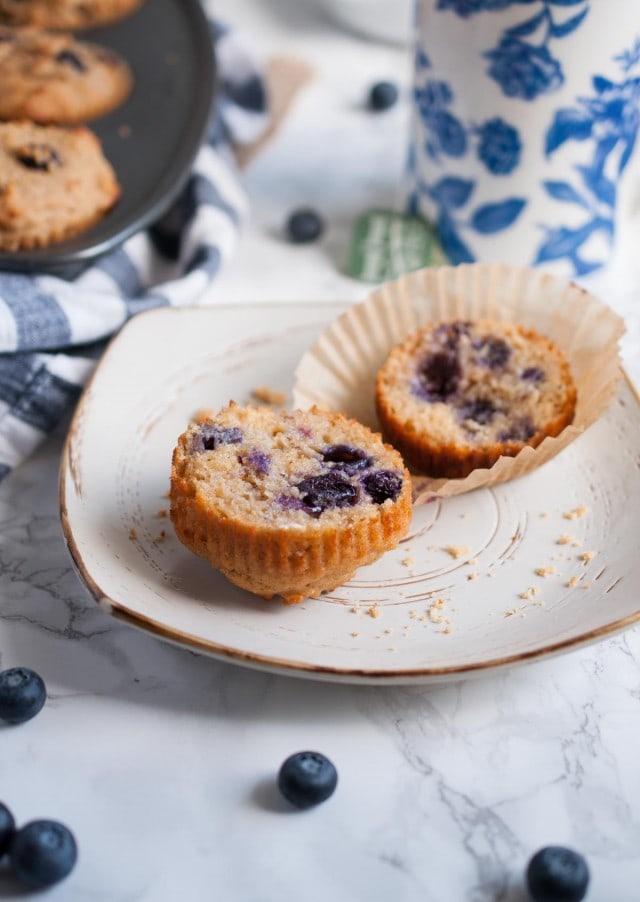 First off – don't be scared by the whole wheat flour, yogurt, coconut oil, and lack of sugar. I'm sure we've all had a bad muffin experience before that makes that combo of words strike fear into our hearts. What? No sugar? Its got to taste terrible then, right?
Well, fear not my friends and wipe that sweat from your brow. Honey saves the day in these whole wheat blueberry muffins. Phew.
If you follow me on Instagram, you might remember my defeated Instagram post from last week. There's nothing like getting up to the mountain, excited for fresh snow, and then having your legs feel like jello and having to tap out after just a few hours.
Then, to make matters worse, I didn't even have my ID on me so my cocoa was schnapps-less. The horror!
Luckily, I had some of these muffins stashed away for the car ride home. They weren't quite as good after sitting in a freezing car overnight but they still delivered much needed comfort in my moment of need.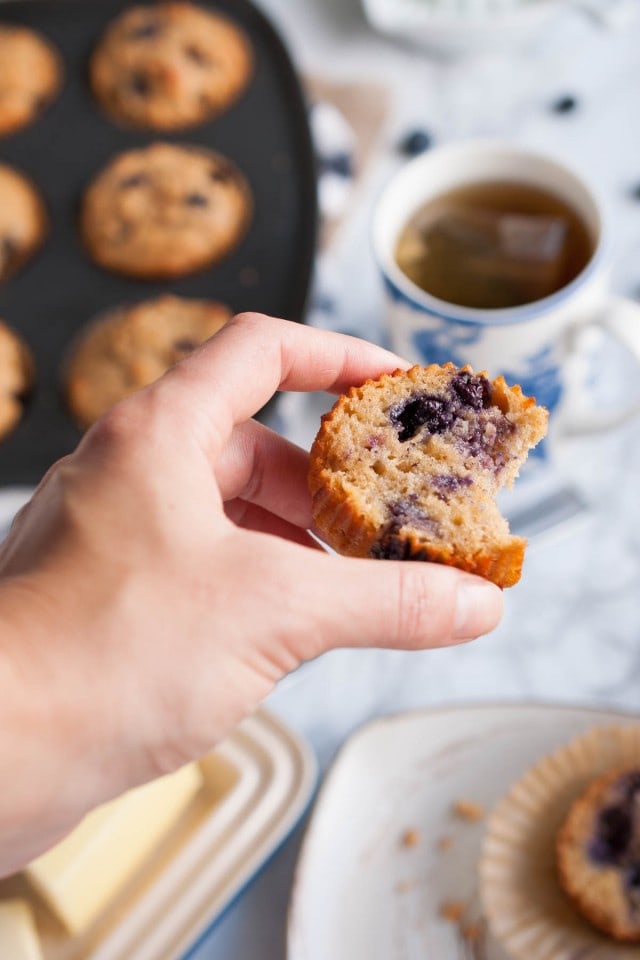 It took a couple batches to get this recipe just right, but at this point, these muffins are pretty on point. They're filled with plump juicy blueberries and a zing of lemon for flavor. All this is moot without the right dough though. Reading healthy muffin recipes, most seem to call for a mix of whole wheat and regular white flour.
And these whole wheat blueberry muffins are actually made with 100% whole wheat! Imagine that. Reading recipes titled "whole wheat" that then use 80% white flour with a dusting of whole wheat irk me. Why call it whole wheat at all? I just don't get it.
I could call these lemon muffins, but the blueberry is more dominant, hence the name, BLUEBERRY. Not entirely sure if its the deception that irks me or merely laziness on my part at not wanting to measure two items separately.
Irregardless of the reason, if you can't be bothered with measuring two types of flour as well, but still want fluffy muffins with great texture, this is the blueberry muffin recipe for you. Whole wheat flour has more nutrients than regular. Its not substantial, but every little bit counts in my opinion.
I know that I've gone on and on about white whole wheat flour before, but I can't help mentioning its overall wonderfulness again. To make it "white," the wheat is milled earlier than standard whole wheat and isn't refined further so you get the best of both worlds.
I use the King Arthur kind. The quality just can't be matched. Sure, you can use whole wheat pastry flour or something along those lines, but be prepared for denser texture, which just doesn't work well in a recipe like this. Muffins need to be light, airy, and delightful, not cardboard like and dense.
If you're into white whole wheat flour too, check out this decadent coconut banana bread, these blueberry pancakes, or this lemon poppyseed bread. Its truly the only way to do whole wheat these days in my opinion!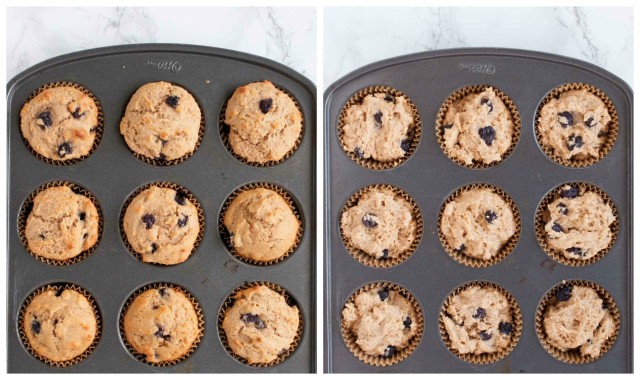 Speaking of King Arthur flour (and no, they're not a sponsor, I just love their goods!), I got a good pointer on their website on how to keep frozen blueberries from turning your batter blue. Basically, you rinse them first for a few minutes and then pat dry in a paper towel. From there, you stir into the batter just barely. Like just two stirs kind of barely.
It's inevitable to get a bit of purple, but the bulk of the dough stays a nice mouthwatering yellow, as it should be.
These whole wheat blueberry muffins are best hot out of the oven (what isn't), or at least eaten within the first 48 hours. I topped mine with butter and served with a cup of tea that first day, but they're plenty fine without! The husband ate half the batch and didn't butter his at all.
I love a good excuse to down a pat of butter though so of course, I couldn't follow suit.
One thing to note – these muffins are not overly sweet. The honey gives them just a twinge of sweetness. I personally prefer this, but if you like a sweet muffin and aren't turned off by processed sugar, you might want to add 1/4 cup brown sugar to the mix. Or, you can just whip up some honey butter to smear on top and call it a day. I thought they were great without though, just giving options for any sweet tooth muffin fans out there.
These whole wheat blueberry muffins are made with wholesome ingredients like honey, coconut oil, and Greek yogurt to your make breakfast more nutritious.
Ingredients
3 cups white whole wheat flour
1 1/2 Tbsp. baking powder
1/2 tsp. baking soda
1/2 tsp salt
1 1/2 tsp. cinnamon
1 cup plain Greek yogurt (I used Fage 2%, room temp.)
1/4 cup milk (I used almond)
3 eggs (room temperature is best)
2/3 cup honey
2 tsp. vanilla
1/2 cup coconut oil, melted
1 Tbsp. lemon juice
1 Tbsp. lemon zest
2 1/2 cup blueberries
Instructions
Preheat oven to 400° F (205° C).

Stir dry ingredients together in a medium sized mixing bowl.

Thoroughly mix wet ingredients together separately.* A hand mixer works best for this.

Pour the wet ingredients into the dry ingredients and stir to combine. Do not over mix or you will get tough muffins!

Add the lemon zest and blueberries. Lightly stir to mix in. Line a muffin pan with liners or spray with cooking spray. Pour muffin batter into prepared pan, filling each cup 3/4 full.

Bake for approximately 15 minutes in preheated oven until a toothpick inserted into the middle comes out mostly clean. Cool on a wire cooling rack for 10 minutes before serving.
Notes
*It works best if the yogurt and eggs are brought to room temperature before mixing to keep the melted coconut oil from congealing and forming clumps. If you do get clumps, don't worry, the muffins will still turn out great!
This recipe was adapted from Baker by Nature's blueberry muffin recipe with several muffin tips taken from Sally's Baking Addiction's Master Muffin Mix post.
Nutrition
Calories: 144kcal | Carbohydrates: 21g | Protein: 3g | Fat: 5g | Saturated Fat: 4g | Cholesterol: 21mg | Sodium: 89mg | Potassium: 149mg | Fiber: 2g | Sugar: 9g | Vitamin A: 40IU | Vitamin C: 2.6mg | Calcium: 71mg | Iron: 0.6mg