Lemon poppy seed pancakes that are low-carb, gluten free, high protein, and healthy all by using almond flour! All that and they're still delicious!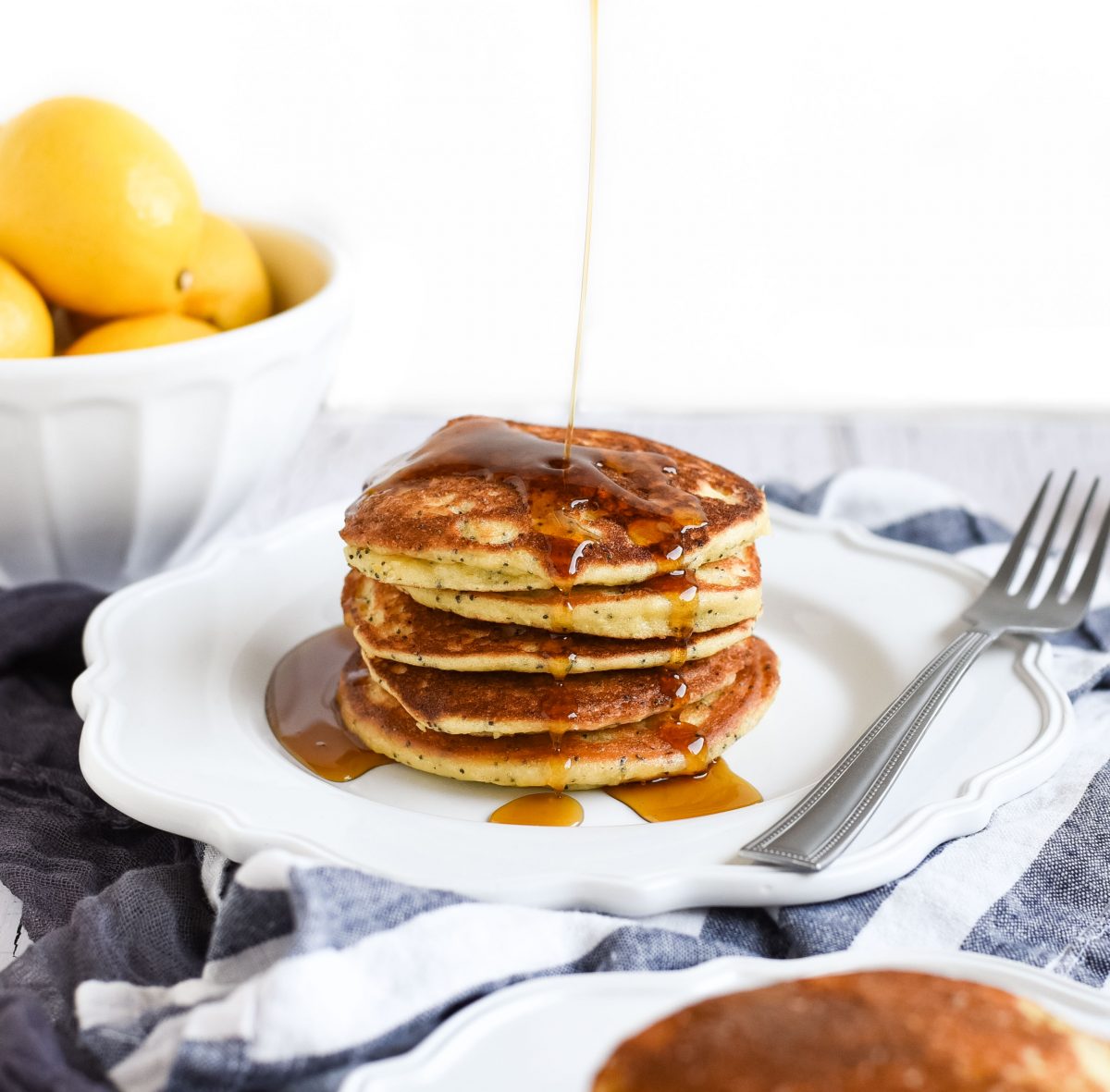 Sundays are for pancakes, slowly sipping coffee, reflecting on life, and taking a minute to sloooow down and just enjoy it all. Maybe its just me but I need this mellow recharge time here and there to really be on my game the rest of the week. I also need a breakfast that is going to energize and keep me full though.
These lemon poppy seed pancakes fit the bill on every level, tasting decadent like a treat, yet they're loaded with monounsaturated fat (that's the good kind), protein, vitamin E, and all kinds of good stuff.
I know I've raved about using almond flour in breakfast recipes back in this almond pancake post, but I'm going to get back on that high horse and do it all over again. While I love a good stack of syrup laden white flour pancakes from time to time, I prefer to start my mornings with protein. Ya feel me?
Otherwise, I crash like a toddler on a juice binge and don't have the motivation to power through my morning. I don't know about you, but after my slow morning start, I want to seize the day and really make the most of that last little burst of weekend. Sugar crashes don't really help with this.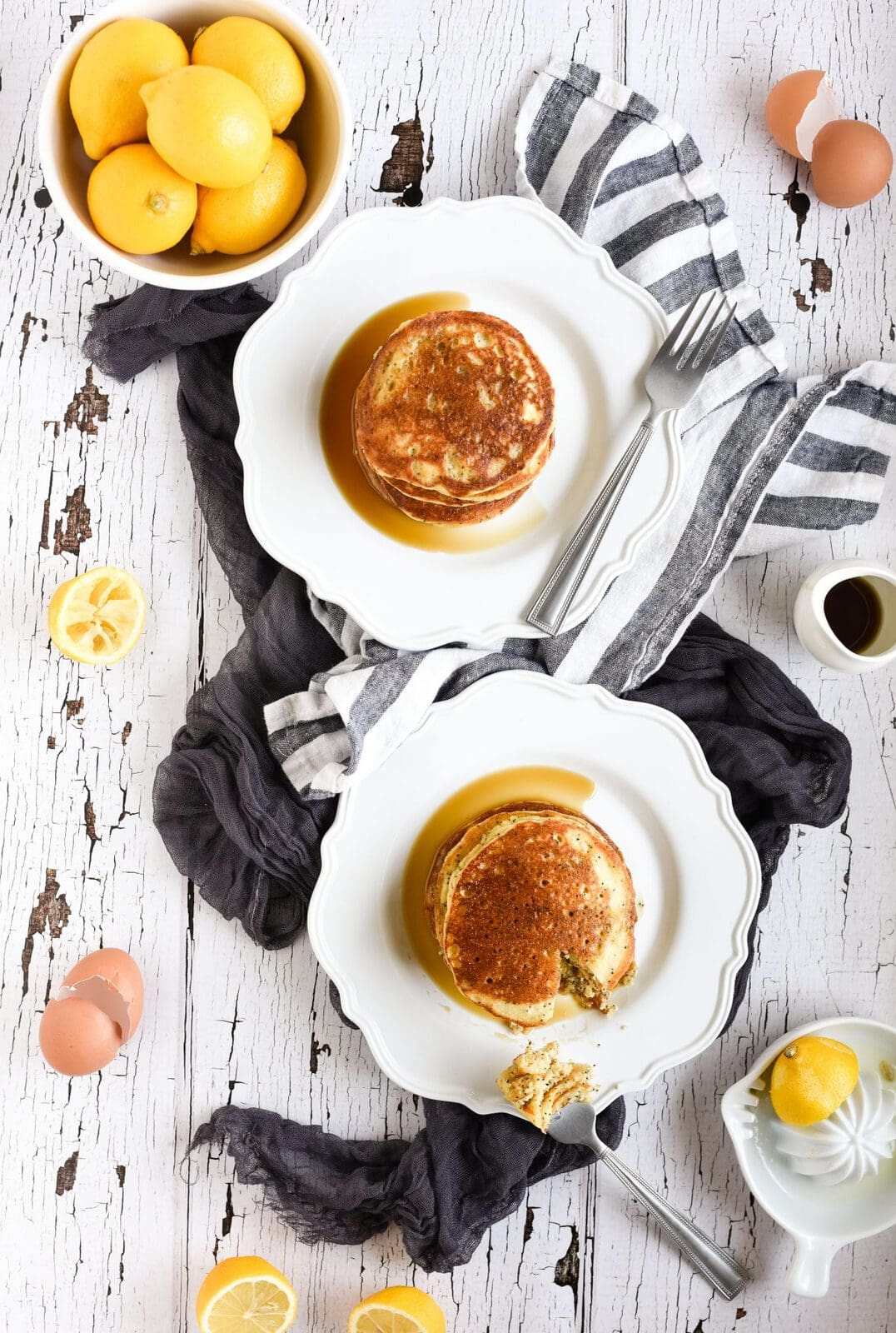 Lemon poppy seed pancakes are wee bit fancy to me too. Something about the freshness of the lemon and just that overall flavor combo in general, it just feels special. Back when I shared this lemon poppy seed bread with you, several lifetimes ago, I remember feeling the same way. Looking back at those old posts, I just can't even believe I've been blogging for this long!
I'm so happy that I created this space for sharing my recipes and that you've been willing to come along for the ride with me. I'm not always consistent with my posts, but so many of you have stuck with me anyways and I'm so incredibly grateful for each and every one of you. Your sweet comments and emails brighten my day. 🙂
Ahhh… and let's get back on track. We were talking about lemons right? And how awesome they are paired with poppy seed? Well, this combo is certainly a welcome variation from your standard blueberry pancake recipe (although that one is one of my fav's!). Its just nice to try something a touch different than your typical breakfast fare.
And in my gluten free adventures, I recently discovered tapioca flour! No, I'm not gluten free myself, but I think its fun to experiment with. Tapioca flour adds some starch back into gluten free recipes and seems to make the texture more like traditional flour recipes. A little goes a long way though so I recommend just buying a small package to start with.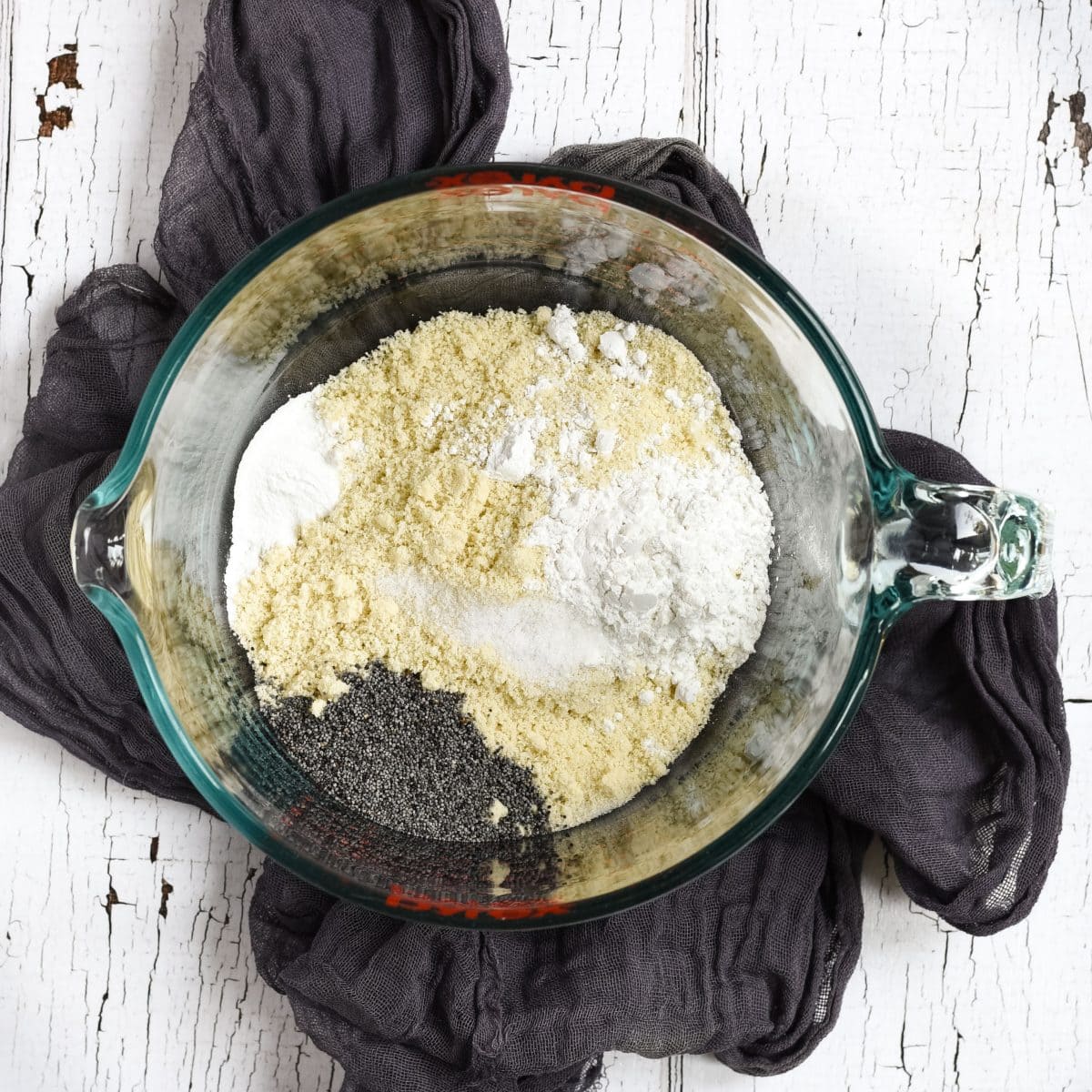 Oh and notice how we're doing this all in the same bowl? Easy as can be. No need for any fuss or to mix separately with this lemon poppy seed pancake recipe.
When all is said and done, you end up with a sexy batter like the one below. In the instructions, I recommended using a small scoop to make smallish (about 3″) pancakes. There is a reason for this my friends!
Even with that egg, tapioca flour, and other jazz, almond flour is still just ground up almond at the end of the day and it will want to behave like it is. If your pancakes are too big, they'll break when you go to flip them. The (minor) downside of almond flour I guess.
Luckily, these lemon poppy seed pancakes are totally worth tackling as minis, so no loss there. Plus, you get a bigger stack when they're small and that's always fun.
Now let's talk syrup. Lately, I have been craving sweets like crazzzy! I love a good treat from time to time but this is so unlike me to crave processed sugar junk like I have been. I love this little baby in my belly but she's driving me to extremes, let me tell you.
Unfortunately, sugar is terrible for us no matter how we slice it. Here in the US, we're so calloused to it that you probably don't even realize how much sugar you're downing on a daily basis. To get a handle on this, try tracking your sugar intake for three days. You can use an app like My Fitness Pal, or since we're only talking three days, the notes section on your iphone will work just fine.
You'll be shocked. Its in EVERYTHING! There's no escaping it. Becoming aware of our own sugar pitfalls helps us make better decisions about it though. I'd like to say I'm perfect at this, but I struggle with it. I love decadent desserts but normally try to make those exceptions, not part of my every day so these cravings are doing a number on me.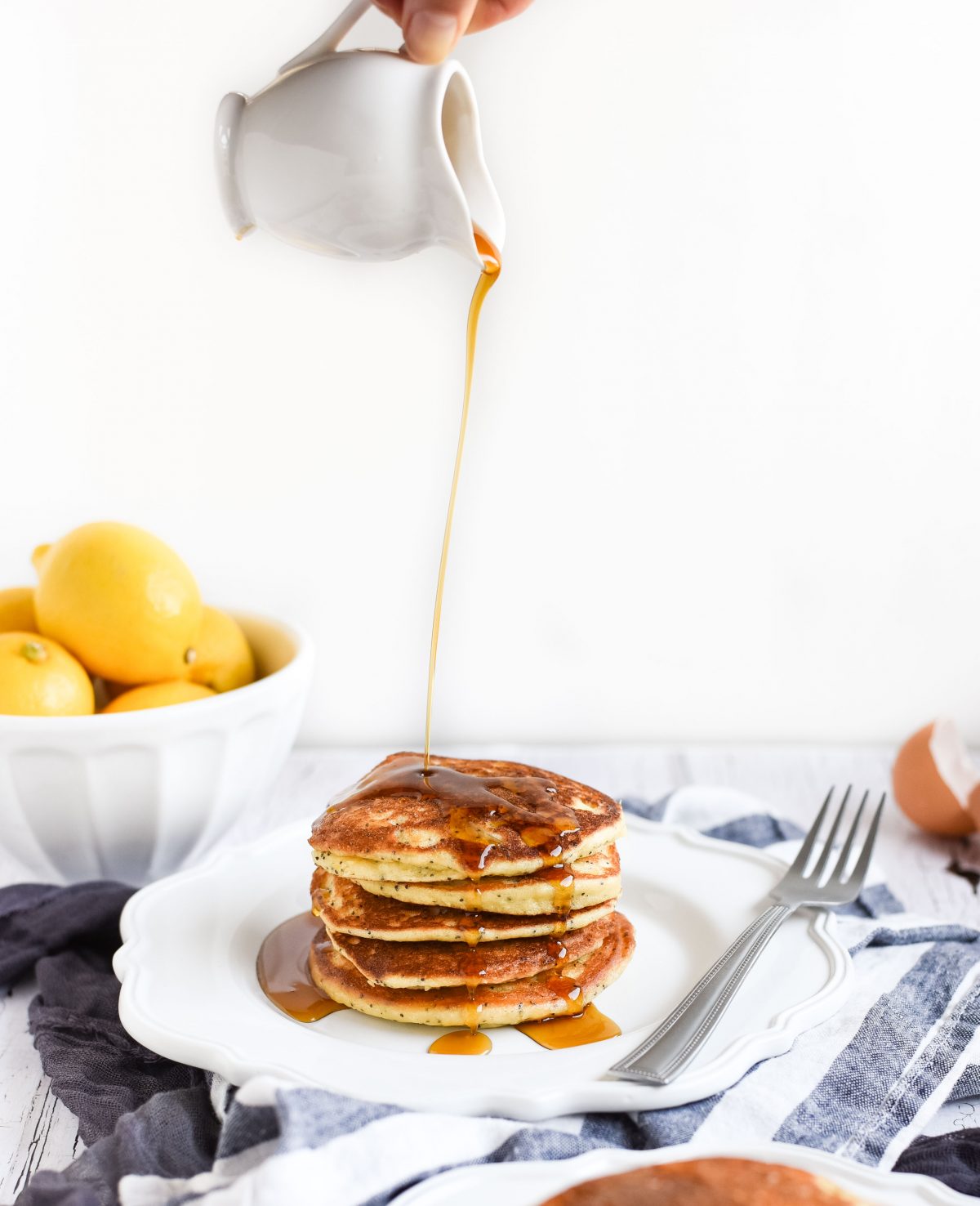 So where does syrup fit in? Well before you go dousing your lemon poppy seed pancakes with pure maple syrup thinking you're in the clear because its natural, compare the sugar content to Aunt Jemima's. Yup, pretty similar. The difference is that those processed sugars come from high fructose corn syrup while pure maple syrup gets sweetness from natural sugars.
Sugar is still sugar so you still need to use sparingly, but the source should also be considered. In general, the less processed the better, but still using in moderation is critical.
As I create this life inside of me, I've been getting down on myself for giving into my sugar cravings. I imagined my pregnancy to be filled with asparagus, happily noshing down veggies like they're chocolate cake.
In reality, I haven't been the poster child for healthy eating. While these last two months have had some over indulgences, I'm trying hard to get back in balance. Within reason of course. I mean, lemon poppy seed pancakes were a must today.
If I eat a cookie or some syrup here and there, I'm going to enjoy them to the max and try to keep guilt at bay, but then try to get back on the healthy eating train and not let that treat derail me. None of us are perfect and I don't think we should strive to be. I know from experience that it only creates feelings of inadequacy and being unhappy with ourselves. We can try to be conscious of this though and from there, just do the best we can.
I hope your Sunday morning was full of pancakes and that the rest of your day is relaxing and filled with fun – hooray for fall!
Lemon poppy seed pancakes that are low-carb, gluten free, high protein, and healthy all by using almond flour! All that and they're still delicious!
Instructions
Start heating frying pan or griddle over medium heat.


Stir almond meal, tapioca flour, baking powder, salt, and poppy seeds, together in a medium sized bowl.


Add eggs, almond milk, maple syrup, vanilla extract, lemon juice, and lemon zest and stir a few times to mix.

And coconut oil and whisk until just mixed and most lumps are dissolved.

Melt additional coconut oil on preheated pan or griddle over medium heat and spread out using a spatula.


Ladle a half filled ¼ cup scoop of batter onto the griddle and repeat to form multiple pancakes. Let cook until bubbles form.*


Carefully flip each pancake using a thin, long spatula or flipper. Let cook 1 more minute on other side or until lightly browned before removing from heat. Set aside and continue cooking remaining pancakes (can keep warm while rest of pancakes cook in oven preheated to 200° F (94° C).


Serve with maple syrup while still warm.

Notes
*If you're not sure if the temperature is right, make a mini test pancake. Just spoon or pour a small amount of batter onto the pan and if it browns too quickly, it is too hot and you will need to turn down the heat. If it takes over 3 minutes for bubbles to form and the pancake to be ready to flip, it is not hot enough.  
Nutrition
Calories: 344kcal | Carbohydrates: 18g | Protein: 12g | Fat: 26g | Saturated Fat: 3g | Cholesterol: 81mg | Sodium: 327mg | Potassium: 212mg | Fiber: 5g | Sugar: 4g | Vitamin A: 120IU | Vitamin C: 3.1mg | Calcium: 274mg | Iron: 2.5mg