Honey cranberry sauce with zesty orange and spicy cinnamon that's naturally sweetened with honey. So easy and tasty, you'll never buy it pre-made again!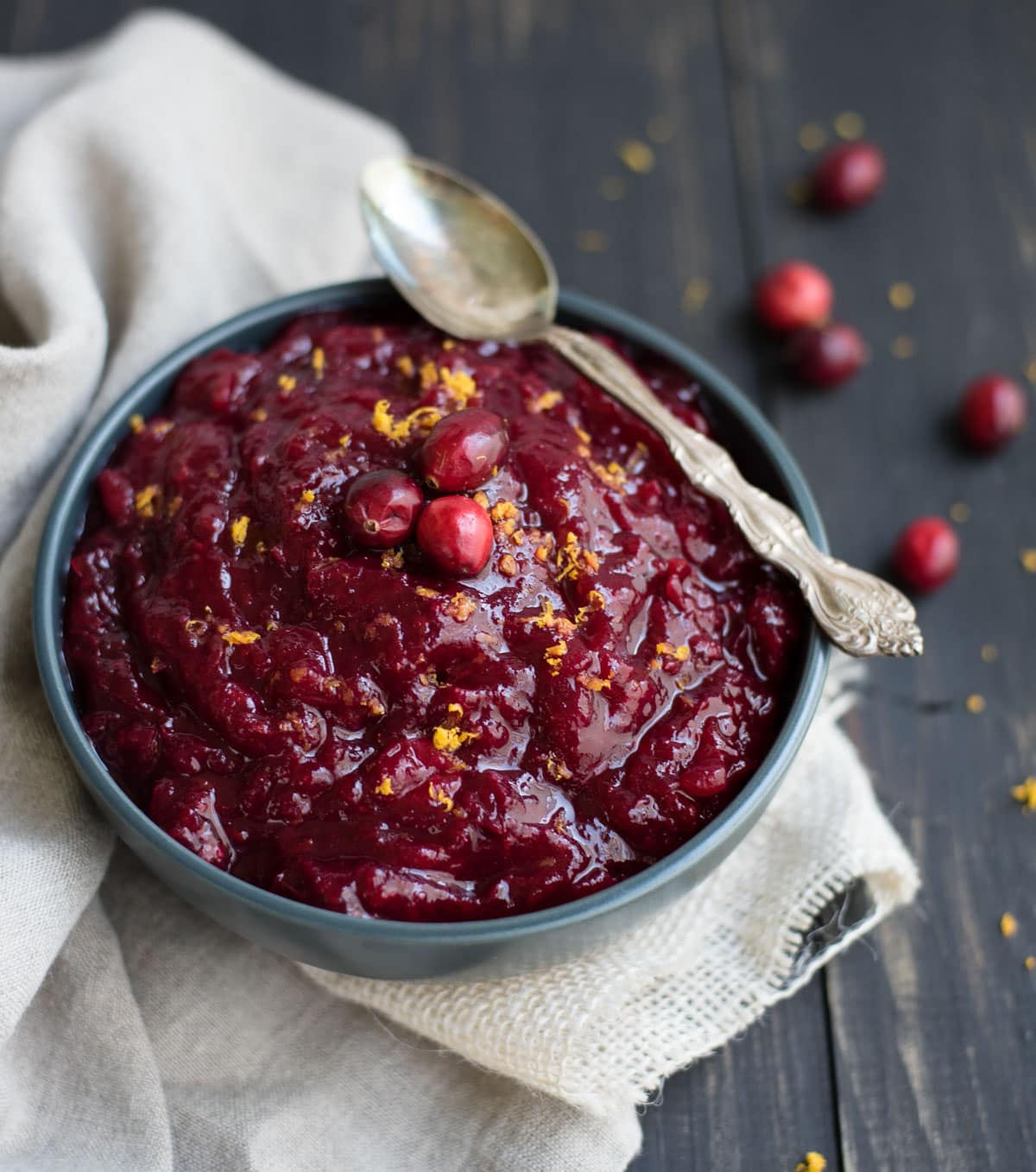 Cranberry sauce is the often unsung hero of Thanksgiving. That flavor you have once a year that seems like a subtle side character but in truth, defines the whole show. I'm obviously a fan, although I know some aren't. But for those of you that don't like it, I dare to ask… maybe you just haven't had the good stuff yet?
If you're on board with cranberry sauce but don't make it yourself, well, you're about to start. Making your own honey cranberry sauce is that it makes you look like you've got your Thanksgiving game on point. It's the final touch that makes a good, homemade Thanksgiving dinner ultra impressive.
The kicker? It is soooo easy! It takes about 15 – 20 mins to make and most of that time, you're just casually stirring a pot every 2-3 minutes. NBD right?
Why you need to make this cranberry sauce recipe
If you're looking for not just the best honey cranberry sauce, but simply the best cranberry sauce period, this is the recipe you want. Bold statement I know, but honey does an excellent job of sweetening up tart cranberries and you won't miss the refined sugar one bit.
Plus, this recipe gets extra flavor from orange zest, orange juice and a bit of cinnamon. The orange gives it so much flavor that I probably should've called it honey orange cranberry sauce, but it didn't have the right ring to it. It's the perfect combo to complement your Thanksgiving Turkey and sides.
Flavor aside though, refined sugar is higher on the glycemic index than honey which means it causes your blood sugar to spike more than honey does. Honey is higher in fructose than sugar is, making it sweeter and more calorie dense. This is the reason you don't need as much honey when you're substituting for sugar. This makes it perfect for counterbalancing something as sour as cranberries.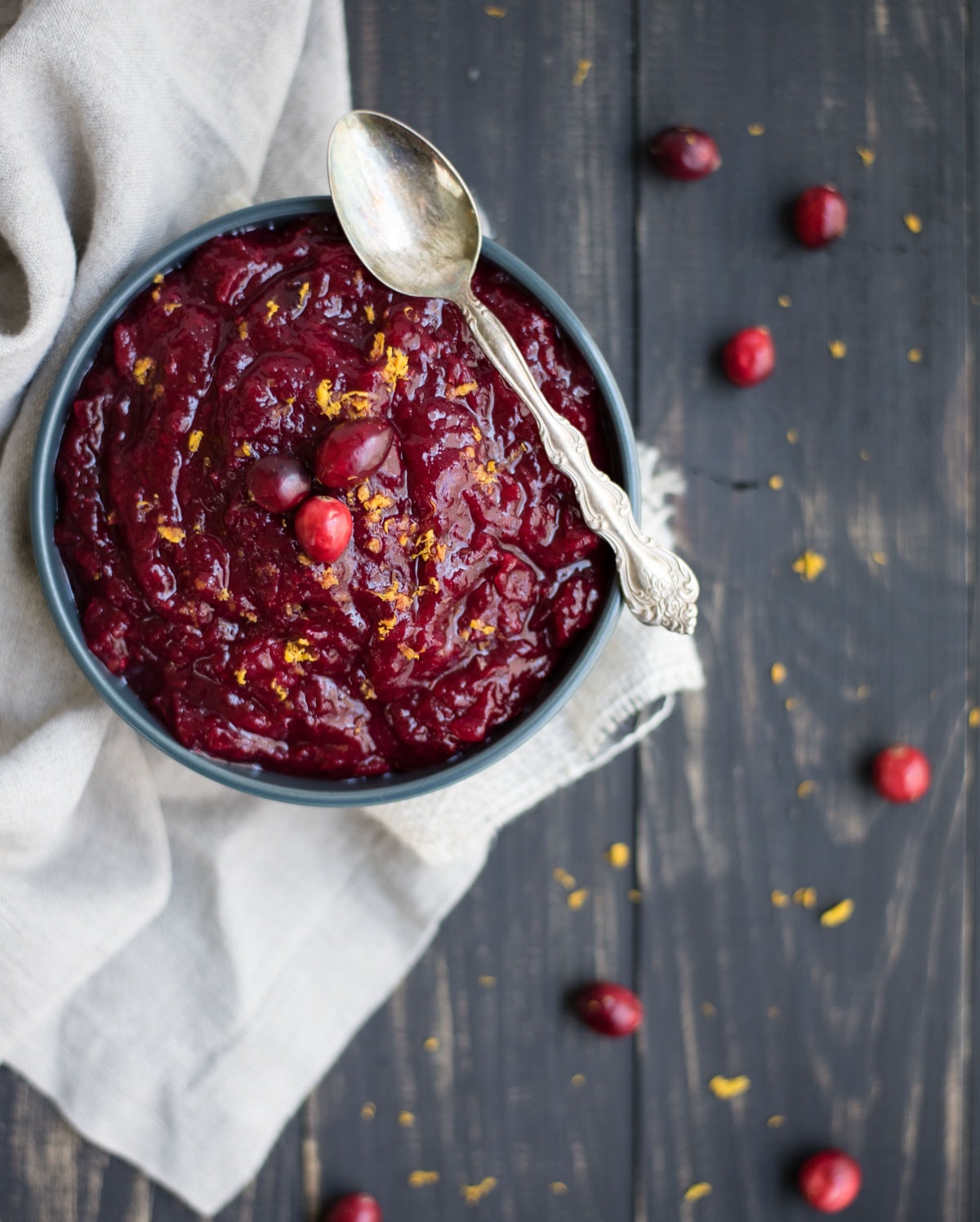 I can't remember the recipe I tried that first year I made it on my own, but I do remember that it called for a cup of white sugar. At the time, I didn't bat an eye dumping it in. As I became more informed on how different sugars affect our bodies, I decided to switch this out with honey. From there, this honey cranberry sauce recipe was born and I haven't looked back since.
With all of the research done in recent years on the damage sugar does to your body, a lot of us are trying to cut back on the sweet stuff. There is no "safe" sugar that you're able to eat with wild abandon and not run into negative side effects.
That being said, not all forms of sweetener are created equal. There's no denying honey is the lesser of the two evils. When you aren't giving up any flavor, why not sub for something healthier? Ha, especially thinking about everything else you're bound to eat during that meal.
How to make cranberry sauce
Cranberry sauce is so simple to make that even a novice cook or kid could tackle this one (with adult supervision!). Here are the basic steps:
Dump cranberries, water, OJ, and honey in a pot
Let cook down for 10 minutes stirring here and there
Remove from heat and add a few more spices
Seriously, I kid you not. It's that easy. Told you that you'd never get store bought again after reading this post!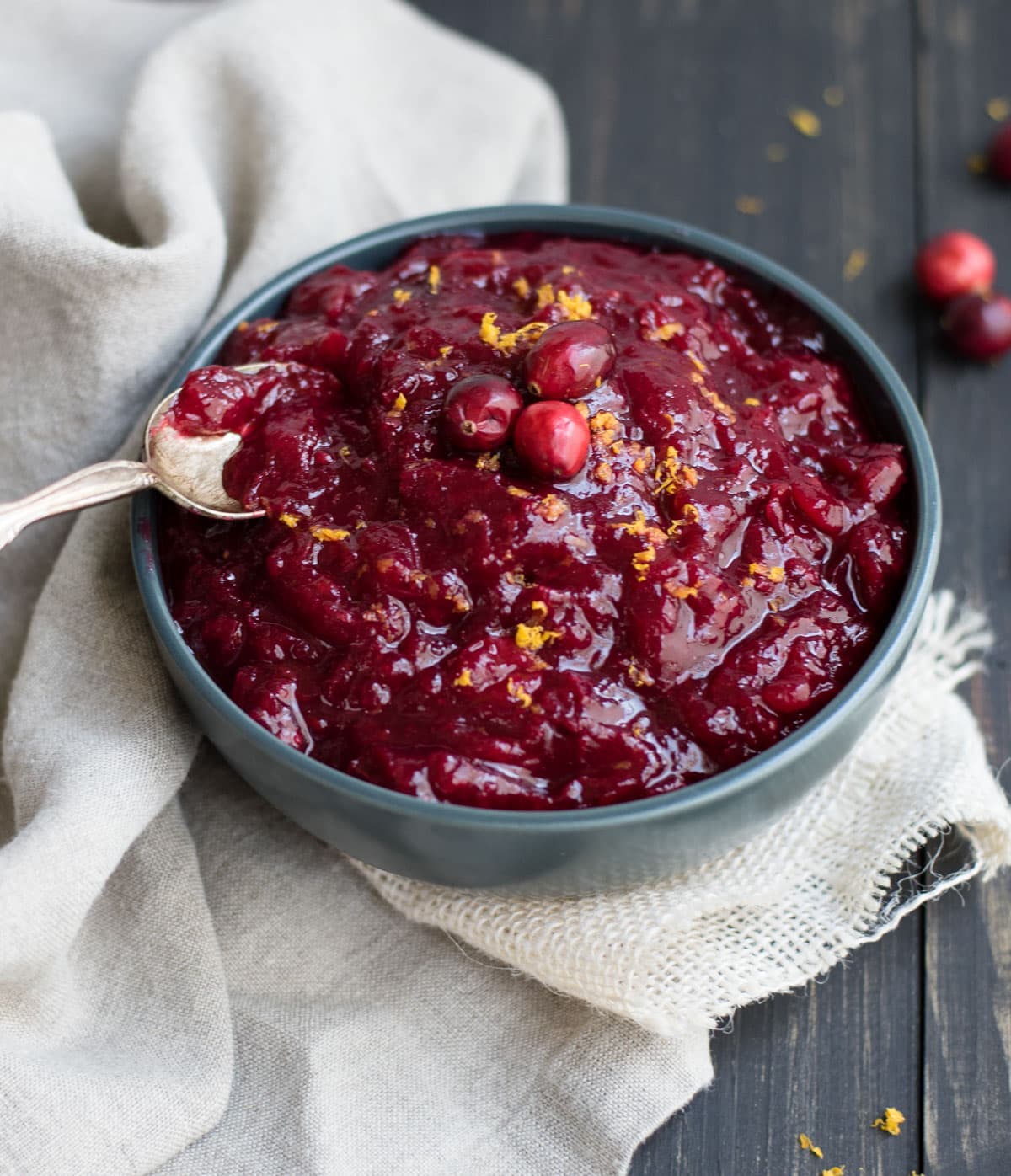 Substitutions
This recipe can be easily tailored. Here are a few suggestions:
To make vegan, replace the honey with agave syrup
If you like it on the sweeter side, add more honey
For a more spice filled sauce, add more cinnamon and nutmeg
If you don't like orange cranberry sauce and want to make the orange flavor less prominent, leave the zest out or add less
And if you don't have oranges or juice you can use water but it won't have that punchy orange flavor that elevates it to the next level
The world is your little cranberry filled oyster with this recipe. Tweak to fit your preferences. Or don't change a thing and trust my judgment. 😉
Making Cranberry Sauce Ahead of Time
Cranberry sauce is one thing that you absolutely should always make ahead of time. I repeat, there is absolutely no reason to make it the day of the big feast. For the love of god, don't stress yourself out unnecessarily. There's always enough of that going around on Thanksgiving without an extra pot on the stove.
Cranberry sauce actually keeps in the fridge for ages so you can knock this recipe out up to a week in advance if you feel so inclined. I think its at its peak around the 2-3 day mark though so I normally make this on Monday or Tuesday night. This way I can focus on all of the critical dishes the Wednesday before the big day and then do as little actual cooking as possible on Thanksgiving.
To prepare ahead of time, simply cool after cooking and store in an airtight container in the refrigerator until Thanksgiving day. It tastes best served at room temperature so make sure to pull it out of the refrigerator 3-4 hours before you plan to eat to give it time to come to room temp.
What to do with leftover cranberry sauce
If you're looking for leftover cranberry sauce recipes, I've got some solid suggestions for you. I mean, who actually goes through a whole thing of cranberry sauce anyways?
First and foremost, it is easily freezable. Yes, it will keep in the refrigerator for up to two weeks but freezing it means that you can bust some out for a Christmas party appetizer and look like a festive cranberry ninja.
Here are some of my favorite ways to use leftover cranberry sauce:
This cranberry goat cheese log is rolled in herbs, pomegranate arils and toasted nuts. Show me a recipe more festive than that. I dare you.
I don't even have a recipe for this (yet) but toss some meatballs in a crockpot with a cup cranberry sauce and a cup of salsa. Sounds totally weird but it works!
These cranberry sauce bars from Num's The Word look absolutely delightful.
Cranberry sauce muffins from Ahead of Thyme sound so good too! Love that idea.
Other Thanksgiving Recipes
Oh, there are so many. Here are a few of my favorites:
Honey cranberry sauce with zesty orange and spicy cinnamon that's naturally sweetened with honey. So easy and tasty, you'll never buy it pre-made again!
Ingredients
Instructions
Pick through cranberries and throw away any bad ones. In a medium saucepan set to medium-high heat, add cranberries, water, orange juice, and honey. Bring to a boil and reduce heat to low. 


Let thicken, stirring occasionally for about 8-10 minutes until most of the cranberries half burst and the sauce is the desired thickness (sauce will thicken much more as it cools).


Remove from heat and stir in orange zest, cinnamon, nutmeg and salt. Taste and adjust if desired. Watch out - it will be hot!


Refrigerate in a sealed container and bring to room temperature before serving. Sauce will keep in the refrigerator for up to two weeks.

Nutrition
Calories: 59kcal | Carbohydrates: 16g | Protein: 1g | Fat: 1g | Saturated Fat: 1g | Sodium: 2mg | Potassium: 42mg | Fiber: 1g | Sugar: 13g | Vitamin A: 27IU | Vitamin C: 7mg | Calcium: 3mg | Iron: 1mg
Originally published November 22, 2017 but post has since been updated to add additional tips and content.