Cashew cream sauce is drizzled over perfectly roasted caramelized carrots in this easy, flavorful, absolutely delicious, naturally vegan dish.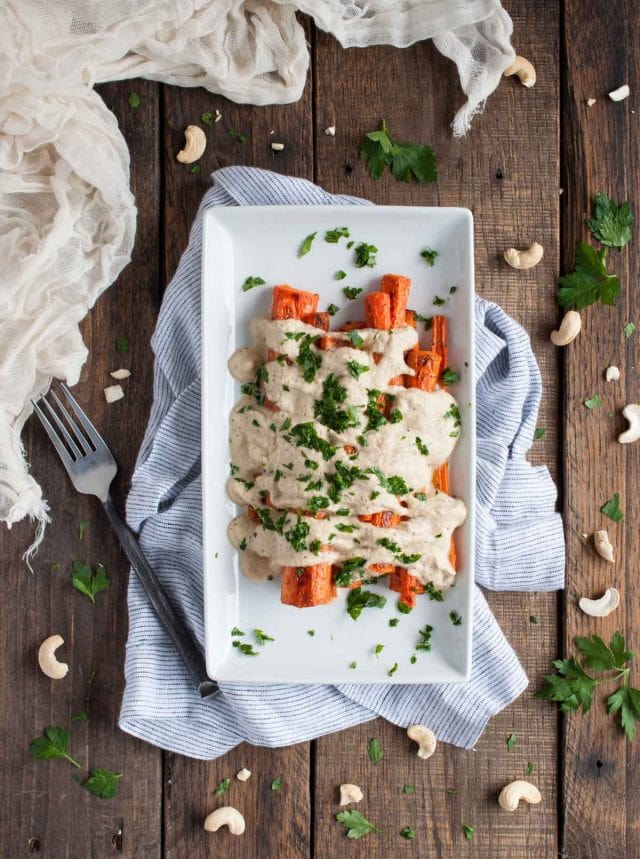 Have you had caramelized carrots before? You'd remember if you had. The roasting brings out an intense sweetness that becomes pure magic when coupled with the charred bits on the outside. And after smothering them in a cashew cream sauce, ahhhh!! They're almost too good to be true!
I used to get Better Homes and Gardens magazine and would swoon over the pictures, flipping page to page, dreaming of my future house and perfect life. Don't laugh. Or at least, don't laugh too hard.
It was a ritual that served its purpose at the time. I was working long hours and putting my way through grad school at night and was burnt out to the max. This dream kept me going during those hard, stress filled crazy times.
But, no matter how much I loved ogling those picture perfect houses and meticulously decorated rooms, I always flipped to the food section in the middle and devoured it first, pouring over every image and recipe. Go figure. Once a food nut, always a food nut.
I have an entire binder somewhere filled with torn out recipes from old magazines. Most are riddled with scribbled notes and changes I'd made to the original instructions (or course). These were my pre-blogging days, and even then, I couldn't stick to a recipe for the life of me.
The reason I'm telling you this is because this recipe was inspired by something I made yeeears ago from a BHG magazine that hasn't left my mind. It was a thanksgiving issue probably 7-8 years ago, and umm, yeah, I'm still thinking about it. I've tried finding it online, but can't remember what it was called.
I do remember, however, that carrots and heavy cream are a pairing made in veggie nirvana. Total yum sauce.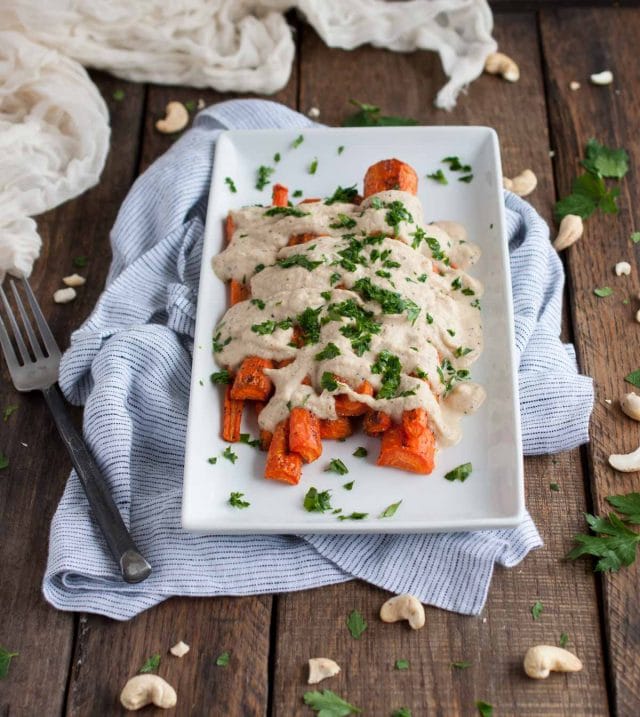 I wanted to try recreating this delicious duo, but in a lighter, plant based way. That's where the idea to replace with a cashew cream sauce came from. I've been obsessing over a new podcast lately called Food Heals Nation that talks about plant based diets a lot. This could be annoying, but for some reason it isn't. The hosts are super entertaining and the guests are full of good info.
Granted, I pick and choose the episodes I listen to based on the topics that interest me, but I haven't heard a bad one yet. Its totally in line with my take on food! The main theme is not to restrict yourself, but to make sure you're filling your diet with nutritious foods in between treating yourself. Want chocolate? Eat it! Just choose a veggie next time.
Might I suggest a carrot?
If roasted carrots and cashew cream sauce isn't your thing, well, then you probably stopped reading this long ago, but if not, there are other options. I've got a black bean quinoa casserole recipe with terrible photos, but if you can get past those, its really quite tasty and full of protein. Or this red lentil dal is a tasty meatless option that's full of flavor.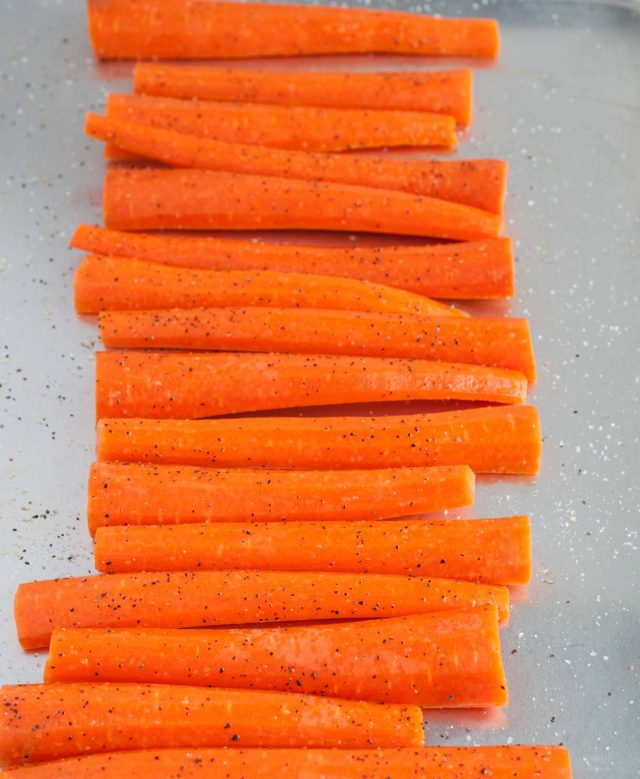 Between this podcast and a recent vegan recipe development project I did for Replenish PDX, I have been more energized than ever to eat my veggies. I'm still a meat eater (obvi), but I'm a huge proponent of meatless meals.
You don't have to go full on gluten free, vegan, "I only eat plants that were grown 1 mile from my house and drive a Prius" style to reap many the benefits of plant based living. Even just consciously eating meatless 1-2 nights a week can have a big impact.
From there, you can challenge yourself to go the whole day being meatless or choose to go dairy free those days too. Or not. Its up to you. Start small and see where it takes you. It can be empowering to make changes like this. If you're coming from eating a standard American diet, you will definitely start to feel change happen when you make this shift.
And the change won't even seem that noticeable when you're covering veggies in decadence like this cashew cream sauce! It can make veggies taste just as good, if not better, than meat dishes.
Anyways, you get the point, veggies are good mmkay? (Said in Mr. Mackey's voice from South Park of course)
Now let's get back to talking about the veggie of the day – carrots!
Remember how I said they get all roasty and caramelized. Check out the toasty edges on that one right above. Isn't it glorious? I wish I had taken a picture of the other side to show you. That's where most of the browning happened. Either way, picture or no picture, believe me that they were delicious.
This recipe is so incredibly easy too. It does dirty a few different dishes (a baking sheet, skillet or sauce pan, and a blender or food processor), but even with this, the steps are so simple you really can't complain.
While the carrots are roasting, you've got at least a good 15 to 20 minutes to kill before starting the sauce. I like a little downtime in a recipe from time to time. Gives me time to relax, walk the dog, chat with the hubs, or catch up on other things for a little while.
I'm sure there's not a soul out there that's going to turn down a few extra minutes in the day. Consider it done with this recipe.
This recipe has enough protein in the cashew cream sauce that you can have it as a main dish. The portions are aren't overly large though so you'll want to pair with a salad if you're doing this as a main or double the recipe. If there are leftovers, it reheats pretty well so you'll have a great snack for the next day. It works well as a side too if you want to go that route instead.
If you scroll down to the nutrition facts, you'll see that it's got all the bases covered. Don't be afraid of the calories and fat though! Remember that nuts are good calories guys. All those monounsaturated fats do the body good.
Cashew cream sauce is drizzled over perfectly roasted caramelized carrots in this easy, flavorful, absolutely delicious, naturally vegan dish.
Ingredients
2 lbs. carrots peeled and cut in half long ways
1 Tbsp. oil olive, avocado, coconut, or whatever oil you prefer
Salt and pepper
1 Tbsp. chopped fresh parsley
Cashew Cream Sauce
1/3 cup raw cashews soaked in water for at least 1 hour, preferably all day
1 tsp. coconut or olive oil
1/3 cup chopped onion
1 tsp. minced garlic
3/4 cup vegetable or chicken broth
1/2 tsp. nutritional yeast
Salt and pepper to taste
Hot water if needed 1 -2 Tbsp.
Instructions
Preheat oven to 400° F (205° C).

Dry carrots with paper towels or a kitchen towel. Rub carrots with oil and sprinkle with salt and pepper.

Lay flat on a baking sheet and place in pre-heated oven. Bake carrots for 20 minutes, then flip and bake another 10 minutes. This is for average sized carrots and cooking time will vary depending on the size of the carrots so adjust if needed.

During the last 15 minutes of cooking time, start making sauce by heating oil in a small sauce pan over medium heat. Sauté onion in oil for about 5 minutes until it starts to brown. Add garlic and cook 1-2 minutes longer. Pour in broth and bring to a boil.

Remove broth from heat and pour into a blender or food processor. Drain cashews and add to blender along with nutritional yeast. Blend until smooth and creamy. Add water if needed, just enough to make it pourable but still thick and sauce like. Season to taste with salt and pepper.


Remove carrots from oven and place on serving plate. Pour sauce over carrots and sprinkle with parsley. Serves 2 as a side or one as a main dish.
Nutrition
Calories: 417kcal | Carbohydrates: 54g | Protein: 9g | Fat: 20g | Saturated Fat: 4g | Sodium: 643mg | Potassium: 1768mg | Fiber: 14g | Sugar: 23g | Vitamin A: 76400IU | Vitamin C: 45.5mg | Calcium: 179mg | Iron: 3.4mg