This Mexican bean dip is easy and tasty as can be with Greek yogurt adding a nutrition and protein punch. The melted cheese and toppings take it over the top!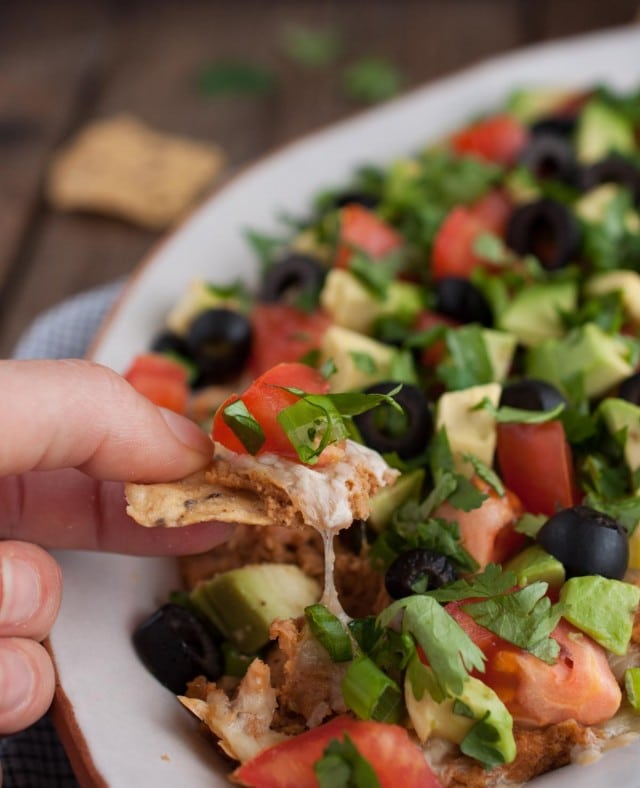 After getting back from our trio of vacations (Toronto, Whistler, and Costa Rica, oh my!), we've been in desperate need of a diet restart. I actually made this bean dip before the craziness started, but am revisiting it now since its the perfect healthy snack to get your eating back on track.
Costa Rica was such an incredible adventure. In addition to being part of a beautiful wedding, we got plenty of pool time, snorkeling, beach walks, and all kinds of relaxing fun in the sun.
I discovered that one can exist *almost* entirely off piña coladas for several days straight so that was an important finding. I plan to publish the results of the extensive research I did on this topic in a yet to be determined semi-credible scientific journal. Please stay tuned for more information on this important and ground breaking study.
But, as all post-vacationers know, weaning oneself off piña coladas and re-entering the real world must be done at some point. So, here we are, trying to get back into healthy eating but still craving all the fresh and tasty things. That's where I remembered this bean dip recipe. Bean dip is the perfect snack for easing yourself back into your healthy routine. I know bean dip might sound boring, but this one is anything but that!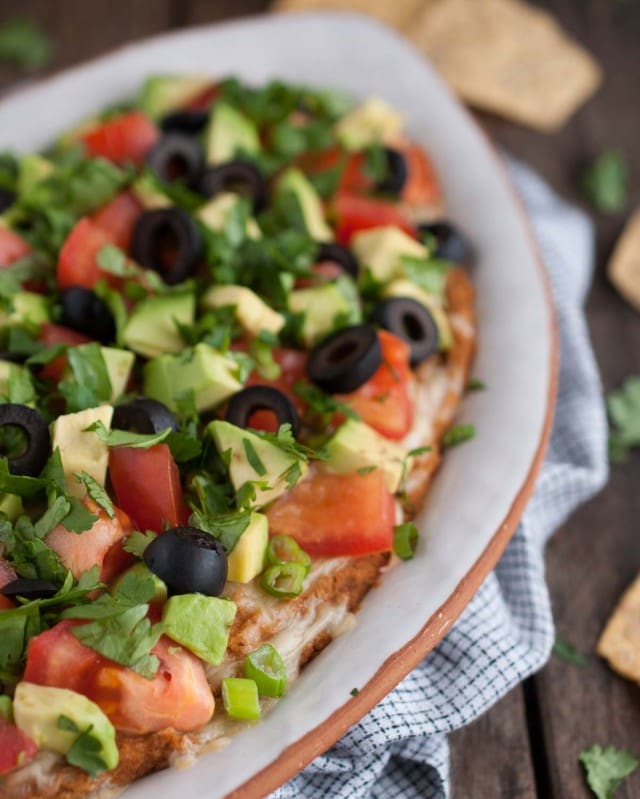 The melty cheese adds that ooey gooeyness that makes it taste more indulgent than it is. This is all part of the trickery though since there's only a thin layer of cheese on top. If you really want to, you can always add more cheese of course, but I choose to use a thin layer to make this a healthier, lightened up version of traditional bean dip.
And the toppings? Oh my laaands, the toppings! Fresh cilantro, green onion, avocado, tomato, and black olives. Yum, yum, and yum again. You can tweak these to fit your preferences, but I like to load it up. I'm an everything bagel kind of gal. The more flavors the merrier in dishes like this. Plus, all the toppings are healthy and add to the nutritiousness of the dish! Doesn't get better than that.
Below you can see the inner workings of the bean dip making. Throw some beans, yogurt (or sour cream), lime juice, and seasonings in a blender or food processor and pulse until smooth and creamy.
I used Olena's tips over on ifoodreal to make and freeze a bunch of beans a while back. This was great… until I realized they were over taking my freezer. So, we've been on a use all the beans kick ever since. Canned beans work the same way as thawed cooked beans, so use whichever you prefer.
It will come out looking like this. Trust me, it tastes better than it looks.
From here, just sprinkle cheese on top and bake until warm and bubbly. Then comes the best part – the toppings! Add as many as your heart desires. Mine ends up having about as much toppings as there is bean dip. I love it this way.
You can always pick and choose whatever toppings you like best. You don't have to follow the recipe to a T on this by any means. I'm not a huge black olive fan so I leave those off sometimes, but its up to you. Do whatever fits your fancy, just make sure you add a borderline insane amount of goodies, irregardless of what they are.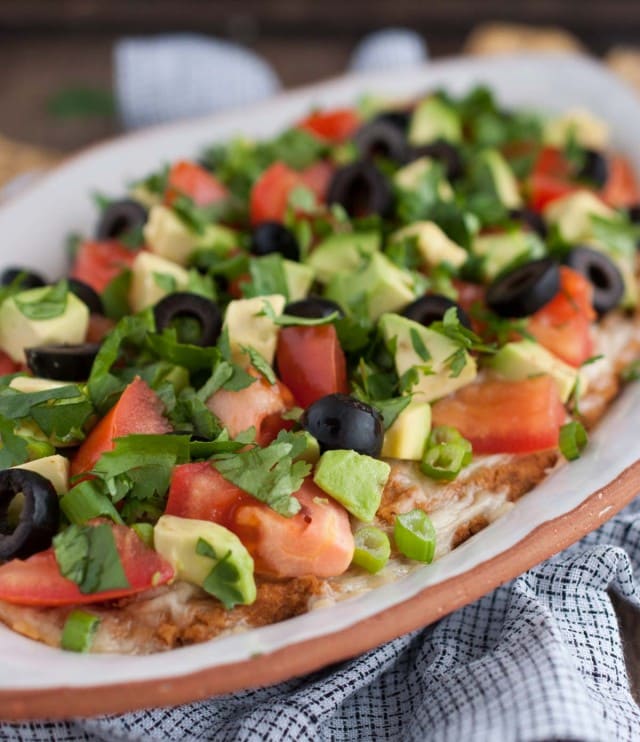 One other option is to use sour cream instead of yogurt. I like to use Greek yogurt because it adds protein and contributes to the overall healthiness of the recipe. You can definitely taste the yogurt though so if you're one of the people that loathe yogurt, you may want to scale back a bit on this or use sour cream.
Like I say with many recipes, this bean dip is one that you can tweak and make your own in countless ways. Or , if bean dip just isn't your thing, but you're looking for a healthy snack, try these curry carrot fries, these fancy endives, or these zucchini pizza bites. Snack on my friends!
This Mexican bean dip is easy and tasty as can be with Greek yogurt adding a nutrition and protein punch. The melted cheese and toppings take it over the top!
Ingredients
Dip
2 cups cooked pinto or black beans (15 oz. can, rinsed and drained)
1/2 cup plain Greek yogurt
1 tsp. cumin
2 tsp. chili powder
1/2 - 1 tsp. salt (I like it to be closer to 1 tsp., but some like it less salty)
1/2 tsp. garlic powder
1/2 tsp. onion powder
1 Tbsp. fresh lime juice
1/2 cup cheese (cheddar, Monterey jack or pepper jack are my favorites for this)

Toppings
1 - 2 Tbsp. chopped cilantro
2 Tbsp. sliced green onion
1 medium tomato, diced
1/4 cup sliced black olives
1/2 of a small avocado, diced
Instructions
Preheat oven to 350 degrees F.

Put all dip ingredients, except cheese, into a blender or food processor and pulse until smooth and creamy. Taste and adjust salt level if needed.

Spread dip out evenly in an oven safe flat dish that will be easy for dipping. Sprinkle cheese on top (you can add more than 1/2 cup if you want it to be extra cheesy)* and place dish in oven.

Bake for 20 minutes until cheese is melted and dip is warmed through. Remove from oven and sprinkle evenly with toppings. Serve with chips, and/or sliced vegetables.
Notes
*Dip can be prepared up to this step a day ahead.
Nutrition
Calories: 132kcal | Carbohydrates: 15g | Protein: 8g | Fat: 5g | Saturated Fat: 2g | Cholesterol: 8mg | Sodium: 499mg | Potassium: 349mg | Fiber: 6g | Sugar: 1g | Vitamin A: 1020IU | Vitamin C: 6.1mg | Calcium: 98mg | Iron: 1.8mg