Zucchini pizza bites are the perfect snack for game day or any other time you need a healthy appetizer that is simple and easy to make, but full of flavor.
With Superbowl 2017 happening tomorrow, its about time to share a healthy appetizer with you! For those of you not in the US, the superbowl is THE sport event of the year on this side of the pond. Americans love their football. The kind with the brown ball not the white.
As most know, Americans also love food. The superbowl is an excuse to sit around and munch the day away on unhealthy snacks, adult beverages, and overall gluttony.
Although I'm a sucker for any rando excuse for a full on junk food party, I also love the challenge of creating snacks that are a little easier on the bod. Pepperoni, no matter how mini, aren't health food, but I think the zucchini helps make up for it.
Last year I did a roundup post of healthy superbowl snacks before the big day and included zucchini pizza bites from The Comfort of Cooking. I had made these a few times before that but it has taken me a few years to finally post this recipe. My recipe and method is pretty much the same as hers.
In fact, there are about a bazillion and a half recipes for zucchini pizza bites on the internet and they're all pretty much identical. For that reason, I'm not going to link to them all, but please know that this isn't a unique recipe, I'm simply adding mine to the mix too, just in case any of you haven't tried this recipe idea yet. It would be a crying shame to miss a snack this tasty.
I don't know what it is about pepperoni that is just so. damn. good. I used to be more of a veggie pizza lover, but lately I've been alllll about the pepperoni. Something about a simple pepperoni and cheese pizza is just so satisfying. We've already covered how unhealthy it is though. Bummer. Not to mention, pairing the pepperoni with all that bread and cheese is just asking to be bloated for two days straight. These zucchini bites have all of that same great flavor to fix your craving without making you feel like death.
Win-win right?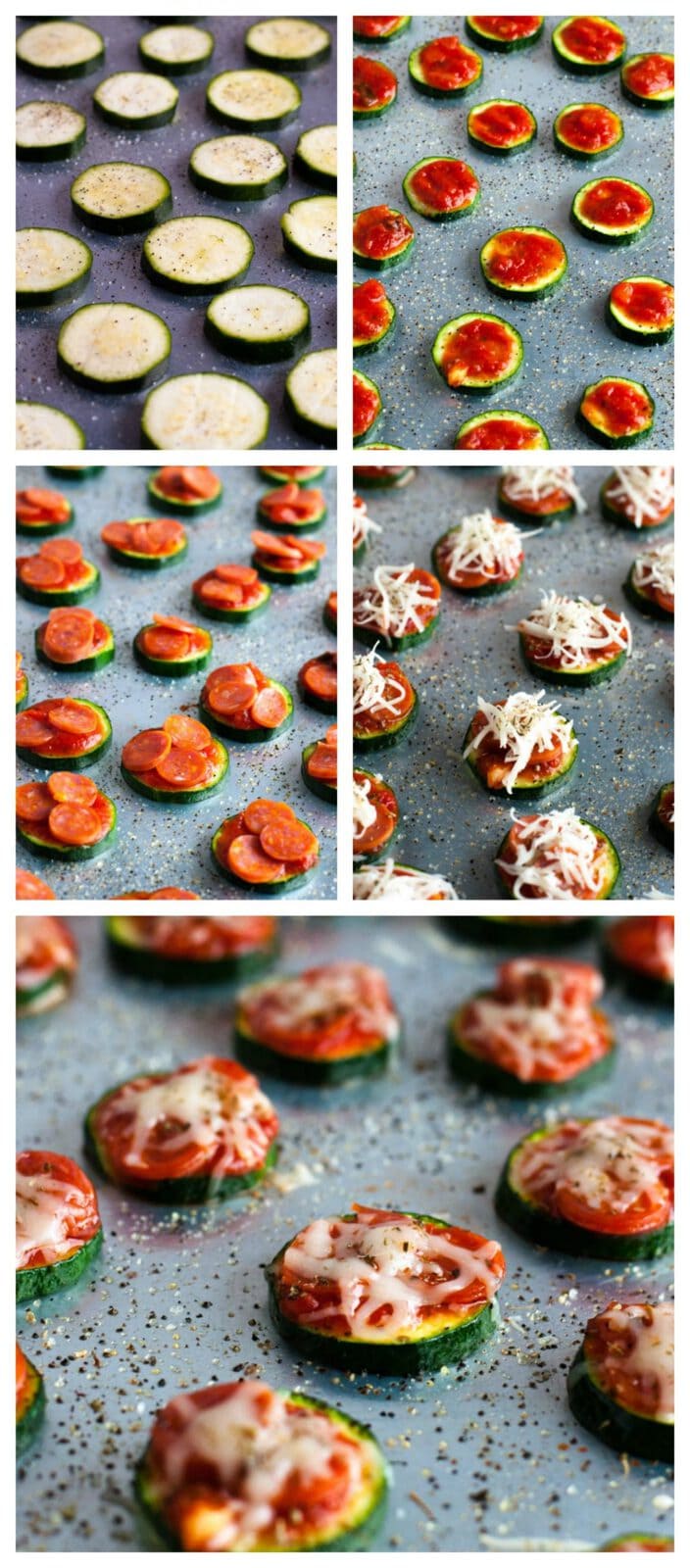 Pepperoni is still not the healthiest, but we'll give it a pass this time. Its one of those mystery meats that sends a shiver down vegetarians' spines. A dollar to anyone that can say (with certainty) what goes into the pepperoni process. Actually, scratch that.
We all know its probably pretty sketchy, so let's just make this an occasional treat and not part of the regular ol' diet. Deal? Excellent. I'm willing to forgo my judgement on occasion and indulge in some questionable meatiness. Save the salad for another day.
Another thing I love about these zucchini pizza bites is their ability to sit on a plate and be snacked on over time. Sooo many party snacks don't hold up well after sitting out for 20 mins, let alone sitting around for an entire superbowl. Sure, these are better hot, but they sure aren't terrible cold either.
Kind of like that cold pizza you nibble on straight from the fridge… for breakfast. Come on, we all know we've done it. I'd venture to say that 80% of all pizza leftovers across the country are eaten cold. Granted, probably 30% of said cold pizza is probably eaten by hungover people that don't care what they're eating, but either way, it hits the spot.
Same applies to these zucchini pizza bites. You'll find yourself reaching for them an hour later when your stomach has finally settled down from your initial round of snacking.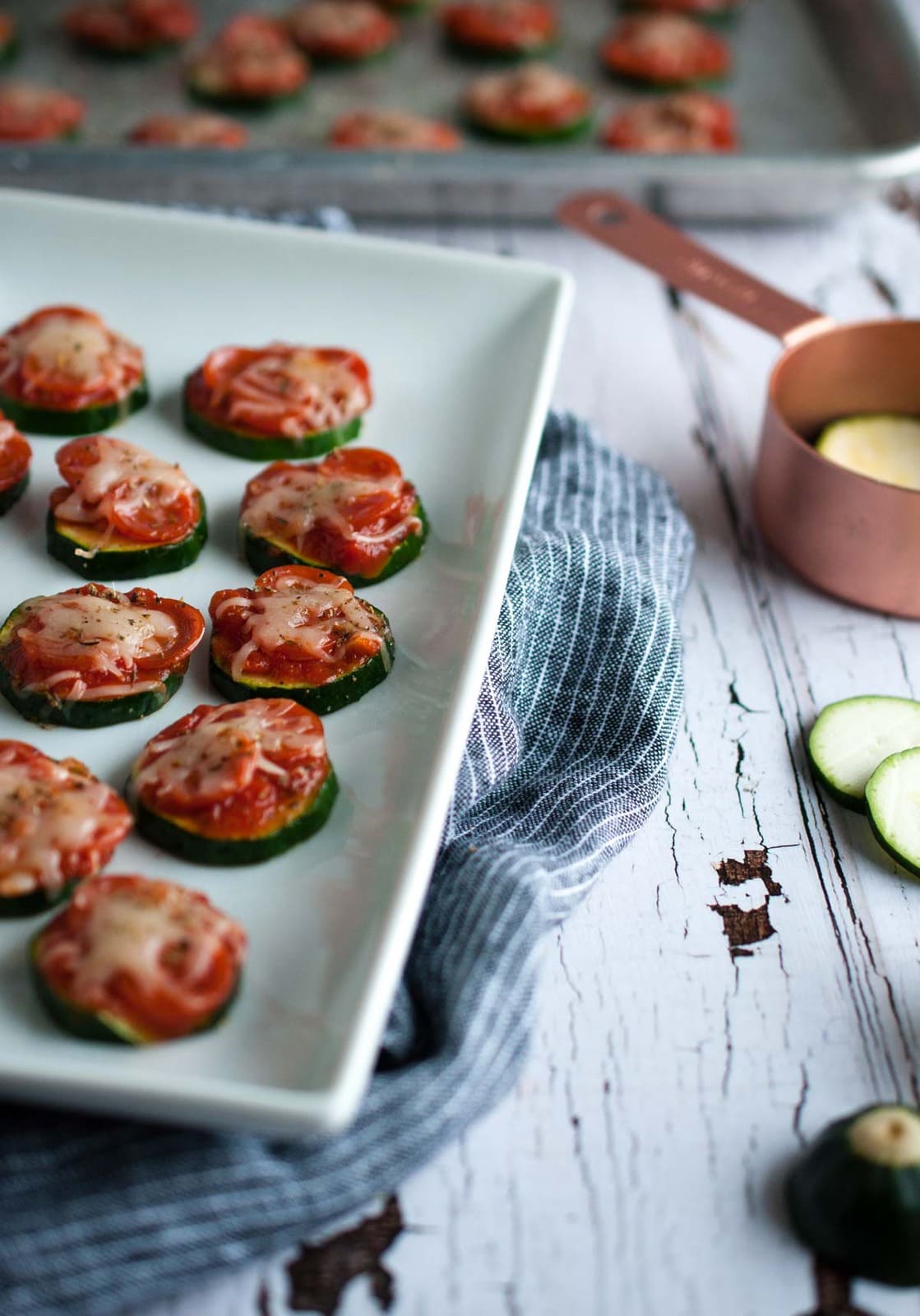 Zucchini pizza bites have another thing going for them too. They're easy as all get out. Have the kids help with this one. Shoot, have the kids do the whole dang recipe. Or if you're childless like me, rope the husband in to help. Between the two of you, these puppies will be in the oven in under 10 minutes. No prob.
As far as healthy appetizers go, this is one of the easiest recipes I've made to date. I've made oodles of hummus recipes, some killer carrot fries, and a bean dip to rival all bean dips. As far as bite sized healthy appetizers go though, they're pretty few and far between on this site.
I'm working on changing that so if you have any suggestions for what you'd like to see, feel free to drop me a comment or shoot me an email. I always love hearing from you!
Happy superbowl to all the Americans out there and happy Sunday to everyone else. 🙂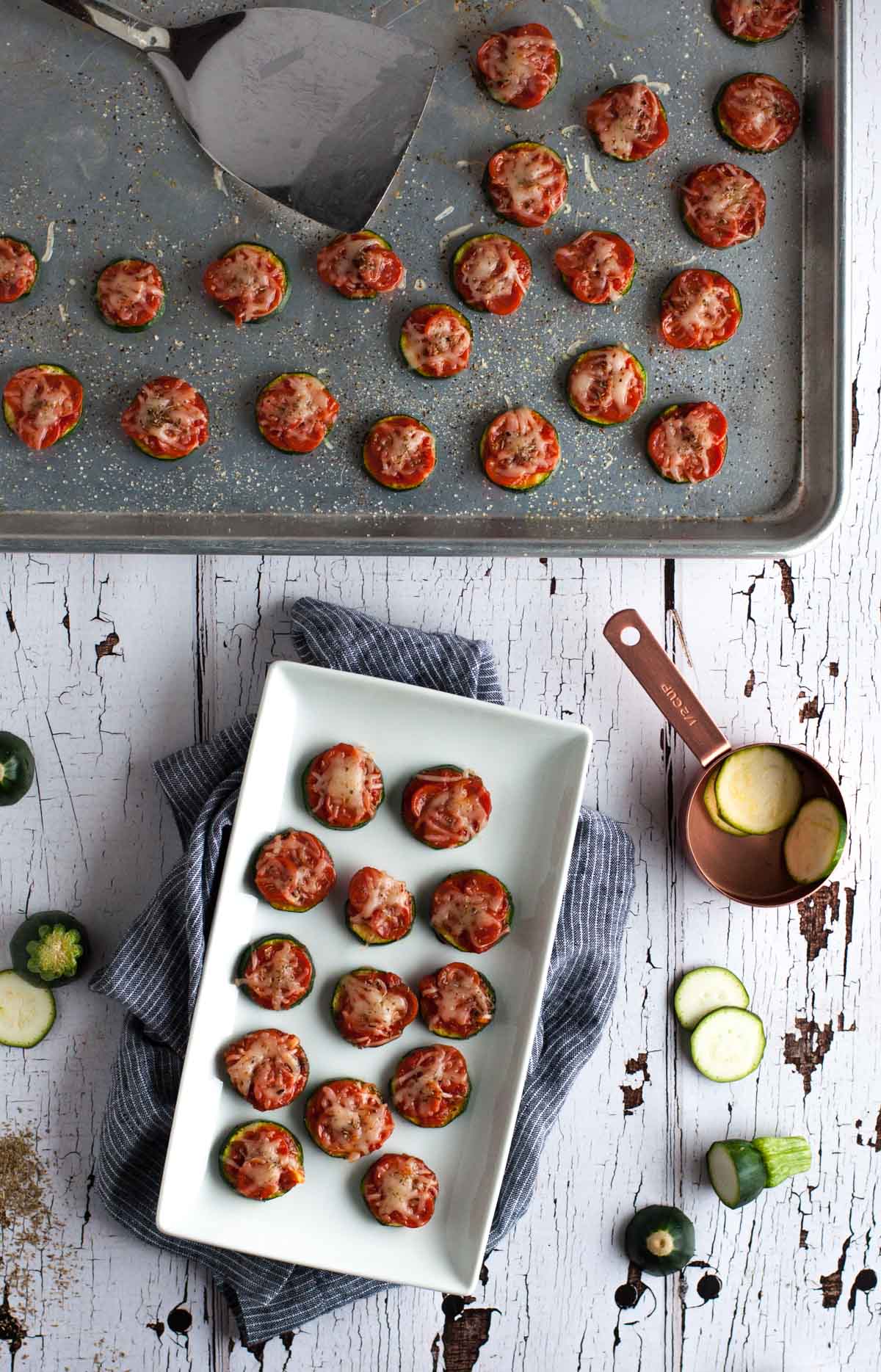 Zucchini pizza bites are the perfect snack for game day or any other time you need a healthy appetizer that is simple and easy to make, but full of flavor.
Ingredients
2 medium sized zucchini cut into ¼ inch rounds
Cooking spray
salt and pepper
¼ cup marinara sauce
½ cup shredded mozzarella
¼ cup mini pepperonis
½ tsp. Italian seasoning
Instructions
Preheat oven to broil.

Lay zucchini slices out on baking sheet in a single layer. Spray with olive oil cooking and sprinkle with a small amount of salt and pepper. Place zucchini in oven and cook for 2 minutes.

Flip and repeat by spraying other side with olive oil spray and sprinkling with salt and pepper. Place pan back in oven and cook on other side for 2 minutes.

Remove pan from oven and top each zucchini round with a small amount of marinara sauce, a couple pepperoni slices, and then a sprinkle of cheese. At a small pinch of Italian seasoning.

Broil for an additional 1-2 minutes until cheese is melted. Remove and serve right away.
Nutrition
Calories: 65kcal | Carbohydrates: 3g | Protein: 4g | Fat: 4g | Saturated Fat: 1g | Cholesterol: 12mg | Sodium: 200mg | Potassium: 224mg | Sugar: 2g | Vitamin A: 240IU | Vitamin C: 12.4mg | Calcium: 64mg | Iron: 0.6mg