Peanut butter banana oatmeal that's quick and easy to make in the microwave for a healthy, high protein breakfast that can be ready in under five minutes!
Yes, its true, microwavable peanut butter banana oatmeal is one of those easy, barely a recipe types of things. I find myself making it often though because it's a healthy breakfast that only takes a few minutes and has enough protein to keep me full until lunch. For that reason, I figured I'd share it with you all, along with a few tips to make microwave oatmeal even simpler so you can streamline your morning too.
Peanut butter and banana are an epic pair pretty much anytime their paths cross but they really take oatmeal to a whole new level. Oatmeal is kind of a blah breakfast plain (in my opinion) so you have to dress it up a bit. Luckily, adding banana here sweetens it up quite a bit so you only need a touch of sugar.
When you're looking at the recipe, keep in mind that bananas typically have about 14 grams of sugar in them so most of the sugar here is naturally occurring. There is maple syrup in the recipe but I typically use whatever I see first in the cabinet between that, honey, agave, or even coconut sugar. Just use whatever your favorite is. If you're really avoiding sugar, you can skip this and opt for less sweet oatmeal.
The ingredients are all naturally vegan and can be made gluten free by using gluten free oats. Whether you're vegan or not, everyone's body can use a break from animal products from time to time.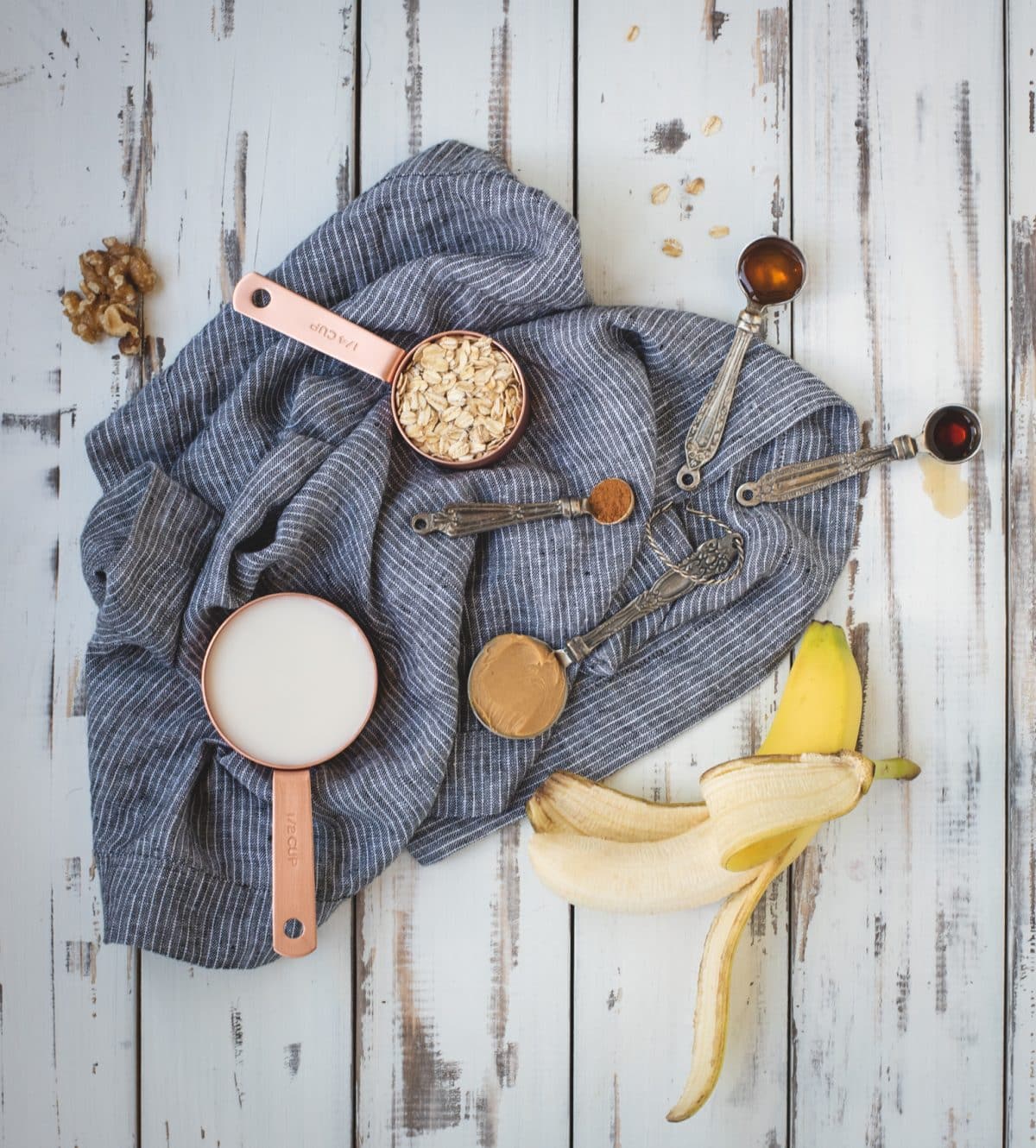 I love the peanut butter banana oatmeal combo but you can easily tweak this recipe further to use other fruit or nut butters. The main trick to microwaving oatmeal successfully (read: without making a mess of the microwave) is to reduce the power level and use a bigger bowl than necessary.
Sure, I took the pictures in a cute little cup, but I actually used a larger glass pyrex measuring cup to microwave it. Trussst me, once you've cleaned oatmeal out of the microwave half a dozen times, you won't screw around with this either. It just gets too hot and bubbles over smaller containers every time without fail.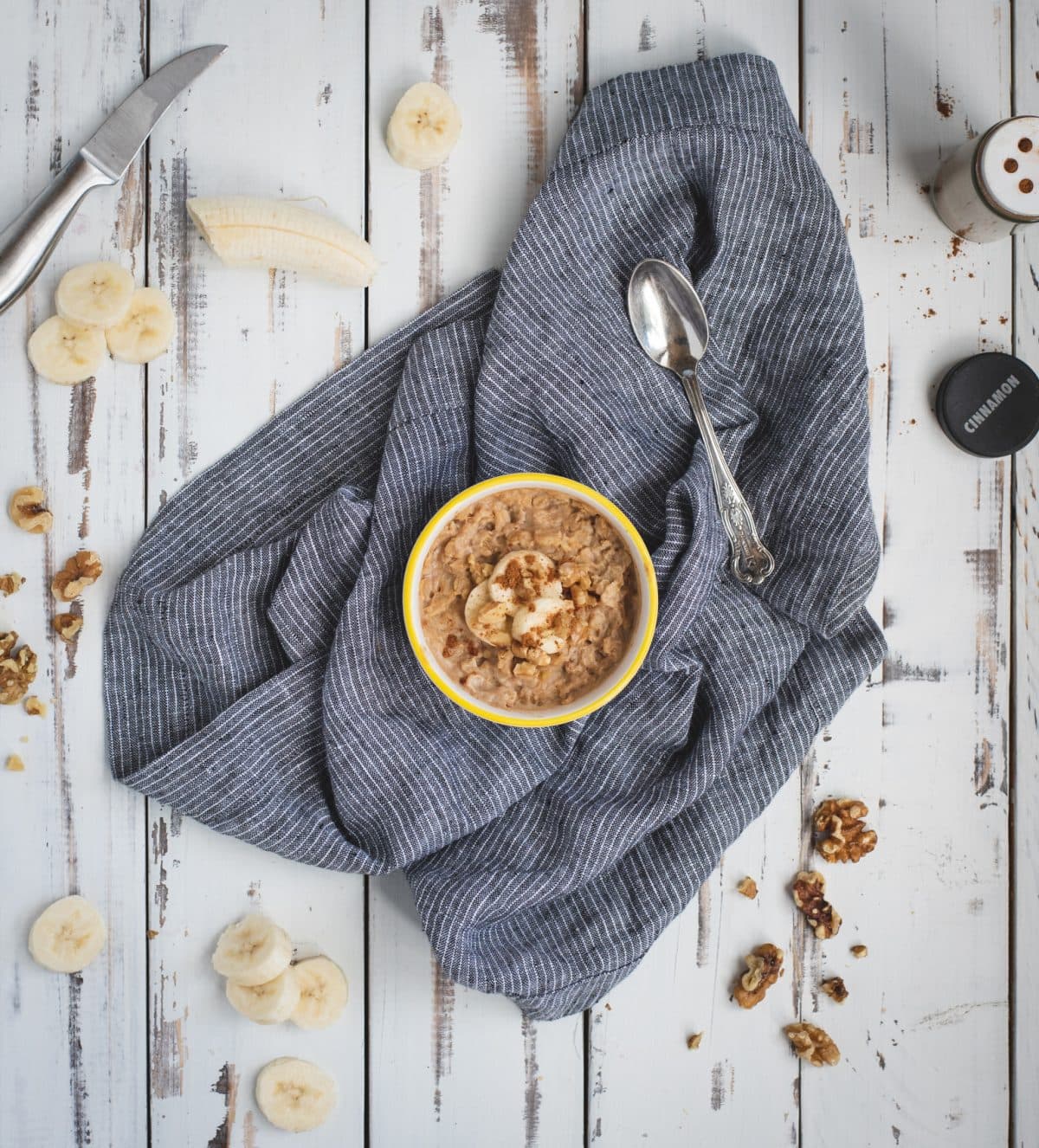 And normally I'm not taking pictures so I just eat it directly out of that glass measuring cup. Don't be fooled by my cherry or strawberry breakfast bakes, our daily breakfasts typically aren't fancy around here. Sure, we go all out on the weekends sometimes, but weekday breakfasts are all about practicality.
I like overnight oats, chia pudding, and all of those make ahead healthy breakfasts, but sometimes I forget to plan ahead or frankly, just don't care enough the night before. On those mornings, recipes like this microwave oatmeal are where I lean. Its still delicious but not a pain at all.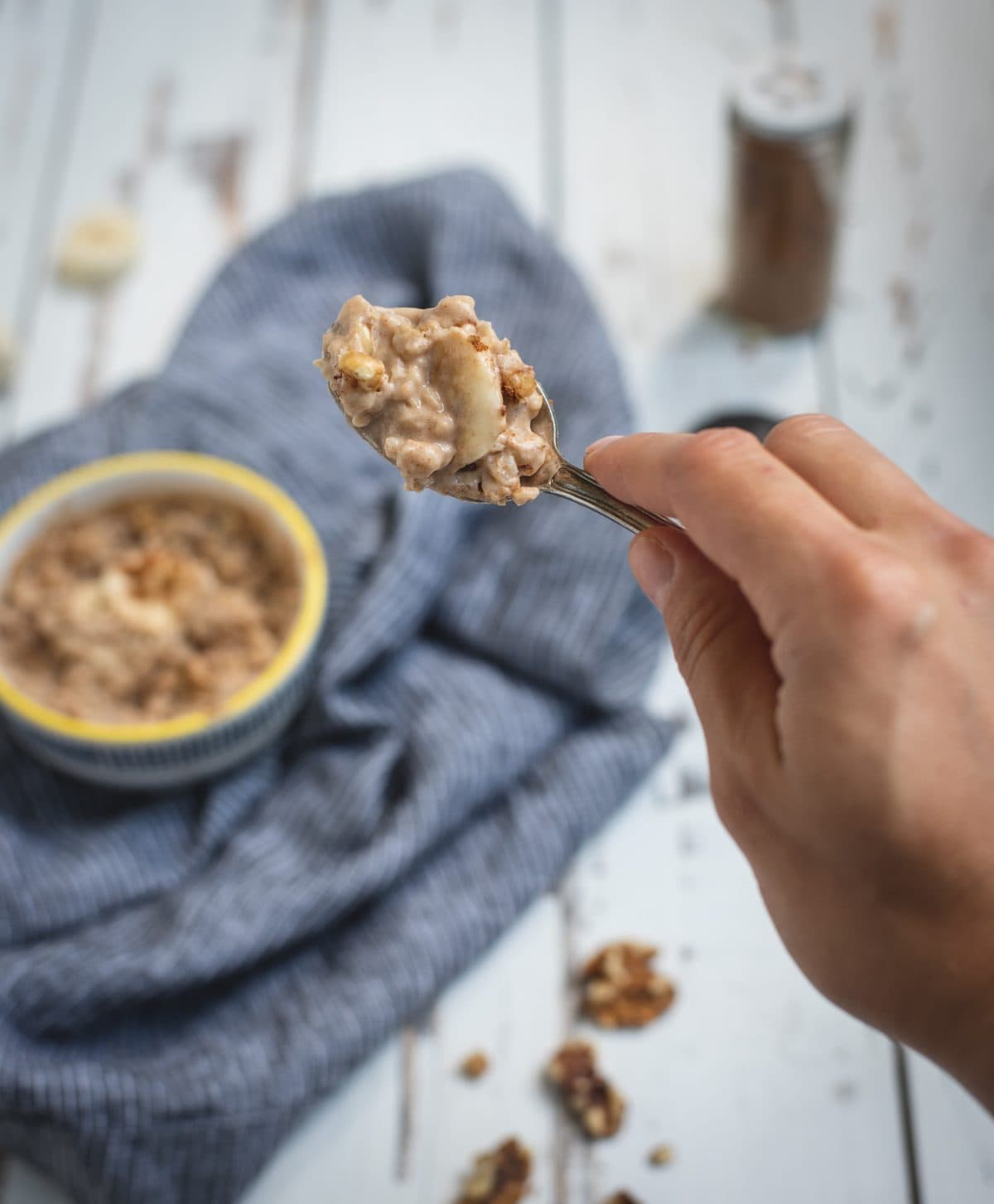 If you're a regular oatmeal eater, you know to wash that bowl our right away I'm sure, but let me just remind you here once more. For the love of everything holy – don't let that bowl sit there as is! Run some water in it at least before running out the door. Once oatmeal gets caked onto the bowl, it takes some serious scrubbing to get it off. No one wants to spend their time doing that.
Microwave Oatmeal Tips and Tricks
Make sure to use a higher rimmed, larger container for microwaving the oatmeal like this pyrex one I use
Reduce microwave power to 70 – 80%
You can mix the milk, sweetener, cinnamon, and vanilla up the night before and pre-measure the oats separately and set them aside. This way in the morning all you need to do is stir in the oats and start the microwave. You can slice the banana and get a scoop of peanut butter ready while microwaving.
Nuts can be toasted in the microwave! Just put them in a small dish and microwave for 90 -120 seconds (varies depending on nut and microwave strength). The first time you try this, check them early and often to make sure they don't burn while you're figuring out how long it takes your microwave to do this. I normally do 3-4 morning's worth of nuts at a time so that they're toasted and ready to go when I need them (you can add toasted nuts to these overnight oats, this salad, or whatever else you end up making).
I like peanut butter banana oatmeal best but strawberry almond butter is another good combo and I'm sure there are many others – play around to keep it interesting!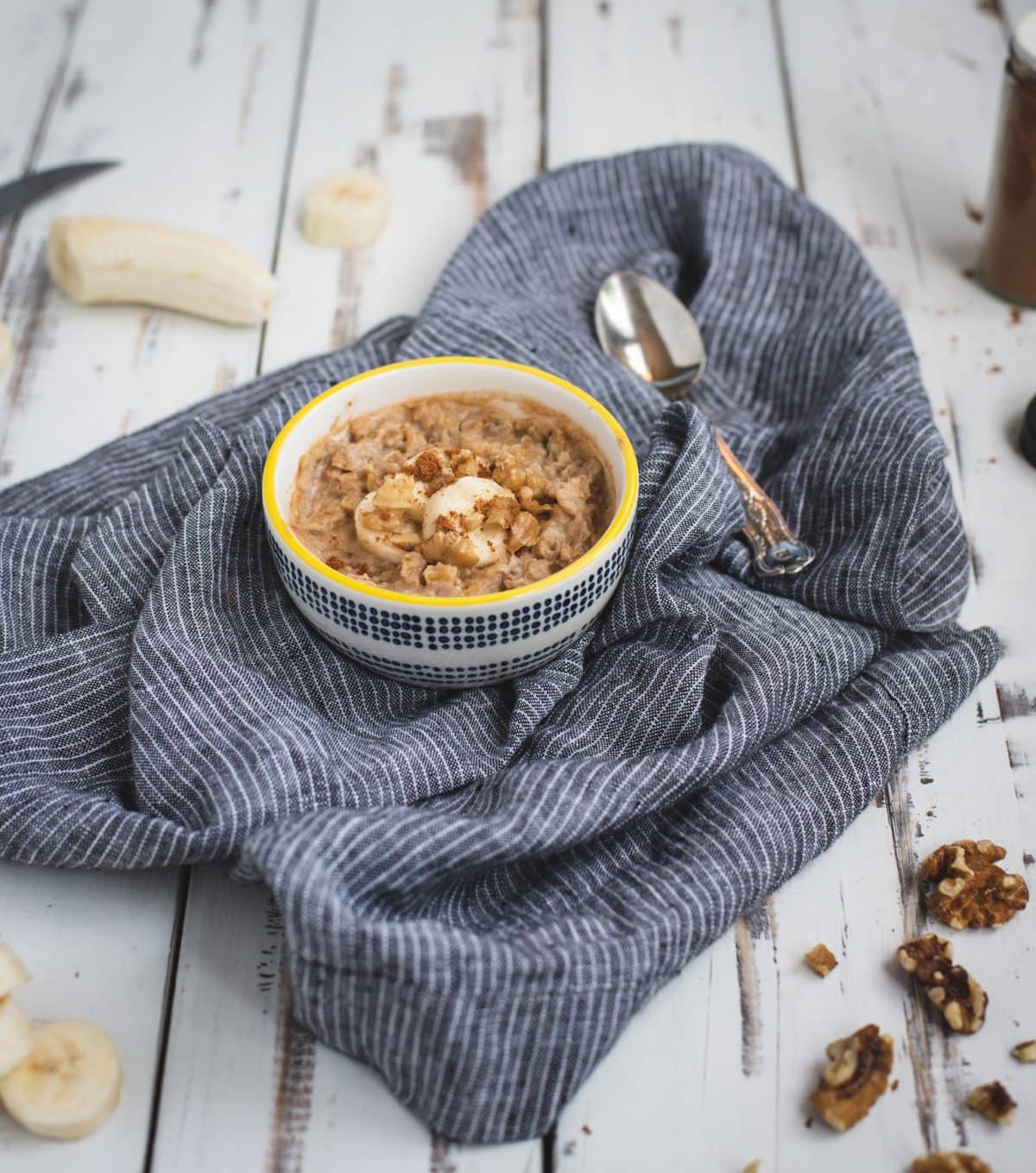 Peanut butter banana oatmeal that's quick and easy to make in the microwave for a healthy, high protein breakfast that can be ready in under five minutes.
Ingredients
1/4 cup rolled oats
1/2 cup unsweetened almond milk (or milk of choice)
1 tsp. pure maple syrup (or honey or agave syrup)
1/4 tsp. ground cinnamon
1/2 tsp. vanilla extract
1 Tbsp. peanut butter (if peanut butter is unsalted, add a tiny pinch of salt)
1 banana, sliced
2 Tbsp. chopped toasted nuts* (optional, I used pecans)
Instructions
Add oats and almond milk to a glass or other microwave safe container that is taller than necessary to keep the liquid from boiling over (I use a glass Pyrex 2 cup measuring cup).

Microwave on 70-80% power for 90 seconds. Add maple syrup, peanut butter, cinnamon, and vanilla. Stir and microwave for another 90 seconds. If oats are not cooked thoroughly, microwave for another 30-90 seconds (the need for this will depend on the strength of your microwave).

Stir to evenly mix peanut butter in. Add sliced banana and chopped nuts (if desired) and eat right away, as soon as it is cool enough.
Notes
*Nuts can be 'toasted' in the microwave along with everything else. 
Nutrition
Calories: 309kcal | Carbohydrates: 48g | Protein: 8g | Fat: 10g | Saturated Fat: 1g | Sodium: 233mg | Potassium: 591mg | Fiber: 7g | Sugar: 19g | Vitamin A: 75IU | Vitamin C: 10.2mg | Calcium: 173mg | Iron: 1.4mg