This easy Instant Pot chicken curry with eggplant recipe is full of Indian flavors that will have you making it again and again for quick weeknight dinners!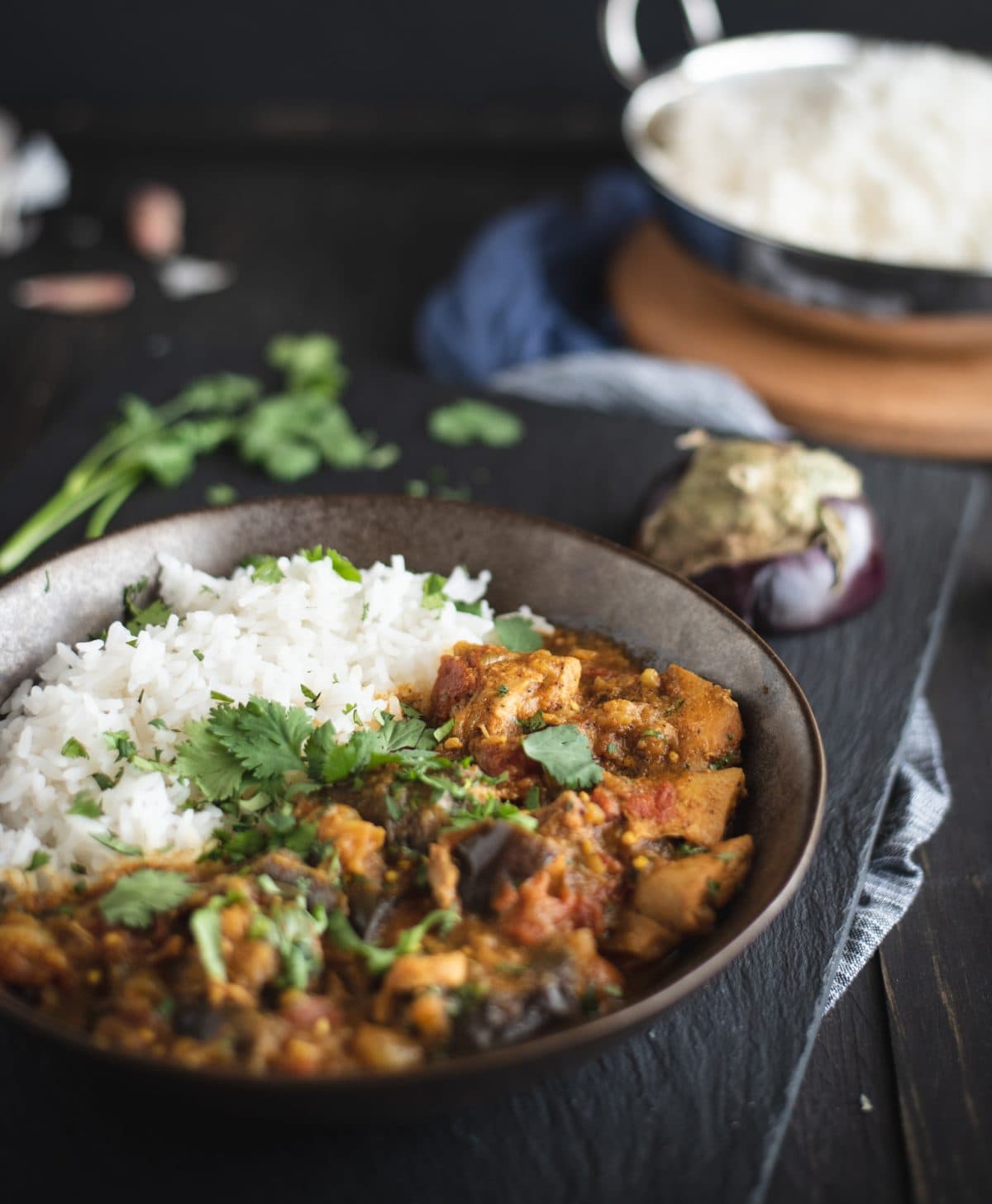 Call me the curry queen over here. Seriously, where is my crown? I've been popping out curry recipes left and right, but while that curry chicken salad is a cold lunch-like way to do curry, this is the hearty main dish version. Plus, with Instant Pot, this spicy pot of goodness is easier than ever!
Although I cook Indian food quite a bit, I'm not sure what the proper term is for a chicken curry like this. It's a bit thinner than others that use coconut milk as a base and has a strong tomato flavor that is complemented by the most delicious blend of spices. The fresh cilantro and touch of lime adds just a touch of freshness to the simmered brothy dish.
It is also very low in calories since it doesn't have coconut milk in it. While coconut milk based curries are creamy and satisfying, its nice to have another tasty option for when you want something lighter but still full of flavor.
There's nothing quite like a one pot meal that has all the flavor of a long drawn out recipe. Its perfect for weeknight dinners or anytime really cause weekends can be just as busy!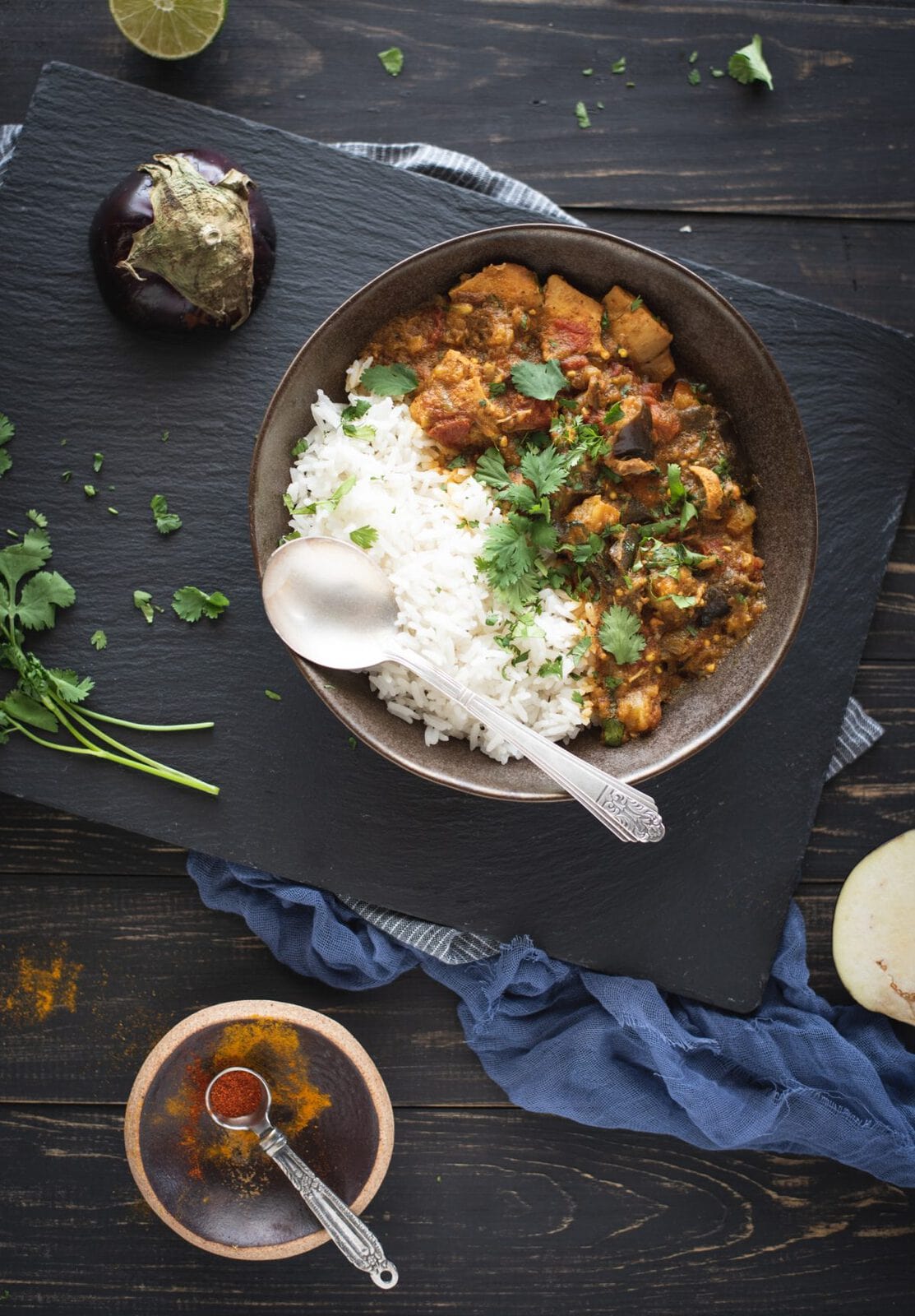 Can I do the prep work ahead of time?
Yes, yes you may. The Instant Pot is perfect for feeding guests. Sure, it isn't fancy so its not really the best option for when you want to impress with your kitchen mastery, but when you're having good friends over and want to get all of the prep done ahead of time so that you can actually socialize, Instant Pot is incredibly convenient.
For this recipe, you can sauté the onion and spices and then add the eggplant and other ingredients and refrigerate in the same pot until it's time to cook it all. You can chop the cilantro ahead of time and store in a container in the refrigerator for 6-8 hours (it you store too long like this, it will still be fine but starts to loose its freshness).
I know it isn't recommended for food safety to have raw chicken in with other vegetable ingredients like that but I really don't understand why. I wouldn't do this long term, but for a few hours when it will all be cooked together anyways, I really don't see the harm. If you're a kitchen safety pro, feel free to weigh in on this. For now, I'll be sticking with what seems like common sense and logic.
This type of Indian curry is naturally dairy free and gluten free of course so its a good option for feeding guests with dietary restrictions too.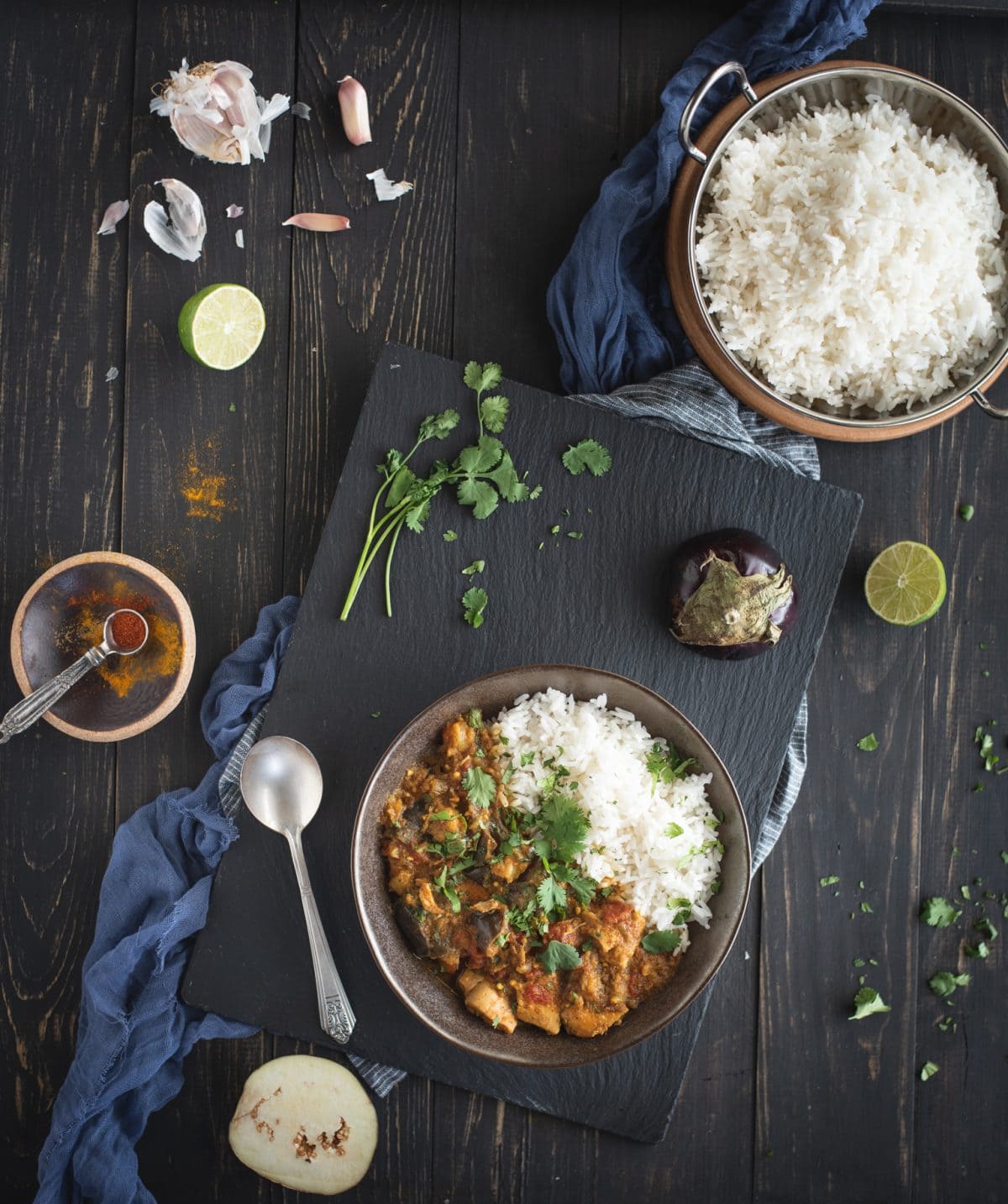 Which Instant Pot can you use?
For this recipe you can use either an 8 quart or 6 quart Instant Pot! This recipe utilizes the sauté feature which the newer versions all have but some of the earliest ones don't.
Not sure what took me so long to jump on the Instant Pot bandwagon, but once I ordered this Instant Pot Duo Plus, I was hooked. If you're new to Instant Pot, but have used pressure cookers before, it'll click for you quickly. The thing about Instant Pot is that it has a few shortcut buttons that make it easier to use.
I honestly don't see myself using all of the functions on the Duo Plus but the sauté one, that is clutch I tell you. I've used that with every recipe I've made so far.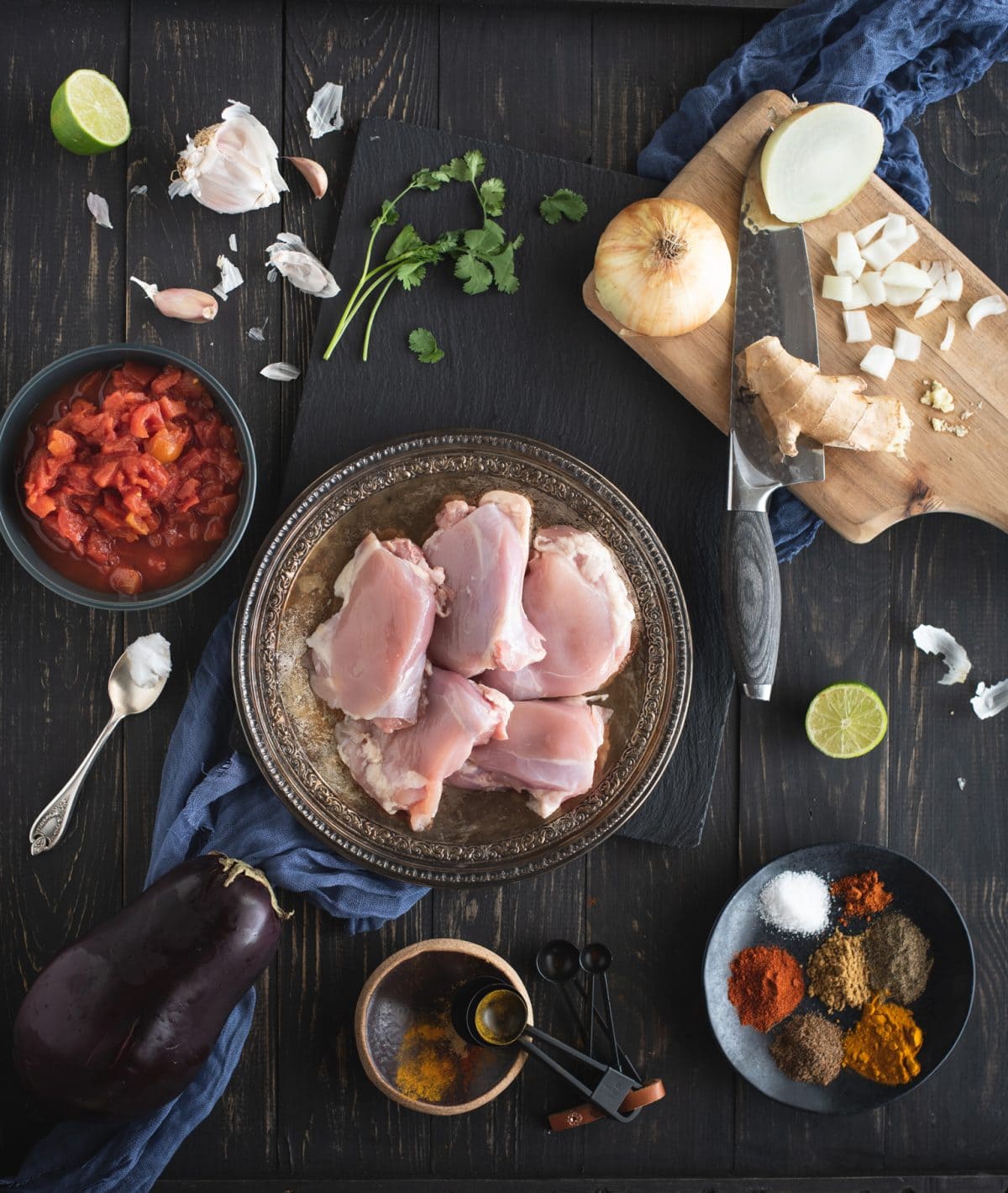 Do I need any specialty ingredients?
Most of the spices are pretty standard but you might need to buy garam masala if you aren't used to cooking Indian food. Its inexpensive and you can use it again in recipes like this crockpot chicken curry or this red lentil dal. It's a good spice to have on hand.
A lot of Indian food is light, healthy, and spices are good for y0u! Especially turmeric, which is a powerful antioxidant, and I try to sneak it in wherever I can for this reason. Plus, its rather tasty and has a gorgeous yellow-orange color that makes your food look absolutely curry-tastic.
Can I make substitutions?
This type of Indian curry is naturally dairy free and gluten free of course so its a good option for feeding guests with dietary restrictions (or yourself if you do!).
I really don't recommend swapping out spices since these ones all work so well together in the quantities written. If you need to add more heat, a touch of cayenne will go a long way. Add it in with the rest of the spices.
If you don't have fresh tomatoes, canned work just fine. Similarly, thighs are certainly preferable since they'll stay more tender in the final dish, but chicken breast chunks will do in a pinch or if you're trying to lighten it up.
And if you aren't an eggplant fan, don't you worry. The eggplant really breaks up quite a bit and you won't even know its in there in the end. It adds fiber and makes the dish lighter and healthier than it would've been without it. You get a serving of veggies or two without having to do any extra work for it. Don't leave it out or swap it!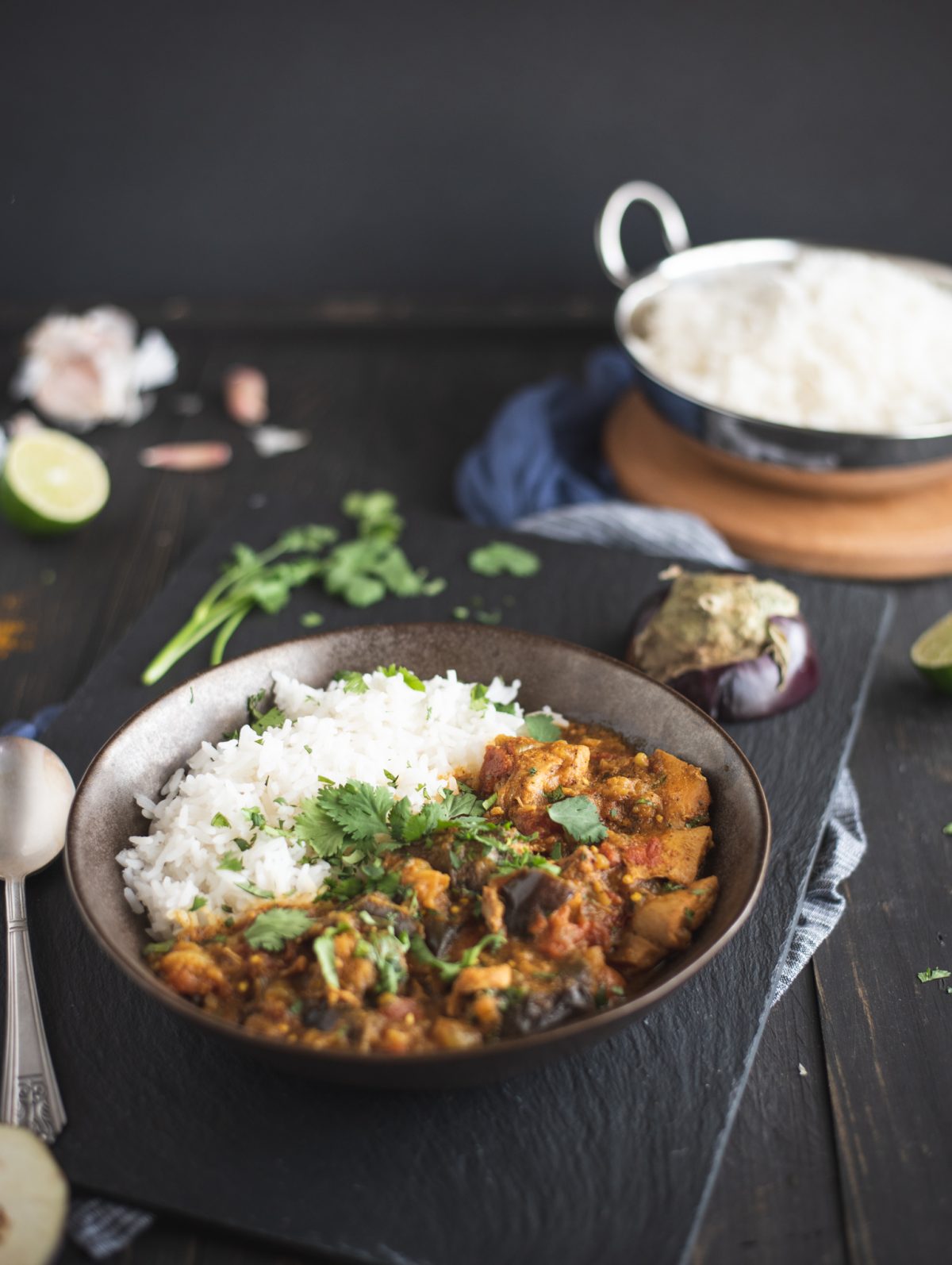 How do I make it?
This recipe is so easy to make! You chop the veggies and chicken first. Then sauté the onions adding garlic, ginger and spices for the last few minutes of the cooking time. Letting the spices cook like this until they become aromatic makes them more flavorful in the end. Then you toss in the chicken, eggplant, and tomatoes, lock on the lid, and set the pressure cooker to cook for 6 minutes.
When the Instant Pot beeps, manually release pressure, carefully since it will release a lot of steam! Stir in cilantro and serve with white rice.
If you're not convinced that this dish is easy, check out this step-by-step.
See? Easy peasy yo. The pressure cooker does all the hard work so there isn't any tending to the stove, worrying about burning or any other kitchen stresses that us busy gals (and guys) can't be bothered with. Just some simple prep and a delicious meal.
Here's what a spoonful will look like as you bring it up to your mouth. Umm, yum!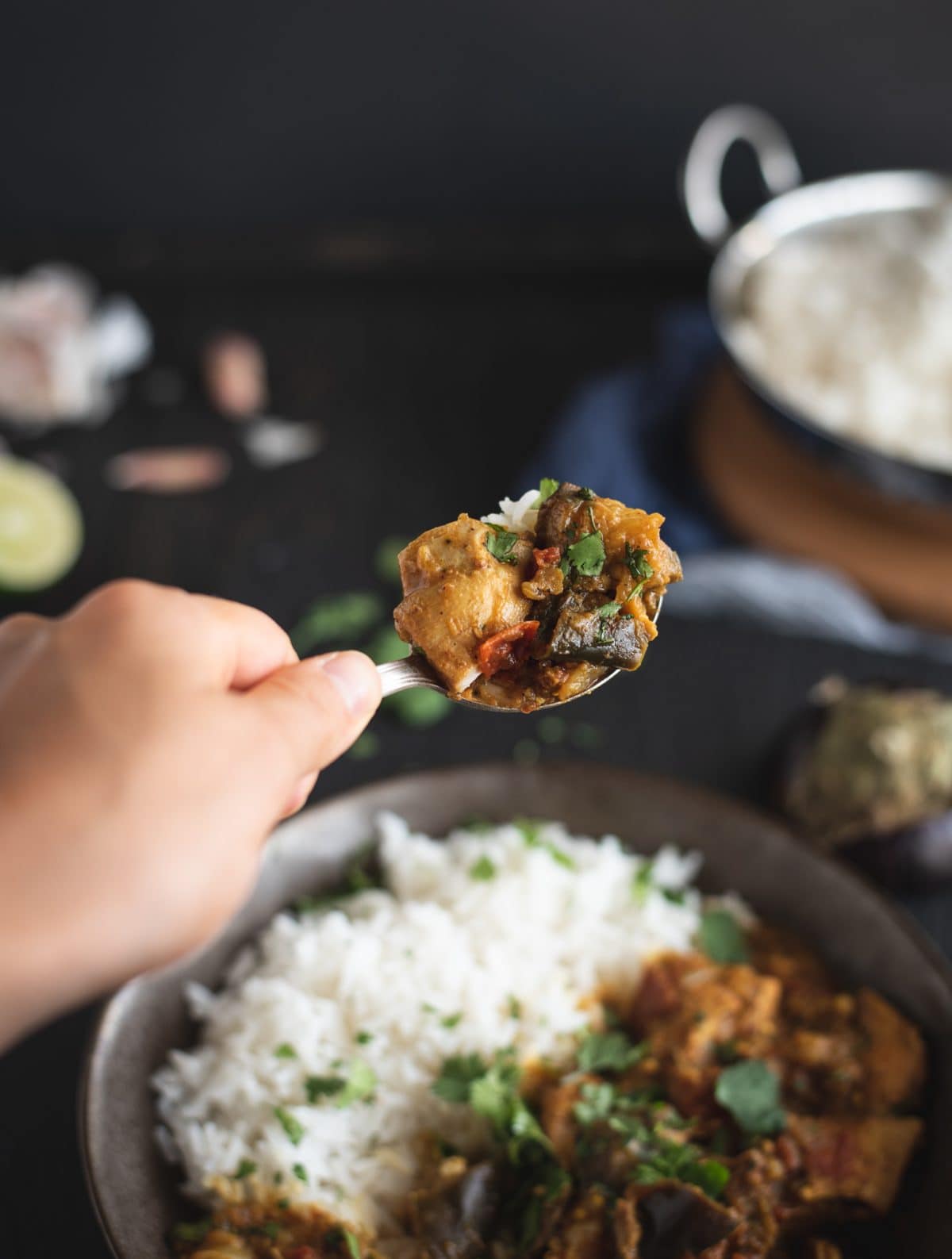 I cooked our rice on the stovetop but I've heard about these insert pans you can use to cook rice (or quinoa, or veggies or whatever really) in the same instant pot as something else. I haven't used them and can't vouch for them personally but the idea is inspiring and I'll probably try them out soon.
To make weeknight dinners even easier, you can even make this one night and eat the leftovers another night since it keeps extremely well. Or bring it for lunch the next day. The recipe says it makes four servings but those servings are pretty big so it really just depends on your appetite. Mine is usually ravenous. 😉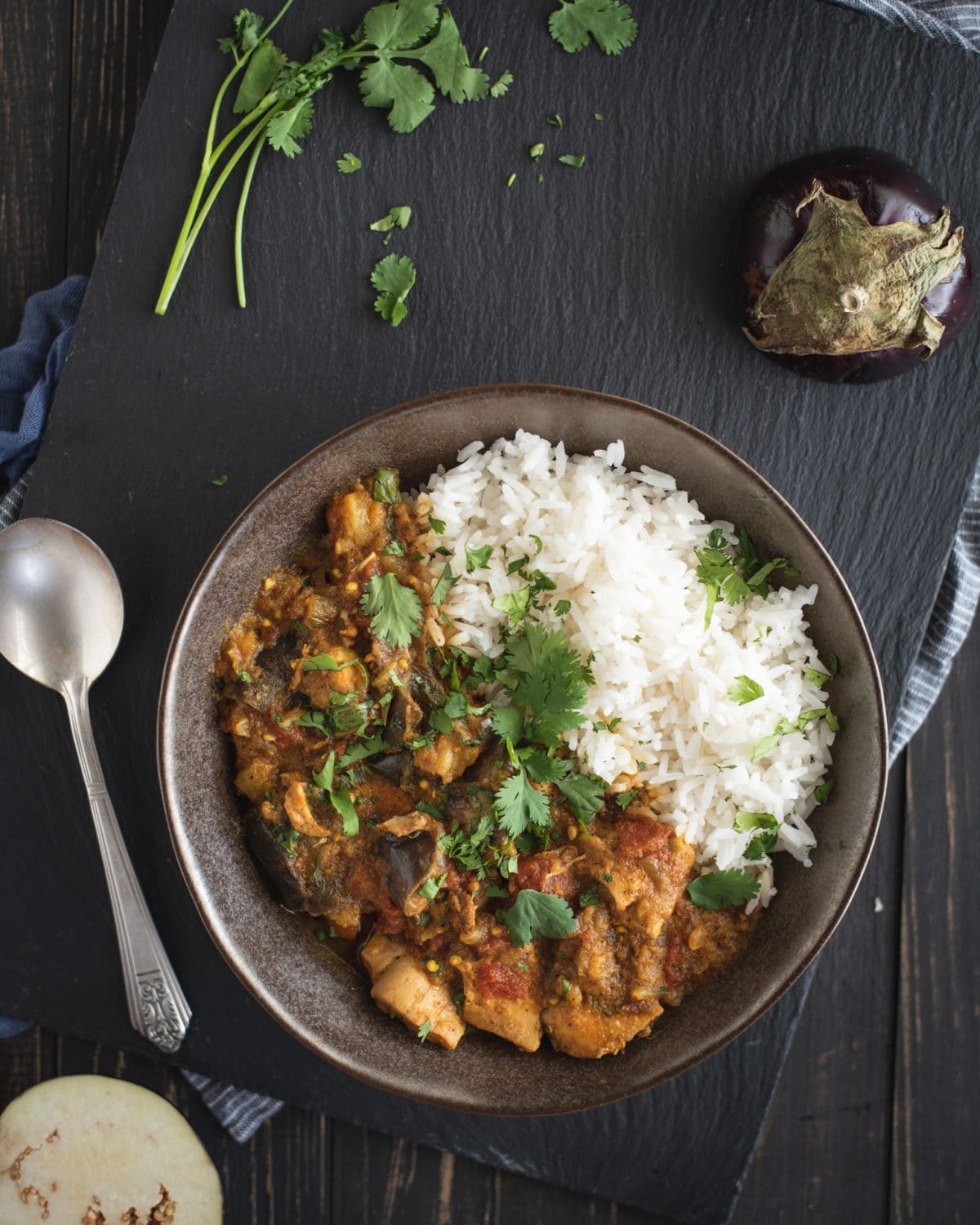 This easy Instant Pot chicken curry with eggplant recipe is full of Indian flavors that will have you making it again and again for quick weeknight dinners!
Ingredients
1 Tbsp. coconut oil
1 onion, diced
1 Tbsp. minced or grated ginger
1 tsp. minced garlic
1 tsp. cumin
1 tsp. black pepper
1 tsp. paprika
1 tsp. salt
1 tsp. turmeric
1 tsp. garam masala
1 large eggplant, diced into 1" pieces
2 cups chopped fresh tomato (or a 14.5 oz. can of diced tomatoes with juice)
1 1/2 lbs. boneless skinless chicken thighs, fat removed and cut into 2" pieces
1 Tbsp. fresh lime juice
1/4 cup fresh chopped cilantro
Instructions
Press the sauté button on the Instant Pot and set at highest setting.

Add coconut oil and onion to pot and sauté onion for about 10 minutes until browned.


Add garlic, ginger, cumin, pepper, paprika, salt, turmeric, and garam masala and stir for 1 minute.

Add tomatoes, eggplant and chicken and stir to evenly coat. Secure the Instant Pot lid and close the pressure valve. Set Instant Pot to cook for 6 minutes at high pressure.


When Instant Pot beeps, release pressure manually.


Remove lid and stir lime juice into curry. Adjust salt level to taste. Serve over rice or quinoa and sprinkle each serving with chopped cilantro.

Notes
*Cook time does not include the time that it will take for the Instant Pot to come to pressure. Expect it to take approximately 15-20 minutes of additional time for this to happen. Exact time will vary depending on the amount of ingredients in the pot and the Instant Pot model you are using. 
** To make spicy, add 1/8 - 1/4 tsp. ground cayenne pepper along with other spices.
*** Recipe was adapted from an Indian curry recipe byAshely at My Heart Beets.
Nutrition
Calories: 313kcal | Carbohydrates: 16g | Protein: 35g | Fat: 11g | Saturated Fat: 5g | Cholesterol: 161mg | Sodium: 640mg | Potassium: 1008mg | Fiber: 6g | Sugar: 7g | Vitamin A: 1380IU | Vitamin C: 16.8mg | Calcium: 59mg | Iron: 3.6mg