Sweet and tangy pickled red onion and jalapeño with underlying notes of citrus. It's easy to make and delicious on tacos, other Mexican food or even burgers!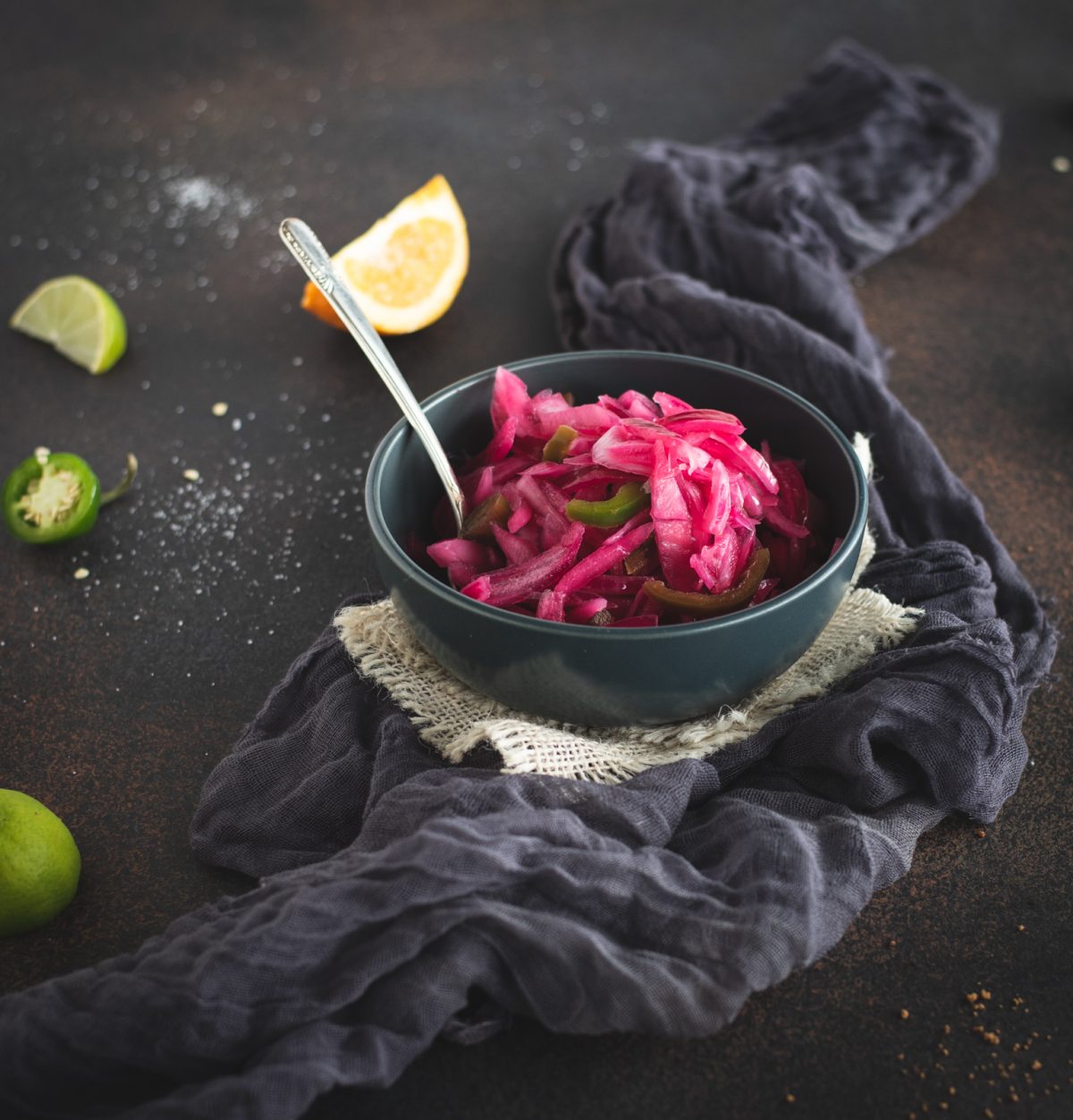 I have dreams about the pickled red onions I had last time I was in Mexico. They took what were already the best street tacos I've ever had into an out of this world realm of deliciousness. We went to the same taco cart ten separate times in our week long trip there – they were that good!
I've been lusting after good pickled red onions ever since and created a similar version as soon as I got back stateside. Something about that mix of tangy, sweet and spicy with the crisp crunch of the onion just makes every taco without them seem inadequate and mundane.
If you're skeptical since you aren't a raw onion fan, don't worry, they don't have the same bite. Blanching takes the oniony punch out and marinading overnight will cut it entirely. If you're doing the quick marinade, they'll still have a bit of a bite to them, but it really isn't a turn off. And this is coming from someone that isn't a raw onion fan at all, so I'd let you know if this wasn't the case!
The hint of tart lime is offset by the sweetness of the fresh orange juice creating a perfect balance of flavors that will leave you wanting more and more, unable to stop eating them. At least half an onion worth didn't even make it to tacos because they were just too addicting to stop eating plain! Either that or I was just hangry and attacking them like a crazy person. Maybe a little of both.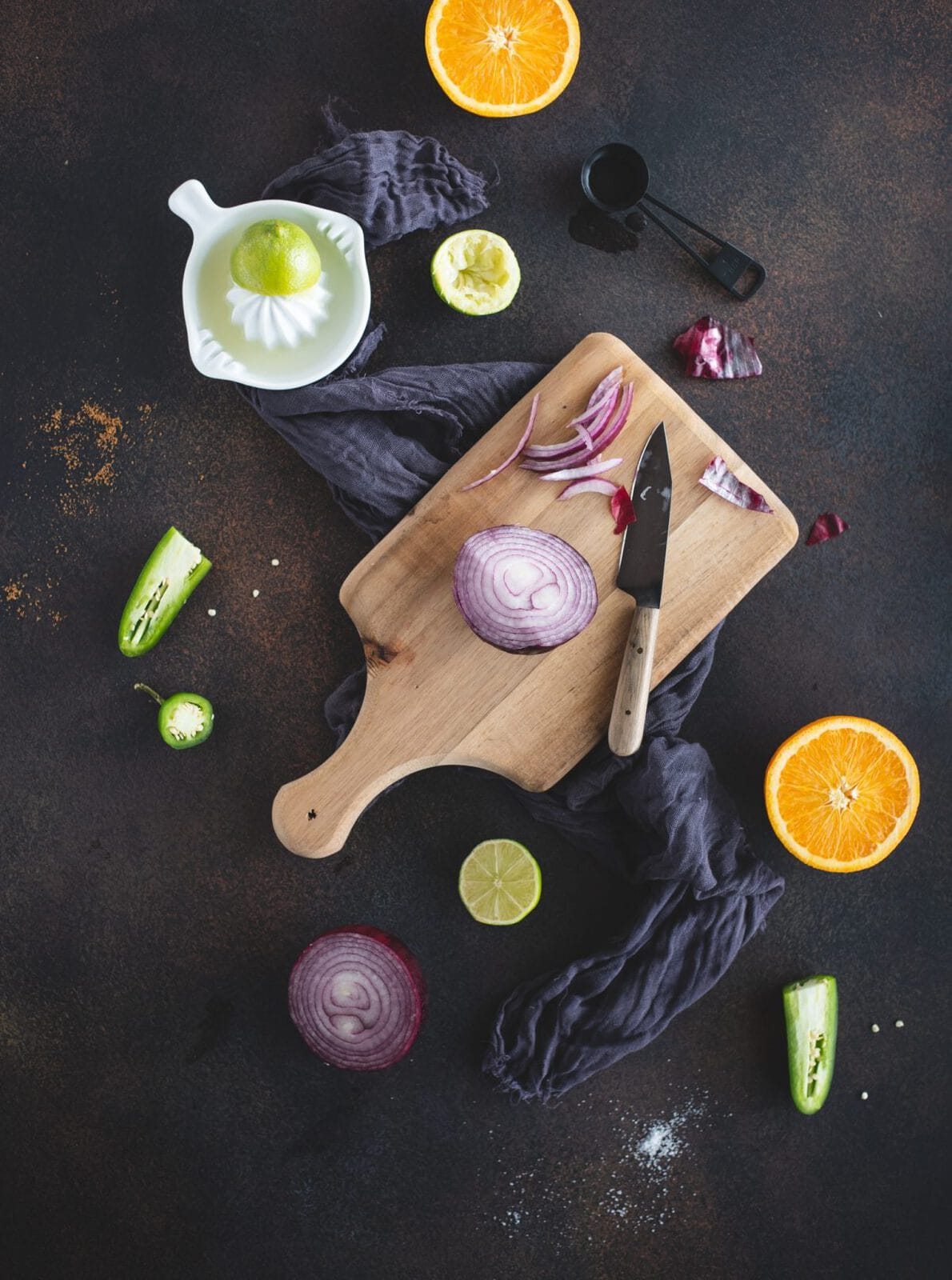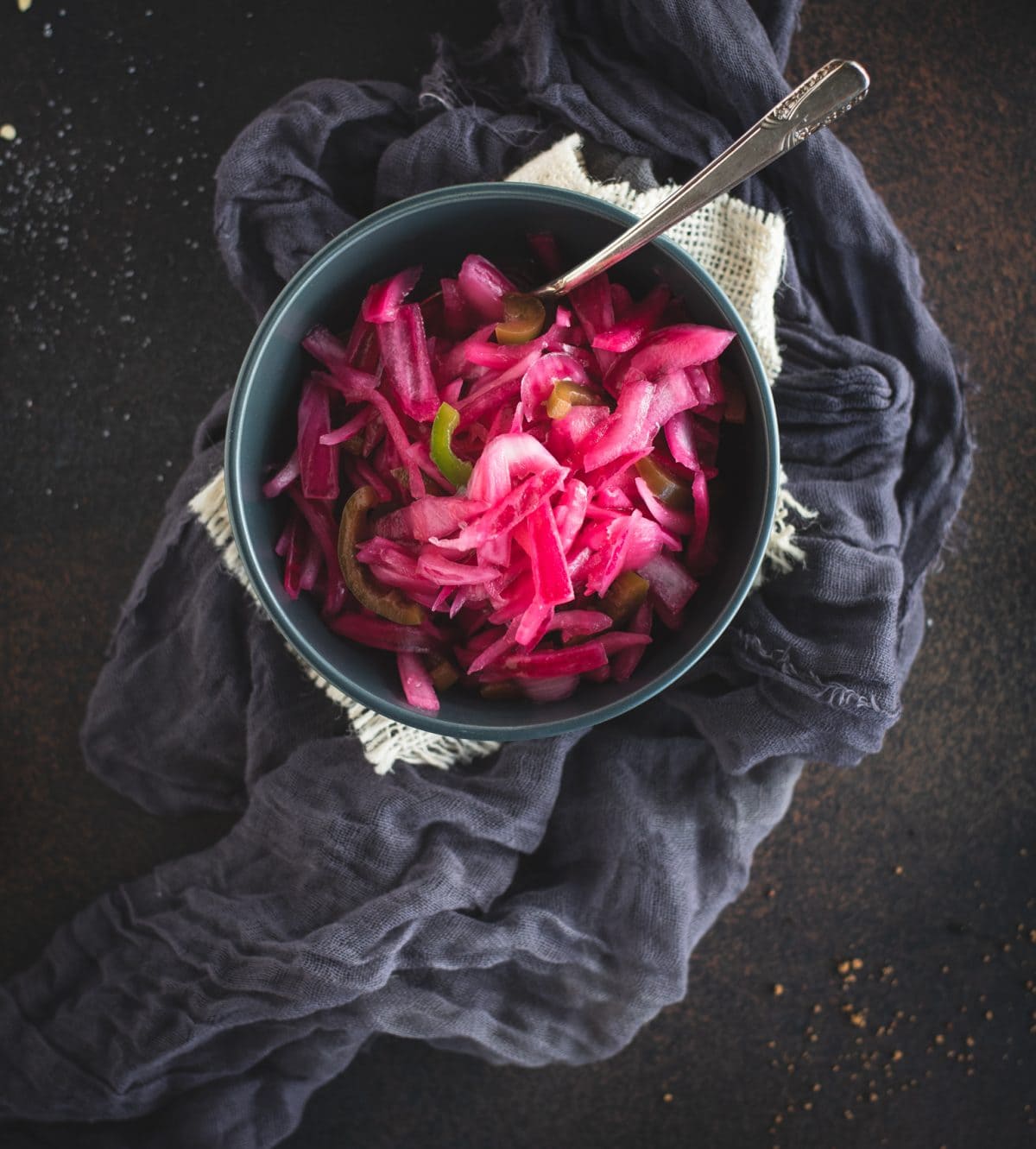 And don't stop at tacos! The crisp texture is the perfect addition to nachos, dips, sandwiches, wraps, burgers and whatever else you can dream up. Here are a few recipe ideas to get your wheels turning
And you get the point right? Add them to anything and everything. They're that good.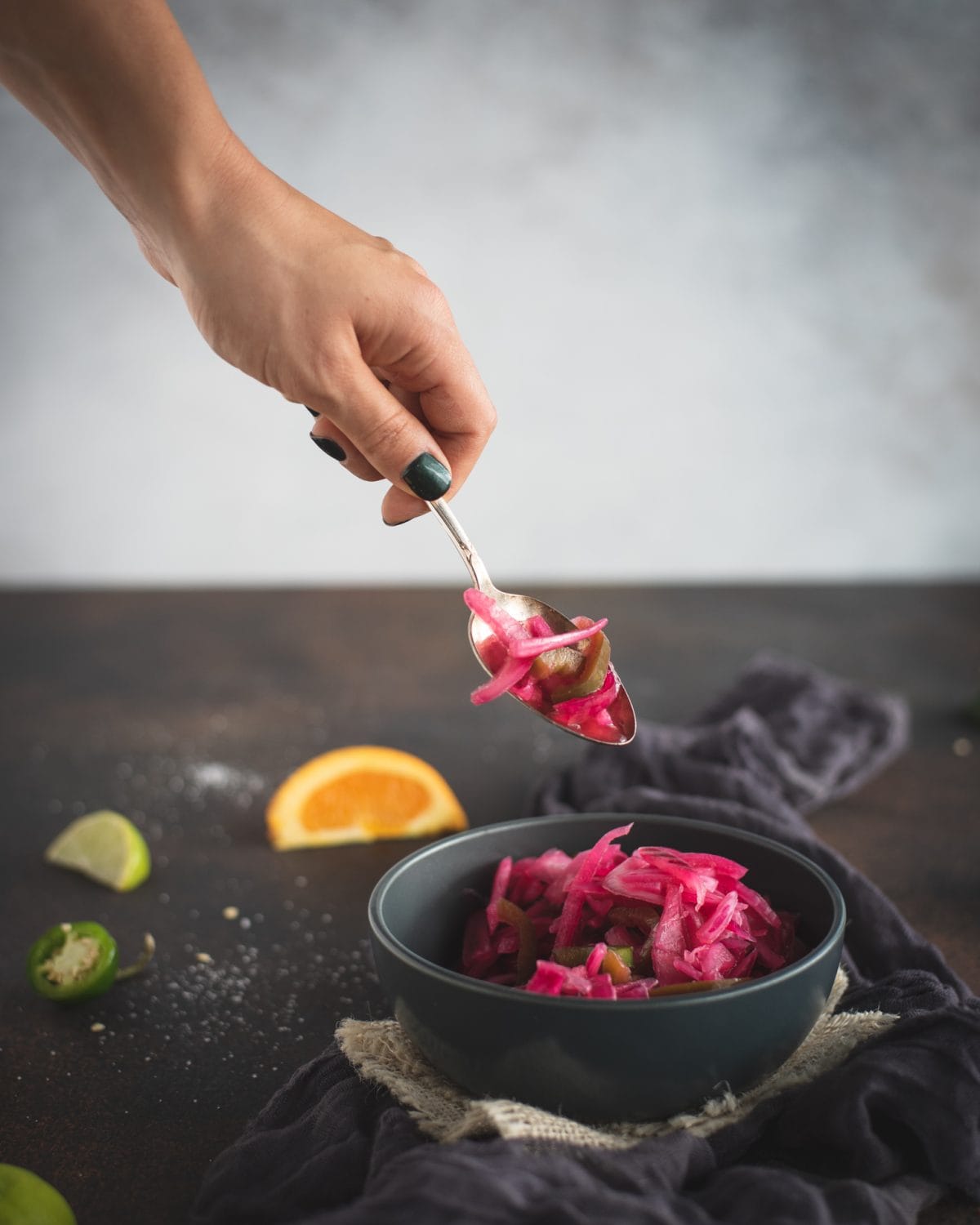 If you want to make this sugar free, you can certainly hold the sugar. Frankly, they won't be as good though and I think you'll be hard pressed to find a recipe that is this tasty without a touch of sugar. It helps offset the sour/salty flavors and really elevates the overall flavor.
We've been cutting back on sugar in our house so I'm certainly sensitive to concerns about added sugar of all kinds. That being said, there's such a small amount here, it isn't going to hurt you. I used coconut sugar but you can sub in regular table sugar too. I think half of the battle with sugar is just becoming aware of how much is in everything we eat so that you can make a conscious decision about it. Read food labels, pay attention, and then use some common sense.
You can also leave the jalapeño out if that isn't your jam. Just know that, like the onion, it gets toned down during the blanching and pickling process and doesn't end up being very spicy in the end. It adds a nice kick and I like the contrast in color too.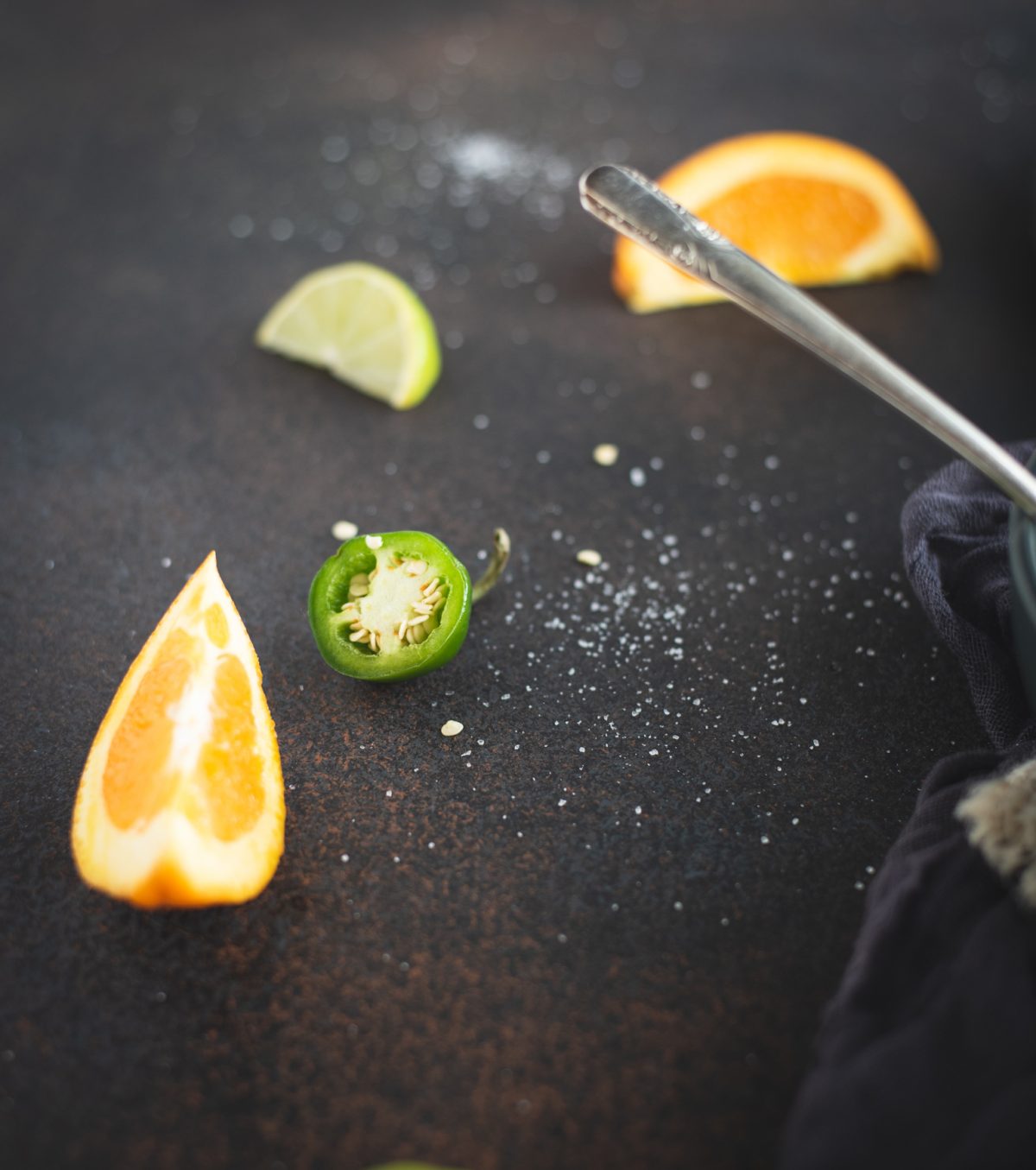 Whatever you choose to put these pickled red onions on, just put them on something already! Then come back and tell the rest of us what you did to give us some new ideas. 😉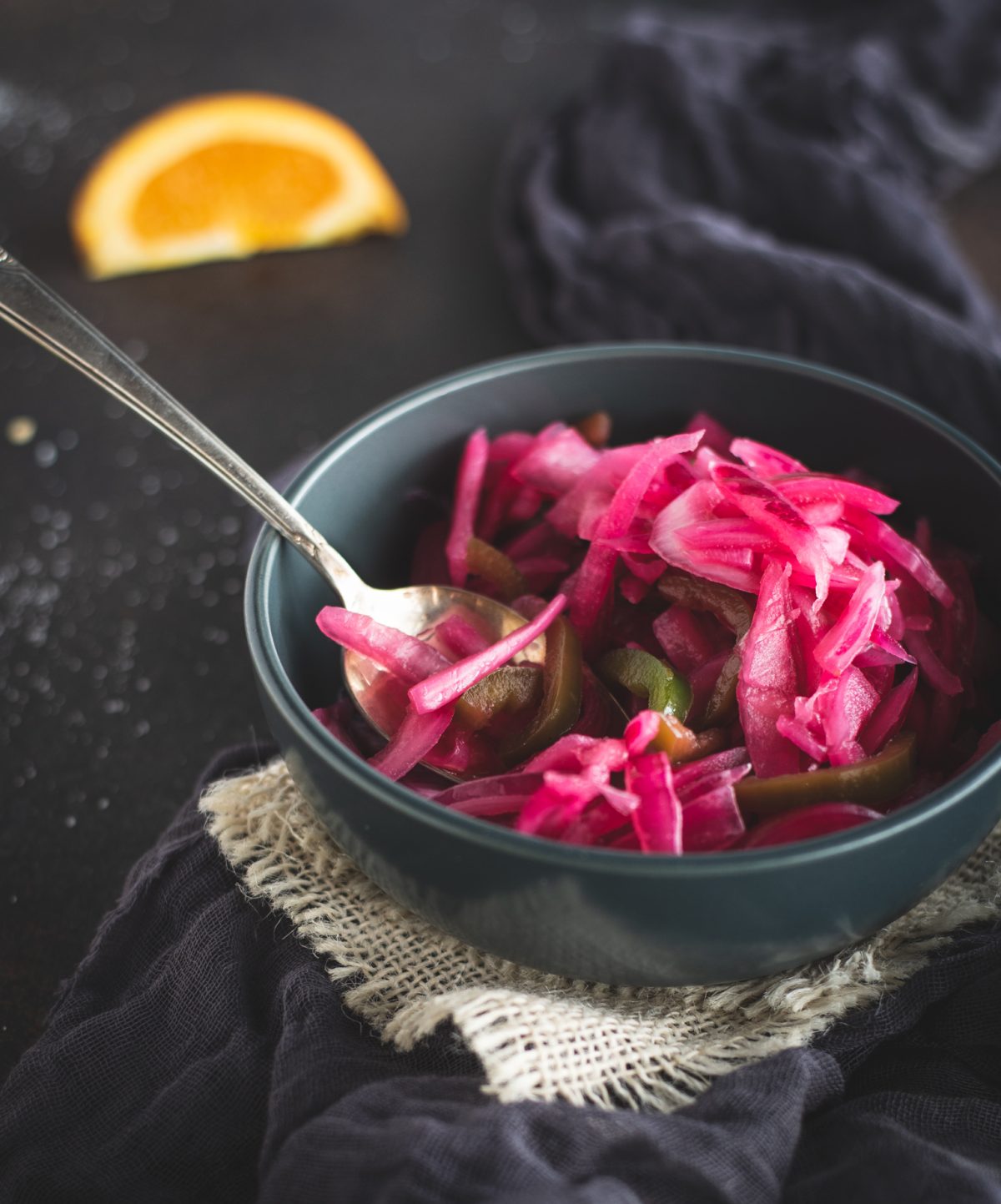 Sweet and tangy pickled red onion and jalapeño with underlying notes of citrus. It's easy to make and delicious on tacos, other Mexican food or even burgers!
Ingredients
2 small red onions or one large, thinly sliced (about 2 cups sliced)
2 jalapeños, seeds removed and sliced
1/3 cup fresh squeezed orange juice
1/3 cup fresh squeezed lime juice
1/2 tsp. coconut sugar (or 1 Tbsp. coconut aminos for Whole30 or Keto)
1 tsp. salt
1 Tbsp. apple cider vinegar
Instructions
Put onion and jalapeño into a strainer and run hot water over them for 2 minutes to blanch. Run cold water over them to chill.

Mix all other ingredients in a bowl to create marinade.


Add onion and jalapeño and stir.

Chill for at least two hours and preferably overnight. Stir before serving. Keep onions in a sealed container in the refrigerator for up to a week.
Nutrition
Serving: 6g | Calories: 20kcal | Carbohydrates: 5g | Sodium: 241mg | Potassium: 81mg | Sugar: 2g | Vitamin A: 60IU | Vitamin C: 14.4mg | Calcium: 8mg | Iron: 0.1mg
(Recipe originally published March 9, 2014, but pictures and post text have since been updated)