These spicy roasted chickpeas are a tasty and satisfying savory high protein snack with over 6 grams of protein in each delicious serving.
Hello to one and all and Happy Easter! I don't celebrate religiously but I can't help still loving all the crazy decorated eggs and fun traditions that come with this holiday. I guess that's how I feel about most holidays though. I'm a lover of the fun stuff and the decor, food, and activities. Its a nostalgic good time and I'm not one to deny myself of that.
So what do these spicy roasted chickpeas have to do with Easter? Nothing, nothing at all. I simply just couldn't wait any longer to share them with you. If you're a regular reader, this recipe might look eerily similar to the garbanzo beans that topped this salad I shared a while back. Well, you caught me, They're pretty much the same thing. I've been making them so often though that I figured it was about time they got their own moment in the spotlight. Shine on chickpeas, shine on.
What I love about these summed up:
The crunch!
The saltiness
The savory spice combo
The high protein
The fiber
They're portable
Did I mention the crunch?
This recipe is really such a great way to satisfy that crunchy, savory, potato chip craving. They're not exactly the same of course, but a close second. They actually remind me a little bit of corn nuts. What ever happened to those things? They were in every vending machine across America in the 90's and then vanished into obscurity.
While I was never the biggest corn nut fan, I am in fact a huge fan of these spicy roasted chickpeas. How many crispy munchies have 6 grams of protein in one serving and actually fill you up? Not many. Snacking on these and popcorn together has been my go-to salty fix lately. Hits the spot and is super filling.
Last month it was kale chips and those zucchini pizzas I went nuts over and now its spicy roasted chickpeas. What can I say, the heart wants what the heart wants.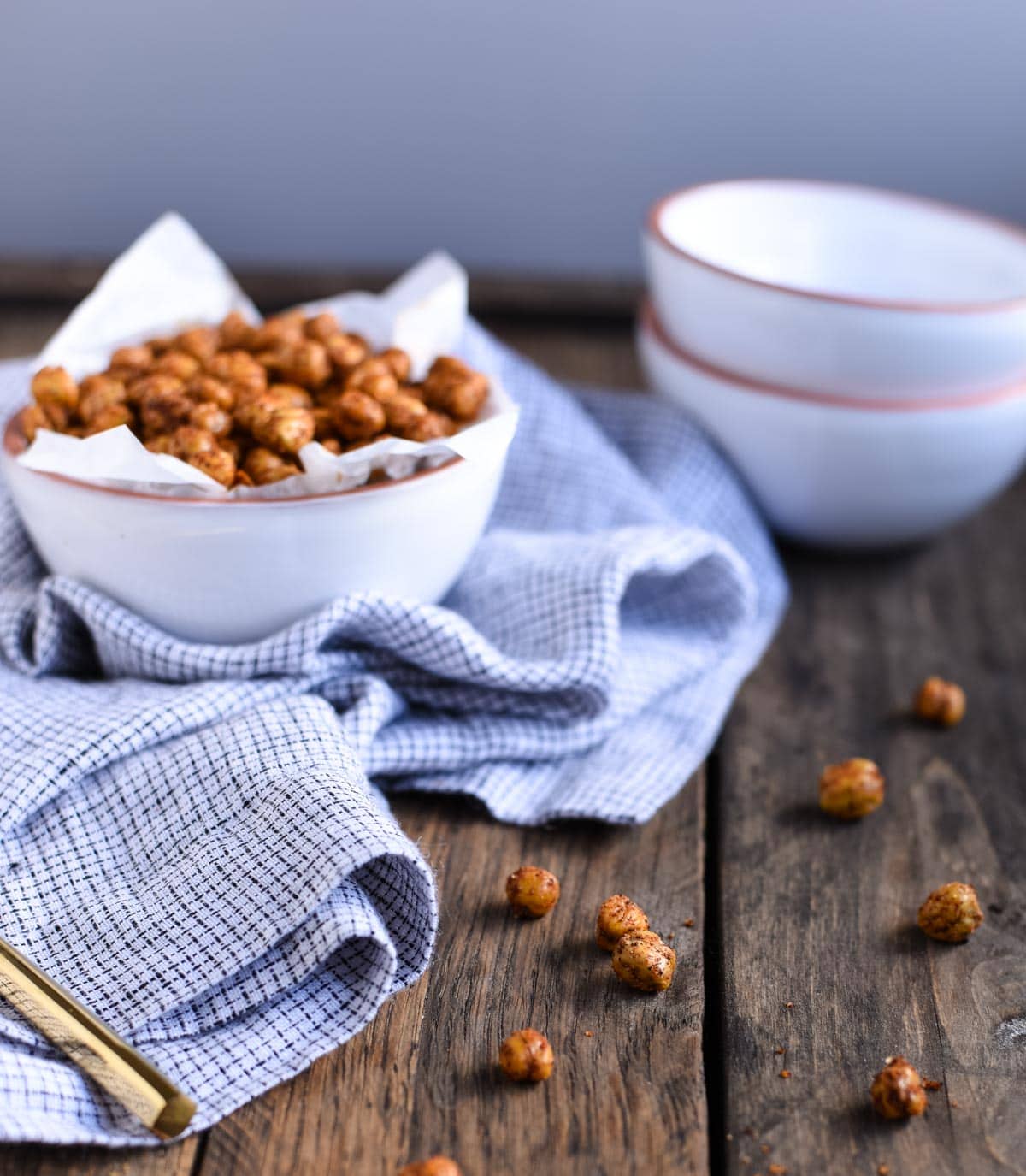 I crave salty foods way more than sweets so having healthy snack options is a must for me to stay on track. I know I'm not alone in this. Any others out there that can't get enough of the salty, savory stuff? Its okay, you don't have to speak up. I know you're there.
Don't get me wrong, sweets have their place, but nothing is quite as satisfying as the salty stuff. I've always been like that. I remember going out to get ice cream with the fam as a kid and sometimes I'd get french fries instead. Seriously. Weirdo child.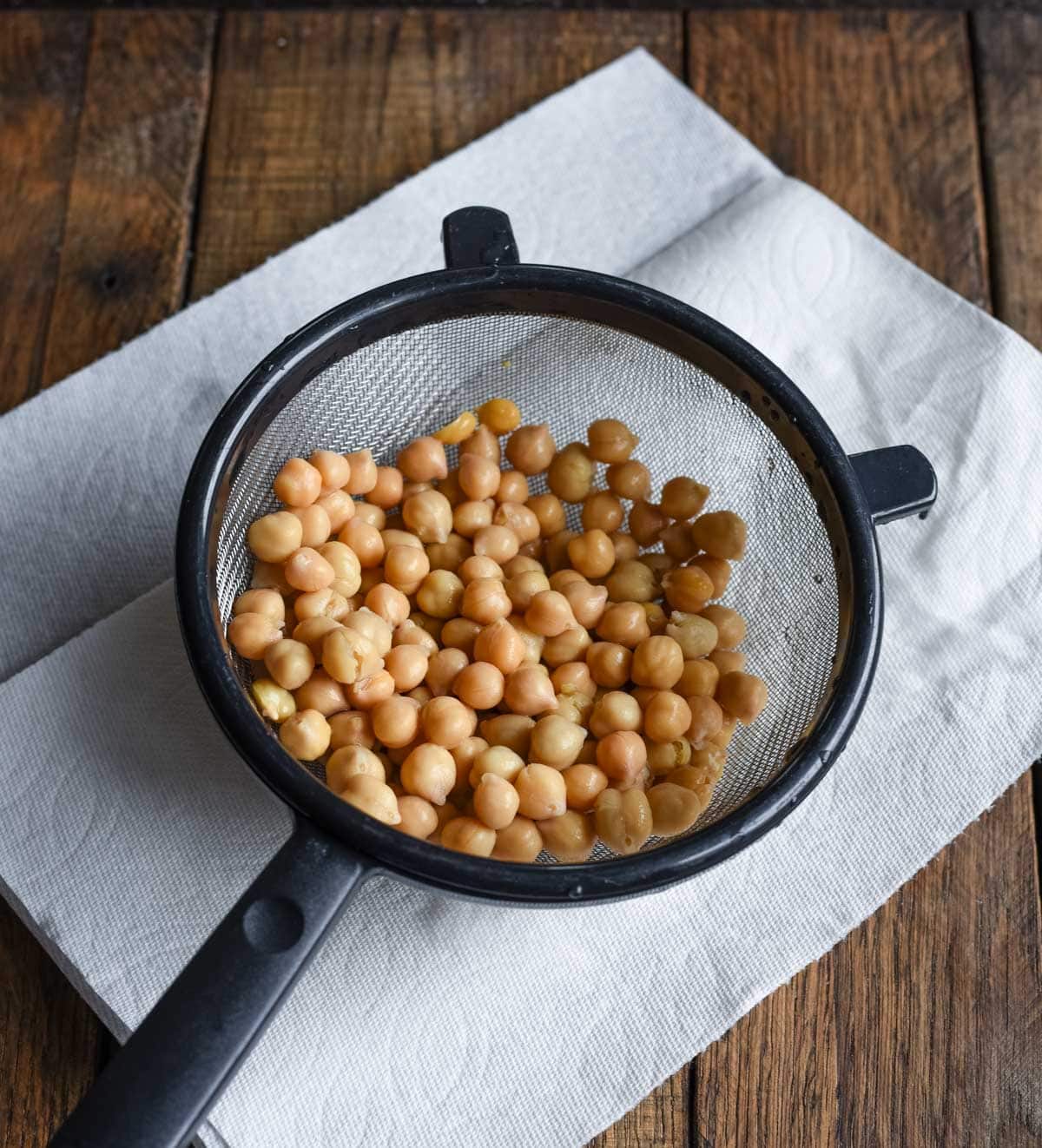 The only thing that is a real pain in the a** with this recipe is removing the chickpea skins. Its easy to do, but does take about about 10 minutes for one can of beans and there's no getting around that.
I dump the whole can in a strainer, rinse, and then grab each one out and pinch it while dropping the chickpea on a bowl or towel and discarding the skin in the sink.
See what I mean about the skin here: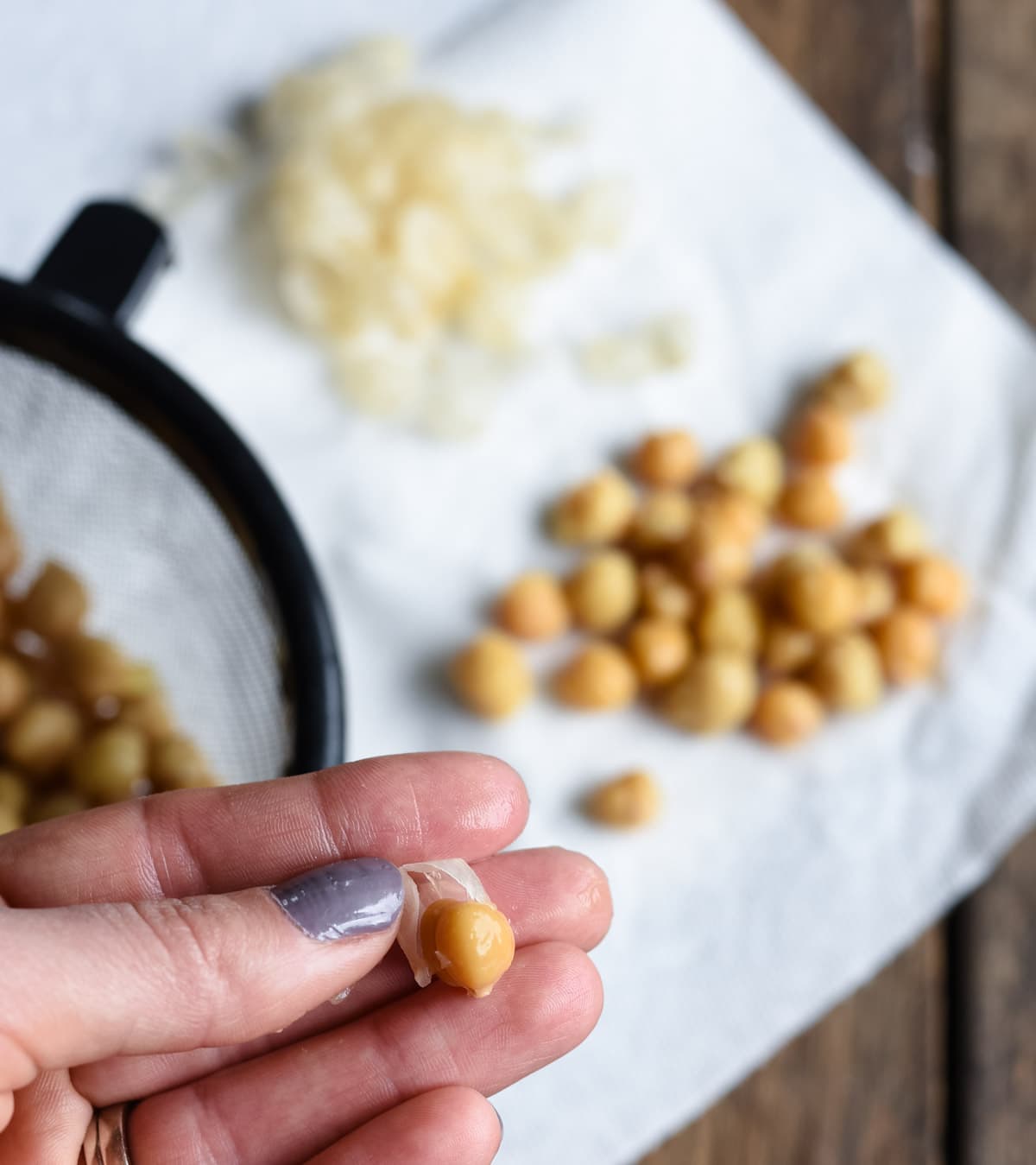 I know I've brought this up a few times now, but this is the same process I go through for hummus. I think I shared a picture of some pre and post prepped chickpeas back in my buffalo hummus post if you want another picture to see what I mean. Removing the skins is what makes hummus smooth and creamy. In this recipe, removing the skin allows the chickpeas to get nice and crispy.
From here, they're left to dry for half hour or so and then baked. DO NOT add oil or anything else! Just bake them plain to dry them out. You'll add a touch of oil later on to help the spices stick.
Here's a picture of those crispy chickpeas pre seasoning. See how dried out and sad they look? That's what we're going for here. In this case, sad is a good thing. If they're still soft on the inside at all, first they won't be crispy, and second, they won't keep for a few days like the dried out crispy ones will.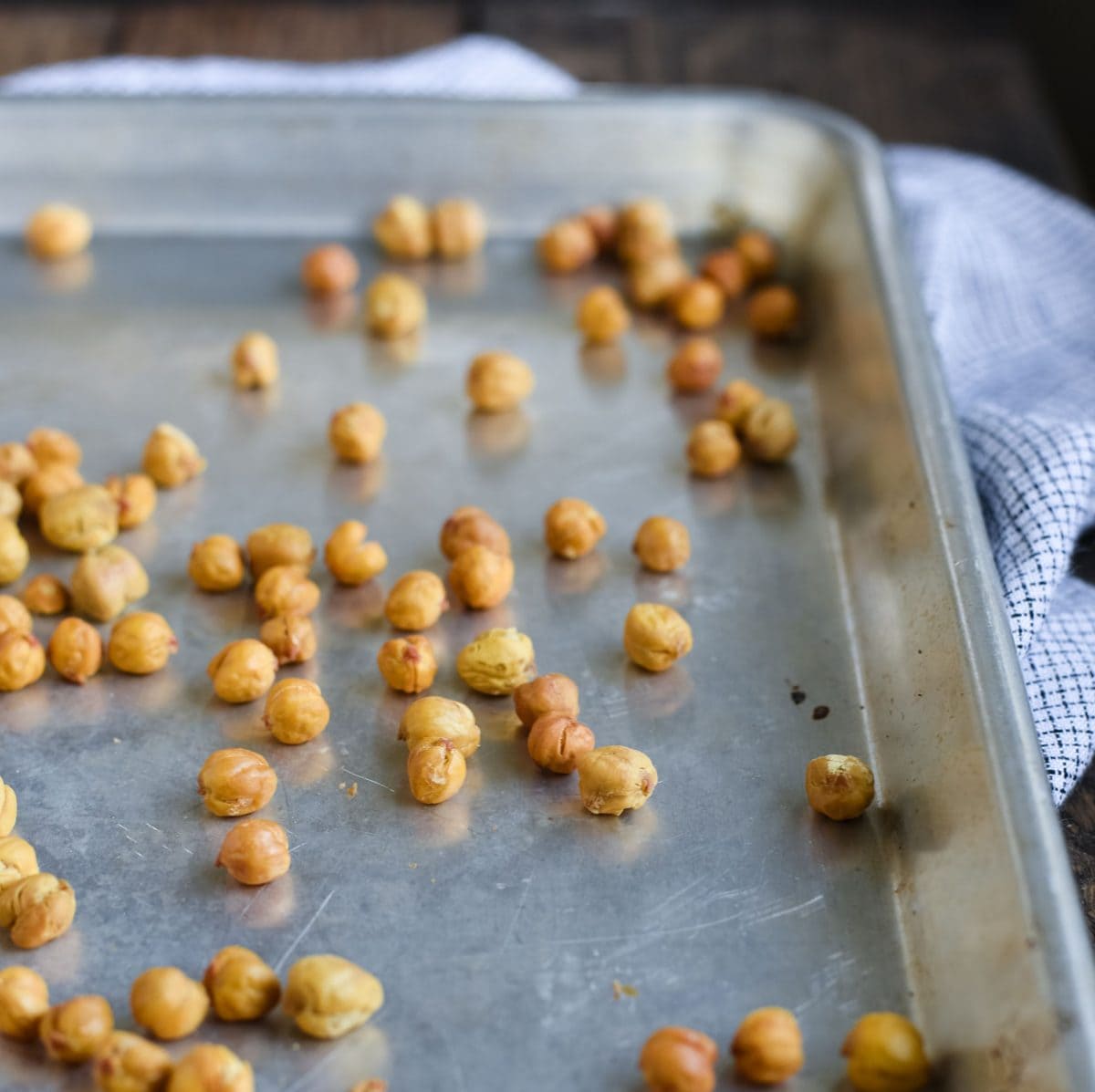 Here's the legendary spice mixture that makes these spicy roasted chickpeas so snackable. Its a pretty simple blend, but the combo just comes together so perfectly. Just enough spice and flavor without being overwhelming.
They aren't too spicy either. I know the name of the recipe is spicy roasted chickpeas but the spice is more of a subtle heat from the chili powder so the spiciness will really depend on the chili powder you use. I've found that there is a ton of variation in chili powder spice levels so you can adjust if you know if yours leans to either the bland or spicy side of the spectrum.
In fact, you've got carte blanche to switch any of the spices up. Try making them my way first (because I'm a brat and think my way is best), but feel free to branch out once you get the hang of it. The technique is really the important part.
Now you've got a healthy snack to munch on that is LOADED with protein, fiber, folate, and all kinds of healthy stuff to add to your repertoire.
Switch it up if you want, just make sure to try them!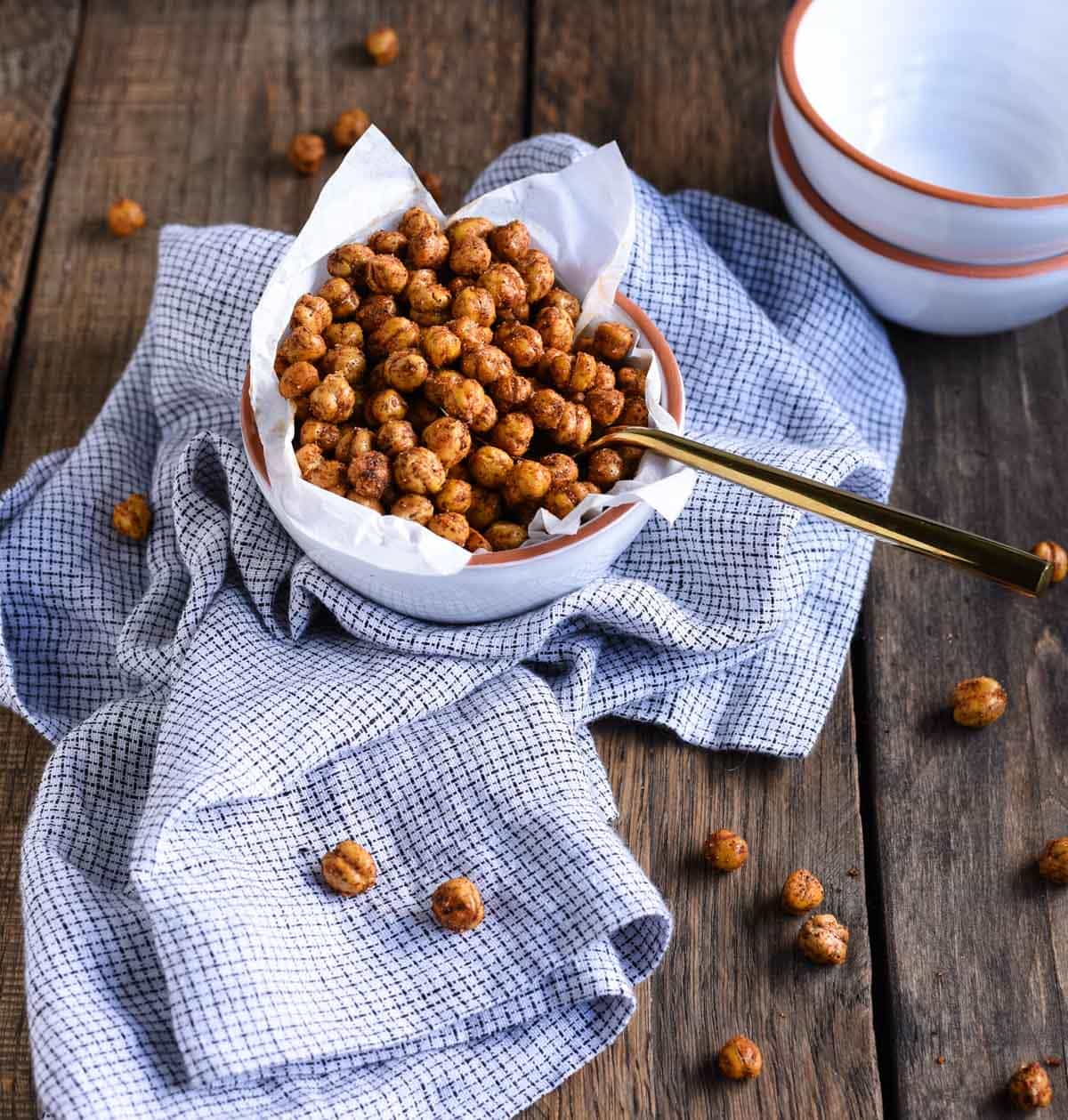 I hope you all had a great Easter weekend whether you celebrate the holiday or not! Monday is only a sleep away so enjoy the rest of the day. 🙂
These spicy roasted chickpeas are a tasty and satisfying savory high protein snack with over 6 grams of protein in each delicious serving.
Instructions
Preheat oven to 400 degrees F.

Rinse chickpeas and let drain in a strainer. Pinch each chickpea to remove the outer skin and discard it.

Place the chickpeas between two kitchen or paper towels and rub lightly to dry. Spread the chickpeas out on a baking sheet and let them sit to air dry for half hour.*

Shake pan of chickpeas lightly and place pan in oven. Roast for 20 minutes. Remove pan from oven and shake to make sure chickpeas roast evenly.

Place pan back in oven and bake for 20 more minutes until chickpeas are crispy and starting to brown but are not burnt.

Remove from oven and let chickpeas cool for 5 minutes. Move chickpeas into a bowl and toss with olive oil then spices. Serve immediately while they're still crispy. If dry enough, the chickpeas will keep for 1-2 days on the countertop, but are best eaten within the first hour.
Notes
*Being drier makes them crispier so you can let them dry for several hours if you have time, just make sure to shorten the baking time a bit.
Nutrition
Calories: 110kcal | Carbohydrates: 15g | Protein: 5g | Fat: 3g | Sodium: 540mg | Potassium: 167mg | Fiber: 5g | Vitamin A: 410IU | Calcium: 40mg | Iron: 1.7mg