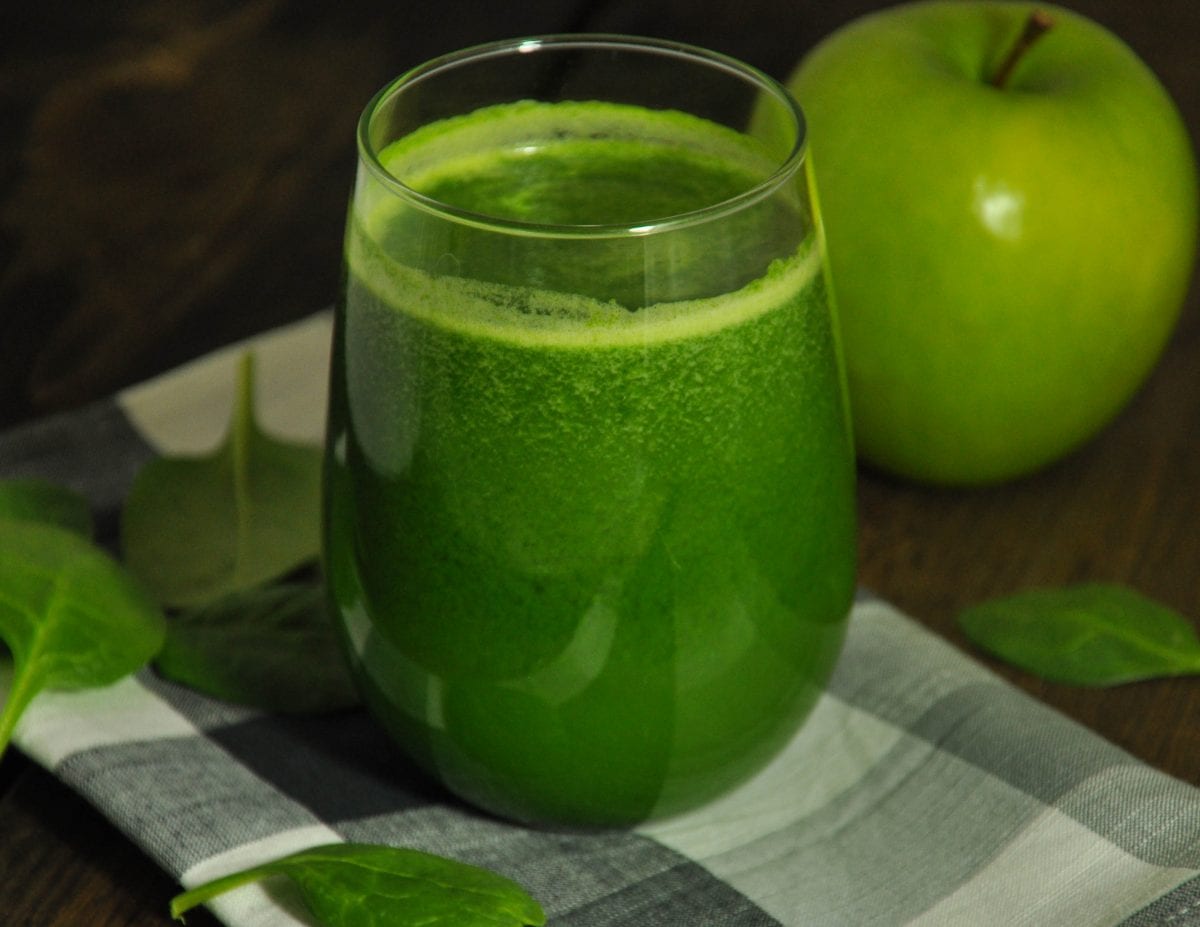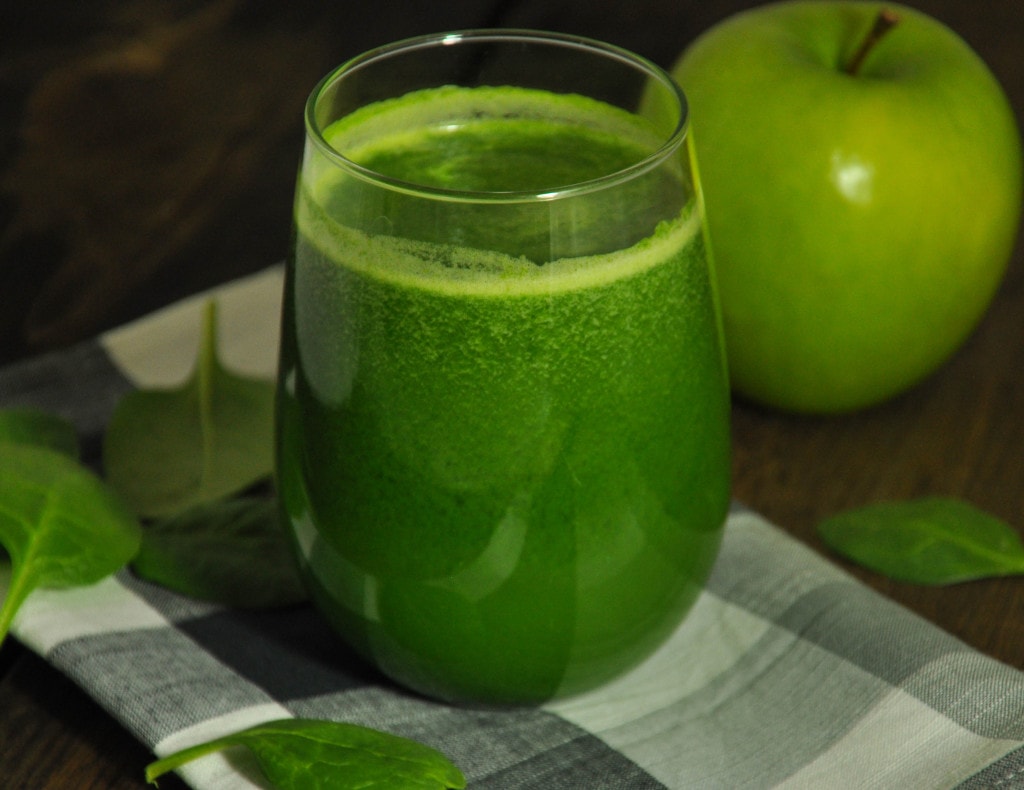 I can't say enough good things about this refreshing green juice recipe. I've made a few different green juices since getting my juicer last year and some have turned out okay and others… not so okay. This version, is the green juice to end all green juices though! The sweet, tartness of the green apple and kiwi perfectly complement and balance out the bitterness of the veggies.
I know I'm a little late to be jumping on the juicing bandwagon, especially since I've had my juicer for well over a year now. Its shameful, I know… but I'm lazy and late with every fad so it was highly predictable that I'd be a late comer to the green juice train too. To put my lack of trend setting in perspective, I only started wearing flats and skinny jeans within the past year or two and didn't know who Lorde was until a few months ago. Yeah, you could say it takes me a while to catch on…
Late or not, I am absolutely in love with this crisp green concoction. I've made it twice in the past week (which is a lot for me since I've never been a big juicer). I also never thought a confession of undying love for anything liquid would come out of my hearty breakfast lovin' mouth, but seriously, this juice is da bomb! And I haven't used the term 'da bomb' in at least a decade so that's saying something.
I could count my juicing attempts on my fingers, but the love affair between me and my juicer grows deeper and more intimate with each moment we spend together. A true romance. As we move past courtship into a full on relationship, I have been sneaking more and more veggies in and playing with different flavor combinations. This green juice in particular gives Tony the Tiger a serious run for his money on the whole breakfast of champions claim. I personally need a little more substance for my first meal of the day so I usually pair this with oatmeal, cereal, yogurt, or whatever random leftovers I find lurking in the fridge.
Between me and the husband, I was the reluctant party in getting a juicer in the first place too. It seemed like one more useless kitchen appliance. Don't get me wrong, I'm normally totally all over that kind of thing and have more random kitchen apparatuses than any one person realistically needs, but the juicer just seemed kind of 'meh' to me. Not totally opposed, but not interested in the slightest.
Luckily, my husband was some kind of psychic genius on that one (read: wanted a juicer for himself), because it was wrapped up under the tree come Christmas morning with my name on it. Go figure.
Between this green juice nectar of the gods and this carrot orange godsend, I might just give up store bought juices once and for all. Ooh, and I haven't even gotten to the best part!
Its a great mixer for mimosas and I haven't tried it yet with vodka, but I have a feeling it would be fantastic. You have to give drinks with veggie juices a stir more often than you normally would but the flavor itself can't be beat. One drink a day is supposed to be healthy right? And if half of it is green juice, I think that means you get two drinks a day, right? I don't know why I'm posing this as a question because I don't really want to know if I'm wrong. Just roll with it please… 🙂
This nutrient rich green juice is made from spinach, cucumber, green apple, & kiwi for a refreshingly delicious way to reap the benefits of vegetable juice.
Ingredients
2 cucumbers
6 cups large handfuls spinach, rinsed
2 green apples (cored and seeds removed)
3 kiwis (skinned)
Instructions
Add all ingredients to juicer and process.
Notes
*You can also add the juice from one lemon, but if you do this, you may want to add extra spinach to make sure the juice isn't too tart.
Nutrition
Calories: 156kcal | Carbohydrates: 37g | Protein: 4g | Fat: 1g | Saturated Fat: 1g | Sodium: 55mg | Potassium: 1021mg | Fiber: 8g | Sugar: 24g | Vitamin A: 5915IU | Vitamin C: 113.2mg | Calcium: 126mg | Iron: 2.5mg
Nutrition Facts and Juicing Resources
If you're new to juicing this guide has a helpful chart on how to prep different fruits and vegetables before throwing them in the juicer.
I also found this awesome website that gives nutrition facts on juicing. This breakdown is for 1 cup of the finished juice and the recipe makes 3 cups total.